hello! i'm Whitney
About Me
I'm a self-taught baker, cake decorator, wife, mama, and homemaker living in Portland, Oregon. When I'm not baking up a storm in the kitchen, I enjoy a good long run, traveling to new places, making music, and getting lost in a thrilling novel. Creativity is a huge driving force in my life, and while I enjoy a variety of artistic mediums, sugar is hands-down my favorite.
About Sugar & Sparrow
I inherited a love for baking from my mother, who was the queen of lemon squares and casserole dish birthday cakes. As a kid I can remember flipping through her vintage baking books and attempting to recreate every single recipe. That passion for baking evolved into a fascination with cake decorating, and I spent a good amount of years whipping up custom cakes from my home kitchen. Being self-taught every step of the way, I've gained quite a few tips, perfected recipes, and have overcome my fair share of kitchen fails. Sugar & Sparrow is my little space to share everything I've learned with you in hopes of helping you bake pretty desserts with confidence!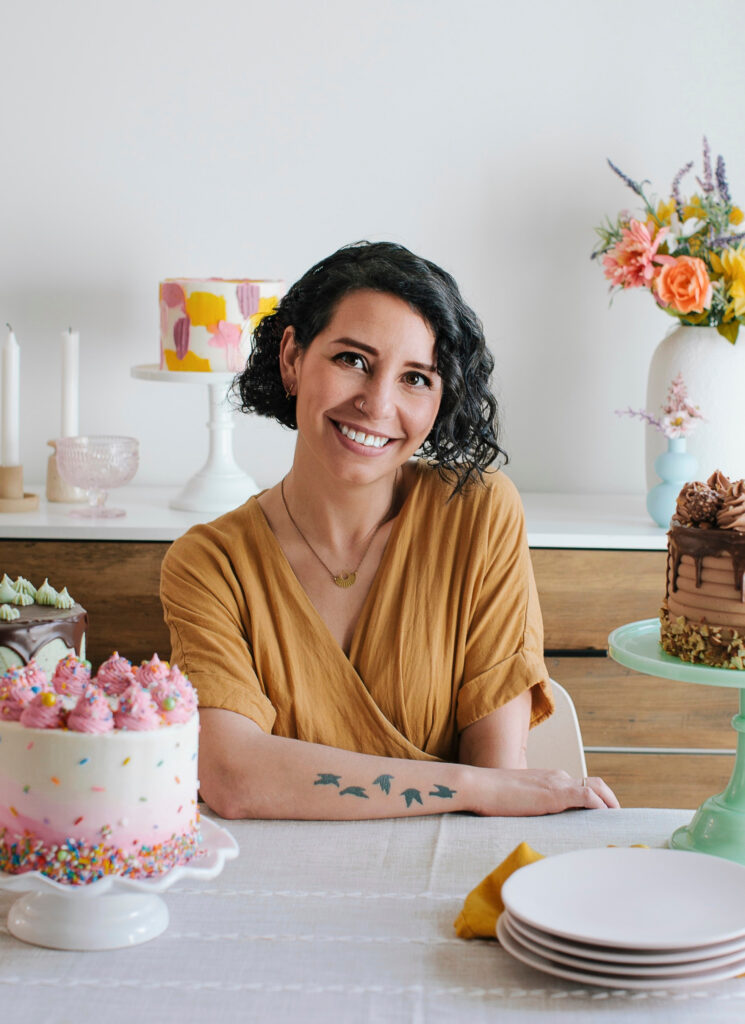 Featured Partnerships
I love creating cake projects to showcase the brands I admire in a fun new way. Here are some of the brands I've partnered with:
Selected Features
Sugar & Sparrow has been featured in the following publications
American Cake Decorating Magazine
Green Wedding Shoes
The Preppy Baker
Cupcake Project
Tea Bar
How to Cake It
Junebug Weddings
The Feed Feed
Sift Desert Bar
Find Your Cake Inspiration
Mom Loves Baking
Tasty Channel
Pip's Original
Sprinkled For Breakfast
Happy Little Cakers
---
get to know me
These are a few of my favorite things…
PORTLAND. I'm a born and raised Portlander (Oregon), and I could easily see myself living here for the rest of my life.
RUNNING. It's my brain's happy place. My mind is pretty wild, always busy with ideas and thoughts, and running is my favorite way to clear my head. In addition to my neighborhood jaunts with my toddler in tow, I've run a couple half marathons and a Hood To Coast relay and I'd love to do more races at some point.
VINYL RECORDS. There's just something about the sound and feel of a vinyl record that's magical, so if I love an album I have to own it on vinyl.
ROLLER COASTERS. Before I met my husband I hadn't been on a legit roller coaster. He actually has my first ride on video and it's pretty hilarious. Nowadays I will ride any roller coaster any chance I get.