Jump to Recipe
If there are fun-sized Almond Joys anywhere in my general proximity, I will eat them. All of them. I just love the flavor combination of sweet coconut, milk chocolate, and almond. It's a taste trifecta and if you agree, you're going to LOVE this cake! Just imagine all the textures and flavors in an Almond Joy candy bar, only in cake form, and behold this beauty: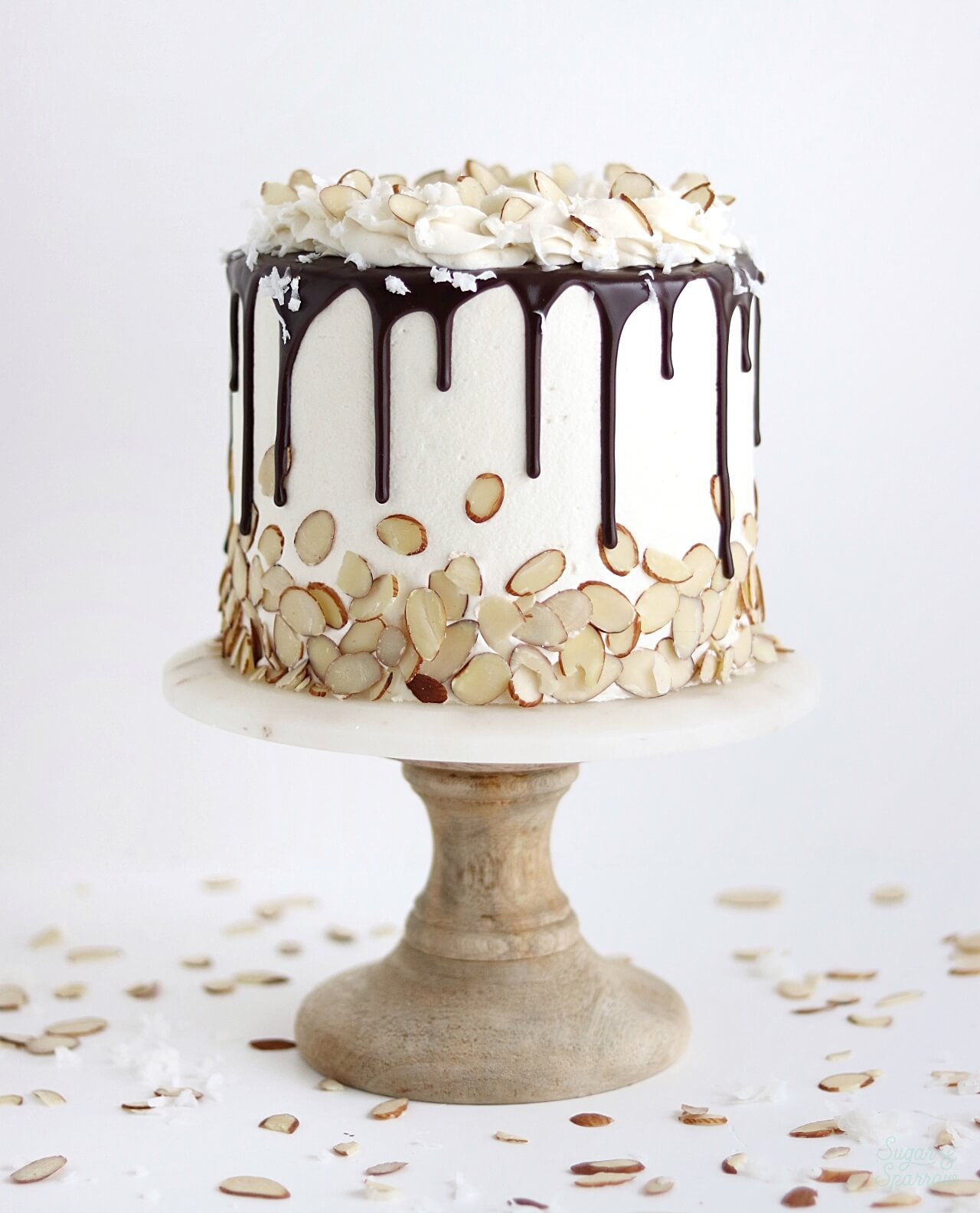 This Almond Joy inspired cake starts with a delicious, fluffy Coconut Cake. It's packed with so much flavor and texture between the coconut extract, shredded coconut, and canned coconut milk. And side note on the coconut milk: notice that I said canned. You'll find canned coconut milk in the Asian foods aisle or the baking aisle of your grocery store and it's loads different than boxed coconut milk (for drinking). The canned version is much more creamy and condensed, making it perfect for baking, so be sure to get the right coconut milk for this cake! It will make all the difference!

The Coconut Cake turned out so delicious that I just sat there eating a bowl of cake scraps for a good ten minutes. It's so moist due to the sour cream and creamy coconut milk, and the texture with shredded coconut is unreal. I thought to pair it with straight up Almond Buttercream, but adding some coconut extract to the buttercream really brought out the perfect coconut-almond flavor you'd find in an Almond Joy. So Coconut-Almond Buttercream was born, and it could not be a more tasty compliment to this Coconut Cake!

You can't have an Almond Joy inspired cake without some milk chocolate, so I whipped up some Milk Chocolate Ganache for drizzling between layers and dripping the top of the cake. After decorating it with some almond slices, a Coconut-Almond Buttercream border, and some more shredded coconut, it looks just as heavenly as it tastes. If you're as much of an Almond Joy fan as I am, this is going to make your cakey dreams come true!
Almond Joy Cake Recipe
Layers of fluffy, flavorful Coconut Cake with Coconut-Almond Buttercream and Milk Chocolate Ganache.
Ingredients
Coconut Cake
3 1/4

Cups

(344g) cake flour, sifted before measuring

2

tsp

baking powder

3/4

tsp

baking soda

1 1/4

tsp

salt

1

Cup

(226g) unsalted butter, room temperature

1 1/2

Cups

(330g) white granulated sugar

5

egg whites, room temperature

1/2

Cup

(168g) sour cream, room temperature

2

tsp

vanilla extract

1

tsp

coconut extract

1 1/4

Cups

(296ml) canned full-fat coconut milk, room temperature

1

Cup

shredded sweetened coconut
Coconut-Almond Buttercream
2

Cups

(452g) unsalted butter, room temperature

7

Cups

(840g) powdered sugar

1

tsp

vanilla extract

1

tsp

almond extract

2

tsp

coconut extract

3

Tbsp

whole milk, room temperature

1/4

tsp

salt
Milk Chocolate Ganache
1/2

Cup

(92g) milk chocolate chips

1/2

Cup

(120ml) heavy whipping cream
Additional Garnishes (optional)
shredded sweetened coconut

almond slices
Instructions
Make The Coconut Cake
Preheat the oven to 350°F. Prepare three 6-inch cake pans by spraying the sides with a cooking spray (Baker's Joy is my favorite) and a wax paper circle fitted to the bottom of the pan. Alternatively, you can grease and lightly flour the pans.

Sift the cake flour and then measure by spooning and leveling it in your measuring cup. Add the cake flour, baking powder, baking soda, and salt into a bowl and whisk to combine. Set aside.

In the bowl of your stand mixer (a handheld mixer works fine too!), cream the butter on high for two minutes until it's light and fluffy. Add the sugar and continue to mix on medium-high for another two minutes, scraping down the bowl and paddle as needed. Slowly add the egg whites while mixing on low until well combined. Add sour cream, vanilla extract, and coconut extract and mix for one minute on high, scraping down the bowl and paddle once more.

With the mixer on low speed, add in the dry ingredients and mix until just combined. Add the canned coconut milk slowly and mix until just incorporated. Gently fold in the shredded coconut by hand, making sure you scrape down the sides and bottom of the bowl without overmixing.

Pour batter evenly into prepared cake pans (no more than 2/3 full) and bake for 40-45 minutes. They're done when they spring back to the touch and a toothpick inserted into the middle comes out clean. Let the cakes cool in the pan for five minutes before turning them out onto a wire rack for an additional few hours of cooling. Make sure they're entirely room temperature before applying any frosting.
Make The Coconut-Almond Buttercream
With a hand mixer or paddle attachment on your stand mixer, cream the butter on medium-high until it's creamy and light (almost white) in color. About 7 minutes.

Add the powdered sugar, a few cups at a time, scraping down after each addition and making sure each cup is fully incorporated before adding the next one. Add vanilla extract, almond extract, coconut extract, milk, and salt. Mix on medium-low for another minute or two until fully incorporated.
Make The Milk Chocolate Ganache
Place milk chocolate chips into a heat resistant bowl (glass or metal) and set aside. In a saucepan over medium-high heat, warm heavy whipping cream until it just starts to boil. I always look for small bubbles forming around the edge and a soft boil starting in the middle. When you see that it's just starting to boil, pour it into your bowl of chocolate and let sit for twenty seconds.

Whisk the mixture together until it's uniform in consistency and there are no bits of chocolate left on your whisk. Cool ganache at room temperature for about 30 minutes, or until the ganache itself is room temperature.
Assembly
Torte the Coconut Cake layers to level off the tops. Place the first cake layer onto a cake circle and fill it with Coconut-Almond Buttercream, then drizzle with a little bit of Milk Chocolate Ganache (make sure it's room temp or cooler). Place the next cake layer on top and repeat the filling process before adding the last layer of Coconut Cake on top. Crumb coat with Coconut-Almond Buttercream and place the cake in the refrigerator for thirty minutes to firm up before your final frosting.

To achieve the design pictured, frost the cake with a final layer of Coconut-Almond Buttercream and add almond slices around the bottom of the cake. Drip the cake with Milk Chocolate Ganache (for tips on dripping a cake read this post!). Fit a piping bag with Wilton Tip 1M and fill it with more Coconut-Almond buttercream, then pipe a rope border around the top edge. Fill in the center with shredded coconut and sprinkle some on top of the rope border, then add more almond slices to the rope border.
Notes
Make Ahead Tips: the cake layers can be made ahead and stored (wrapped in plastic) at room temperature for up to one day. Alternatively, you can wrap the cake layers in plastic and store them in the freezer for up to two months. When you're ready to use them, thaw them to room temperature before continuing with the frosting and decorating process.
The buttercream can be made ahead and stored in an airtight container at room temperature for up to one day. Alternatively, you can store it in an airtight container in the refrigerator for up to two weeks. When you're ready to use it, bring it back to room temperature and re-whip with your stand mixer on medium for one minute to bring it back to frosting consistency. 
The chocolate ganache can be made ahead and stored in an airtight container in the refrigerator for up to two weeks. When you're ready to use it, bring it back to room temperature by microwaving it in ten second intervals, stirring after each one, until it's drip consistency. 
Did you make this Almond Joy cake? I want to know how it went! Let me know in the comments below or feel free to tag me on Instagram. I love to see what you're caking!