My, what a year it's been! 2020 was hard, weird, tragic, wonderful, and just all the things at once. It's the year I became a mom to the sweetest baby boy and the year I launched Cake Basics after dreaming about launching a series like that for so long. I'm thankful to be welcoming a brand new year and starting on some fresh goals, but first, I want to share this year's greatest hits from my Instagram! These are the recipes, tutorials, and cake designs that you all loved the most:
The Launch of Cake Basics
Back in July, I launched something I've been dreaming about for a long time: Cake Basics! It's an ongoing series of blog posts and YouTube Videos where I show you all the essential methods of cake decorating that I swear by.
The first set of Cake Basics show you how to build a cake from start to finish, from leveling cake layers to filling and stacking, crumb coating, frosting a smooth buttercream finish, and decorating with sprinkles. Like I mentioned, this series is meant to be ongoing – I've got more Cake Basics up my sleeve for 2021!
Chocolate Ganache Drip Recipe
This chocolate ganache drip recipe + tutorial has been my number one blog post for years, but this last year I decided to revamp it and make a detailed YouTube video to go with it!
Painted Cake in Summer Colors
This was actually the very last cake project I did before my son was born, just days before I went into labor. I was a bit tired of waiting while on maternity leave so I whipped up a Summer-inspired color palette and used them with this painted buttercream cake tutorial. Just goes to show that this style looks great in a variety of color schemes!
Peppermint Mocha Cake Recipe
I created this peppermint mocha cake recipe for the holidays, but it's really meant to be enjoyed all Winter long! Layers of peppermint mocha cake with coffee buttercream, decorated with a chocolate peppermint drip for looks and flavor.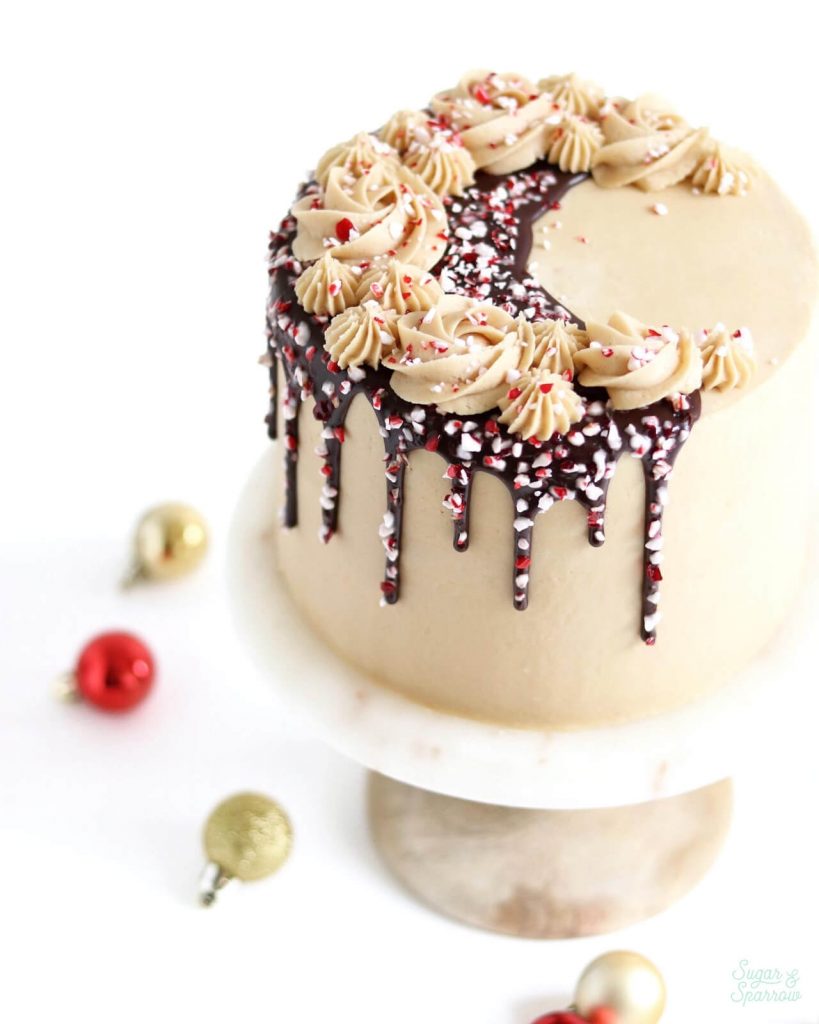 Y'all. This one is so, so good. Just the perfect balance of chocolate/coffee/peppermint and basically tastes exactly like a peppermint mocha in cake form.
Watercolor Cake in Fall Colors
This beauty was created for a wedding photo shoot and I just love the color scheme so much! This is basically my watercolor ombrè buttercream tutorial with a Fall-inspired color palette of deep reds, peach, and dusty rose.
Pumpkin Cake Recipe
The design for my pumpkin layer cake recipe is one of my most replicated of all, and I'm flattered to see your renditions every time.
This classic recipe is layers of tasty pumpkin cake with cream cheese buttercream, decorated to look like a cute little pumpkin patch!
Salted Caramel Buttercream Recipe
Need I say more? This salted caramel buttercream recipe has been a hit from the start! It's infused with my four-ingredient salted caramel sauce and is the perfect pair for so many cake flavors (or to eat by itself, it's that good!).
Spatula Painted Rainbow Cake
I created this beauty for AmeriColor (my favorite color gel brand!) and there are actually 20 different shades represented here!
I mixed them all up with buttercream and used this spatula painted cake technique to apply them in a rainbow layout with multiple shades. Lots of color mixing, but worth it!
Lucky Charms Cake
I whipped this beauty up to showcase my milk & cereal cake recipe and its versatility. The original recipe uses Froot Loops, but you can use any cereal you'd like! For this version, I separated the marshmallows out from the cereal and used the ground cereal in the cake batter + the marshmallows to decorate. I've also seen this recipe paired with Cap'n Crunch, Cinnamon Toast Crunch, and Fruity Pebbles!
And that's a wrap on 2020 for Sugar & Sparrow! I've got so many plans for 2021 that I can't wait to start on: more Cake Basics to help you grow your cake making skills further, more vegan recipes, more frequent emails, writing my first eBook, and creating some fun cake designs I've been dreaming up! I'm always adding to the list of things I want to do, so let me know if there's something you want to see next year by commenting below. Wishing you all the happiest new year!