I LOVE the feeling of a new year right around the corner and have been getting so excited about all that's to come in 2023 (like my BOOK RELEASE)! Before I get too ahead of myself though, I wanted to look back at this past year and reflect a bit. Particularly on all the fun recipes and cake decorating tutorials that YOU loved most.
Here are the top 10 greatest hits of 2022:
Black Velvet Cake
I made this all black cake for Halloween and it turned out to be a mega-hit on Instagram and TikTok, which made it a mega-hit on this blog too. The cake itself has ZERO food coloring in it – the magic ingredient is black cocoa powder! Since it's the same stuff used in Oreo cookies, the cake ends up tasting like Oreo cookies and is just delicious. Paired with my favorite black buttercream, it's a cake fit for Wednesday Addams.
Funfetti Buttercream
For my birthday, I could not stop thinking about putting sprinkles in my buttercream and turning it into Funfetti buttercream. Paired with my Funfetti cake, it was an absolute joy to make and to eat! I'm a firm believer that sprinkles make everything more fun.
Strawberry Shortcake Layer Cake
My husband requested a strawberry shortcake for Father's Day, and for the sake of being over the top, I decided to make a strawberry shortcake layer cake. It turned out so tall that it should not be called a shortcake at all. He loved it though! Layers of fluffy white cake, whipped cream frosting, sweetened fresh strawberries, and baked shortbread crumbles. Top it with fresh chamomile flowers for extra cuteness!
White Chocolate Ganache
This has been one of my number one recipes for years, and this past year I decided to finally make a video for it! The video shows how to make the recipe, drip a cake with it, and troubleshoot if things go awry. White chocolate ganache can be super finicky, but with this video and detailed recipe, you'll love working with it!
Strawberry Buttercream
This Strawberry Buttercream recipe is so good I could eat it by the spoonful! It uses freeze dried strawberries, which are packed with flavor yet won't add any liquid to the buttercream (unlike fresh strawberries). The result is the most amazing strawberry flavored buttercream that is the perfect consistency for frosting cakes, piping cupcakes, and adding to all kinds of bakes!
Fiber Art Cake
I felt like getting creative with some piping, so I made this fiber art-inspired cake and it turned out to be one of my most popular Reels of 2022. It was so much fun to make! While I don't have a tutorial for this specific cake, I do have this Fiber Art Cake tutorial that will show you all those piping techniques I used.
Brown Butter Frosting
This past year, I learned how to brown butter! I turned it into brown butter frosting and it was the best idea. It pairs so well with pretty much any cake recipe, but I particularly enjoyed it with my pumpkin cake and chocolate cake. I'm hoping to make more brown butter recipes in 2023!
Lemon Lavender Cake
After I discovered the secret to making the perfect lavender buttercream, I had to put it on some lemon cake first and foremost. This lemon lavender cake is perfect for spring or summer and just bursting with bright flavors – zesty lemon and just the right amount of lavender. A must try!
Strawberry Cake
This strawberry cake recipe has been a blog favorite for a while, but this year the Pancake Princess decided to review it as part of her Best Strawberry Cake Bake Off and it jumped back into my top 10. I absolutely love this cake: layers of moist, delicious strawberry infused cake made with fresh strawberries (pureed and reduced for maximum flavor) and my favorite strawberry buttercream recipe.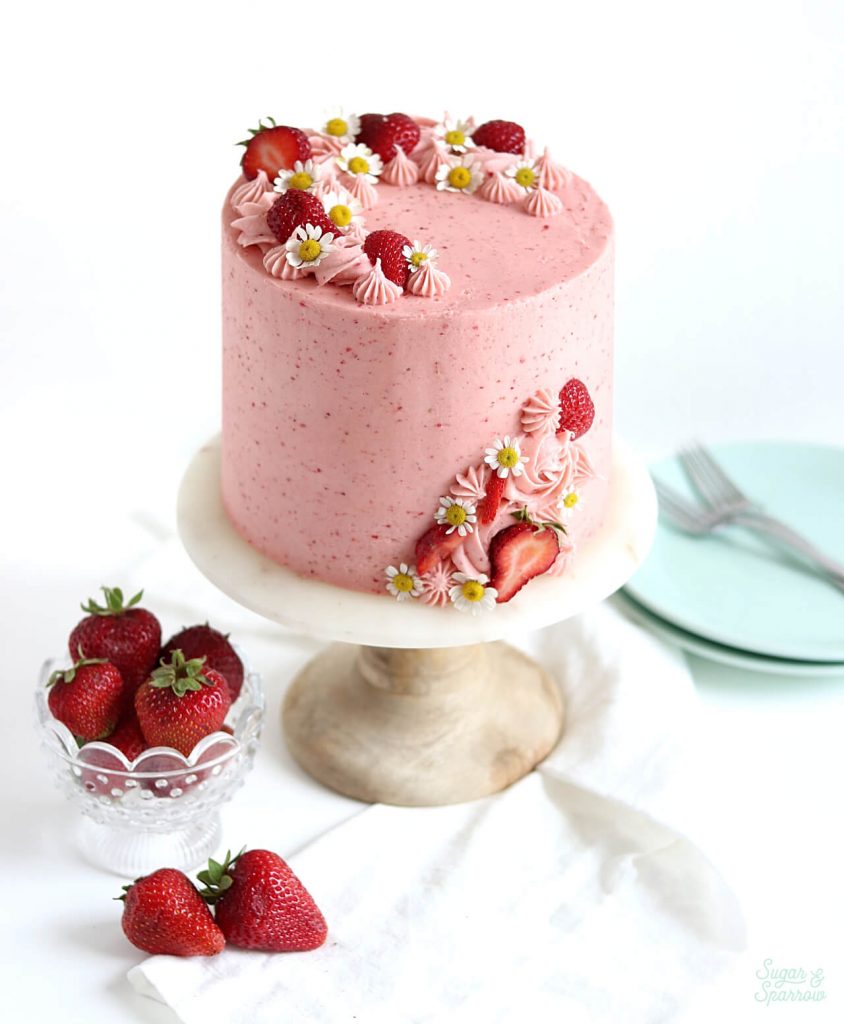 Salted Caramel
This is probably the easiest salted caramel you could ever make – only four ingredients and no candy thermometer required! I love using this as a drip on my cakes, in between layers, and whipping it into salted caramel buttercream. It's the perfect recipe for anyone who's ever been intimidated to try making caramel!
2022 was such a great year and I'm looking forward to ringing in a whole new year of possibilities! I'm wishing you all the very best in the coming year and hope you have great memories to look back on from this past one.