There's no flower more holiday than the poinsettia. I've fallen in love with these pretty red flowers this season, and I could not help but dream about a buttercream version for topping my Christmas inspired cakes and cupcakes. It turns out that when it comes to buttercream flowers, the poinsettia is one of the easier designs to pipe. And just look at how beautiful they look on these bakes:
The magic of keeping these poinsettias looking perfect is refrigeration. After you're done piping, stick them in the refrigerator for at least 10 minutes to let the buttercream firm up. They'll keep their shape and be so easy to handle when placing on your bakes. You can even make them up to five days in advance and keep them in the refrigerator until you're ready to place them!
The Best Buttercream for Piping Flowers
There's one really important key to success with buttercream poinsettias (and any buttercream flower): a stiff consistency buttercream. I use a stiffened version of my American buttercream recipe for flowers, but you can use any buttercream that is thick enough to hold its shape when piped – Swiss meringue or Italian meringue being the best alternatives. The buttercream consistency is extra important because if it's too thin your petals will droop and lose their detail.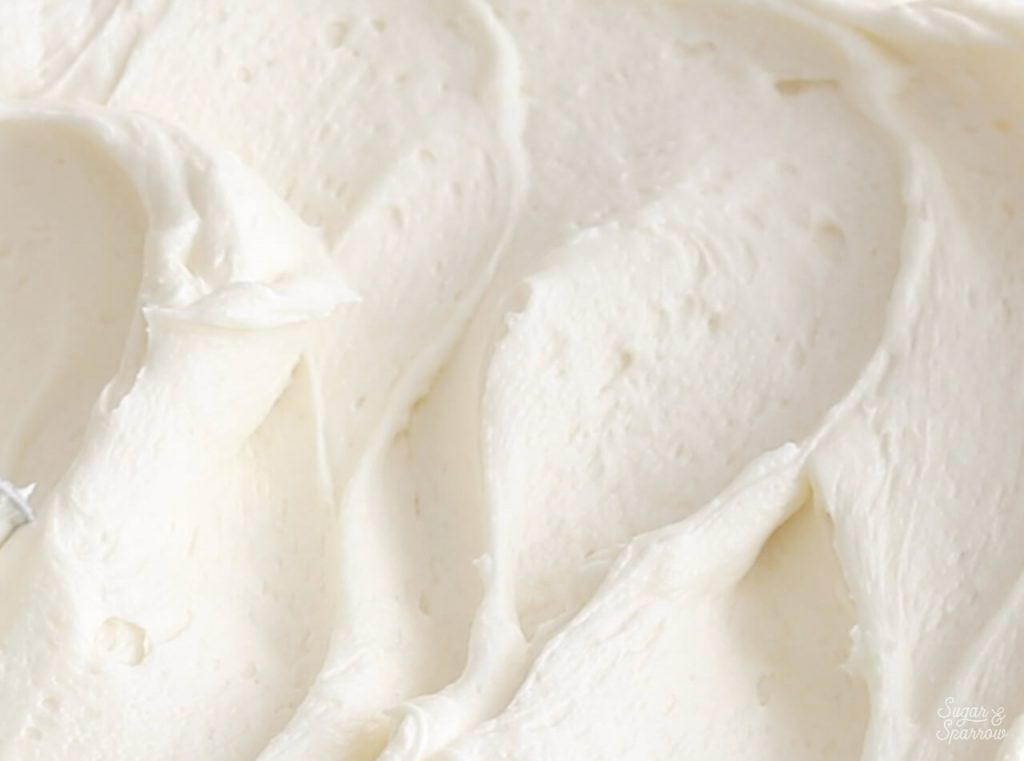 You can check the consistency of your buttercream by dipping your spatula into it and observing the peak. If it's a soft or droopy peak, it's too thin for piping flowers. You'll need to thicken it by adding extra powdered sugar (complete instructions are below). If it sticks straight up and holds its shape when you move the spatula around, it should be stiff enough to pipe the flowers with.
Keep in mind that when you add food coloring to your buttercream, it might thin out since color gels are essentially a liquid. Be sure to do the spatula dip test before and after coloring your buttercream. You can always add extra powdered sugar after adding the color gel to thicken it back up.
Here's a quick video that explains everything you need to know about piping perfect poinsettias – from coloring the buttercream to piping the flowers, storing them, and placing them. I've written out all the details below as well!
If you're into cake decorating videos like this one, be sure to check out my YouTube Channel! You'll find tons of videos to inspire you there, and make sure you never miss a new one by clicking the Subscribe button.
You Will Need
Step 1: Make the Stiffened Buttercream
Make one batch of American Buttercream, then add an extra 3 Tablespoons of powdered sugar to stiffen it up for the best piping consistency. You may need to add more powdered sugar by the tablespoon to get it perfect.
To check whether or not the buttercream is the best consistency, dip your spatula into it and observe the peak. If it comes out with a stiff peak that doesn't easily wobble around when you move the spatula at different angles, it's perfect. If it looks grainy or rough around the edges, you might have stiffened it too much. Here's a guide to help you make the perfect consistency and troubleshoot if you've gone too far.
Step 2: Mix in the Buttercream Colors
Divide the buttercream into two bowls: ⅓ of the buttercream into a small bowl and the rest of the buttercream in a medium bowl. If you want to reserve some of the buttercream for piping leaves, you can divide the batch evenly between three bowls. This batch of buttercream will make a lot of poinsettias, so if you only need a few, you can tint just a little bit of the buttercream and store the rest for another project.
In the bowl with the most frosting, add deep red food color gel until you achieve the shade you want. This will be what you use to pipe the petals of the poinsettias. I ended up adding about 7 drops of AmeriColor Super Red and 1 drop of AmeriColor Sangria to achieve this red color. Note that the color will deepen over time, especially after refrigerating, so if it's close to that deep red color when you mix it up it may darken to the perfect color. Here's a guide on color mixing to explain how that all works.
In the bowl with the least amount of frosting, add yellow food color gel. This will be what you use to pipe the center of the poinsettias. I used 3 drops of AmeriColor Egg Yellow for this deep yellow shade.
If you're wanting a good green color for leaves, I love AmeriColor Forest Green. It's what I used on the poinsettia cupcakes pictured above. I don't technically show you how to pipe leaves in this tutorial, but you'll basically use the same piping technique as the poinsettia petals with the same piping tip (Wilton 352).
Step 3: Pipe the Poinsettias
Cut some parchment paper into 2 inch squares. Fit one piping bag with Wilton Tip 352 and fill it with the deep red buttercream. Fit another piping bag with Wilton Tip 2 and fill it with the yellow buttercream. Place a dot of buttercream (either color) onto the flower nail and place a parchment paper square on top.
Starting with the deep red buttercream, hold the bag at a 45 degree angle to the flower nail with the pointed ends facing up and down. Beginning in the center of the parchment paper, pipe the first petal by putting pressure on the bag as you wiggle it slightly while moving it away from the center of the parchment. Release the pressure on the bag to end the petal. The wiggling motion helps add a slightly wrinkled texture to the petals, which makes them look more realistic.
Continue piping the petals in a circular formation until you reach that first petal. This will end up being your bottom row of petals.
Starting in the center of your bottom row of petals, pipe a smaller ring of poinsettia petals on top of the first using the same technique.
To finish the poinsettia, pipe a dot in the very center of the petals using the yellow buttercream, then pipe a ring of dots around that first dot.
Carefully remove the parchment paper from the flower nail (with the poinsettia on top) and place it onto a cookie sheet or drying rack while you continue piping any additional poinsettias.
Step 4: Refrigerate the Poinsettias
After you've piped all of your poinsettias and have them laid out on a cookie sheet or drying rack, refrigerate them for at least 10 minutes. At this point they will be firm enough to peel away from the parchment paper backing and place on your bakes.
If you'd rather make the poinsettias ahead of time, you can place them in an airtight container and continue refrigerating them for up to five days before placing them on your bakes. Any longer than this and you risk the deep red coloring bleeding into the yellow centers.
If you want to pipe some leaves before placing the poinsettias, you can use the same piping technique as the poinsettia petals you made with Tip 352 and some dark green buttercream. Pipe the leaves first, then place the poinsettia on top to stick it down.
I can't wait to see how you decorate with these pretty buttercream poinsettias! Be sure to tag @sugarandsparrowco on Instagram if you post a pic! I love to see what you create.