A few years back, the ultra-creative Alana Jones-Mann popularized the cactus cupcake trend and it was one of the earliest cupcake projects I tried. I've gotten to make the design for a handful of events, and they're so much fun to create every time. So when I saw the gorgeous Cactus Flower sprinkle mix by SprinklePop, I instantly thought of re-creating the cactus cupcake design with a more sprinkly aesthetic. They added such a celebratory element to the look:

The first time I tried this cactus cupcake design, I shaped the base of each cactus with a big hunk of fondant, then covered it with buttercream piping to add detail. While it looked great, I realized how terrible it is to bite into the cactus and end up with a mouth full of fondant. No thank you! Since then I decided that creating a cake ball base (a mix of cupcake crumbs and buttercream) is much more tasty, sturdy, and easy to mold into cactus shapes.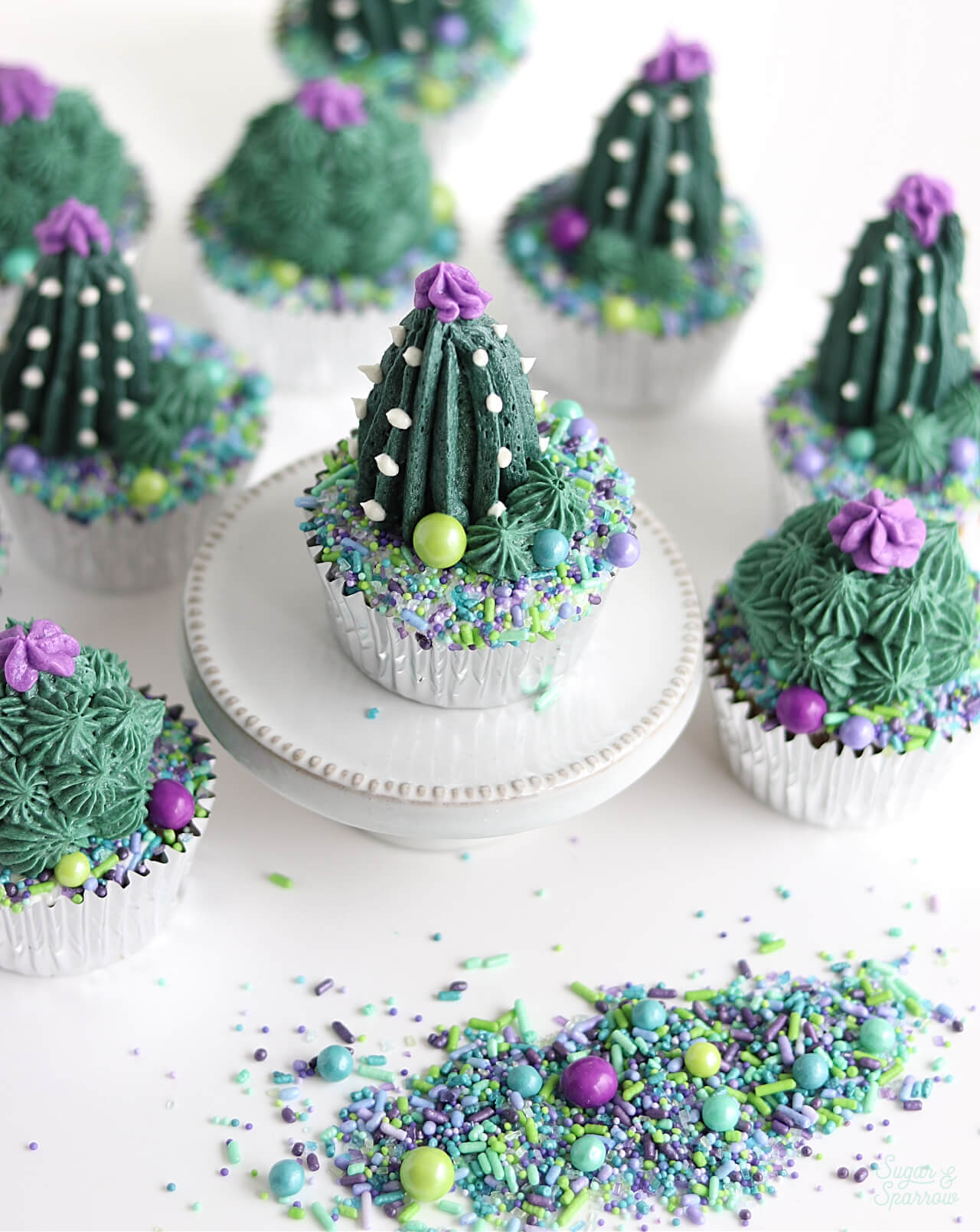 The Cactus Flower mix is the perfect color scheme to pair with these pretty green cacti. It's basically all the colors you'd find in a lush succulent garden and adds so much pretty texture to these cupcakes. If you're wanting to recreate the look with this sprinkle mix, don't forget to use my code SUGARANDSPARROW15 at checkout to get 15% off your SprinklePop order. I don't get any kickback from that code, it's just a little something special for you. You're welcome!

Before you get started with the tutorial below, here's a quick video of the process I whipped up for you visual learners:

You Will Need
Step 1: Prep The Materials

Before you get started, it's best to get all your materials prepped and ready to go. Divide your buttercream into three different bowls: add about ¼ cup of the buttercream to a small bowl and keep it uncolored and add another ¼ cup of buttercream into another small bowl and color it with purple buttercream. Divide the rest of the buttercream into two separate bowls and color one a darker shade of green and one a lighter shade of green. I used different amounts of Americolor Forest Green for these two shades.

Next, pour the Cactus Flower sprinkles into a small bowl, then chop up six of the baked cupcakes into smaller bits and add them to a medium sized bowl.

Step 2: Make The Cake/Buttercream Mixture

Add about ¼ cup of either of the green buttercreams to the bowl of chopped up cupcake bits. Then, use a rubber spatula or spoon to mix it all together until it's uniform in consistency.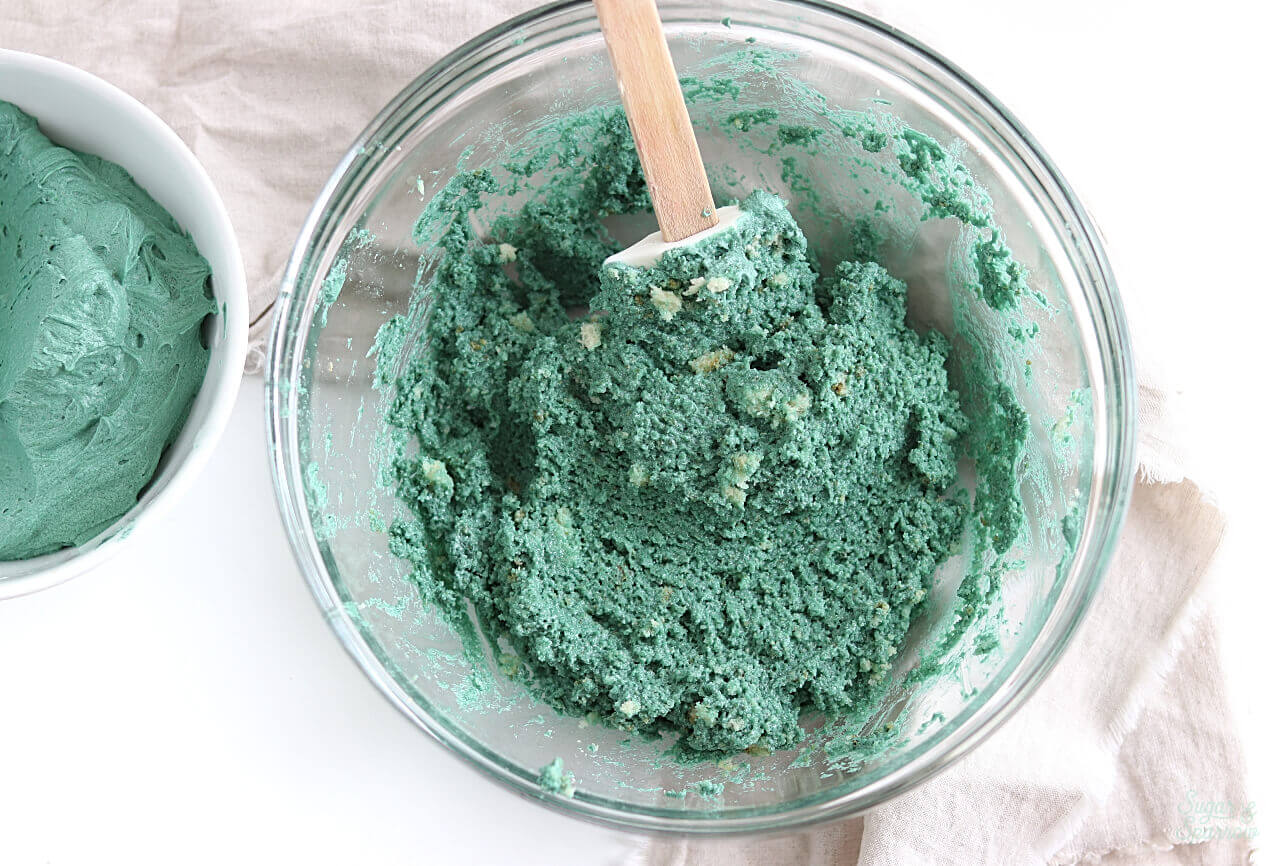 When you're finished mixing, the result should be moldable when you try to shape it with your hands. If it's not sticking together enough, just add a little bit more buttercream until it's easy to mold with your hands.

Step 3: Create The Cactus Shapes

There are two different styles I love when it comes to cactus cupcakes. The first is a traditional elongated shape and the other is more spherical. Before you start shaping, fit a piece of wax paper onto a baking sheet. Then, roll a little bit of the cake/buttercream mixture into 1 inch spheres using your hands and place them one by one onto the baking sheet. You'll want to make 6 of these.

To make the elongated shape, roll the cake/buttercream mixture between your hands to make more of a rod shape. They should each be about 1.5-2 inches tall and about an inch wide. Place them one by one onto the baking sheet until you have 6 of them.

When you're finished making your cactus shapes, place the baking sheet in the refrigerator to let them firm up for about 20 minutes. They'll be much easier to work with that way!

Step 4: Create The Sprinkled Cupcake Surface

Using the bottom of one of your piping tips, create a small cutout in the center of each cupcake to give the cactus shapes a nice foundation to sit on later.

Use a small icing spatula to frost the surface of the cupcake, excluding the small hole you created.

Then, dip the surface of the cupcakes into the Cactus Flower sprinkles. Repeat until you have all of the cupcake surfaces covered in sprinkles.

Step 5: Decorate The Spherical Cacti

For the spherical cacti, add the refrigerated cake/buttercream balls to 6 of the cupcakes.

Prepare a piping bag by fitting it with Wilton Tip 4B and filling it with the lighter green buttercream. Cover the surface of each spherical cactus in open stars.

Next, prepare a piping bag fitted with Wilton Tip 109 (or any drop flower tip) and fill it with purple buttercream. Pipe a drop flower onto the top of each one.

Continue decorating with spherical sprinkles from the Cactus Flower mix wherever you'd like.

Step 6: Decorate The Elongated Cacti

For the elongated cacti, add the refrigerated cake/buttercream rods to 6 of the cupcakes. Prepare a piping bag by fitting it with Wilton Tip 352 and filling it with the darker green buttercream. Then, pipe a series of vertical lines around the surface of the rods.

Use the purple buttercream bag to pipe a drop flower on top of each of the cacti. Then, prepare a piping bag fitted with Wilton tip 3 and fill it with the remaining white (uncolored) buttercream. Pipe a series of dots onto every other line on the cactus. These are meant to look like the spines of a cactus.

Use your lighter green buttercream to pipe a couple open stars next to the elongated cacti, then continue decorating with spherical sprinkled from the Cactus Flower mix wherever you'd like.

Aren't these sprinkled cactus cupcakes the cutest thing? They're perfect for any Summer gathering and are sure to impress.
If you're inspired to make these sprinkled cactus cupcakes, be sure to tag @sugarandsparrowco on Instagram so I can see! I love seeing what you create.