Two years ago, I got this wild idea to make some fondant hearts and cascade them down the side of a cake with pretty piping and Valentine's Day conversation hearts. Ever since I posted that design on my Instagram back then, I've gotten tons of requests for a tutorial – not just for Valentine's Day but for all sorts of occasions! Wait no more, the tutorial is finally here.
This cake design is ever so slightly revamped (don't mind my terrible pre-DSLR food photography in this original photo), but in the best way. It's mostly because JOANN sent me a big box of Valentine's Day goodies just for fun, and in it I found these amazing Wilton Icing Heart Decorations and the perfect sprinkles for my color palette. I ended up ditching the conversation hearts and adding in those extras instead. And speaking of the color palette, I am super into Americolor Dusty Rose right now, so I designed the whole color scheme around it. The warm pink and red tones are giving me all the feels (don't worry, I'll show you how to replicate the colors below).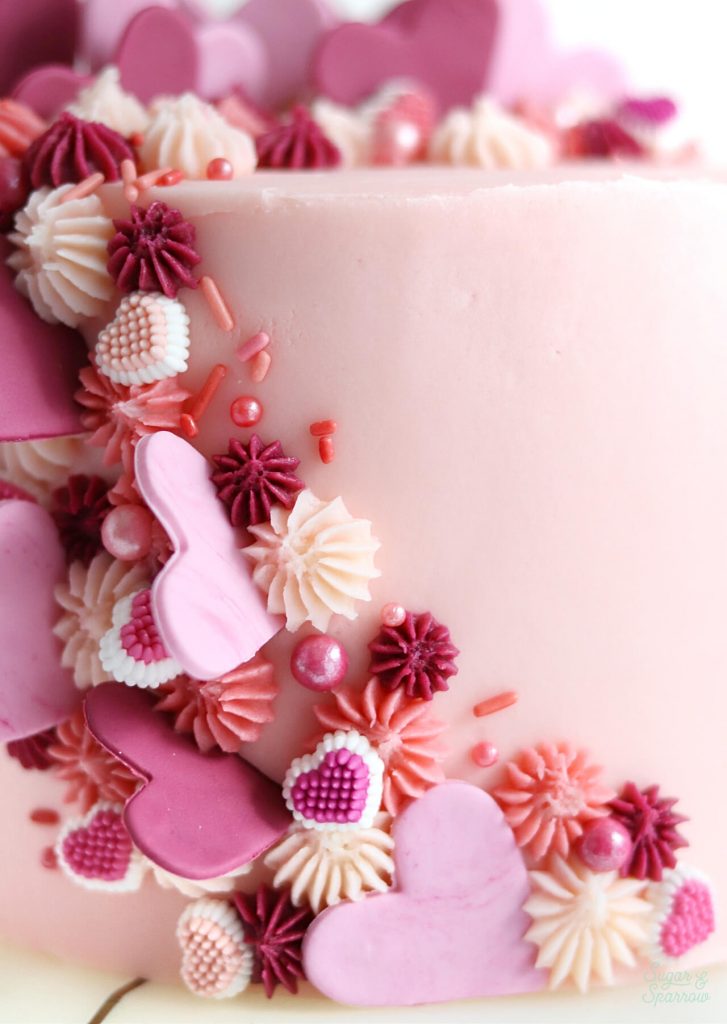 This design all begins by making your own fondant hearts. I colored some Satin Ice fondant to match my buttercream color palette and used a heart shaped cookie cutter to make the decorations. In about 24 hours (flip them halfway in between), they're dry and ready to use. One question I get a lot is how I stick them to the side of the cake without weighing anything down. The answer is this: just make sure they're only about ⅛ inch thick when you make them. They'll end up weighing barely anything, so you can just stick them right into the buttercream and they'll hold up perfectly. The buttercream piping serves as extra "glue" to keep them in place as well.
Here's a quick video to show you my technique for making fondant hearts and cascading them down the side of the cake with all the pretty details. I've written out all the steps below, but be sure to give this video a watch first for visualization:
If you're into cake decorating videos like this one, be sure to subscribe to my YouTube channel! I love making videos and am adding new ones there all the time, from cake decorating techniques to my go-to recipes. Head over there and click the subscribe button to make sure you don't miss a thing!
You Will Need
Step 1: Make the Fondant Hearts
With your hands coated in a little bit of vegetable shortening, knead the fondant until it's the consistency of Play-Doh. Divide the fondant in half and color each half a different color. I used a mixture of Americolor Fuschia + Super Red to create the dark red color, and just a tiny bit of Fuschia to create the light pink color.
Spread a little vegetable shortening onto a fondant mat or smooth cutting board, then roll the first fondant color out to about ⅛ inch thickness. Then, use the heart cookie cutter to cut out heart shapes.
Repeat with the other fondant color and allow the heart shapes to dry for at least 24 hours, flipping them halfway through so that each side dries thoroughly.
Step 2: Create the Buttercream Color Palette
Add about 3 cups of vanilla buttercream to a medium sized bowl, then divide the remaining buttercream evenly amongst three smaller bowls. The largest bowl is what you'll be using to frost the cake, so color it whatever hue you'd like as your backdrop. I went with a light shade of Americolor Dusty Rose.
The remaining bowls will be what you use for the accent piping in the cascading decoration. I colored two of the bowls with Dusty Rose (one a little lighter than the cake background color and one a bit darker), and the last bowl with a mixture of Americolor Fuschia and a small drop of Super Red to warm up the color.
When you're happy with your color palette, add the small bowls of buttercream into three separate piping bags, each fitted with either Wilton Tip 4B or 199.
Step 3: Frost The Cake
With your chilled and crumb coated cake on a turntable, use the largest bowl of buttercream to frost a smooth finish onto the cake. Start by frosting a smooth layer on the very top of the cake with your angled icing spatula.
Next, add buttercream to the sides of the cake and glide your icing smoother over them while turning the turntable to create smooth sides.
You'll notice a crown of buttercream forming on the top edges of the cake, which is essential to getting sharp edges on the top. Use your angled icing spatula to swipe the crown inwards (toward the top center of the cake). Repeat until you've got nice sharp edges.
When your cake is looking ultra smooth, pop it into the refrigerator to firm up for about 20 minutes. If you want more tips on creating a perfectly smooth cake finish, I've got a great tutorial for you here.
Step 4: Create The Cascading Heart Design
First, stick the fondant hearts onto the top of the cake in a semi-straight line from the edge to just past the center. Make sure they look perfectly imperfect by sticking them in at different heights and angles.
Next, use the piping bags to pipe open stars all around the hearts. Add sprinkles and icing heart decorations wherever your heart desires.
Place more fondant hearts down the side of the cake at an angle, connecting from the hearts on top towards the bottom middle of the cake. The fondant hearts should stick right into the buttercream and stay in place without weighing anything down.
Add more buttercream piping all around the fondant hearts (this helps to truly ensure that they'll stay in place).
Finally, add the finishing touches with sprinkles and more icing heart decorations. The icing hearts are my favorite!
And just like that, you've got the most perfect cascading heart cake ever! It looks pretty complex, but can you believe how simple it is to create?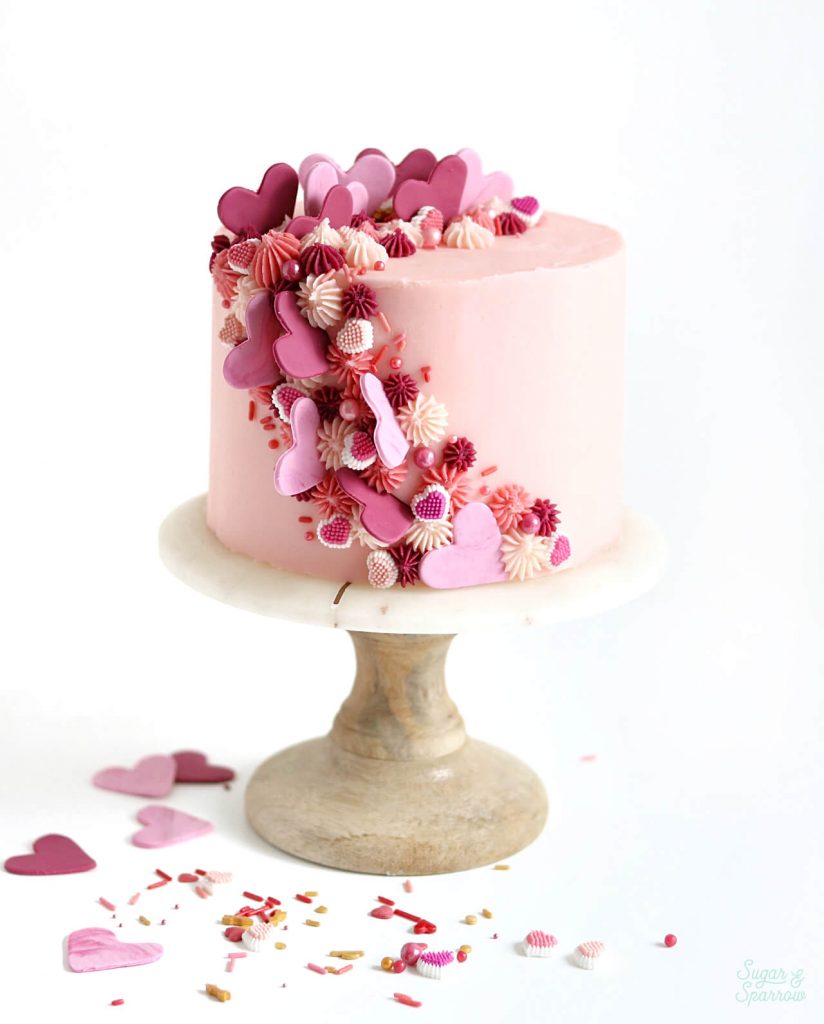 I'm in love with this one and I hope you are too! Let me know if you make this cake for Valentine's Day (or any day!) by tagging @sugarandsparrowco on Instagram or leaving a comment on this post. I love to see your work inspired by my designs!