Jump to Recipe
It's not often that you see Betty Crocker's Cherry Chip Cake mix at grocery stores these days, but it's one of those flavors that evokes nostalgia for so many people. While I did not grow up eating Cherry Chip, so many of you asked for this flavor that I felt intrigued to give it a go. After all, how could you go wrong with a pink, maraschino cherry-flecked cake? Turns out you can't go wrong. This cake is super fun to make, pretty to look at, and extremely delicious paired with this Cherry-Almond Buttercream.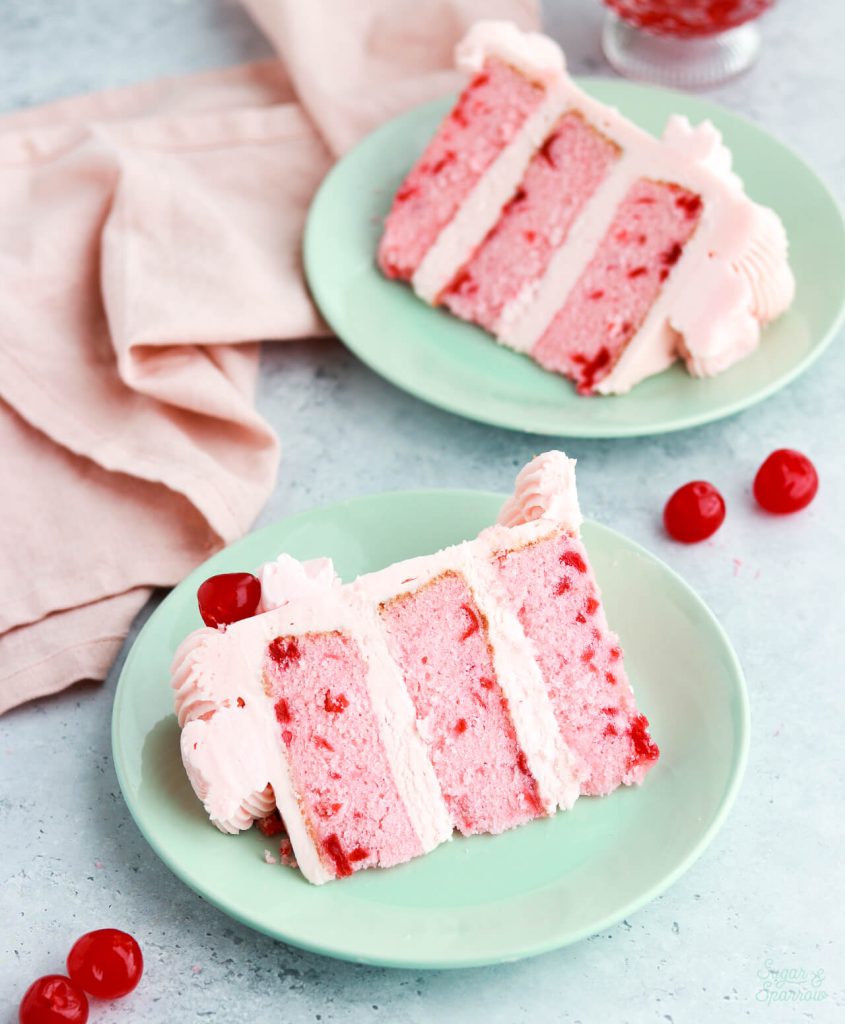 There is something truly special about the flavor of this Cherry Chip Cake. I have no idea when it was invented, but the maraschino cherries throughout give it an undeniable retro vibe. It has the perfect cherry flavor after infusing the batter with maraschino cherry juice and folding in finely chopped cherries at the end. The whole process gives the cake layers a natural pink color, making the dots of cherry look extra fun!
The Cherry-Almond Buttercream is the ideal complement to this Cherry Chip Cake. The hint of almond helps bring out the cherry flavor and turn the whole palette into something sophisticated and lovely. The buttercream should already be the perfect consistency for filling, frosting, and piping the cake, but you can certainly thicken the buttercream for the piped portions if need be. Simply add a little more powdered sugar to the buttercream you'll be using for piping, a few Tablespoons at a time, until the desired consistency is reached.
Vintage Cake Decorating Details & Tips
To keep with the vintage aesthetic, I decided to pair this Cherry Chip Cake with classic lambeth piping. If you've never tried this vintage piping style before, fear not – it's easier than it looks! I used three piping tips for this look (Wilton Tip 6B, 4B,and 104) but you can feel free to get creative with whatever piping tips you'd like. After all, the lambeth style is all about over-piping, or creating rows of intricately piped details. Here are a couple tips to keep everything symmetrical as you add piping:
Start with a Chilled Cake – To create the perfect canvas for piping, you'll want to chill the cake for at least 30 minutes after frosting it smooth with the Cherry-Almond Buttercream.
Make a Template – A template really comes in handy if you plan on creating symmetrical piping on the sides of your cake (like the ruffle garlands pictured in this Cherry Chip Cake design). To make my own template for this lambeth cake, I cut out a parchment paper circle to the same diameter as my cake layer. When you have your parchment circle cut out, fold it in half three times to make 8 equal-sized sections.
Place the template on top of the chilled cake (a) and mark each crease with a toothpick (b). Find a round glass or cookie cutter that's the same diameter as the sections in your template and place a piece of scotch tape across the middle to create a half circle (c). This will help you line it up with the top of your cake as you press it into the sides (d) to indicate where each garland will go.
Thicken the Buttercream for Piping – When you're ready to pipe, place all of the buttercream you'll be using for piping back into your stand mixer and add a little more powdered sugar (a few Tablespoons should do the trick) to thicken the consistency. This will help the buttercream hold its shape as you pipe those details. I piped shell borders around the bottom and top edges of the cakes with Wilton Tip 6B, piped the ruffle garlands with Wilton Tip 104, and piped simple swirls on the inside of the shell border on top of the cake using Wilton Tip 4B.
To finish the look, I pressed maraschino cherries where each ruffle garland met. It's important to dry the cherries thoroughly before pressing them into the frosting, just so they don't leak juice all over your beautiful piping. Mine still looked picture perfect and didn't leak one bit even after a few days in the refrigerator!
However you decide to decorate, if you're a fan of Cherry Chip, I hope you absolutely love this cake. Grab yourself a jar of maraschino cherries next time you're at the grocery store and get ready to have a good time! It's such a joyful cake that is sure to bring happiness wherever you take it.
Cherry Chip Cake
Inspired by the retro box mix flavor, this Cherry Chip Cake features layers of tasty cherry flavored cake that's naturally pink and flecked with maraschino cherries, paired with cherry-almond buttercream to make it extra delicious.
Ingredients
Cherry Chip Cake
2 1/2

Cups

(265g) sifted cake flour

2

tsp

baking powder

1/2

tsp

salt

1/2

Cup

(120ml) maraschino cherry juice

4

large egg whites, room temperature

1/2

Cup

(120ml) buttermilk*, room temperature

1/2

Cup

(113g) unsalted butter, room temperature

1 1/2

Cups

(300g) granulated white sugar

1/3

Cup

(80ml) vegetable oil

2

tsp

pure vanilla extract

3/4

Cup

maraschino cherries (about 32 cherries)**, finely chopped
Cherry-Almond Buttercream***
2 1/2

Cups

(568g) unsalted butter, room temperature

8 3/4

Cups

(1050g) powdered sugar

6

Tbsp

(90ml) maraschino cherry juice

4

Tbsp

(60ml) heavy whipping cream, room temperature

2 1/2

tsp

pure almond extract

1/4

tsp

salt, or to taste
Instructions
Make the Cherry Chip Cake
Preheat the oven to 350°F/177ºC. Prepare three 6-inch or two 8-inch cake pans by spraying the sides with cooking spray and fitting a parchment paper circle to the bottom of the pan.

Sift the cake flour and then measure by spooning and leveling it in your measuring cup or weighing it with a kitchen scale. Add the cake flour, baking powder, and salt into a bowl. Whisk to combine and set aside. In a liquid measuring cup or jar, whisk together the egg whites, buttermilk, and maraschino cherry juice and set aside.

In a stand mixer fitted with the paddle attachment, cream the butter and sugar on medium until light and fluffy, about 4 minutes, scraping down the bowl and paddle as needed. Beat in the oil and vanilla.

Turn the mixer to low speed and add the flour mixture in three additions, alternating with the egg white/buttermilk/cherry juice mixture in two additions and mixing until well blended. Turn the mixer to medium speed and beat for 2 additional minutes. Gently fold in the finely chopped maraschino cherries.

Pour the batter evenly between the prepared cake pans and bake for 30-35 minutes. They're done when they spring back to the touch and a toothpick inserted into the middle comes out clean, or with just a few moist crumbs on it. Let the cakes cool in the pan for five minutes before turning them out onto a wire rack for an additional few hours of cooling.
Make the Cherry-Almond Buttercream
With a hand mixer or paddle attachment on your stand mixer, cream the butter on medium-high until it's creamy and light, about 5 minutes. 

With the mixer on low, add the powdered sugar a few cups at a time, scraping down after each addition and making sure each is fully incorporated before adding the next one. 

Add the maraschino cherry juice, heavy whipping cream, almond extract, and salt and mix on low for another minute until fully incorporated. 
Assembly
Once the Cherry Chip Cakes are cooled completely, level them to your desired height before filling and stacking with the Cherry-Almond Buttercream. Crumb coat the cake with Cherry-Almond Buttercream, refrigerate it for at least 20 minutes to let the frosting firm up, then frost the cake smooth with more Cherry-Almond Buttercream.

To create the vintage piping (lambeth) style pictured, refrigerate the smooth frosted cake for another 30 minutes while you prepare the remaining buttercream for piping and create a template as described in the blog post above. Thicken the Cherry-Almond Buttercream by mixing in a few Tablespoons of powdered sugar until the desired consistency is reached. Prepare three piping bags by fitting one with Wilton Tip 104, one with Wilton Tip 4B, and one with Wilton Tip 6B. Divide the thickened buttercream equally between them.

Use the template and a round cookie cutter or glass to create markings on your cake to guide your piping. Pipe a shell border with Wilton Tip 6B around the bottom of the cake, then pipe the same shell border along the top edge of the cake. Pipe swirls with Wilton Tip 4B inside the shell border on the top of the cake. Pipe a ruffle garland with Wilton Tip 104 onto each semi circle indent you created with the round cookie cutter or glass, then pipe a second layer of ruffles directly above each ruffle garland. Finish the look by pressing maraschino cherries (be sure to thoroughly dry them first) into the buttercream where each ruffle garland meets.
Notes
*DIY buttermilk recipe: add 1 Tbsp of white vinegar to a jar and top it with 1 Cup of whole milk. Stir and let sit for 15 minutes before using in the recipe. 
**A 16 oz. jar of maraschino cherries will be a little more than enough for the cake batter, buttercream, and adding decorations.  
***This amount of Cherry-Almond buttercream makes enough to fill, frost, and decorate the cake with Lambeth piping as pictured. If you'd rather simply fill and frost the cake, you can cut the buttercream recipe down to 2/3 the recipe. A recipe scale converter like this one is helpful to do the math for you. 
Make Ahead Tips: the Cherry Chip Cake layers can be made ahead and stored at room temperature, covered tightly in plastic wrap, for up to two days. Alternatively, you can cover with plastic wrap and store in the freezer for up to two months before thawing to room temperature. The Cherry-Almond buttercream can be made ahead and stored in an airtight container in the refrigerator for up to two weeks. When you're ready to use it, bring it back to room temperature and re-mix with your stand mixer on low speed until uniform and smooth. 
Did you make this Cherry Chip Cake? I want to know how it went! Let me know in the comments below or feel free to tag @sugarandsparrowco on Instagram. I'd love to see how you decorated!