Jump to Recipe
One of my favorite things to do in Portland is go meet a friend for Pip's Doughnuts and Chai. Their tasty mini doughnuts are hands down my favorite in the city and I've even topped some birthday cakes with them over the years. When the pandemic forced so many local businesses I love to close up shop, Pip's did something extraordinary: they adapted by launching a new way to do business, all while keeping the community at the heart of what they do. Instead of serving up doughnuts these days, they're hard at work bottling their chai concentrate and giving 10% of the profits back to other service businesses in Portland. Not only is their ability to launch Community Chai during these wild times inspiring, but their chai concentrate is incredible.
It's more important than ever to support small businesses both creatively and financially, and making #CakesForSmallBiz is one of my favorite ways to do it. So when I saw that Pip's was bottling their chai concentrate to keep the lights on during this season of uncertainty, I was all in on placing an order. Not only is their chai tasty for drinking, I also thought it would make the perfect cake ingredient (it totally did!). Side note: if you're looking for a creative way to support your fave small businesses right now, consider making a cake with local ingredients or designing a cake inspired by the businesses you love. They could use all the help right now!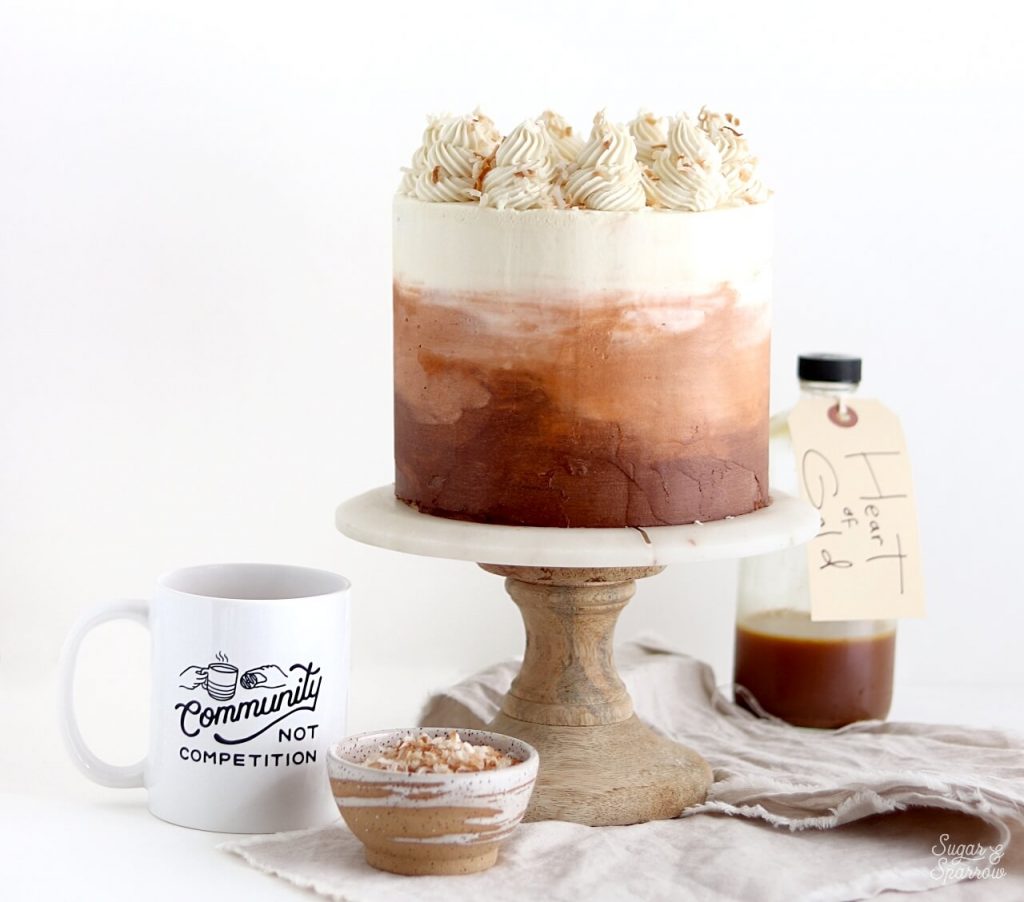 Let's talk about this chai concentrate. There are five different blends to choose from and I am a firm believer that any of them would be perfect in this cake recipe (and most definitely tasty for making at-home lattes). I chose the Heart of Gold blend and the flavor profile is just so good. The description: "a smooth blend of toasted coconut, golden turmeric, ginger, grassy sencha green tea, and Assam tea. Brewed with whole coconut flakes, Heart of Gold has a naturally creamy body. The chai we'd drink in a hammock under a palm tree." Not only did it work perfectly in this cake recipe, I enjoyed this blend in latte-form so much that upon first sip I was ready to place my order for a second bottle! I'm hooked.
For this cake, I used my Spiced Vanilla Chai Cake recipe as a base and subbed in a mixture of this Heart of Gold concentrate + whole milk (so, basically a latte) to infuse it with these lovely flavors. Spoiler alert: it worked! This Chai Cake is incredibly soft and moist, fragrant (my kitchen smelled amazing), and all of the added spices take the flavor to the next level. Since it's brewed with whole coconut flakes, pairing this Heart of Gold-infused cake with Coconut Buttercream was only natural. The combination of spicy chai and refreshing coconut are a total match made in chai cake heaven! They truly complete each other.
For decorating this Coconut Chai Cake, I was really inspired by the look of when you pour milk into the chai concentrate and the two colors swirl together. To capture that moment, I tinted some of the Coconut Buttercream a deep brownish orange (using Americolor Chocolate Brown + Orange) to match the color of the chai concentrate, then mixed a few in-between shades and frosted them onto the cake in a messy ombrè design. I used Wilton Tip 4B to create the swirls around the top edge and sprinkled toasted coconut flakes on top (details on how to toast coconut flakes in the recipe notes below).
You can decorate this cake however you'd like – keep the frosting one color, add toasted coconut to the sides, or create whatever you're envisioning! One thing is for sure though, this cake is insanely tasty. I have not been able to stop enjoying it, and am quickly finding out that being quarantined with a whole cake while pregnant is a really silly situation to be in (send help!).
If you're wanting to make this cake but don't have access to Community Chai concentrate (it's only available in Portland), there are substitutions in the recipe notes so you can work with what you've got!
Pip's "Heart of Gold" Coconut Chai Cake
Layers of spiced Chai Cake infused with delicious golden chai concentrate, paired with refreshing Coconut Buttercream and toasted coconut flakes – a match made in chai cake heaven!
Ingredients
Chai Layer Cake
1/2

Cup

(120ml) chai concentrate (I'm using Community Chai's Heart of Gold blend)*

3/4

Cups

(180ml) whole milk

2 3/4

Cups

(290g) cake flour, sifted before measuring

2 1/4

tsp

baking powder

1/2

tsp

baking soda

2

tsp

ground cinnamon

1/2

tsp

ground cardamom

1/2

tsp

ground ginger

1/4

tsp

ground allspice

1/8

tsp

ground cloves

1 1/4

tsp

salt

1

Cup

(226g) unsalted butter, room temperature

1 3/4

Cups

(358g) granulated white sugar

3

whole eggs, room temperature

1/2

Cup

(112g) sour cream, room temperature

1

Tbsp

pure vanilla extract
Coconut Buttercream
2

Cups

(452g) unsalted butter, room temperature

7

Cups

(840g) powdered sugar

2

tsp

pure vanilla extract

1 1/2

tsp

pure coconut extract

3

Tbsp

coconut milk, room temperature

1/4

tsp

salt
Instructions
Make the Chai Layer Cake
Whisk together the chai concentrate and whole milk. Set aside until it's reached room temperature.

Preheat the oven to 350°F. Prepare three 6-inch or two 9-inch cake pans by spraying the sides with a cooking spray (Baker's Joy is my favorite) and fitting a wax or parchment paper circle to the bottom of the pan. Alternatively, you can grease and lightly flour the pans.

Sift the cake flour and then measure by spooning and leveling it in your measuring cup. Add the cake flour, baking powder, baking soda, cinnamon, ginger, cardamom, allspice, cloves, and salt into a bowl and whisk to combine. Set aside.

In the bowl of your stand mixer (a handheld mixer works fine too!), cream the butter for on high for two minutes until it's light and fluffy. Add in sugar and continue to mix on medium-high for another two minutes, scraping down the bowl and paddle as needed. Add the eggs one at a time, mixing thoroughly after each addition. Add vanilla and sour cream and mix for one minute on high, scraping down the bowl and paddle once more. 

With the mixer on low speed, add in the dry ingredients and mix until just combined. Add the (room temperature!) chai milk mixture slowly and mix until just incorporated. Scrape down the sides and bottom of the bowl and give it a few stirs to make sure there are no lumps (without over-mixing). The batter will be slightly thick, but pourable. 

Pour batter evenly into prepared cake pans (no more than 2/3 of the way full) and bake for 30-35 minutes. They're done when they spring back to the touch and a toothpick inserted into the middle comes out clean. Let the cakes cool in the pan for five minutes before turning them out onto a wire rack for an additional few hours of cooling. Make sure they're entirely room temperature before applying any frosting. 
Make the Coconut Buttercream
With a hand mixer or paddle attachment on your stand mixer, cream the butter on medium-high until it's creamy and light (almost white) in color. About 7 minutes. 

With the mixer on low, add the powdered sugar a few cups at a time, scraping down after each addition and making sure each addition is fully incorporated before adding the next one. 

Add vanilla extract, coconut extract, coconut milk, and salt and mix on medium-low for another two minutes until fully incorporated. 
Assembly
Once the Chai Layer Cakes have cooled completely, fill and frost the layers with Coconut Buttercream. To create the design pictured, tint one cup of buttercream a deep brown-orange with the food color gels of your choice (I used a mix of Americolor Chocolate Brown and Orange). Mix two in-between shades and create a messy ombrè by adding the darkest color on the bottom third of the cake, followed by the second darkest (and so on) until finally adding the uncolored buttercream to the top third and top of the cake. Keep adding and smoothing until you like what you see.

Pipe swirls of the uncolored buttercream around the top edge of the cake using your favorite piping tip (I used Wilton Tip 4B), then sprinkle with toasted coconut flakes**
Notes
* You may substitute the chai concentrate in this recipe with any other brand, or by steeping one chai tea bag in 1 1/4 Cups (296ml) of boiled whole milk. Either way, make sure the mixture is room temperature before using it in this cake recipe. 
** To make toasted coconut flakes, preheat your oven to 350ºF and line a baking sheet with parchment paper. Add a single layer of sweetened (or unsweetened) coconut flakes and bake for 5 minutes, stir, then bake for an additional 2-3 minutes until golden brown. 
Make Ahead Tips:
The Chai Cake layers can be made ahead and stored, wrapped in plastic wrap, at room temperature for up to two days. Alternatively, you can store the wrapped cake layers in the freezer for up to 2 months before thawing and frosting.
The Coconut Buttercream can be made ahead and stored in an airtight container in the refrigerator for up to two weeks. When you're ready to use it, bring it back to room temperature and re-whip in your stand mixer to bring back to smooth buttercream consistency. 
Did you make this Coconut Chai Cake recipe? Let me know how it went in the comments below. And if you used Community Chai concentrate in the recipe, be sure to tag @sugarandsparrowco and @communitychai on Instagram to show us! We'd love to see your chai cake creations.