Jump to Recipe
My husband and I are big fans of the Great British Baking Show (if you haven't seen it, power up Netflix right now!) and the other night we were watching a contestant bake a cranberry orange flavored dessert. While I've never really been all that intrigued to use those flavors before, my husband leaned over and said, "A cranberry orange cake would be delicious. You should make it." It's because of him that I found myself in the kitchen zesting oranges and rolling cranberries in sugar, wide-eyed at the Holiday scents filling the air. I ended up with a delicious orange flavored cake dotted with fresh, juicy cranberries, topped with zesty orange buttercream and tons of Christmas cheer! Thanks for the suggestion, husband. You were right. 
Cranberry and orange are a classic Holiday pairing, making this cake ideal for any festive gathering. It's got a moist, light crumb and is so pleasantly aromatic (your kitchen will smell amazing). The sweetness of it all is balanced perfectly with the tartness of the cranberries, giving it just the right amount of zing. Much like any citrus cake, the orange flavoring comes mostly from the zest. You'll want to zest one super large orange (or two smaller ones) before you get started with this recipe, and keep in mind that you'll be dividing the zest between the cake batter and buttercream.
I used fresh, whole cranberries in this cake recipe, but word on the street is that you can use frozen whole cranberries as a substitute. If you do, just make sure you don't thaw them before adding them to the cake batter. And a pro tip for making sure they don't sink to the bottom of your cake pan in the baking process: toss them in some flour before folding them in! The coating of flour keeps them suspended, and this trick also works with things like chocolate chips, sprinkles, and pretty much anything you would want to fold into cake batter. Life changing!
This cake tastes incredible with orange buttercream (recipe below), which is what I used to fill and frost it. As an alternative, you could also pair this cranberry orange cake with vanilla buttercream or cream cheese buttercream and either choice would be delicious. I love how the orange buttercream enhances the flavor of this cake and if you look real close, you can see tiny flecks of orange zest! Flecked buttercream always makes me swoon.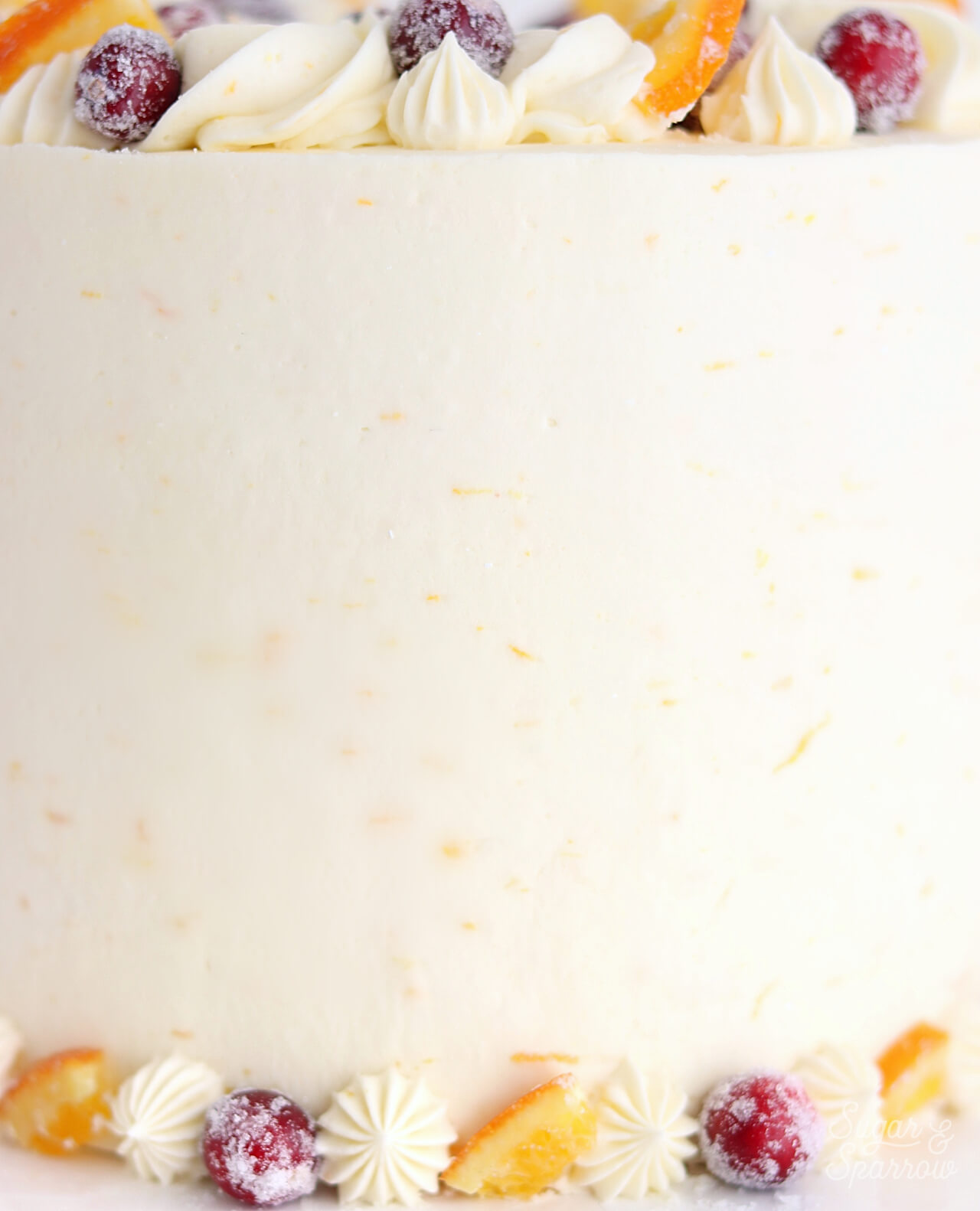 In all honesty, my first attempt at decorating this cake was almost disastrous. I had this idea in my mind to tint the buttercream a light orange and give it a retro look, but what actually happened was the buttercream ended up looking like the color of a bandaid. I kept holding up the orange slices and sugared cranberries next to it and telling myself that the color scheme would look better on the cake, but in the end it just wasn't as pretty as the natural color of the buttercream, so I started all over again and saved the other batch for another cake project.
To decorate, I frosted a smooth layer of orange buttercream and piped portions of the cake with Wilton Tip 4B (for the stars) and Wilton Tip 1M (for the rosettes). Then I added sugared cranberries (I used this recipe for those) and some candied orange slices from Trader Joe's. Holiday cake perfection inside and out!
Cranberry Orange Cake Recipe
Layers of light and zesty orange cake with fresh, whole cranberries folded in. Topped with orange flavored buttercream to give it extra zing. The perfect Holiday cake for any festive gathering!
Ingredients
Cranberry Orange Cake
2 1/2

Cups

(260g) cake flour, sifted before measuring

2 1/4

tsp

baking powder

1/4

tsp

baking soda

1

tsp

salt

1

Cup

(226g) unsalted butter, room temperature

1 1/2

Cups

(335g) granulated white sugar

3

eggs, room temperature

1

Tbsp

orange zest

from about 1/2 large orange

1/4

Cup

(60g) sour cream, room temperature

1 1/2

tsp

pure vanilla extract

3/4

Cup

(177ml) whole milk, room temperature

1/4

Cup

(59ml) fresh squeezed orange juice

from about 1/2 large orange

1 1/2

Cups

fresh whole cranberries coated in 1 Tbsp flour
Orange Buttercream
2

Cups

(452g) unsalted butter, room temperature

1

Tbsp

orange zest

from about 1/2 large orange

7

Cups

(840g) powdered sugar

2

Tbsp

fresh squeezed orange juice

3

Tbsp

whole milk, room temperature

pinch of salt, or to taste
Instructions
Make The Cranberry Orange Cake
Preheat the oven to 350ºF and prepare three 6-inch or two 9-inch cake pans by spraying the sides with cooking spray and placing a wax or parchment paper circle into the bottom of each one. Measure the cake flour by spooning into your measuring cup and leveling it. Place it into a medium sized bowl and add the baking powder, baking soda, and salt. Whisk together and set aside. Mix together the orange juice and whole milk and set aside.

In the bowl of your stand mixer (a handheld mixer works fine too!), cream the butter for on high for two minutes until it's light and fluffy. Add in white granulated sugar and continue to mix on high for another two minutes, scraping down the bowl and paddle as needed. Add the eggs one at a time, mixing thoroughly after each addition. Add the orange zest, sour cream, and vanilla and mix for one minute on medium-high, scraping down the bowl and paddle once more.

With the mixer on low speed, add in the dry ingredients and mix until just combined. Add the whole milk and orange juice mixture in a steady stream and mix until just incorporated. Scrape down the sides and bottom of the bowl and give it a few stirs to make sure there are no lumps. Make sure the cranberries are coated in 1 Tbsp of flour, then gently fold them into the batter.

Pour batter evenly between the cake pans (fill them no more than ⅔ full) and bake for 30-35 minutes, until a toothpick inserted comes out clean. Cool the cakes in the pan for ten minutes before removing and continuing to cool on a wire rack or flat surface.
Make The Orange Buttercream
With a hand mixer or paddle attachment on your stand mixer, cream the butter with the orange zest on medium-high until the butter is creamy and light (almost white) in color. About 7 minutes. 

With the mixer on low, add the powdered sugar a few cups at a time, scraping down after each addition and making sure each addition is fully incorporated before adding the next one. 

Add the orange juice, milk, and salt and mix on medium-low for another two minutes until fully incorporated. 
Assembly
Once the Cranberry Orange Cakes have cooled completely, fill and frost the layers with Orange Buttercream. To create the design pictured, fit one piping bag with Wilton Tip 4B and another piping bag with Wilton Tip 1M before filling each with the remaining Orange Buttercream. Pipe rosettes and stars onto the top of the cake in a crescent moon shape, then pipe some more onto the bottom of the cake on the opposite side. Add some sugared cranberries and candied orange slices wherever you wish!
Notes
Make Ahead Notes:
The cake layers can be made ahead and stored, wrapped in plastic wrap, at room temperature for up to two days. Alternatively, you can store the wrapped cake layers in the freezer for up to 2 months before thawing and frosting.
The Orange Buttercream can be made ahead and stored in an airtight container in the refrigerator for up to two weeks. When you're ready to use it, bring it back to room temperature and re-whip in your stand mixer to bring back to smooth buttercream consistency. 
What are some of your favorite Holiday cake recipes? This cranberry orange cake has become one of mine! Let me know what you're baking right now and if you make this recipe, be sure to leave a comment to let me know how you like it and tag @sugarandsparrowco on Instagram to show me!