This summer, I got to make the cutest princess birthday cake for my neighbor. While brainstorming the design, I thought it would be so fun to top the cake with an edible gold crown and since it turned out so well (and was super easy) I wanted to share the process with you! Maybe you've got a little one at home who is princess-obsessed or you're needing this tutorial for a client's cake. This tutorial will walk you through everything you need to know for crown topper success!
I made this cake topper using a silicone mold I found on Amazon, some ready-made gum paste, and this edible gold paint. It's about 10 minutes of actual work plus a few days of drying time, so you'll want to plan ahead for this one. The best part about this crown cake topper is seeing the look on a kid's face when you tell them they can eat it. Sure, it might not taste as great as the cake itself, but an edible cake topper is a hot commodity at a kid party.
Fondant vs. Gum Paste
You might be wondering why I used gum paste instead of fondant for this. Let me start by saying I've had a few bad experiences with fondant cake toppers – they just don't dry as firmly as gum paste. Fondant will work with this tutorial, but know that you might have to let it dry for a full week and even then, it might still be a little fragile. I chose gum paste because it dries super firm in a fairly short amount of time (48 hours), plus it's extremely easy to work with. This is the gum paste I used.
Here's a quick video of the whole process before you read all about it below:
If you want to see more videos like this one, check out my YouTube Channel. I've got a growing collection of recipe videos, cake decorating tutorials, and my Cake Basics series in video format. Click subscribe while you're there so you never miss a new video!
You Will Need
Step 1: Tint the Gum Paste
Coat your hands (even if they're gloved) in a little bit of the vegetable shortening, then add 1-2 drops of yellow food color gel to the ball of gumpaste. Knead the food color gel into the gum paste until it's uniform in color.
The reason I like to tint the gum paste yellow is because it will hide any imperfections in the painting process better than if you were to use white gum paste. It will look uniformly gold and not patchy in any way.
Step 2: Fill the Crown Mold
Coat your work surface in more vegetable shortening to prevent the gum paste from sticking, then use the small rolling pin to roll out the gum paste until it's as long and wide as the crown mold.
When it reaches this size, place the rolled out gum paste on top of the silicone crown mold and press it into the crevices. Feel free to fold the edges of the gum paste over and press them inside to fill the crown mold until it's just about overflowing with gum paste.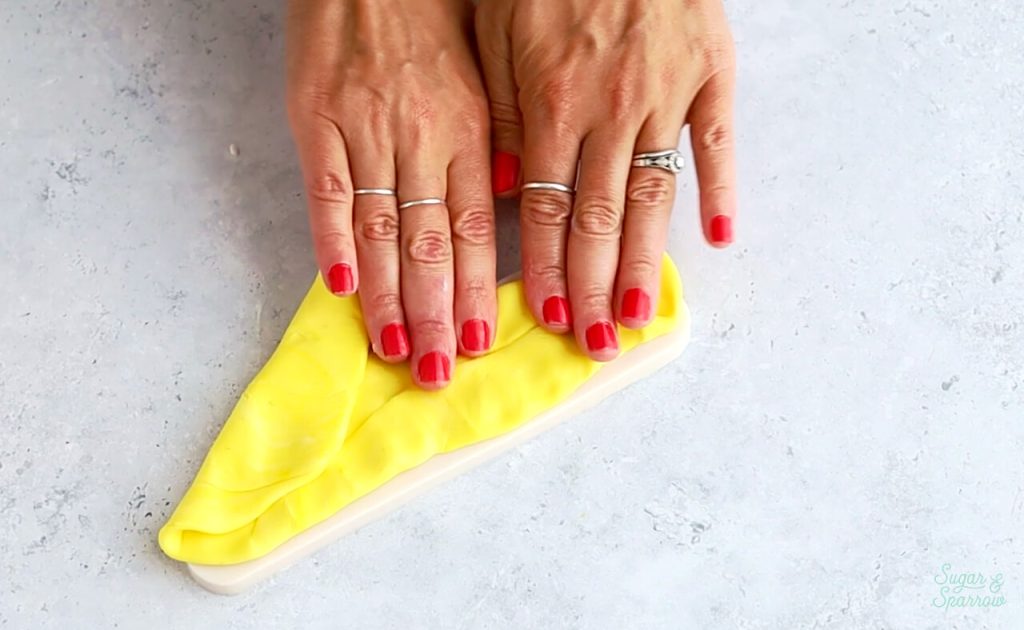 Hold a paring knife parallel to the crown mold and carefully trim away the excess gum paste.
Step 3: Release the Crown
Carefully bend the silicone mold to release the gum paste crown, then use an X-Acto knife to trim away any excess gum paste around all the detailed edges.
Step 4: Shape and Dry the Crown
Tape a piece of wax paper around a round can or tin that's at least 4 inches in diameter (or whatever diameter you want the crown to end up). Wrap the gum paste crown around the wax paper and gently press it down to adhere it.
Allow the gum paste crown to dry like this for 24 hours, after which you can slide the crown off of the wax paper lined can and allow it to dry for an additional 24 hours. The first 24 hours will dry the outside while the second will dry the inside.
Step 5: Paint it Gold
Add several drops of the Edible Art Paint to a small dish and use the food grade paint brush to add one coat of paint onto the dry crown. This first coat will look patchy, but don't worry – the second coat will work some magic!
Allow the first coat of paint to dry for 30+ minutes, after which you can add the second coat. Let the crown air dry some more, until it's dry to the touch, then top your cake with it and be amazed!
This crown cake topper is sure to impress party goers of all ages. There are other styles of crown silicone molds on Amazon, so head there if you want to see other options and feel free to use whatever you find with this tutorial!
Did you make this crown cake topper? I want to know how it went! Leave me a comment below and feel free to tag @sugarandsparrowco on Instagram to show me. I love to see what you create!