Jump to Recipe
A dear friend recently took a trip to Argentina and brought me back the cutest little jar of dulce de leche as a gift. I had never tasted dulce de leche before, so I was eager to sample it. Holy moly. It is just as delicious as I imagined it to be! Similar to caramel, but a lot smoother and creamier. Just the right amount of sweet without being over the top. It was instantly inspiring! 
Shortly after my first dulce de leche tasting, I wanted to see how I could replicate the flavor and quickly learned that there's a super easy way to make it using just one ingredient: sweetened condensed milk. Must be too good to be true, right? In this case, no! In my humble opinion, this dulce de leche is so delicious it honestly stands a chance against the real deal. I did a side by side tasting just to make sure and the homemade stuff is a hit!
What is Dulce de Leche?
The origin story of dulce de leche is a bit hazy, but many claim that it was first made by accident in Argentina when a maid forgot about a pot of milk and sugar boiling on the stove. When she returned to the kitchen, the concoction had turned into the thick brown sweetness we call dulce de leche today. Its name translates to "sweet milk" in Spanish.
I always thought that dulce de leche was some sort of caramel just because it looks so much like it. It actually tastes a little nuttier and a lot creamier, with subtle notes of toffee and butterscotch. While caramel uses a process that involves the caramelization of sugar (hence the name), dulce de leche uses a process that slowly cooks milk and sugar together until it thickens and turns brown in color. If you want to get super sciency, the chemical reaction that happens when heating the milk and sugar together to make dulce de leche is called the Maillard reaction – a complex series of chemical reactions that happen when proteins (milk) and sugars (in this case both the milk and sugar) are combined while heated. The result is that nice caramel brown color you see in dulce de leche, as well as the formation of complex flavors and aromas.
Tips for This Homemade Dulce de Leche Recipe
There are a few different methods of making dulce de leche at home but the one described in this recipe is my go-to. It's fairly hands-off, only requires one ingredient, and works like a charm every time! You'll basically be placing a can (or as many cans as you'd like) in a large pot, submerging under an inch of water, and simmering for 2 ½ – 3 hours. Here are tips for total success:
Use cans of sweetened condensed milk that don't have the pull tab top. Those are prone to bursting under the pressure of the water. If those are all you can find, you can transfer the sweetened condensed milk into a mason jar with an airtight lid and proceed from there.
Fully remove the label from the can and use a little bit of Goo Gone or white vinegar to get rid of the sticker residue.
Check on the water level a few times during the simmering process. You'll want to maintain about an inch of water above the top of the cans, so you'll need to add a little more water every now and then.
Simmering for 2 ½ hours will yield a beautiful dulce de leche, but if you want even more amplified flavor, simmer closer to the 3 hour mark.
How to Use Homemade Dulce de Leche
There are so many possibilities for dulce de leche! You can use it as a cake or pie filling, drizzle it on ice cream and baked goods, and even stir it into your coffee. I recently made this dulce de leche ice cream recipe that I'm obsessed with. I'm also hoping to incorporate dulce de leche into a cake recipe at some point. Stay tuned for that and feel free to get creative in the meantime!
How to Store Homemade Dulce de Leche
You can store unopened cans of homemade dulce de leche for up to 3 months in your pantry. Once you open the can, you'll need to store it in an airtight container in the refrigerator for up to 2 weeks.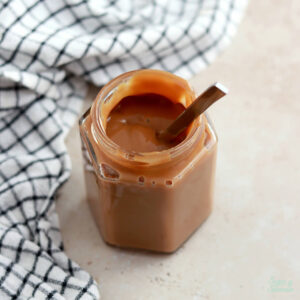 Easy Dulce de Leche
Homemade dulce de leche that uses just one ingredient: sweetened condensed milk. It's delightfully easy to make, incredibly delicious, and pairs perfectly with ice cream, baked goods, coffee, and more!
Ingredients
1

14oz can

sweetened condensed milk
Instructions
Remove the label and glue residue from the can of sweetened condensed milk, then place into a large pot. Fill the pot with water until the can is submerged under at least 1 inch of water.

Place the pot on the stove and bring to a boil over medium-high heat, then reduce the heat to low and allow to simmer for 2 1/2 to 3 hours, monitoring the water level periodically to endure there is still 1 inch of water above the can.

Carefully remove the can from the pot using tongs and hand protection (it will be extremely hot to the touch). Allow the can to cool for 20-30 minutes before opening and enjoying. You may need to give it a few whisks to incorporate any lumps.
Notes
Make Ahead Tips: 
Store unopened cans of dulce de leche at room temperature for up to 3 months
Once opened, store dulce de leche in an airtight container in the refrigerator for up to 2 weeks. 
Did you make this homemade dulce de leche? I want to know how it went and what you used it for! Let me know in the comments below and feel free to tag @sugarandsparrowco on Instagram to show me!