Jump to Recipe
Whenever I share this black velvet cake recipe I get so excited to say that the cake layers don't have any food coloring in them. The black cocoa powder turns those layers extra black in the baking process and the result is so striking! I originally paired it with this black buttercream recipe that uses minimal food coloring but I got to wondering if there was a way to make the entire cake dye-free, frosting and all. Well, that wondering turned into a straight up obsession and I tested tons of techniques and ingredients to finally find the perfect dye-free black buttercream recipe. Turns out it's easier and less complicated than I thought!
This gorgeous black buttercream recipe is awesome for a few reasons:
It DOESN'T turn your mouth black (or anything else 💩)
It uses ZERO food color gel
There's NO charcoal involved
It's super EASY to make
It tastes like OREO COOKIE BUTTER
Since I'm such a big fan of Oreos, I enjoyed quite a few spoonfuls and kept checking my mouth to see if my tongue would turn black but guess what? It didn't! If you've been looking for a natural way to make dark black buttercream, this is it.
The Secret Ingredient for Dye-Free Black Buttercream
To get the blackest black buttercream naturally, you'll need one special ingredient: EXTRA DARK black cocoa powder. During all of my recipe testing and experiments, I realized that not all black cocoa powders will get your frosting as dark as this kind. Just look at the difference between the brands below:
All black cocoa powder is essentially raw cacao powder that's been Dutch-processed, or treated with an alkaline solution to reduce its acidity. The result of that chemical reaction is a darker colored cocoa powder and richer chocolate flavor. It's what Oreo cookie shells are made with, so that's the main note you get when you bake with black cocoa powder.
The Experiments
I was thoroughly obsessed with finding the perfect recipe for this black buttercream. So much that I went lots of directions with it. After realizing that black cocoa gets darker when heated or cooked, I understood why my cake layers got so dark without food coloring. So I tried lots of experiments with heat: blooming the black cocoa powder in melted butter, making an Ermine frosting with it, and cooking it into an inky black syrup with sugar and water (like this Sugarologie method), to name just a few. These experiments either resulted in a super dark brown buttercream or just didn't have the right consistency in the end.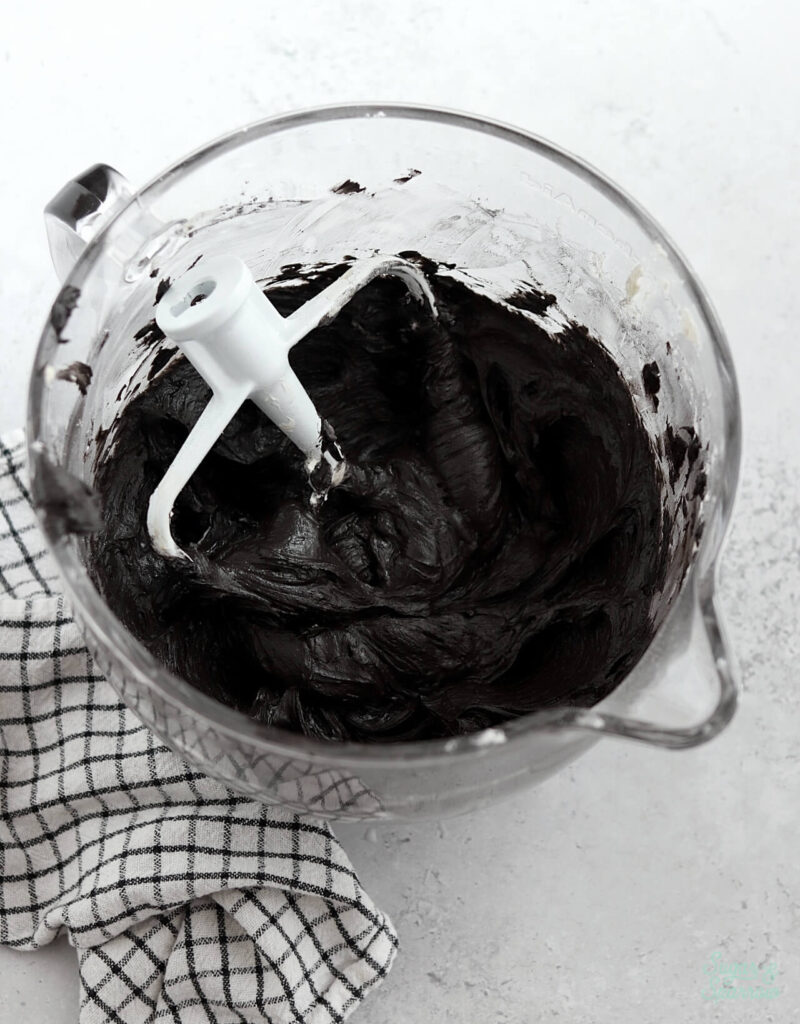 I wanted to come up with a recipe that was straightforward and easy enough for anyone to make, and it wasn't until I started researching different brands of black cocoa powder that I found this extra dark version. It is a game changer. It's so much darker in color than any of the other brands I've tried, so I was able to sift it into my favorite buttercream recipe and the results were perfect. No cooking, no complicated steps, just a super straightforward method and the right product.
It's ready to use right away but look at how much darker it gets after 24 hours:
My New Favorite Black Buttercream Recipe
After seeing that I can make black buttercream without dye, it's all I want to do going forward. I love not worrying about it coloring the teeth and tongues of party guests or hearing stories about startling bathroom experiences afterwards (iykyk). Plus, it's silky smooth and tastes just like Oreo cookie butter so I was legitimately eating it by the spoonful! It pairs perfectly with my black velvet cake recipe or any cake that would pair well with dark chocolate frosting. Here's a quick video I whipped up to show you how it's made:
If you want more videos like this one, you'll find more on my YouTube page! Be sure to hit the Subscribe button while you're there so you never miss a new one.
Dye-Free Black Buttercream
Silky smooth, naturally colored black buttercream made with the magic of black cocoa powder. No food color gel, charcoal, or complicated steps involved!
Ingredients
1

Cup

(226g) unsalted butter, room temperature

2 1/2

Cups

(300g) powdered sugar

1/2

Cup

(56g) extra dark black cocoa powder*

1

tsp

pure vanilla extract

2

Tbsp

whole milk, room temperature

pinch of salt
Instructions
In a stand mixer fitted with a paddle attachment, whip the butter on medium speed until creamy and light in color, about 4 minutes. Scrape down the bowl and paddle, then add half of the powdered sugar. Mix on low speed until just incorporated, then add the rest of the powdered sugar. With the mixer still in the off position, sift in the black cocoa powder and add the vanilla, milk, and salt. Mix on low until all ingredients are thoroughly combined, about 2 minutes, scraping down the bowl and paddle as needed.

Place the buttercream in an airtight container and allow the color to deepen for 24 hours or more. You can keep it at room temperature for one day or store it in the refrigerator for up to two weeks. When you're ready to use it, bring it back to room temperature and re-mix with your stand mixer on low speed until the consistency is smooth.
Notes
*Black Cocoa Powder: It's important to use the darkest black cocoa powder possible to achieve a black color. Here's the brand I used in this recipe. 
Make Ahead Tips: this buttercream can be made ahead and stored in an airtight container at room temperature for up to 1 day. Alternatively, you can store it in an airtight container in the refrigerator for up to two weeks. When you're ready to use it, bring it back to room temperature and rewhip with your stand mixer to bring back to frosting consistency. 
Yield: This buttercream makes enough to:
Frost 12-15 cupcakes with a piping bag
Fill and crumb coat a three-layer 6-inch cake or two-layer 8-inch cake. To have enough for frosting and decorating as well, double the recipe. 
Did you make this dye-free black buttercream? I want to know what you paired it with and what you think! Let me know in the comments below and feel free to tag @sugarandsparrowco on Instagram to show me. I love to see what you create!