Textiles have always been a big source of inspiration for my cake making (a couple cases in point: this knitted buttercream cake and this fiber art inspired cake), and creating an embroidery cake with buttercream has been on my list of things to try for quite some time. With March being National Craft Month, I thought I'd finally check an embroidery cake off my list and luckily, JOANN had the perfect supplies to make it! Just look at this cutie:
Although it looks pretty intricate, this embroidery cake ended up being so much easier than I thought it would be. This is partly because the piping techniques I used were so forgiving, and partly because I had some adorable floral cookie cutters to imprint onto the cake and use as piping guides for the larger flowers. I went the extra mile on the buttercream color palette and mixed up nine different colors for this design. Since this cake will look great in any color scheme you can feel free to mix up a simpler palette if you want.
To show you the piping techniques in action, here's a full video tutorial of this embroidery cake before I get into the written tutorial below:
If you're into cake decorating videos like this one, be sure to check out my YouTube channel for further learning! I'm always rolling out new videos, so click the subscribe button while you're there to ensure you never miss a new one.
You Will Need:
Step 1: Frost the Cake with Smooth Buttercream
Place your chilled and crumb coated cake on the turntable and frost a smooth buttercream finish onto the cake. Start by frosting a smooth layer on the very top of the cake with your angled icing spatula.
Next, add buttercream to the sides of the cake and glide your icing smoother over them while turning the turntable to create smooth sides.
You'll notice a crown of buttercream forming on the top edges of the cake, which is essential to getting sharp edges on the top. Use your angled icing spatula to swipe the crown inwards (toward the top center of the cake). Repeat until you've got nice sharp edges.
When your cake is looking ultra smooth, pop it into the refrigerator to firm up for at least 30 minutes. If you need more tips on creating a perfectly smooth cake finish, I've got a great tutorial for you here.
Step 2: Mix the Color Palette
Divide the remaining buttercream amongst nine different bowls (or however many colors you plan on mixing, plus one bowl you'll leave uncolored). Use the Wilton Color Right Performance Food Coloring Set to create your ideal color palette. This set comes with 8 bottles of ultra concentrated food color gels and a guide to help you mix the colors you're imagining. If you want to replicate the color palette I created, here's what I did:
Dark Green: 1 drop blue, ½ drop yellow, ¼ drop brown
Light Green: Mix dark green with uncolored buttercream using a 1:1 ratio
Light Purple: 1 drop pink, ¼ drop blue
Periwinkle Blue: 1 drop blue, ¼ drop pink
Sky Blue: 1 drop blue
Coral Red: 1 drop orange, 2 drops red, ½ drop brown
Peach: Mix 1 Tbsp of the coral red buttercream with uncolored buttercream
Yellow: 1 drop yellow, ¼ drop brown
It might seem intimidating to custom mix your color palette but I promise it's worth it! You'll get more control over your colors (thus a more cohesive color palette), but like I said before – feel free to walk to the beat of your own drum and use whatever colors you're imagining!
Step 3: Prepare the Piping Bags
Fit eight piping bags with Wilton Tip 2 or 3, then fill each one with each of the colors you mixed up in the previous step. There's not much of a size difference between Tip 2 and 3, so you could even use a mix of both or fit some of the piping bags with couplers so you can swap the tips between bags mid-decorating.
Step 4: Imprint the Cake with Floral Cookie Cutters
Once your frosted buttercream cake is chilled and firm to the touch, use the floral cookie cutters to make imprints where you want your embroidery to be piped.
Leave a little room to freehand some details in between imprints as well.
Step 5: Pipe the Embroidery Textures
Start by outlining one of the floral imprints with one of the piping bags you prepared. Place a dot in the center of the flower. Squeeze and drag the piping bag from the outlined edge of the shape to the center dot and focus on making a straight line. Continue making straight lines of buttercream from the outlined edge to the center dot all the way around the shape.
For some of the flowers, you can pipe two colors on the inside of the imprint. Starting on the outlined edge of the flower, pipe the straight lines of buttercream only part of the way to the center of the shape with one color, then overlap with a different color to reach the center.
For some of the smaller flowers, I outlined the imprint with buttercream and filled in the shape with more of a back-and-forth piping motion. I started at the bottom of the flower outline and piped from one outlined edge to the other and continued piping parallel lines in a back-and-forth motion until I reached the top of the shape.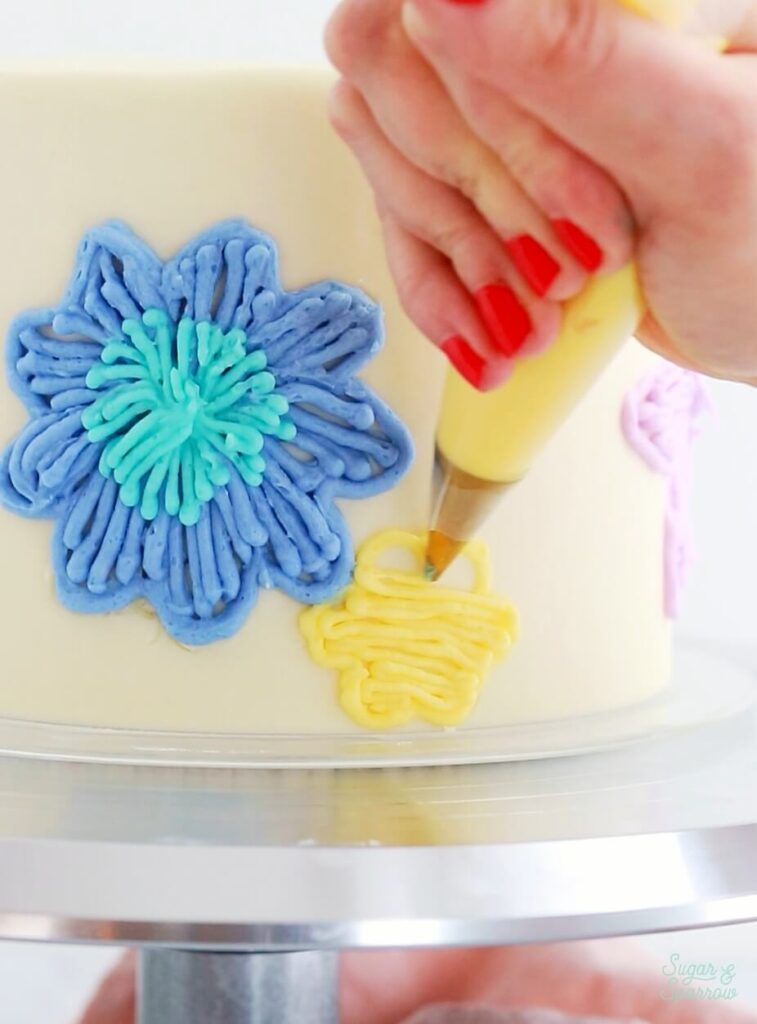 I freehanded the stems and leaves using the same embroidery-inspired piping techniques. Mainly just lines and dots!
Step 6: Add Some Accents
I decided to add some super tiny flowers in random places as accents and I love them so much! Each one is just five dots in a circular formation.
I also placed dots in the center of each flower I created in the previous step. This made the embroidery design look super detailed and multi-layered.
Finally, I added a border on top of the cake. This is where the ninth color in my palette came in. I mixed the remaining uncolored buttercream with a little of the Coral Red to make a mid-toned coral color. Then I placed it in a bag fitted with Wilton Tip 12 and piped dots along the top edge of the cake.
If your dot border looks more like chocolate chips than dots, you can always wet a small paint brush with a little bit of water and gently reshape the peaked top until it looks more round. You can also do this with any of your embroidery piping to get rid of unwanted peaks.
I piped just a few more tiny flowers on the very top of the cake and had to stop myself there because it is so easy to want to keep on piping! Definitely follow your heart when it comes to this design, but also try to leave plenty of white space to let the embroidery elements shine!
Just look at how adorable this embroidery cake turned out! I am so happy I finally tried these techniques and that my local JOANN had the perfect supplies to make it exactly how I imagined.
Be sure to check out your local JOANN to see their amazing cake decorating tool selection! Their Spring collection is so fun and inspiring, but they're also my year-round go-to for local food crafting supplies (and so much more – if you're anything like me you'll probably also leave with armfuls of other crafts and home decor). And if you don't live near a JOANN store, you can also shop their vast collection of products online.
I hope you love making this embroidery cake as much as I did! If you do end up making one, let me know how it went in the comments below + be sure to tag @sugarandsparrowco and @joann_stores on Instagram to show us. We'd love to see what you create!
Disclaimer: I was compensated by JOANN for my work of creating this project, styling, filming, photographing, and writing about their products. As always, all opinions are honest and my own. Thank you for supporting brands that support Sugar & Sparrow.