My momma was the queen of birthday sheet cakes. She baked them in her favorite casserole dish and served them up for every one of my birthdays as a kid, always covered in canned frosting and that grocery store tube gel for writing out Happy Birthday. It's so nostalgic for me to see those little gel tubes hanging at the grocery store nowadays! I think casserole dish sheet cakes might have been a 90's thing, but I want to bring them back in a big way. After a trip to my local JOANN store, I found the perfect piping tip set to make it happen!

See? All that cake needed was a little revamp! Same sheet cake underneath, but a whole lot of pretty piping to make it eye-catching. All of these pretty buttercream florals were made possible with the Wilton Drop Flowers Tip Set + a few additional favorite tips (1M and 4B) I picked up at JOANN's.

The best thing about baking a sheet cake is it's easy. You don't have to worry about leveling, filling, or stacking any layers. Just add some cake batter to your casserole dish and bake it up! The only real thing you need to worry about is giving the cake enough time to cool before you frost it.

The reason I love these Drop Flower piping tips is that they take care of all the hard work for you. They're designed to create perfect florals in just a twist of the wrist, creating a beautiful floral look that anyone can achieve. Here's a quick video to show you the technique before you read all about it below:

This design will work in just about any color palette imaginable, so pick your favorite color scheme and get ready to party!

You Will Need
Step 1: Bake The Cake

Whip up your favorite cake recipe or a box of cake mix, then pour it into your favorite (prepared) 9 x 13 casserole dish. I always like to spray the dish with Baker's Joy to ensure that the cake doesn't stick to the dish after baking.

Once your sheet cake is baked to perfection, allow several hours for it to cool at room temperature before you start piping your florals.

Step 2: Color The Buttercream

With your favorite color scheme in mind, divide the vanilla buttercream into separate bowls for color mixing, then use your favorite color gels to tint it. I used the Wilton Color Right System to mix up five different colors for this project.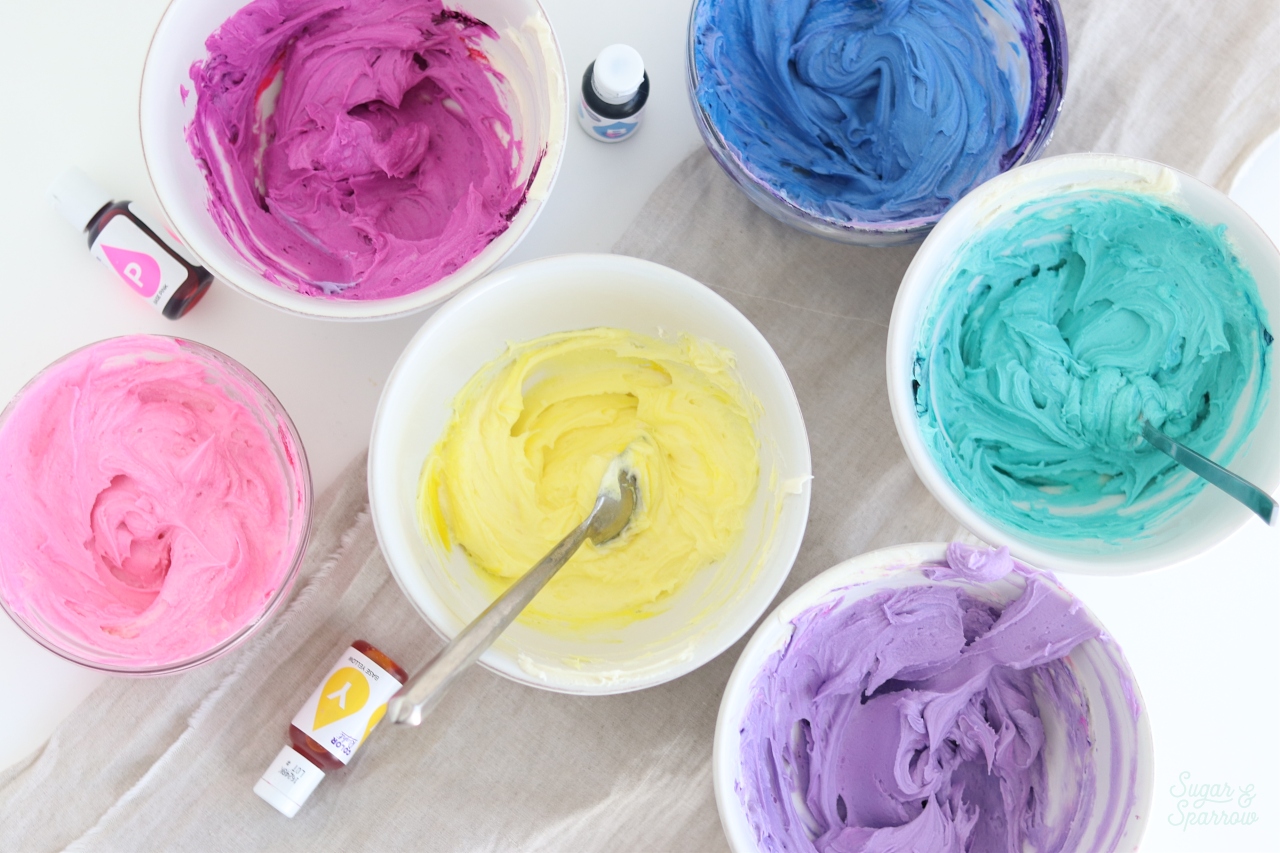 While any color gels will work for this part, the Wilton Color Right System is perfect for getting totally custom shades. It comes with a guide for color mixing, and you can use it to achieve any color imaginable!

Step 3: Prepare Your Piping Bags

Snip off the end of each piping bag and insert the piping tips one by one. For this design, I prepared two piping bags with Wilton Tip 4B, two with Wilton Tip 1M, and four for each of the piping tips that come with the Wilton Drop Flowers Tip Set.

The Wilton Drop Flowers tip set comes with Tips 225, 129, 109, and 190. Each one makes a different floral design, effortlessly!

Step 4: Pipe The Floral Designs

With your cooled sheet cake in the casserole dish, first pipe rosettes using the piping bags fitted with Tip 1M. To pipe a rosette, face the piping tip downward and squeeze the piping bag to get the buttercream flowing, then while keeping continuous pressure, make a small swirl around the where you originally squeezed. There's no rhyme or reason as to where to pipe the rosettes, so just follow your heart here.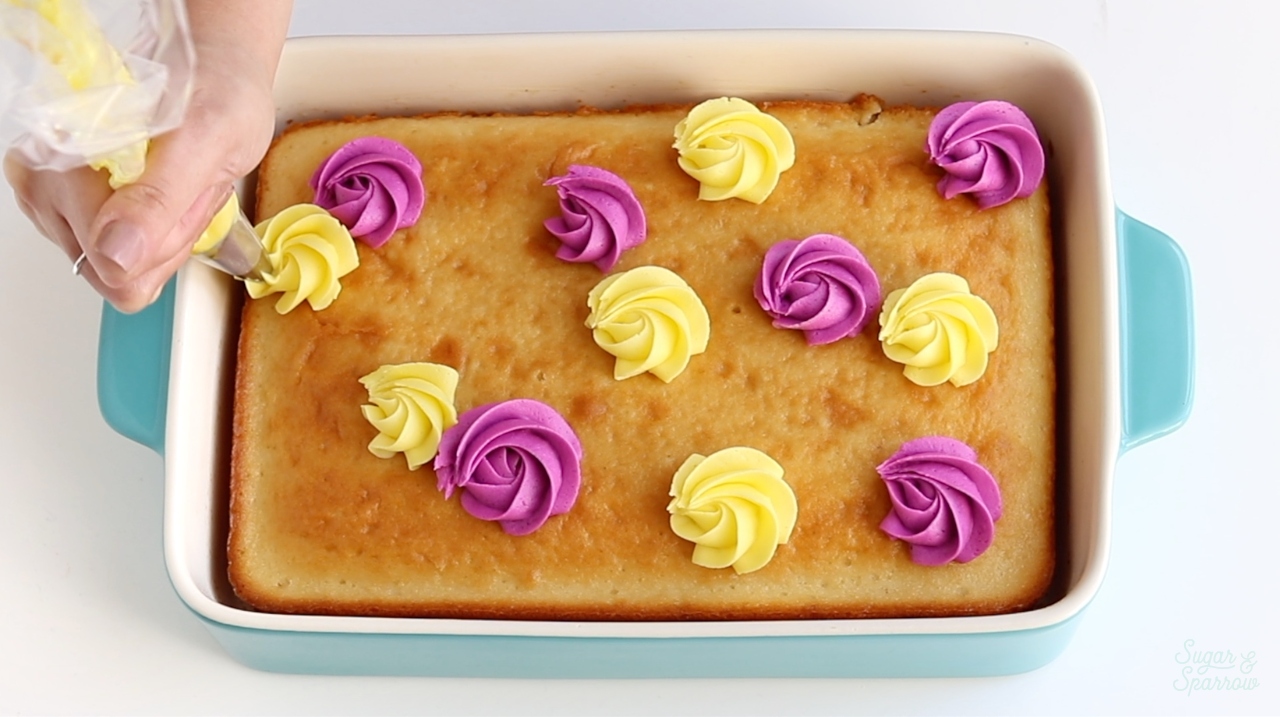 Next, use the piping bags fitted with Tip 4B to pipe star designs wherever you'd like. These stars are quite simple, just face the piping tip downward, squeeze, and release as you lift up.

And finally, use the piping bags fitted with the Wilton Drop Flowers Tip Set to fill in all of the empty spaces. You can either pipe them with a squeeze or gently rotate your wrist as you're piping to get cool swirled floral designs.

Isn't this floral sheet cake a hit? It's a nostalgic concept, made modern with some easy piping! The best part is, it'll work in all sorts of color schemes and the look can be achieved in minutes. It's the easiest way to make an eye-catching floral cake!

Be sure to visit your local JOANN store to find all the piping tips you need to create buttercream florals, plus tons of cake decorating tools and supplies, all in one shop. If you don't live near a JOANN store, check out their website for an epic selection of cake decorating goodness! And whether you shop in store or online, be sure to download their app, because they always have a coupon for you to get the best cake and craft supplies at a discount.

Disclaimer: I was compensated by JOANN for my work of creating this project, styling, filming, photographing, and writing about their products. As always, all opinions are honest and my own. Thank you for supporting brands that support Sugar & Sparrow.