This was originally a guest post that I wrote for SprinklePop's blog. It's too good not to re-share over here, because these cupcakes are just so fun and and my favorite gender reveal idea ever.
A few weeks ago, I got to help celebrate a super special moment in my friend's life: revealing the gender of her sweet little baby to come! I can't tell you how exciting it was to help celebrate and be part of the big surprise. Gender reveal parties are so much fun and I've seen tons of creative ways to make the big reveal even more spectacular. I wanted to translate that excitement into cupcake form, and lucky for me, SprinklePop just released a new line of Solid Sprinkle Mixes that were the perfect color to represent either gender!
In anticipation of the email I was going to get regarding which color to fill these cupcakes with, I ordered both the Light Pink and Light Blue sprinkle mixes. I got to use the Light Pink (it's a girl!) inside the cupcakes, but ended up topping them with both colors.
Side note: SprinklePop's Solid Sprinkle Mixes come in 22 different colors! They're all super beautiful and I can't wait to order some of the other hues. Each mix contains a few different sprinkle shapes, so you get really cool texture in a monochromatic color palette. Gorgeous.
After filling the cupcakes with these pretty pink sprinkles, I topped them with some vanilla buttercream piping and a few sprinkles from each bottle. They definitely look like a mystery on the outside, and when cut open the pink (or blue!) sprinkles tumble out like a pinata. So much fun!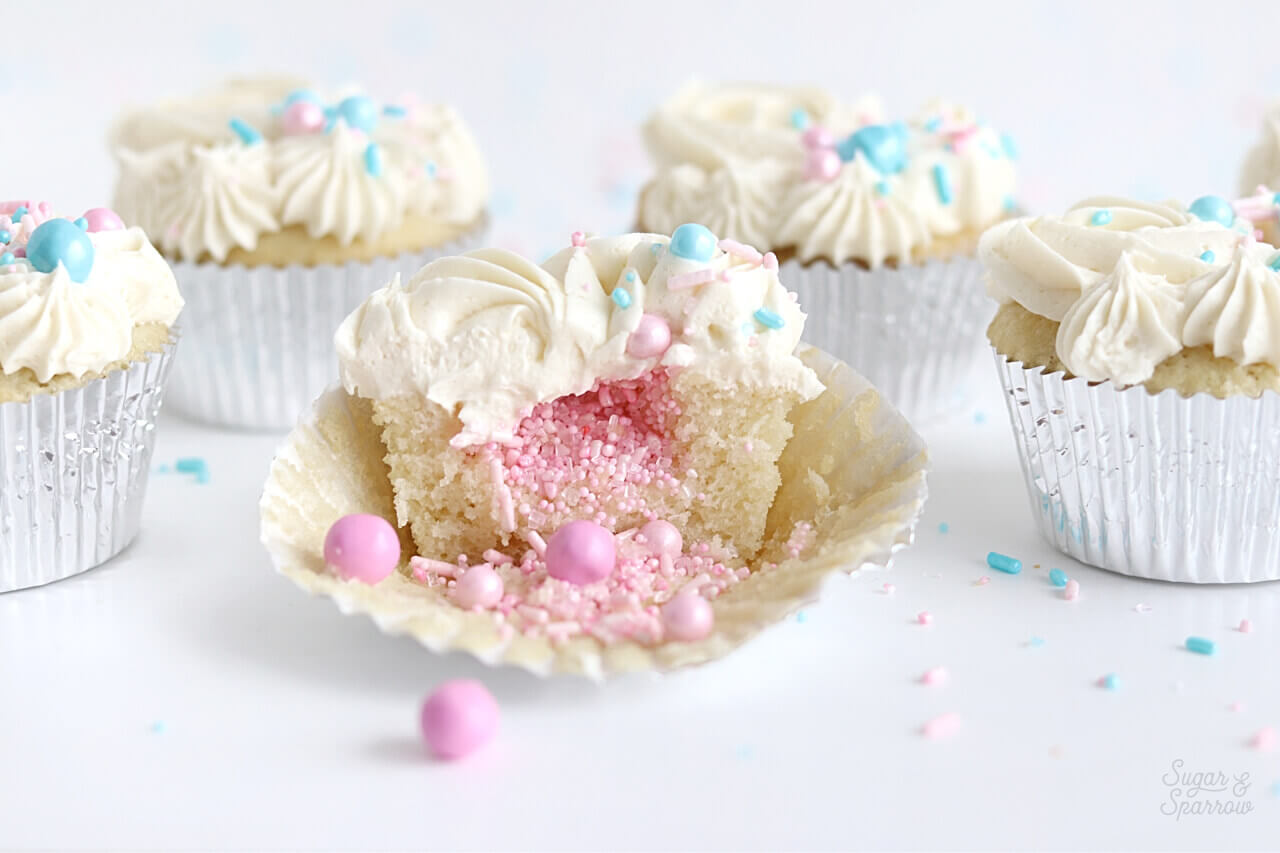 I've seen other ways to create gender reveal cupcakes (tinting buttercream filling or baking the color into the cupcake itself), but the sprinkle approach is hands-down my favorite! The best part about SprinklePop sprinkles is they actually taste good. If you're gonna have a mouth full of sprinkles, they've got to be yummy!
You Will Need
Baked cupcakes

Piping tip or other circular device to cut a hole in the cupcake

SprinklePop sprinkles in Light Pink or Light Blue

Neutral-colored buttercream for frosting the cupcakes.
Step 1: Make Room For Your Sprinkles
In order to fill the cupcakes with sprinkles, you'll need to create some space within your baked cupcakes. To do so, I use the bottom of a large piping tip. You can use anything with a sharp, circular opening that's about an inch in diameter.
Press the piping tip (bottom first) into the cupcake and the middle should come right out. You now have a nice cavity within the cupcake for filling with sprinkles!
Step 2: Fill With Sprinkles
Choose either pink or blue SprinklePop sprinkles to fill the center of the cupcake with, and pour them in until they're flush with the top.
Continue until all of the cupcakes are filled.
Step 3: Frost The Cupcakes
Using a neutral-colored buttercream (I've gone with this classic vanilla buttercream recipe), frost the tops of the cupcakes to cover up your sprinkle cavity. The design I've created involves piping an off-centered rosette with Wilton tip 1M, then piping a squiggle (for lack of a better word!) with Wilton tip 104 next to the rosette. For the remainder of the cupcake, I've piped a few open stars with Wilton Tip 4B.
I finished the cupcake design with a few sprinkles in each color (to keep it a big surprise!), but you can decorate your cupcakes any way you like. As long as you go with a gender neutral design on top, you're good to go! Now all that's left to do is prepare yourself to be part of one of the most special moments ever.