I've always loved the look of gold drip cakes but I never really tried making one until my niece's golden birthday. Since it was gold-themed, I thought it was the perfect time to learn the art of the gold drip. I've made a few gold drip cakes since that one and have definitely learned my fair share of what products and methods to use (and not use), and how to make a gold drip that doesn't taste terrible (because that matters too).
My first order of business was figuring out what kind of drip to use as the base. I'd heard that using straight melted chocolate was one way to go, but I found that too thick and hard to work with. Instead, I figured out a way to create the gold drip with my favorite white chocolate ganache recipe. It's easy to work with, tastes superb, and if you give it enough time in the refrigerator it will set firmly enough to paint.
That brings me to my next order of business: what product to use for turning the drip gold. First I tried mixing gold luster dust with a little lemon extract to create a paint-like consistency. It looked great when I painted it on the drip, but it ended up doing two terrible things in the long run: it would not dry and it was so thin that it ran right down past the drip. Luster dust mixed with something like vodka or grain alcohol might work better, but I wasn't up for a trip to the liquor store to figure it out.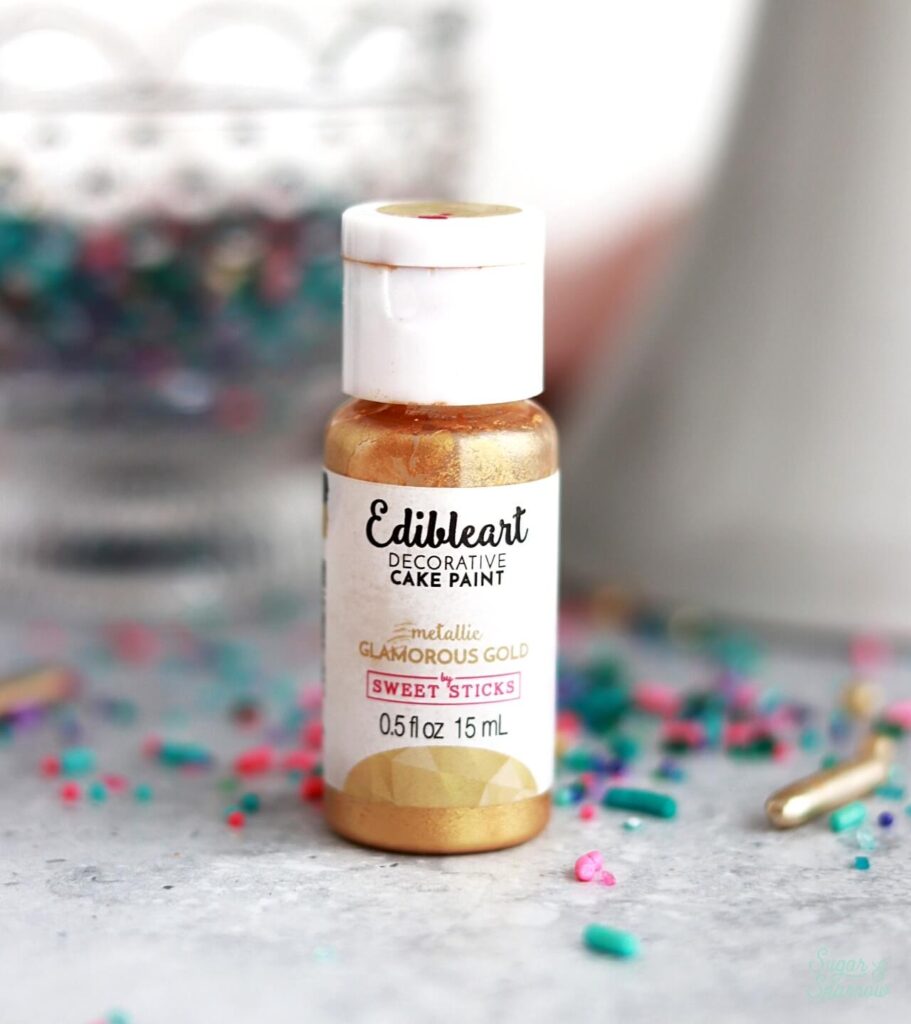 Instead, I decided to use Edible Art Paint in Glamorous Gold. It's a premixed edible metallic paint that's FDA approved and it worked like a charm. I needed to paint two coats onto the drip to get the best coverage, but it looked amazing and ended up drying perfectly. With the right product, all that was left to do is practice! I've been working on getting better at painting the drip without painting the cake (but I did find a solution that works for cleaning up small mess-ups that I'll talk about below).
Here's a quick video that shows the full process of creating a gold drip, from dripping the cake with white chocolate ganache to painting and troubleshooting:
If you have yet to check out my YouTube channel, head there to see more cake recipe videos, decorating tutorials, and my entire Cake Basics series in video format. Hit the subscribe button while you're there so you never miss a new video!
You Will Need
A cake that's been frosted smooth and chilled 
1 batch of my white chocolate ganache recipe
Piping bag
Angled spatula
Vodka or grain alcohol (just for touch ups)
Step 1: Drip the Cake
Place the chilled, frosted cake on your turntable. When the white chocolate ganache has reached room temperature and is ideal drip consistency, place it into the piping bag and carefully snip off about ¼ inch opening on the end. Add a test drip to the side of the cake to make sure the ganache is just right (not too thick or thin), and if all is good, continue adding drips around the side of the cake.
When the sides are dripped, fill in the top of the cake with more ganache and smooth it down with an angled spatula. Be careful not to add too much ganache or smooth too closely to the edges so you don't accidentally push more ganache over the edges of the cake.
If this is your first time working with white chocolate ganache or you could use some tips on getting better at drip cakes, this blog post and video tutorial should answer all of your questions!
Step 2: Let the Drip Set
After you drip the cake, place it into the refrigerator for 30 minutes at minimum. The more time you can let the drip firm up in the refrigerator the better (overnight is actually best!).
The more firm the drip, the easier it will be to paint in the next step.
Step 3: Paint the Drip
Add 5-10 drops of the Edible Art Paint into a pinch bowl. Using the small paint brush, carefully paint the gold onto the ganache, starting on top of the cake and working your way over every drip. This is a tedious process that requires some patience, so be prepared for that!
After painting the first coat of Edible Art Paint, place the cake into the refrigerator for another 15-30 minutes to let the paint dry a bit. Then, paint a second coat over the top of the first.
Step 4: Erase Mess-Ups (if needed)
If there are any spots where you accidentally painted past the drip and onto the buttercream, there is a fix! Place a few teaspoons of vodka or grain alcohol into a pinch bowl and dip a clean paint brush into it, then paint over the stray paint. The idea here is essentially like using nail polish remover to clean up around your nails after painting them. Do this part carefully!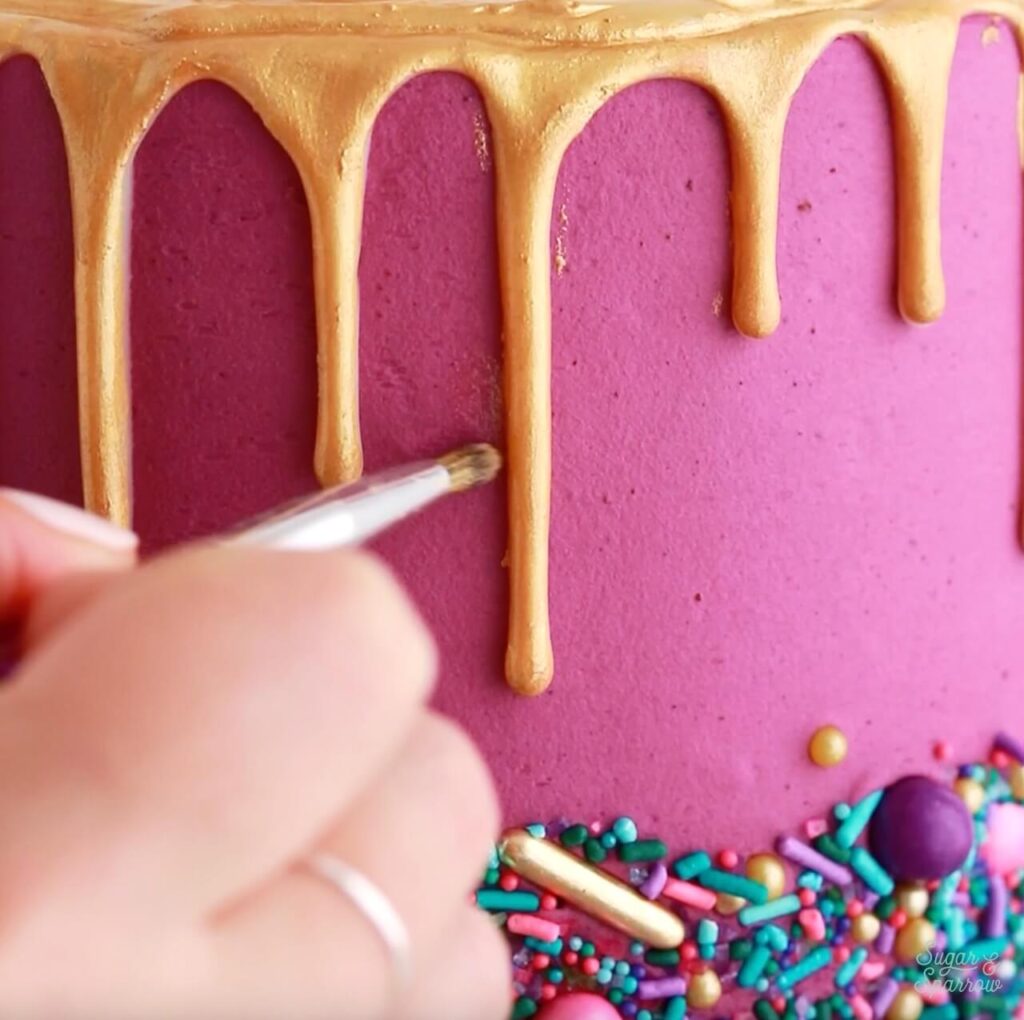 The higher the alcohol content in your paint remover, the quicker it will evaporate and dry. It will not make your cake taste like alcohol (in case you're worried about that!).
And there you have it – a beautiful metallic drip cake that is sure to impress! It's the perfect way to add some glitz and elegance to your cake. 
FYI: I finished the look on this particular cake with a star border made with Wilton tip 6B and Sprinkle Pop "Treasure Hunt" sprinkles. And the color I used for this beautiful buttercream is AmeriColor Electric Purple. So stunning!
Did you make a gold drip cake with this tutorial? I'd love to know how it went! Leave a comment below and be sure to tag @sugarandsparrowco on Instagram to show me your work. I love to see what you create!