Jump to Recipe
I know I'm not alone in saying that a mug of hot cocoa with marshmallows on top is downright nostalgic. It's a distinct flavor combo that is enjoyable at any age, reminiscent of winter and the Holiday season. Remember how I talked about having a list of Holiday cake flavors I wanted to create? Well, this one has been on the top of the list for a few years now. So as soon as I had the energy toward the end of my maternity leave, I decided to do some recipe testing and check it off the list. Surprisingly, this one didn't take much testing at all! It is packed with hot cocoa flavor, marshmallowey goodness, and all the nostalgia. Behold: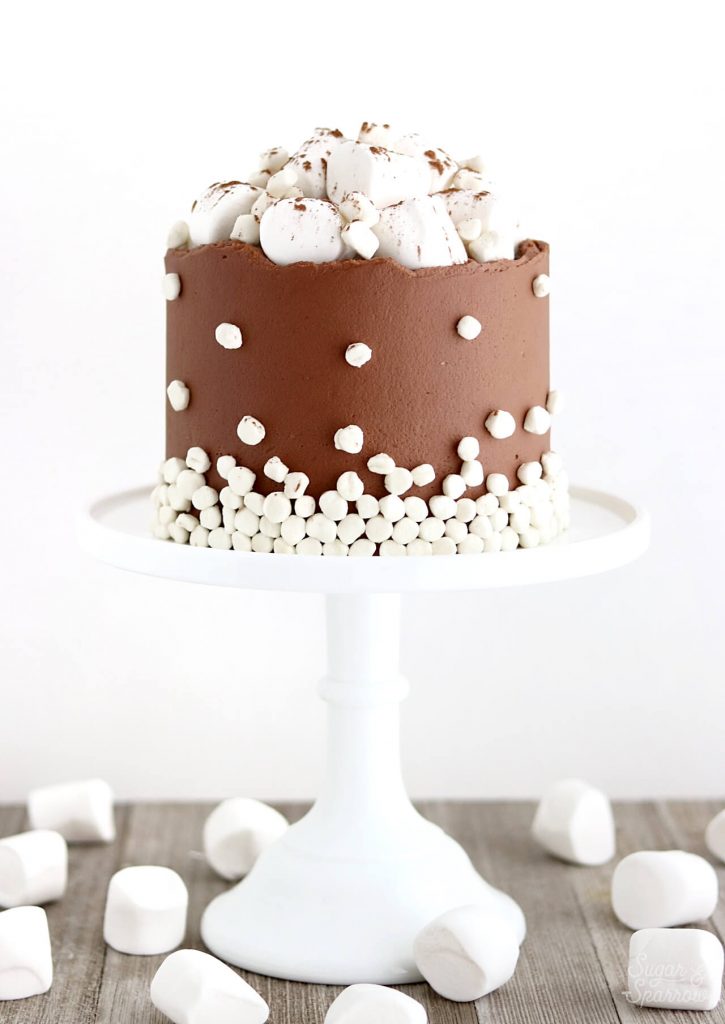 Let's talk about the flavors going on here. I really wanted every bite to taste like hot cocoa (without being literally hot), so I whipped up some Swiss Miss hot cocoa with whole milk, cooled it to room temperature, and used it to infuse my favorite Chocolate Cake recipe. The result is extra chocolatey and so moist that it's almost fudgey – just the way I like a chocolate cake. It's got that extra little kick of hot cocoa from the infusion, and paired with the rest of the recipe elements, it tastes just the way I imagined. I honestly could not stop eating this one, and that's always a really good sign because I've had a lot of cake in my day and can usually refrain.
The cake layers are delicious on their own, but the Hot Cocoa Buttercream is what gives this cake that extra flavor boost and truly makes the recipe. It tastes just like hot cocoa, partly because I added a little cocoa powder + infused it with more of that hot cocoa made with whole milk that I used in the cake. And to really take this recipe beyond, I decided to fill the cake with a layer of Hot Cocoa Buttercream and a layer of Marshmallow Fluff. I mean, how could I not?
To turn this delicious cake into a masterpiece, I frosted the outside with more Hot Cocoa Buttercream and left the top edge "unfinished," aka I didn't swipe the buttercream on top of the cake to make sharp edges. I like that an unfinished edge creates the look of movement, and it reminded me of a sloshy cup of hot cocoa. Finally, I cut up some mini marshmallows and added them to the side of the cake in an ombrè layout, then piled some larger marshmallows on top and dusted the whole thing with cocoa powder. Voila!
The mini marshmallows are so sticky inside that you can just press them onto the buttercream once you cut them. I will admit, it does take a bit of time to cut them all up, but I just love the way this design looks! It's such a tasty recipe though, you can decorate it any way you want and rest assured that it will taste amazing. Enjoy!
Hot Cocoa Cake Recipe
Layers of hot cocoa infused cake, hot cocoa flavored buttercream, and marshmallow fluff – inspired by a cup of hot cocoa with marshmallows!
Ingredients
Hot Cocoa
1 1/4

Cups

whole milk

3 1/2

Tbsp

hot cocoa mix
Hot Cocoa Cake
2

Cups

(265g) all purpose flour

1 1/2

Cups

(300g) white granulated sugar

2/3

Cup

(60g) unsweetened natural cocoa powder (not Dutch Process)

2

tsp

baking soda

1

tsp

baking powder

1/2

tsp

salt

1/2

Cup

(120ml) vegetable oil

2

whole eggs, room temperature

1 1/2

tsp

pure vanilla extract

1

Cup

(240ml) hot cocoa made with whole milk, room temperature

1

Cup

(240ml) hot water
Hot Cocoa Buttercream
1 1/2

Cups

(339g) unsalted butter, room temperature

4 1/2

Cups

(540g) powdered sugar

1/2

Cup

(45g) cocoa powder

1/4

Cup

(60g) hot cocoa made with whole milk, room temperature

2

tsp

pure vanilla extract

1/4

tsp

salt
Optional Fillings and Toppings
Marshmallow Fluff

for filling

Mini and Large marshmallows

for decoration
Instructions
Make the Hot Cocoa
In a small saucepan over medium heat, warm the whole milk until it begins to simmer. Whisk in the hot cocoa mix and set aside. Wait until it's entirely room temperature before continuing on with this recipe.
Make the Hot Cocoa Cake
Preheat the oven to 350ºF and prepare three 6-inch or two 8-inch cake pans by spraying the sides with cooking spray and fitting the bottoms with a wax paper or parchment cake circle. 

Place all of the dry ingredients into the bowl of a stand mixer and stir on low for 30 seconds to fully combine them. Add the vegetable oil, eggs, vanilla, and hot cocoa and mix on low until just combined. Ensure that the hot water has been heated to a simmer, then with the mixer still on low, add the hot water in a slow stream. Turn the mixer to medium and beat until smooth, about 2 minutes. The batter will be very thin. 

Pour into prepared cake pans no more than 2/3 full and bake for 40-45 minutes, until a wooden toothpick inserted comes out clean. Cool completely before frosting. 
Make the Hot Cocoa Buttercream
In a stand mixer fitted with a paddle attachment, whip butter on medium speed until creamy and light in color, about four minutes. Scrape down the bowl and paddle and turn the mixer to low, then add powdered sugar, cocoa powder, hot cocoa, salt, and vanilla extract. Increase the speed to medium and beat for two full minutes.
Assembly
Once the cake layers are completely cool, torte them to the desired height. Pipe a ring of hot cocoa buttercream around the edge of the first cake layer, then fill the middle halfway with marshmallow fluff before filling the rest of the space with hot cocoa buttercream (here's a tutorial on this filling method). Add the next layer of cake on top and repeat the filling process before adding the final cake layer on top, upside down so that the smooth bottom of the cake is facing up. Crumb coat with the hot cocoa buttercream and refrigerate for 20 minutes, then frost a final layer of hot cocoa buttercream, leaving the top edge unfinished.

Use a knife to slice mini marshmallows and place them onto the buttercream finish in an ombrè layout. The inside of the marshmallow should be sticky enough to press onto the side of the cake and adhere, but if you need to, use a little water to make it stickier. Finish the design by piling marshmallows of various sizes on top and dusting with cocoa powder.
Notes
Make Ahead Tips:
The Hot Cocoa Cake layers can be made ahead and stored, wrapped in plastic wrap, at room temperature for up to two days. Alternatively, you can store the wrapped cake layers in the freezer for up to 2 months before thawing and frosting.
The Hot Cocoa Buttercream can be made ahead and stored in an airtight container in the refrigerator for up to two weeks. When you're ready to use it, bring it back to room temperature and re-whip in your stand mixer to bring back to smooth buttercream consistency. 
To Make As Cupcakes: fill cupcake tins no more than 2/3 of the way full and bake at 350ºF for 15-17 minutes, until a toothpick inserted comes out clean. Yields about 35-40 cupcakes.
Did you make this recipe? I want to know what you think! Let me know in the comments below or tag me on Instagram. I love to see what you're caking!