Whether my cake layers come out of the oven with a domed top or a flat one, there's one step I never miss once those cakes are cooled: torting the layers. Torting is a fancy word for leveling, and the process ensures that any domes get chopped off and any difference in height between layers is eliminated. Perfectly level layers not only make for the most picturesque cake slices, they also ensure that your cake is more level overall when frosted. In my humble opinion, it is a must.
There are two main methods for torting cakes: using a Cake Leveler or using a serrated knife. I prefer the Cake Leveler method because it's ultra failproof, but if you don't have one on hand, a serrated knife will work just fine. You just need to be a little more careful when it comes to making sure the end result is even. Here's a quick video to show you both before I walk you through each method below:
Side note before we move on: If you're wanting to see more Cake Basics videos like this one, you should definitely check out my YouTube Channel and watch more of this series! You'll even find cake recipes and decorating tutorials there to help broaden your skill set and inspire you. Be sure to hit the Subscribe button so you never miss a new video!
Method 1: Using a Cake Leveler
Like I mentioned before, the Cake Leveler is my preferred tool for torting cakes. These contraptions come with an adjustable wire or blade, so you can set it at whichever height you want your cake layers to be. I have been using this one by Wilton for over a decade now and love it, but there are other brands out there.
The size I use accommodates cakes up to 10 inches in diameter. I rarely make cakes larger than that anymore, but if you do, I can also recommend this large Cake Leveler by Wilton.
To torte your cakes with a cake leveler, simply line up the wire at the height you want to cut and lock it into the groove.
Then, use a gentle sawing motion as you slide the wire through your cake layer, ensuring that the "feet" of the Cake Leveler remain flat on the table the entire time.
After that, remove the top of the cake that has been leveled off.
I usually end up snacking on the leveled off tops with a little bit of buttercream. Gotta make sure it still tastes good, right?
Method 2: Using a Serrated Knife
If you don't have a Cake Leveler on hand, you can always use a serrated bread knife to torte your layers. The serrated edge is perfect for slicing through cake. Since this method is a little more freehand, you'll need to use a little more focus to ensure your layer ends up level.
First, you'll want to create some score marks around your cake at the height you want to level off. You can eyeball this part or use a ruler to make each layer exact.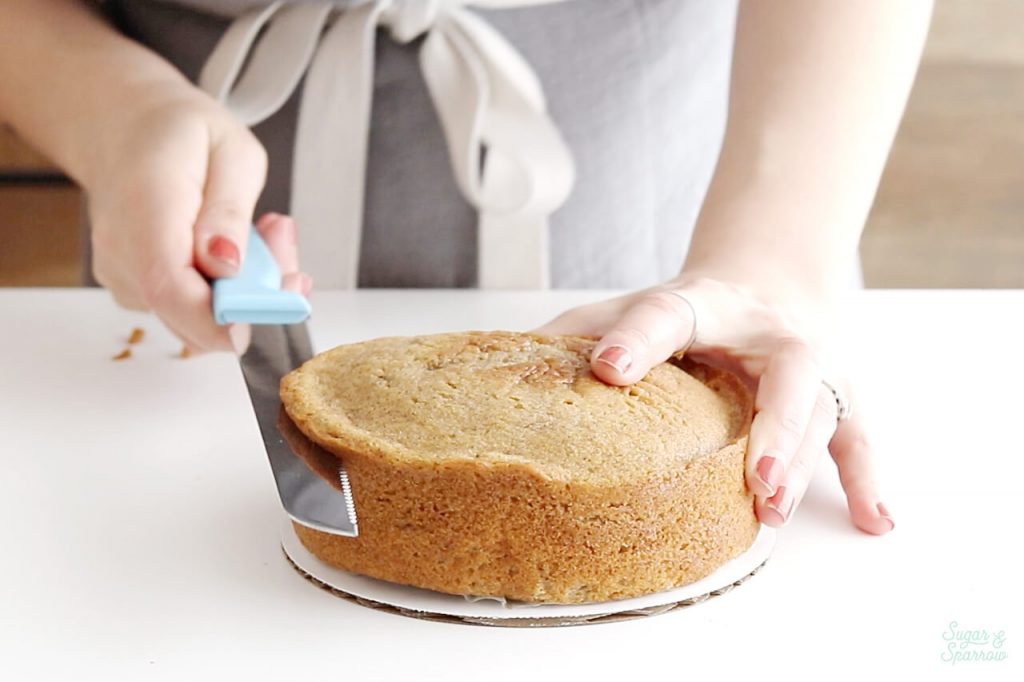 Once your score marks are there, use a gentle sawing motion to level off the cake layer as close to your score marks as possible. Remove the top and continue torting until the layer looks perfectly level.
Whichever method you use, torting your cake layers will ensure that when you're filling and frosting your cake, the end result is nice and level. It's a must!
Want more Cake Basics? Head here to see all of the posts and learn the methods of caking I've come to love over the years. I'm cheering you on every step of the way!