How are the Holidays treating you? I'm in full on Christmas spirit mode over here, with so many ideas for festive Holiday cakes and no time to do them all! I like to really sink into this season because there are so many fun things to do with friends and family, and although I love decorating Holiday-themed cakes I try not to spend too much time in the kitchen this time of year because I don't want to miss any festivities. This Merry & Bright cake was at the tippy top of the list though – it's the second year in a row I've made this design, and I just had to share it with you because it's so easy to recreate!
The term "Merry & Bright" is a snippet of a lyric from one of my favorite Bing Crosby holiday songs (White Christmas). It's also a great movie if you're looking for a seasonal classic to watch this year, or every year! The cool thing is, you can really pipe any Christmassy saying or song lyric onto the top of the cake and get the same vibe with this technique. Here's a super quick video to show you how it's done:
Having a piping bag fitted with Wilton Tip 3 is essential to piping clean lines for the lettering and the rest of the Christmas light cords. I like to have a handful of these tips on hand for the individual Christmas lights as well, because it makes piping dots more precise. You can use any color combination you'd like for the little light bulbs, but I've gone with a colorful scheme using my Americolor gels (the exact colors are detailed below).
As long as you have all of your colors mixed and piping bags ready to go, you can create this design in about ten minutes from start to finish! That makes this one of the quickest and easiest Holiday cake designs ever, and in this busy time of year, saving yourself some time is everything.
You Will Need:
At least one Wilton Tip 3 (I've used 6 to pipe all these colors)

Piping bags

A cake frosted with smooth buttercream

½ batch of vanilla buttercream (or other light-colored buttercream)
Americolor Super Black color gel

A few other color gels of your choice for the light bulbs

Bowls and spoons for color mixing
Step 1: Chill Your Buttercream Cake
Whenever I pipe designs onto buttercream cakes, I like to start with a chilled finish. This way, I never have to worry about accidentally smudging the buttercream during the decorating process.
After you've frosted your cake with a smooth buttercream finish, pop it into the refrigerator for at least 30 minutes, or until it's firm to the touch.
Step 2: Mix Up Your Colors
Divide the vanilla buttercream into separate bowls (one for each color you're mixing), then create black buttercream for the Christmas light cords and other colors for your light bulbs.
For my color scheme, I used Americolor Super Black for the cord and Americolor Fuschia, Lemon Yellow, Sky Blue, Mint Green, and Violet for the Christmas lights. When you're finished with your color mixing, place the buttercream into individual piping bags fitted with Wilton Tip 3. If you only have one Wilton Tip 3, use it for piping the cord and snip a tiny opening off of each of the other piping bags you'll be using for the light bulbs.
Step 3: Pipe Your Christmas Quote
Now that your cake is nice and chilled and your piping bags are prepped, it's time to write out the quote on the top of the cake. If you want to plan this part out ahead, you can always write the quote out on wax paper and then use the end of a wooden skewer to imprint the tracing onto the cake (like I did in this tutorial).
Since the lettering is meant to look really wild and script-y, like you wrote it out with Christmas light cords, you can totally freehand this part too!
Step 4: Pipe the Christmas Light Bulbs
Next, pipe multi-colored dots in a random pattern along your lettering from Step 3 to light the quote up!
This part is my favorite, because it really makes everything come to life in just a few minutes.
Step 4: Pipe The Sides Of The Cake
Now that the top is finished, repeat the process of piping cords and light bulbs all over the sides of the cake. It looks best when you continue the cord from the top of the cake and loop it all around the sides with a random pattern.
It also really helps to have a good cake turntable for this part, because you can just spin as you pipe!
And there you have it – the quickest and easiest Holiday cake you'll make all season: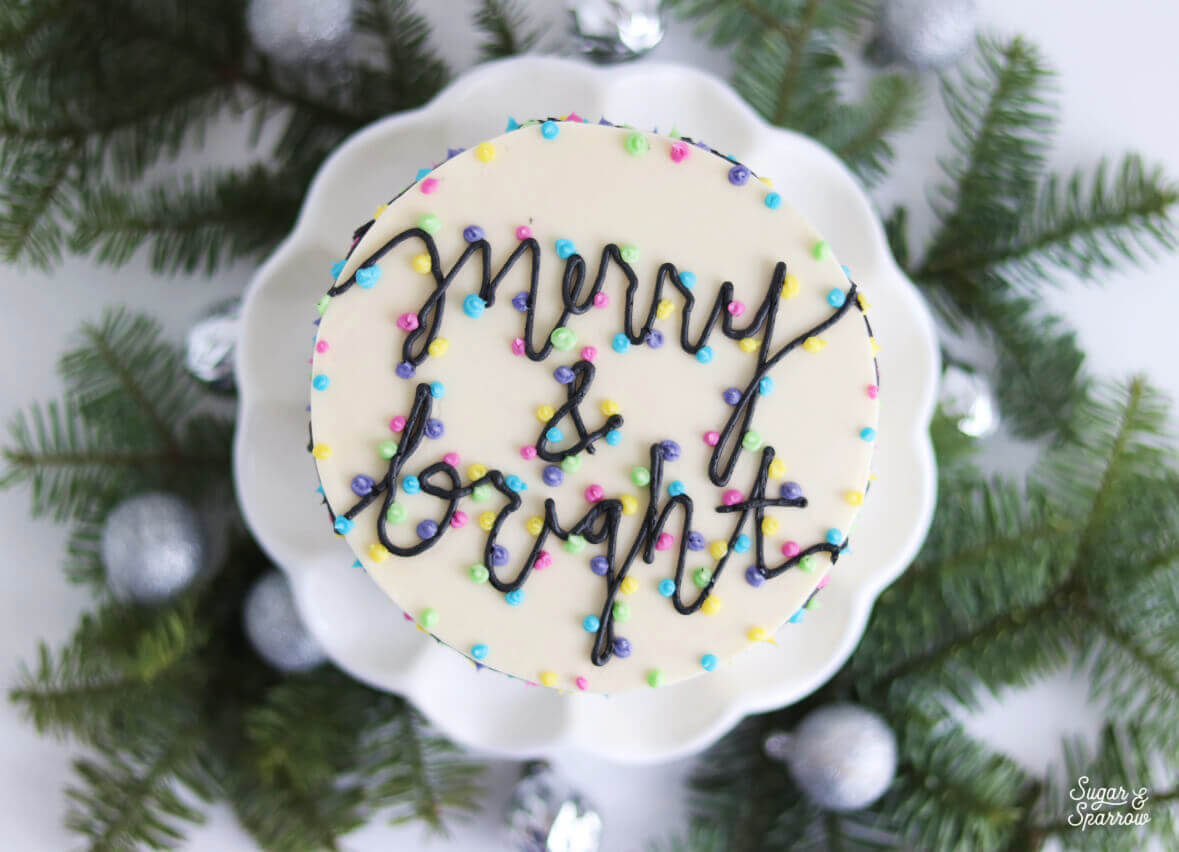 What are some of your favorite Christmas song lyrics and/or sayings? I would love to see this cake design with some of them! Let me know if you try this technique by tagging me on Instagram. I absolutely love to see what you create. Happy Holidays to you and yours!
Disclaimer: this post does contain some affiliate links, meaning I may receive a small commission if you click them and purchase items I've recommended. Using these links won't cost you any extra money, but they do help to keep Sugar & Sparrow up and running. Thank you for your support!