Jump to Recipe
Ah, milk and cereal. They're a match made in heaven, and nostalgic as heck. I can remember many a Saturday morning curled up in front of the TV with a bowl of milk and cereal in hand – it was a true staple in my childhood diet. The idea of translating those flavors into a cake didn't occur to me until a year ago, when a friend of mine was having a cereal-themed birthday party. I thought it was such a fun and playful idea for a cake, and although I didn't start testing flavors just then, I added it to my list of future cake ideas and the dream was alive.
Fast forward to present day, I found myself wandering the cereal aisle to find the perfect flavors to finally bring my milk and cereal cake dreams to life. I decided on Froot Loops, mainly because they taste good and they're so pretty, but this recipe can be created with just about any cereal your heart desires (we all have our favorites!). I've made it successfully with the wheat pieces in Lucky Charms and I'm sure just about any cereal would be tasty.
Creating the perfect milk and cereal cake recipe definitely took some trial and error. My first go-round I ended up crushing up Froot Loops by hand and folding them into the cake batter, and while the result was pretty to look at (like rainbow funfetti!) the taste was off because the cereal got super chewy after the baking process. After trying some different approaches and conducting a few blind taste tests, I've refined the recipe to make this milk and cereal cake taste just as heavenly as it looks.
The secrets to the taste are: using actual cereal milk in place of regular milk (made by soaking the cereal in whole milk) and also adding finely ground cereal into the cake batter instead of just crushed up cereal pieces. To keep the cake moist and fluffy I've also incorporated sour cream and cake flour, which I swear by for all of my vanilla-based cakes.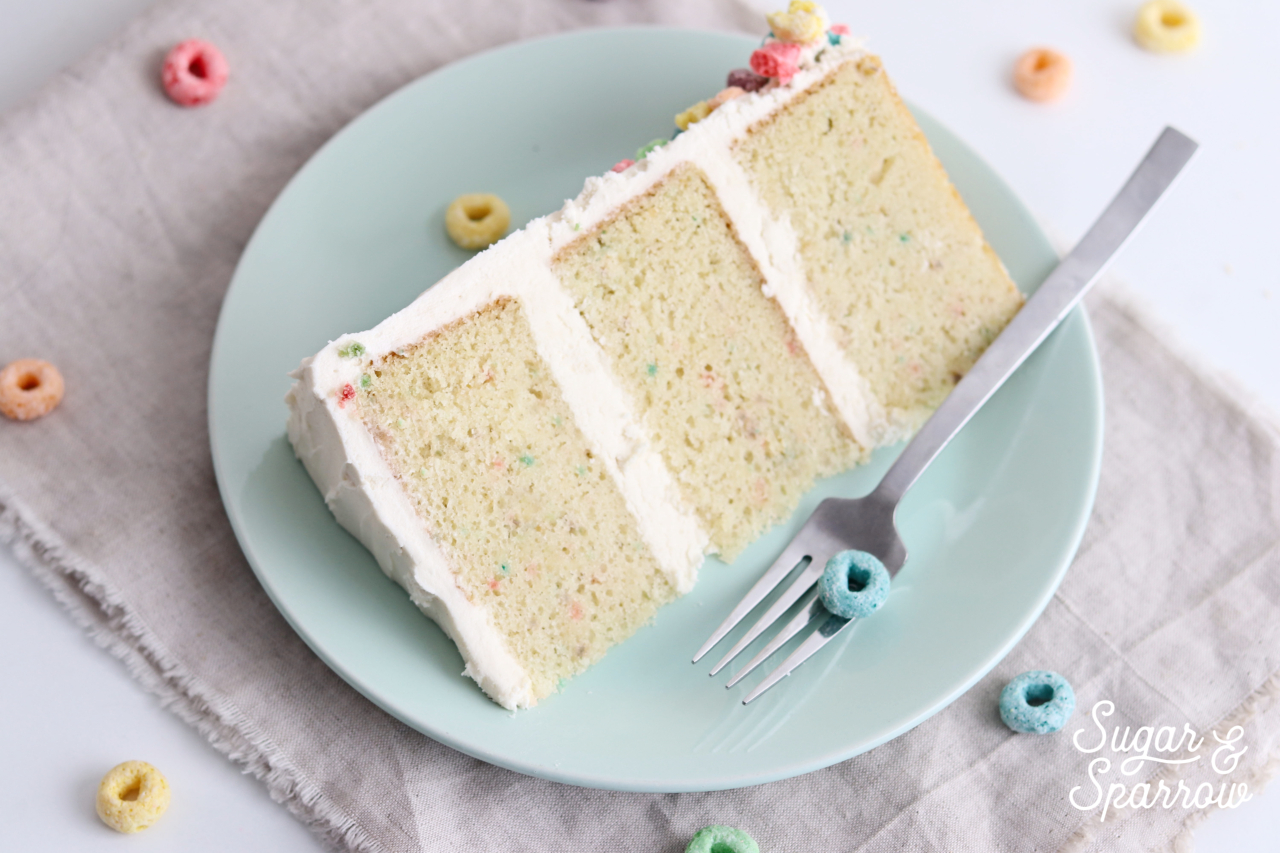 If you've seen this cake on my Instagram, you'll also see that the design concept really helps sell the premise of the cake. Some credit has to be given to my husband on that, because he totally helped come up with the idea of creating a "milk splash" out of white chocolate for the topper! Side by side, we sketched out the concept art before I took to the kitchen to figure out how to make it happen. Don't worry, I've even created a full tutorial on the white chocolate milk splash in case you want to get the look!
Milk And Cereal Cake
A moist and fluffy cereal-infused cake with cereal milk buttercream. Pairs perfectly with Saturday morning cartoons!
Ingredients
Cereal Milk
2

Cups

whole milk

2

Cups

Froot Loops (or cereal of your choice)
Milk And Cereal Cake
1

Cup

finely ground Froot Loops or cereal of your choice

(equals about 3 cups of whole cereal)

3 3/4

Cups

(398g) cake flour, sifted before measuring

1

Tbsp

baking powder

3/4

tsp

baking soda

1 1/2

tsp

kosher salt

1 1/8

Cups

(254g) unsalted butter, room temperature

2

Cups

(410g) granulated sugar

5

eggs, room temperature

1 1/2

Tbsp

vanilla

1/2

Cup

(112g) sour cream, room temperature

1 1/2

Cups

(360ml) cereal milk, room temperature
Cereal Milk Buttercream
2

Cups

(452g) unsalted butter, room temperature

7

Cups

(840g) powdered sugar

4

Tbsp

(59ml) cereal milk, room temperature

1

Tbsp

vanilla extract

1/4

tsp

salt, or to taste
Instructions
Make The Cereal Milk
Pour the whole milk over cereal and let sit for 15 minutes. Strain out the cereal and reserve the milk to use in the cake and buttercream recipes.
Make The Milk And Cereal Cake
Preheat the oven to 350˚F and prepare three 8-inch or four 6-inch cake pans by spraying the sides with cooking spray and fitting a parchment or wax paper circle to the bottom of each pan. 

In a food processor, grind up Froot Loops (or cereal of your choice) into a fine powder. Keep in mind that 1 cup of finely ground cereal equals about 3 cups of whole cereal. Place into a medium sized bowl and add the sifted cake flour, baking powder, baking soda, and salt. Whisk to combine and set aside.

In the bowl of a stand mixer with the paddle attachment, cream butter for one minute on high. Scrape down the bowl and paddle and add the sugar. Cream together on high for two minutes, scraping down bowl and paddle once in between. Turn mixer to low and add the eggs, one at a time, scraping down bowl and paddle as necessary. Once all eggs are added, turn the mixer to high and beat for three minutes.

Add vanilla and sour cream and continue mixing for one minute. Turn the mixer to low and add all of the dry ingredients at once until just combined, then add the cereal milk all at once. Scrape down the bowl and paddle once more and mix on low for about 30 seconds. Do not overmix.

Pour batter into prepared pans (about ⅔ full).

Bake for 35-45 minutes or until a toothpick inserted into the center comes out clean. Cool the cakes for five minutes before releasing from the pan and continuing to cool on a baking sheet or wire rack for several hours.
Make The Cereal Milk Buttercream
In the bowl of a stand mixer fitted with the paddle attachment, whip the butter until fluffy and light (almost white) in color, about 7 minutes, scraping down the bowl and paddle twice during the process. Add powdered sugar a few cups at a time and beat on medium, scraping down the bowl and paddle after each interval. Add the cereal milk, vanilla, and salt and continue to mix on medium for two minutes.
Assembly
After torting the cake layers to the desired height, fill and frost them with cereal milk buttercream. Decorate with crushed up cereal and a white chocolate milk splash crown.
Notes
The cake layers can be made ahead, wrapped in plastic, and stored at room temperature for up to two days before frosting. Alternatively, you can wrap the cake layers and store them in the freezer for up to two months before thawing.
The buttercream can be made ahead and stored in an airtight container for up to two weeks in the refrigerator. When you're ready to use it, bring it back to room temperature and then re-whip with your stand mixer to bring back the original consistency. 
___________________________________________________________________________
What's your favorite cereal? If you substituted it into this recipe I want to know how it turned out! Let me know in the comments below, I'd love to hear.