Some people love to decorate gingerbread houses for the Holidays, but I think these mini Christmas tree cakes are such a fun alternative! Not only are they quicker and easier to assemble than a gingerbread house, they double as the perfect, edible Holiday centerpiece for your dessert table. Whether you're throwing a Holiday party this year or you just want a festive project that's fun for all ages, these mini Christmas tree cakes are a hit!
I created a huge 3D Christmas Tree Cake last year, and this year it was even more fun making mini versions. Especially since JOANN has such a great assortment of Holiday sprinkles right now. I was so dazzled by the festive sprinkles in their cake decorating aisle that it was hard to choose just one! I ended up with tons of sprinkles between the Wilton 6 pack of blue winter sprinkles and the double pack of Handmade Holiday sprinkles. They all look so great together on these mini Christmas trees. Just look at those tiny gingerbread men and snowflakes!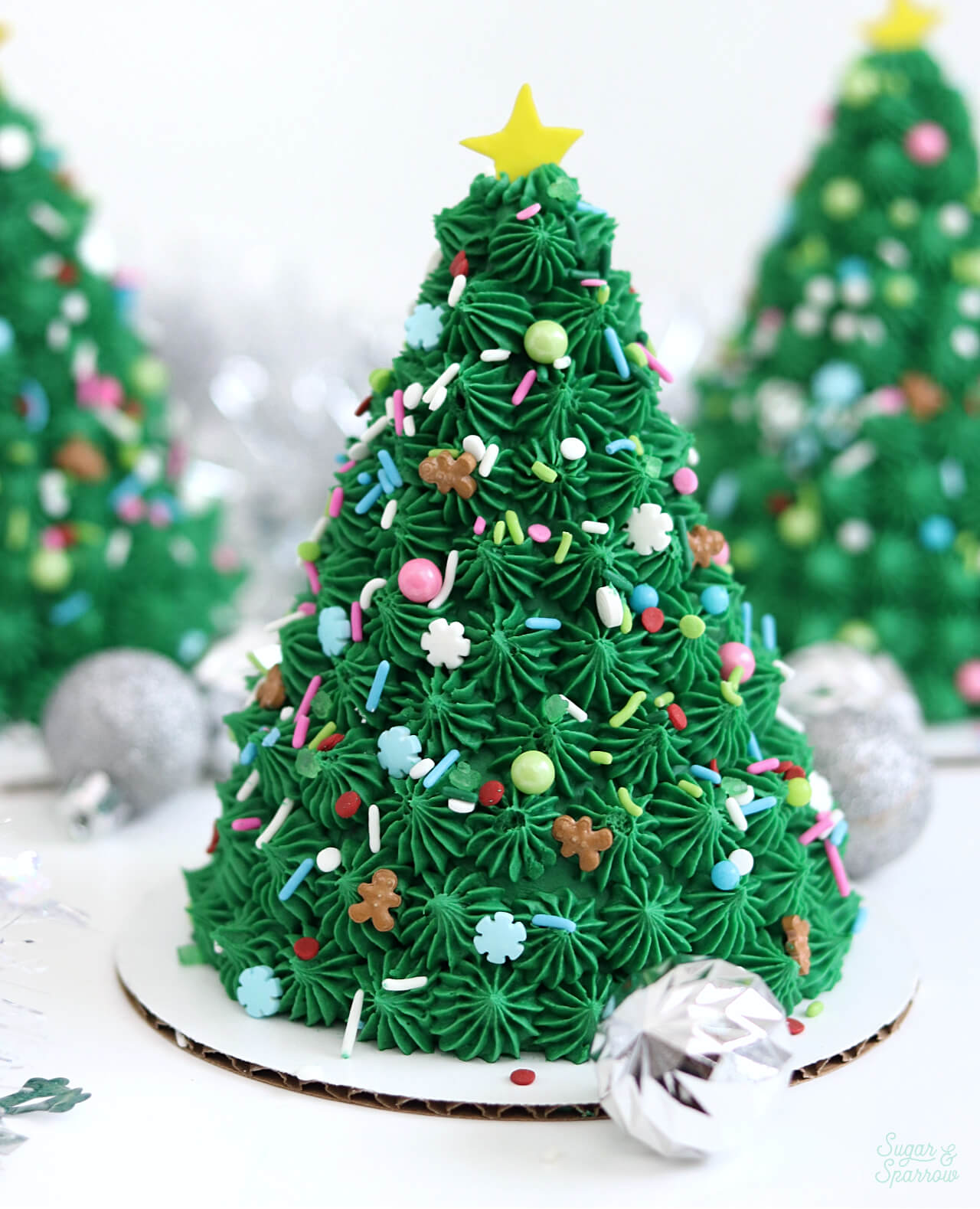 Underneath all those pretty sprinkles are four layers of cake ranging from 4 inches in diameter to ½ inch. When you stack them on top of one another they end up looking like tiny wedding cakes before you frost them up into a Christmas tree shape! From there, all that's left to do is use your favorite piping tip to add some details and then decorate to your heart's desire. You can get really creative with how you decorate these cuties and it's the perfect project to do with little ones!
Here's a quick video of the process before you read all about how to make these mini Christmas tree cakes below:
If you're into cake decorating videos like this one, be sure to check out my YouTube channel! I'm always adding fun tutorial and recipe videos there, and if you click the Subscribe button you'll never miss a new one.
You Will Need
Step 1: Color the Buttercream
First thing's first. We'll need to color that big batch of buttercream. Note that you can use any color (or combination of colors!) you want for these mini Christmas trees. I went with a classic shade of green that I made using the Wilton Color Right System.
I think these mini Christmas trees would end up looking amazing in some non-classic colors as well. I'm dying to try them in a vibrant pink or bright white!
Step 2: Cut out the Cake Layers
Next, it's time to make all the different sized layers for stacking. Keep three of the 4-inch cake layers as-is, then use the Circular Fondant Cutter Set to cut out smaller circles from the remaining layers.
You'll need three sets of each size since this tutorial ends up making three total mini Christmas trees, and it's best to map out where you'll be cutting each cake layer before you start. I used the 3 inch, 2 inch, and ½ inch circular cutters to create three sets of each size.
Check out this video to see how I planned out where to cut each layer!
Step 3: Fill and Stack the Cake Layers
Now that you have four different sized layers per mini Christmas tree, it's time to fill and stack them. Fill a piping bag with buttercream, snip off a ½ inch opening, and place a small dot onto a 4 inch cardboard cake circle, then place the 4 inch cake layer on top. Add a thin layer of buttercream and place the next smallest layer on top. Continue the process until you've got what looks like a mini version of a tiered wedding cake (so cute!).
Repeat this step three times, or per amount of mini Christmas trees you're making.
Step 4: Ice and Shape the Mini Christmas Trees
With your first mini Christmas tree on a cake turntable, use the same piping bag from Step 3 to pipe buttercream all around the cake.
Then, use a small icing spatula to shape the cake into a tree (aka cone) shape.
Repeat until you've got three mini Christmas trees shaped, then pop them all into the refrigerator for about 20 minutes to let the buttercream set up.
Step 5: Pipe the Details
Fit a piping bag with your favorite piping tip and fill it with more buttercream. I ended up using Wilton Tip 4B because I love how easy it is to create stunning texture. Starting at the bottom of the tree and working your way up, pipe open stars in even lines until the entire tree is covered with them.
Although I'm using Wilton Tip 4B to pipe the details on my mini Christmas trees, I think they would also look amazing with Wilton Tip 352 (leaf tip), Tip 233 (grass tip), or really any piping tip that you can create fun texture with.
Step 6: Decorate with Holiday Sprinkles
Finally, add generous amounts of sprinkles to each mini Christmas tree. I used the Wilton Winter Blue sprinkle set to add blue and white snowflakes, jimmies, and spherical sprinkles that look like tiny ornaments. Then I used the Handmade Holiday sprinkles to add more color and tiny gingerbread men.
When you're finished sprinkling, add a star to the top of each mini Christmas tree. For these, I tinted some gumpaste yellow, rolled it out thin, and cut out each star with a small star cutter. After about 24 hours it's totally dry to the touch and ready for topping your trees!
Pretty cute, right? Such a fun Holiday project whether it's for adorning your dessert table or creating some festive memories with the family!
Not only does JOANN have the ideal Holiday sprinkles for your bakes this season, you'll find everything else you need for this project. From piping tips and cake pans to chocolate molds and beyond, it's where I buy the majority of my cake decorating supplies and I know you'll love their selection. Check out your local JOANN store or their website for all your cake decorating needs (and then some). My recent cart add-ons besides cake stuff: mason jars, photography backgrounds, a grow your own geodes kit, some home decor for the Holidays, and three rolls of yarn because I'm really optimistic about teaching myself to knit now.
Disclaimer: I was compensated by JOANN for my work of creating this project, styling, filming, photographing, and writing about their products. As always, all opinions are honest and my own. Thank you for supporting brands that support Sugar & Sparrow.