I'm really dazzled by geodes (who isn't?!) and have been dying to make some sort of geode-inspired edible creation for quite some time now. So when JOANN sent me these Sweet Tooth Fairy Rock Candies in the prettiest jewel-toned colors, I considered it the perfect opportunity to bring my creative vision to life! After some experimentation, I found an easy way to whip up these tasty mini geode cupcake toppers and I couldn't be more happy with how they turned out. Just look at these gorgeous little toppers:
Are you dazzled? I am. The coolest thing is that these geodes are 100% edible and incredibly easy to make! They're made of Wilton Candy Melts, tasty rock candy, and some sugar sprinkles to tie the look together – all things you can find at your local JOANN or from their website. And did I mention that they only take about ten minutes from start to finish? It's the perfect project for any skill level and the results are phenomenal.
To make these geodes in mini-form, I used some plastic paint palettes as a mold. The cavities are the perfect size for making mini cupcake toppers, but if you're wanting larger geodes, you can use any size half-sphere mold and follow the steps below to get the same results.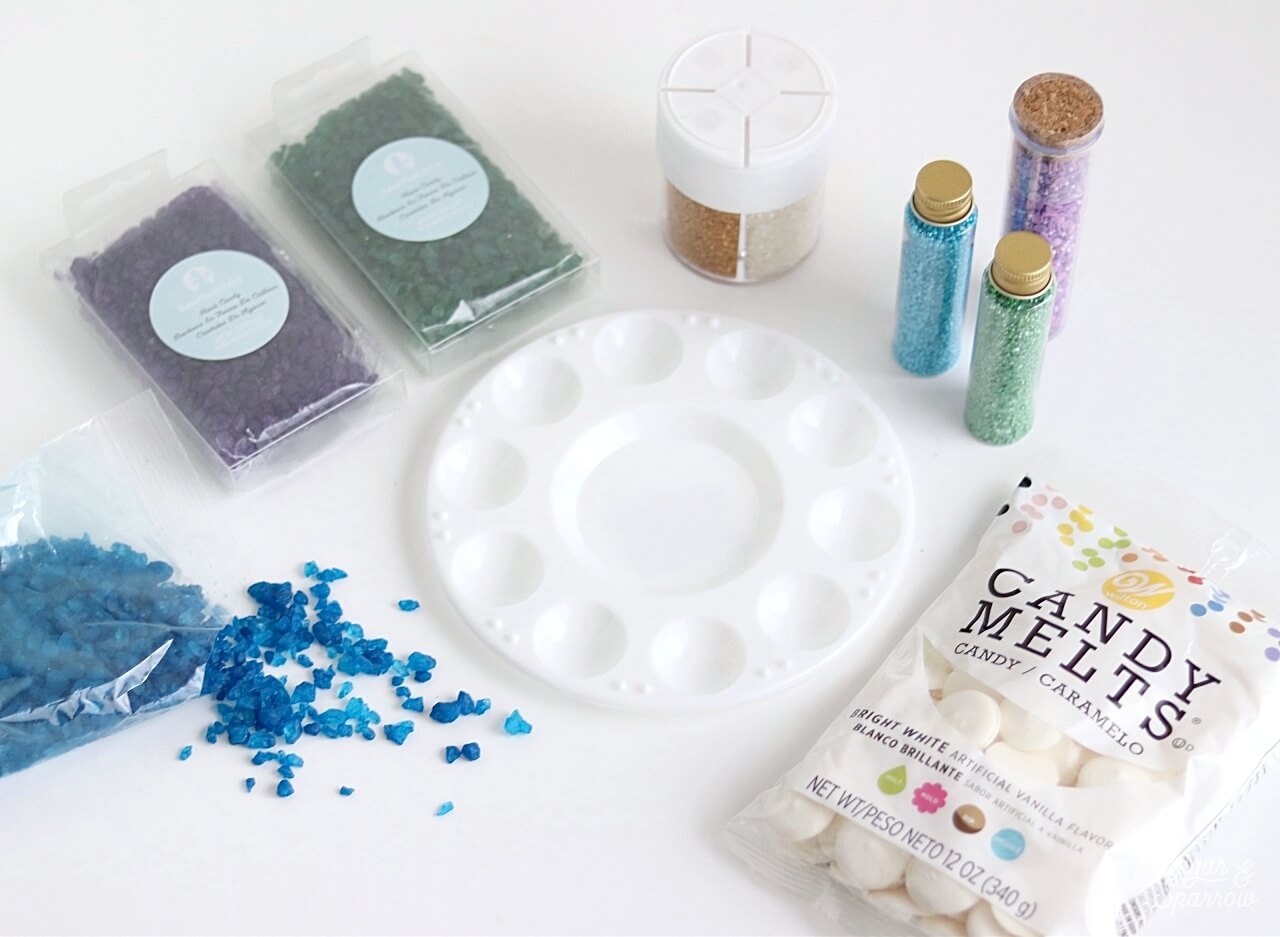 If you're more of a visual learner, here's a quick video of how to create these mini geodes from start to finish:
You Will Need:
Step 1: Melt The Candy Melts

Following the instructions on the package, melt the ¾ of the Candy Melts in the microwave until they're uniform in consistency.
You'll want to reserve about ¼ of the Candy Melts for Step 5.

Step 2: Fill The Molds

Using a spoon, fill each cavity of the plastic paint palette with Candy Melts about halfway full.
Then, slowly rotate the paint palette to ensure the sides of each cavity are covered.

Step 3: Place The Rock Candies and Sugar Sprinkles

Place a few rock candies in the center of each cavity and press them in so that they stick into the Candy melts.
Next, place a lighter color of sugar sprinkles on top of the rock candies to fill in the gaps, making sure you leave enough room for a white sprinkled edge.
Finally, place the white sugar sprinkles around the edge of each geode.
You've now got a multi-dimensional look, just like a real geode!

Step 4: Refrigerate

Place the entire paint palette in the refrigerator so your geodes can firm up. The geodes will be firm enough for releasing from the paint palette after just five minutes in the refrigerator.
When five minutes is up, gently release the geodes from the paint palette just like you would release ice cubes from an ice tray. They should be pretty sturdy and release easily from the molds.

Step 5: Create The Sprinkled Edges

Melt the additional ¼ of the Candy Melts in the microwave according to the package instructions. Pour the gold Wilton Pearlized Sprinkles onto a small plate. One by one, carefully dip the edges of each geode into the melted Candy Melts, then roll the edges in the gold sprinkles. Set the finished geodes onto wax paper and let them set up at room temperature for ten minutes before adding them to your cupcakes.
And there you have it – the most stunning mini geodes for topping your cupcakes, made completely with products you can find at JOANN! I'm always so impressed with their collection of Wilton products, cake pans, decorating tools, and all the things. Whether you've got a local JOANN store in your area or you like to shop online, be sure to take a look at their selection. Best of all, they always have great coupons if you download their mobile app. That way you can always get the best cake decorating products at a fraction of the cost!

Disclaimer: I was compensated by JOANN for my work of creating this project, styling, filming, photographing, and writing about their products. As always, all opinions are honest and my own. Thank you for supporting brands that support Sugar & Sparrow.