I've been brainstorming some new Halloween cake designs (it's been awhile!) and the idea for this shaggy monster cake popped into my head instantly. When that kind of thing happens, I just have to roll with it right away. So I dusted off a handful of Wilton Tip 233's, grabbed a box of candy eyeballs, and got to work. I'm so happy to say that it turned out even cuter than I imagined! I am in love with each and every one of these cute little monsters.
This monster shag cake is perfect for a Halloween party table and will work in any color scheme you can think of. I used five colors here: AmeriColor Super Red, Egg Yellow, Orange, Turquoise, and Sky Blue. To make your life easier, plan on using one shag piping tip per color in your palette. Sure, you can get away with using couplers to swap piping tips between colors, but the piping process will be much more enjoyable if you have as many piping tips as colors.
Tips for Piping a Shag Cake
Working with Wilton Tip 233 to create shag texture is a whole lot of fun, but there are a few keys to success that I want to mention:
Make sure your buttercream is medium consistency. I used my favorite Vanilla Buttercream recipe for this cake and it worked perfectly. It's an American Buttercream but any type of buttercream will do for this piping technique as long as it's not too thick or too thin.
Practice first. If this is your first time piping shag, don't be afraid to practice before you start piping directly onto the cake. You can pipe onto the side of a glass or jar to get the hang of it – basically hover the tip close to the surface and squeeze the piping bag until the buttercream starts to make contact. Continue squeezing the piping bag while you pull away from the surface to create length, then quickly release pressure to end the shag.
Start with a chilled buttercream cake. After crumb coating your layer cake, chill it for 20-30 minutes (or until firm) in the refrigerator. This will create the perfect surface for piping.
Keep your hands cold. Run your hands under cold water and dry them thoroughly before piping. You're going to be handling the piping bags quite a bit and the heat of your hands could start melting the buttercream inside. If it does start to become runny due to heat, you can place your piping bag in the refrigerator for 10-15 minutes, then gently massage the bag to mix up the buttercream and continue piping.
Here's a quick video of the process before you read all about making this monster shag cake below:
If you want to see more videos like this one, check out my YouTube Channel. I've got a growing collection of recipe videos, cake decorating tutorials, and my Cake Basics series in video format. Click subscribe while you're there so you never miss a new video!
You Will Need
A 6-inch cake that's been crumb coated and chilled
3 Cups of medium consistency buttercream (I used this Vanilla Buttercream)
Bowls and spoons for color mixing
5 color gels of your choice
5 piping bags
Candy eyeballs in various sizes (I used this set)
Step 1: Color the Buttercream
Divide the buttercream evenly between 5 bowls. Mix the color gels into each bowl to mix up the color palette of your choice. I used AmeriColor Super Red, Orange, Egg Yellow, Turquoise, and Sky Blue for this color palette (about 3 drops per color).
Once your buttercream colors are looking good, add each color into a separate piping bag fitted with Wilton Tip 233.
Step 2: Pipe the Shag
Starting on the bottom third of the cake, pipe the first shag monster. It should be an imperfect, blob-like color block. To create the shag, hover the piping tip close to the surface of the cake and squeeze the piping bag until the buttercream makes contact with the surface of the cake, then pull the tip away from the cake while you release pressure. This can take some practice, so feel free to perfect your shag piping on a glass or jar before piping directly onto the cake.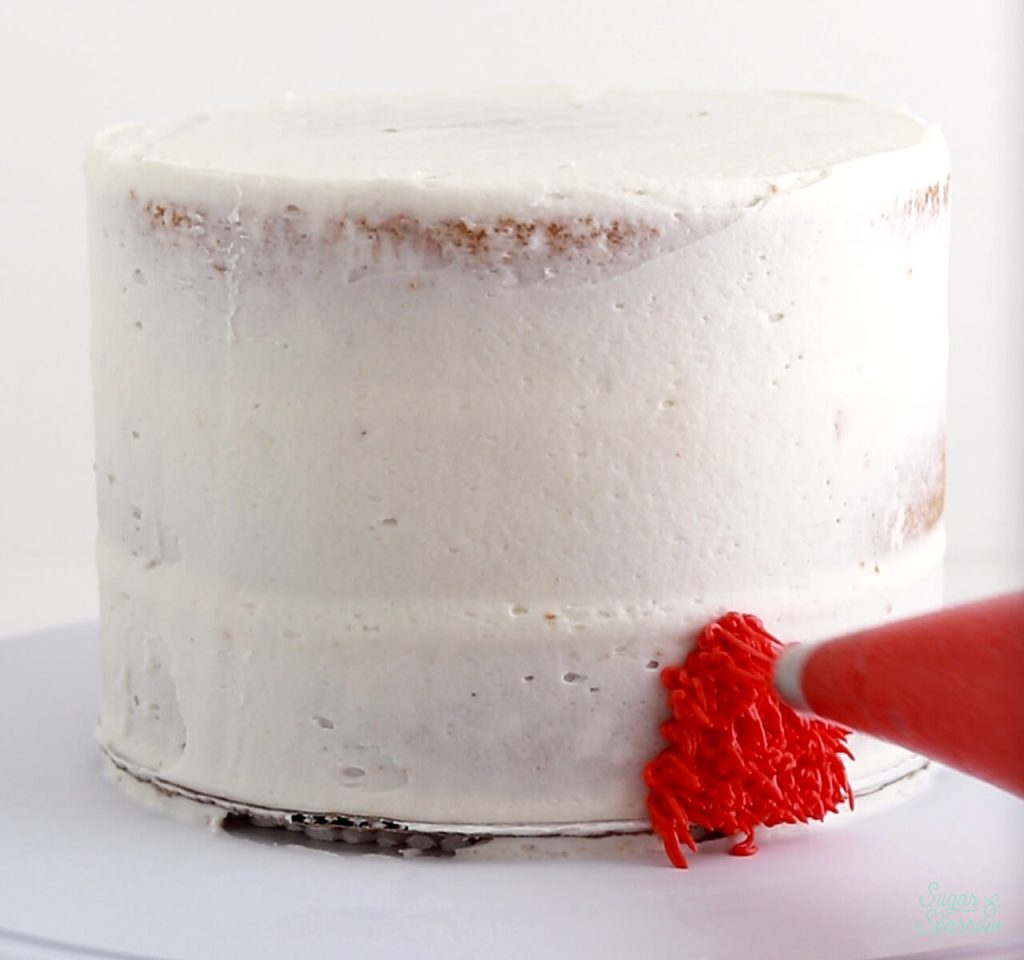 Pipe the next shag monster in a different color directly next to the first. Feel free to make this one a little taller or shorter than the first shag monster for variety.
Repeat adding the shag monster color blocks all around the bottom third of the cake.
Add a second row of shag monsters on top of the first row. Be sure to leave enough room for a third row of shag monsters.
Add the final row of shag monsters on the top third of the cake and continue the shag onto the very top. Keep going until you've got color blocks covering every inch of the cake.
Step 3: Add the Candy Eyeballs
Add a set of candy eyeballs to each shag color block to bring the monsters to life. Some could have just one eyeball, others could have five eyeballs or more. Feel free to use your imagination here and create some variety!
This set of Wilton candy eyeballs really came in handy for this cake. It comes with three different sizes of eyeballs!
When you're finished adding eyeballs to each and every monster, you'll have the cutest Halloween cake ever. I love how this cake looks like the monsters are having a cozy little snuggle sesh.
Did you make this monster shag cake? I'd love to know how it turned out! Leave me a comment below and feel free to tag @sugarandsparrowco on Instagram to show me. I love to see what you create!