Jump to Recipe
As of the date on this blog post, I still have not ever baked a cheesecake. It's still on my list of things to try, but ever since I discovered the no-bake method of making cheesecake I'm a bit obsessed with how easy and delicious it is! The texture is so creamy and almost mousse-like that I cannot stop thinking about making it in all sorts of flavors. So when Amoretti sent me their French Vanilla Compound I thought it was the perfect excuse to make another one. 
The idea for this dreamy no-bake Oreo cheesecake originally started as a french vanilla cheesecake on an Oreo crust. Then I tasted the French Vanilla Compound and it reminded me of the filling inside of an Oreo cookie (delicious)! I decided I couldn't NOT put crushed up cookies in the filling and turn it into a cookies and cream lover's dream cheesecake. It's my favorite flavor yet!
You can use any vanilla flavoring in this no-bake cheesecake, but I thought it was incredible with this Amoretti French Vanilla Compound. Similar to the ice cream flavor, this French Vanilla Compound has a deep vanilla flavor with notes of butterscotch and caramel. It was absolutely delicious!
If you want to give this or any of the other Amoretti flavors a go, you can get FREE SHIPPING at checkout by using my code SPARROWCOFREESHIP.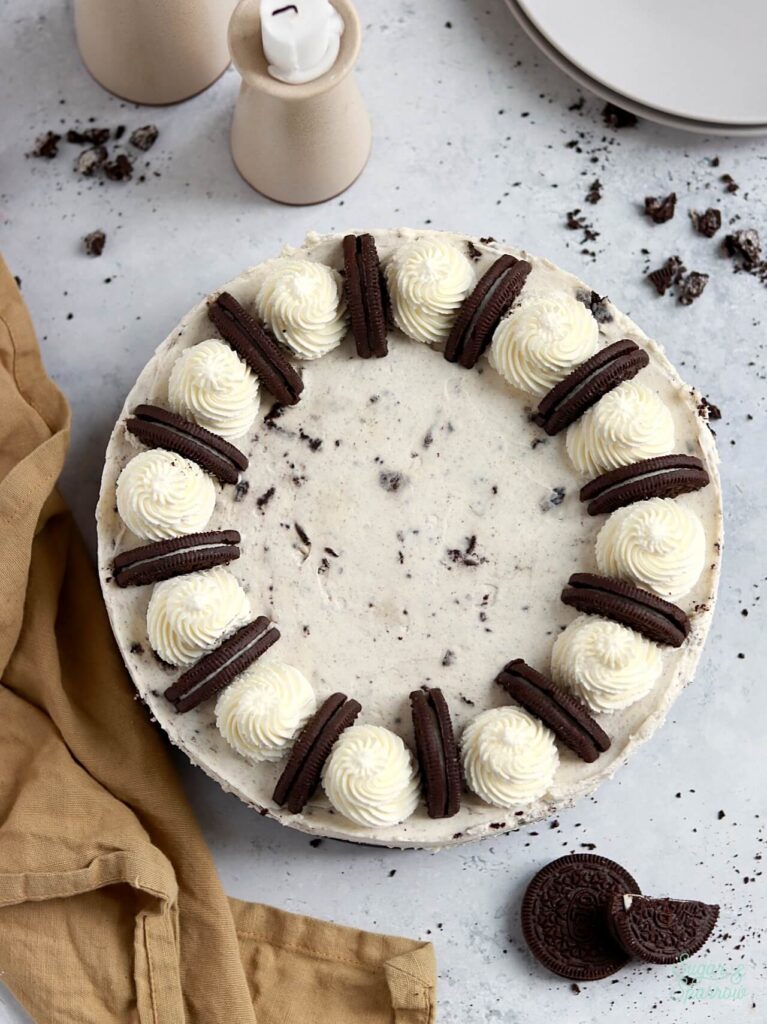 Let's talk about this no-bake cheesecake method. You'll basically whip most of the ingredients together to combine them, gently fold in some whipped cream, and mix in a generous helping of chopped Oreo cookies before pouring it into an Oreo crust. Once refrigerated, the filling sets into a thick mousse-like consistency – rich and creamy yet easily holds its shape when cut into slices. I love the no-bake method because it's so fail-proof and yields such a delicious result with minimal effort!
Another thing I really love about this no-bake cheesecake is you can make it ahead! After you add the filling into your Oreo cookie crust, you'll place it in the refrigerator to set up for at least 6-8 hours (but overnight is best). You can make it up to two days in advance and go about life at a leisurely pace from there.
I decided to make an easy homemade whipped cream and spiked it with a little more Amoretti French Vanilla Compound to use for decorating and it did not disappoint! After the no-bake cheesecake was set, I used Wilton Tip 4B to pipe swirls around the edges, spaced about ½ inch apart. I chopped some more Oreo cookies in half and placed them in between each swirl. So simple and so effective with that cute cookies and cream backdrop!
However you decorate, I hope you love this recipe as much as I do! I was planning on giving some of it away to my friends and neighbors (as I often do with my bakes), but it was actually too delicious to give up. My husband and toddler helped some, but I'm not ashamed to say that I had a big slice every night until it was all gone. I'll try harder to share when I make it again!
No-Bake Oreo Cheesecake
The dreamiest cookies and cream cheesecake made without any baking! Rich and creamy French Vanilla filling studded with Oreo cookies on a delicious Oreo crust.
Ingredients
Oreo Crust
22

(250g) Oreo cookies

5

Tbsp

(72g) unsalted butter, melted
Oreo Cheesecake Filling
1 1/4

Cups

(300ml) heavy whipping cream, cold

24

Oz

(678g) full-fat brick-style cream cheese, room temperature

not the spread

1/2

Cup

(100g) granulated sugar

2

Tbsp

powdered sugar

1/4

Cup

(60g) sour cream, room temperature

2

tsp

Amoretti French Vanilla Compound

or 1 tsp pure vanilla extract

16

(182g) Oreo cookies, chopped
Homemade Whipped Cream
1/2

Cup

(120ml) heavy whipping cream

2

Tbsp

powdered sugar

1/4

tsp

pure vanilla extract
Garnish
6

Oreo cookies, cut in half
Instructions
Make the Oreo Cookie Crust
Using a food processor, grind the Oreo cookies into a fine crumb. Add the cookie crumbs into a medium bowl and pour the melted butter on top. Mix until uniform, then press the mixture into the bottom and up the sides of a 9-inch springform pan or 10-inch springform pan. Use a round glass or jar to pack the crust as tightly as possible (this helps keep it together when you cut the cheesecake slices later). Freeze the Oreo cookie crust in the pan for 10-20 minutes while you prepare the Oreo cheesecake filling.
Make the Oreo Cheesecake Filling
Using a hand mixer with a medium bowl or a stand mixer fitted with a whisk attachment, whip the cold heavy cream on medium-high speed until stiff peaks form, about 4–5 minutes. Set aside.

In another large bowl (either with a hand mixer or stand mixer), beat the cream cheese and granulated sugar together on medium until creamy. Scrape down the bowl and paddle as needed. Add the powdered sugar, sour cream, and Amoretti French Vanilla Compound (or vanilla extract). Beat on medium-high speed until smooth and combined (no lumps), about 2–3 minutes.

Use a rubber spatula to gently fold the whipped cream into the cheesecake filling until combined. Then, fold in the chopped Oreos.

Remove the Oreo crust from the freezer and add the Oreo cheesecake filling into it. Spread the filling to the edges of the crust and smooth the top using an angled spatula, then cover it tightly with plastic wrap or aluminum foil. Refrigerate for at least 8 hours and up to 2 days. For best results, chill the cheesecake overnight. This will yield the most set filling.
Make the Homemade Whipped Cream
Make sure the no-bake Oreo cheesecake filling is set before making the homemade whipped cream. Put the metal bowl of a stand mixer or a large metal mixing bowl into the refrigerator to chill for at least 15-30 minutes.

Add the heavy whipping cream, powdered sugar, and vanilla extract into the chilled bowl. Using a whisk attachment on your stand mixer or a hand mixer, beat the ingredients together on high speed until stiff peaks form, 1-2 minutes.
Assembly
When you're ready to serve the no-bake Oreo cheesecake, remove the rim from the springform pan. Garnish with whipped cream and more Oreos.
Notes
Make Ahead Tips:
After making and freezing the Oreo cookie crust, it can be covered and stored in the refrigerator until you add the filling (1-2 days ahead is best for the freshest flavor).
You can make and assemble the no-bake Oreo cheesecake up to 2 days in advance, stored in the refrigerator and covered in aluminum foil or plastic wrap. You can alternatively freeze the cheesecake for up to 3 months after it's set in the refrigerator. Be sure to cover well if freezing. I recommend one layer of plastic wrap and one layer of aluminum foil. 
Leftovers: Store leftovers (covered well) in the refrigerator for up to 5 days or in the freezer for up to 3 months. 
Disclaimer: I was compensated by Amoretti for my work of creating this recipe, styling, filming, photographing, and writing about their products. As always, all opinions are honest and my own. Thank you for supporting brands that support Sugar & Sparrow.