Something totally magical happened this week – I got the opportunity to do an Instagram takeover for the one and only Wilton! They've been my favorite supplier of cake decorating tools for forever, so to say I was elated would be an understatement. For my takeover tutorial, I showed how to create a whimsical birthday cake that's as easy to make as it is eye-catching, and I want to share it in blog post form for you here. This fun cake design will make any birthday feel extra special:

Wilton sent me a big box of supplies to create this birthday cake, and there are a few I want to highlight here because they're total cake game changers. First, the Wilton Cake Leveler is something I always, ALWAYS use to level my cake layers before filling and stacking them. You can adjust the height of the leveler and just run it through your cake to create nice, even layers. Having even cake layers is a must for creating perfectly level cakes as an end result.

Second, having a trusty cake turntable is key for creating a smooth buttercream finish. Wilton sent me their High And Low Turntable and it was stellar for the job! It's got adjustable legs so you can really get the turntable height that's comfortable for you.

This cake design all starts with a smooth buttercream cake, so in addition to having level cake layers and a trustworthy turntable, the last keys to success are having a great icing smoother and angled spatula. I prefer both of these items to be stainless steel, because sometimes getting a smooth finish means slightly heating up the scraper/spatula to erase wrinkles. If you're still trying to master a smooth buttercream finish, I've detailed all my best tips in this post.

Ok, back to this birthday cake design! Although it looks intricate, I promise it's way easier than it looks. Watch this quick video of the process (above) to show you how it's done, then I'll walk you through the step by step below.

You Will Need:
A 6-inch cake that's been filled and frosted with a smooth buttercream finish
1 batch of vanilla buttercream
Bowls and spoons for mixing buttercream colors
A piece of saran wrap
Gold pearlized sprinkles
Tall gold birthday candles
Step 1: Mix Up A Buttercream Color Palette

For this cake, I created a pastel rainbow color palette using the Wilton Color Right system.
A really easy way to do this is to divide the batch of buttercream into three bowls and color one bowl pink, one bowl yellow, and one bowl blue. Then, mix part of the blue with the pink in a separate bowl to create purple, part of the blue with part of the yellow to make green, and part of the pink with part of the yellow to make orange.

Step 2: Prepare Your Piping Bags

Before placing each buttercream color in its own piping bag, I created a multi-colored piping bag for making some rainbow rosettes! The easiest way to do this is to lay a piece of saran wrap down, then swipe four colors next to one another on top of it.

Roll the saran wrap up like a colorful burrito and snip off one of the ends before placing it into a piping bag fitted with Wilton Tip 1M.

Then, place each individual color into separate piping bags fitted with Wilton Tips 104 and 4B. I used Tip 104 for the green and blue colors and Tip 4B for the rest.

Step 3: Pipe The Cake

With your smooth buttercream cake on the turntable, pipe the rainbow rosettes on the upper half of the cake and the top of the cake in a random pattern.

Next, use the piping bags fitted with Tip 104 to pipe ruffles next to each rainbow rosette.

Finally, fill in all the empty spaces with stars using the piping bags fitted with Tip 4B. The goal here is to create a sort of ombrè effect with the piping, so feel free to pipe some stray stars toward the bottom of the cake.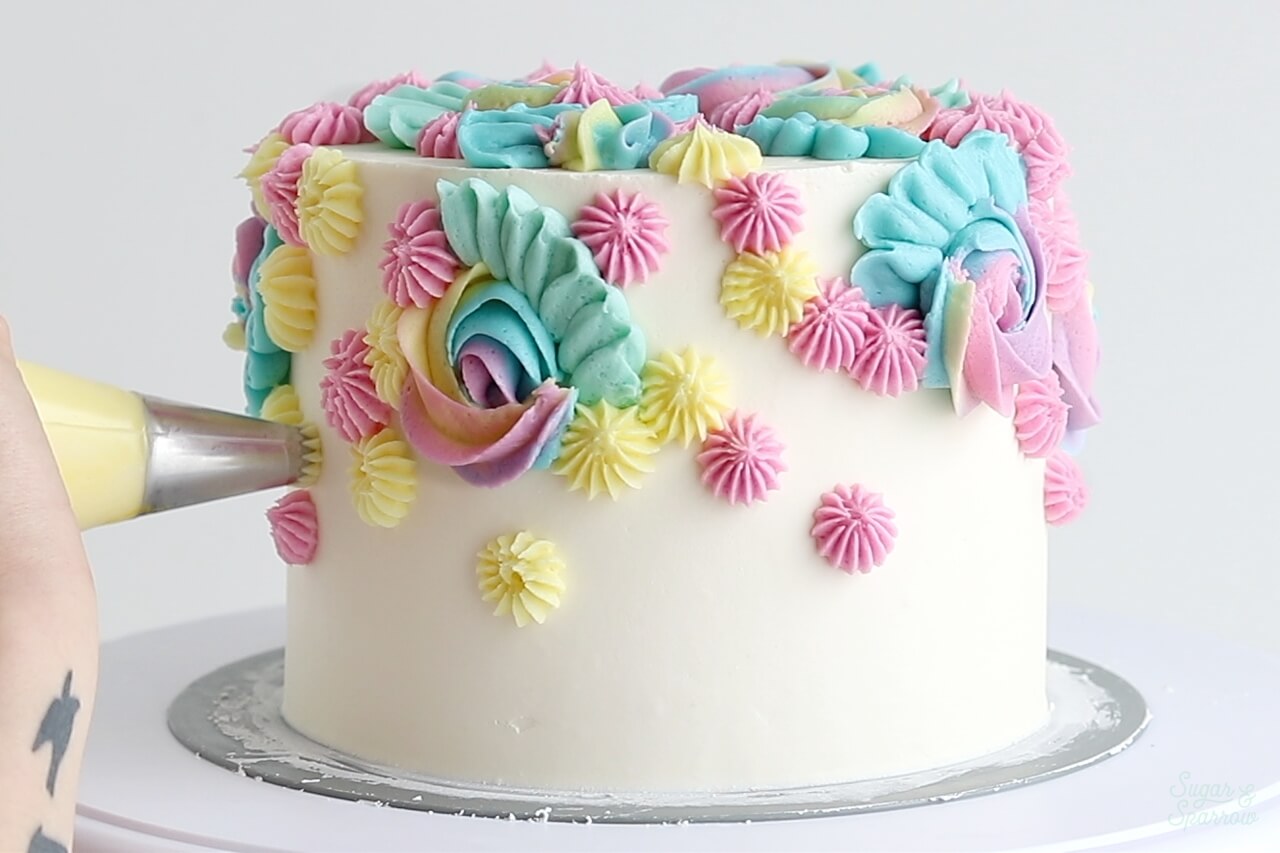 Step 4: Add Sprinkles

I love using sprinkles to add even more texture to whimsical buttercream, and these Wilton Pearlized Sprinkles are perfect for the job. Using either your fingers or a pair of tweezers, add the sprinkles to the centers of some of the stars and the edges of some of the rosettes.

There is no right or wrong way to add sprinkles here. To keep with the ombrè look, I placed a few stray gold sprinkles toward the bottom of the cake.

Step 5: Top With Birthday Candles

No birthday cake is complete without some pretty candles, and the taller the better! These Tall Gold Candles are perfection. Place them on top of your cake and get ready to party!

Wilton has a ton of great birthday cake ideas on their site as well, so be sure to check them out for inspiration. If you're inspired to make this cake design for a birthday or any day, be sure to tag me on Instagram (and @wiltoncakes as well!) to show us what you're caking!