Jump to Recipe
Now that I've shared my Eggnog Cake Recipe and my Hot Cocoa Cake recipe, it's only fitting that I close out my 2020 holiday cakes with another that's based on a festive drink: this decadent Peppermint Mocha Cake! This one may be my favorite one of all and it even impressed my husband, who is not a coffee drinker or a big fan of peppermint. We could not stop tasting it and talking about how good it was, so I am confident that you'll love it too. Oh, and just look at that candy cane drip.
I always try to get my flavors as close to the inspiration as possible, and the flavors going on in this Peppermint Mocha Cake ended up being spot on to the real deal. I thought about topping it with peppermint buttercream (I really wanted it to look like a striped candy cane at first), but the coffee buttercream was actually the perfect choice for the taste of this one. It gives you a great hit of coffee to balance out the peppermint and chocolate in the cake, and it's so tasty you'll want to sneak a few spoonfuls here and there or frost some cake scraps with it for snacking (that's what I do).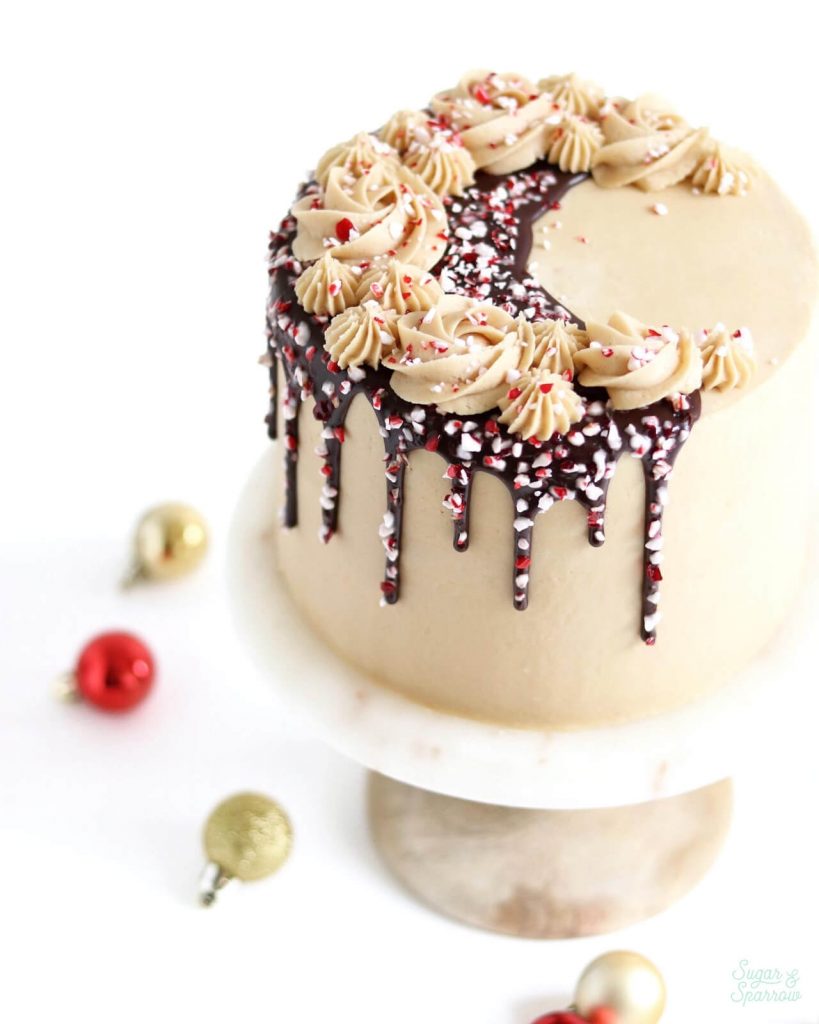 For the cake layers, I adapted my favorite Chocolate Cake recipe to include peppermint extract and hot coffee. In the original recipe, you pour in one cup of hot (simmering) water at the end, so for this version just make sure the coffee is hot, as in just-brewed. You can totally use instant coffee for this part too – I actually ended up using these Starbucks Via packets (made according to the package instructions) and they worked great! After those tweaks to the chocolate cake recipe that's already extra moist and decadent, this version ended up being the ideal balance of peppermint, chocolate, and coffee. In other words, the perfect base for this Peppermint Mocha Cake.
After filling and frosting the cake with Coffee Buttercream to enhance the coffee flavor of this cake, I dripped it with my go-to Chocolate Ganache recipe. After the drips set, it was super easy to press on candy cane bits and the result was so eye-catching! I basically used the same method as was used in this Sprinkle Drip Cake tutorial. One note on the candy cane drip though: adding the candy cane bits can't be done too far ahead of time. When I left the cake in the refrigerator overnight, the moisture of the drip ended up melting a few of the pieces. If you do want to make this cake ahead and keep that drip looking perfect, be sure to add the candy cane pieces the day you're serving the cake. They'll press onto the drip just fine, even after it has set.
To finish the look, I added a little piping to the top in a crescent moon shape using Wilton Tip 1 (for the rosettes) and 4B (for the stars). Then, I sprinkled more candy cane bits over the top. However you choose to decorate, this Peppermint Mocha Cake is downright delicious. As I type this weeks later, I'm already thinking about making it all over again. I consider that the sign of a good cake. Enjoy!
Peppermint Mocha Cake Recipe
Inspired by the classic holiday coffee treat! Layers of peppermint mocha flavored cake and coffee buttercream, dripped with candy cane speckled chocolate ganache.
Ingredients
Peppermint Mocha Cake
2

Cups

(265g) all purpose flour

1 2/3

Cups

(340g) granulated white sugar

2/3

Cup

(60g) unsweetened natural cocoa powder

2

tsp

baking soda

1

tsp

baking powder

2

tsp

instant espresso powder

1/2

tsp

salt

1/2

Cup

(120ml) vegetable oil

2

whole eggs, room temperature

1

tsp

pure vanilla extract

1/2

tsp

pure peppermint extract

1

Cup

(240ml) full-fat buttermilk*, room temperature

DIY recipe in notes

1

Cup

(240ml) hot coffee
Coffee Buttercream
2

Cups

(452g) unsalted butter, room temperature

8

Cups

(960g) powdered sugar

4

tsp

vanilla extract

1

Tbsp

instant coffee or instant espresso powder

3

Tbsp

whole milk, room temperature

1/4

tsp

salt
Chocolate Ganache Drip
1/2

Cup

semi-sweet chocolate chips

1/2

Cup

heavy whipping cream
Additional Garnish
1/4

cup

crushed candy canes
Instructions
Make the Peppermint Mocha Cake
Preheat the oven to 350ºF and prepare three 6-inch or two 8-inch cake pans by spraying the sides with cooking spray and fitting the bottoms with a wax paper or parchment cake circle. 

Place all of the dry ingredients into the bowl of a stand mixer and stir on low for 30 seconds to fully combine them. Add the vegetable oil, eggs, vanilla, peppermint, and buttermilk and mix on low until just combined. With the mixer still on low, add the hot coffee in a slow stream, then turn the mixer to medium and beat until smooth, about 2 minutes. The batter will be very thin. 

Pour into prepared cake pans no more than 2/3 full and bake for 40-45 minutes, until a wooden toothpick inserted comes out clean. Cool completely before frosting.
Make the Coffee Buttercream
Combine the instant espresso/coffee with the whole milk and set aside. In the bowl of a stand mixer, cream the butter on med-high until light and fluffy (about 5 minutes), scraping down bowl and paddle a few times in between.

Add powdered sugar a few cups at a time, scraping down bowl and paddle between intervals. Then add the vanilla, the coffee/espresso milk mixture, and salt. Mix on low until fully incorporated, about one minute.
Make the Chocolate Ganache
Place chocolate chips into a heat resistant bowl (glass or metal). If you're starting with a chocolate bar, chop it into small pieces until they're about the size of chocolate chips. 

In a saucepan over medium-high heat, warm heavy whipping cream until it just starts to simmer. I always look for small bubbles forming around the edge and a soft simmer starting in the middle. When it's reached this point, pour the cream into your bowl of chocolate and let sit for about 30 seconds. 

Whisk it together until it's uniform in consistency and there are no bits of chocolate left on your whisk. Cool ganache at room temperature for 10-20 minutes, or until the ganache itself is room temperature or slightly above. 
Assembly
After the Peppermint Mocha Cakes have cooled completely, level and torte the layers to your desired height. Then, fill and frost the cake with Coffee Buttercream. To create the look pictured, place the cake in the refrigerator for at least 30 minutes before dripping with chocolate ganache. Here are tips on how to create the perfect drip. Place the dripped cake back into the refrigerator for 5 minutes to let the drip set before pressing on the crushed candy cane pieces by hand.
Notes
*DIY Buttermilk Recipe: add 1 Tbsp of white vinegar to a jar and top it with 1 Cup of whole milk. Stir and let sit for 15 minutes before using in the recipe. 
Make Ahead Tips:
The Peppermint Mocha Cake layers can be made ahead and stored, wrapped in plastic wrap, at room temperature for up to two days. Alternatively, you can store the wrapped cake layers in the freezer for up to 2 months before thawing and frosting.
The Coffee Buttercream can be made ahead and stored in an airtight container in the refrigerator for up to two weeks. When you're ready to use it, bring it back to room temperature and re-whip in your stand mixer to bring back to smooth buttercream consistency. 
The Chocolate Ganache can be made ahead and stored in the refrigerator in an airtight container for up to two weeks. When you're ready to use it as a drip, microwave it in 10 second increments, stirring after every interval until your ganache is room temperature and uniform in consistency.
To Make As Cupcakes: fill cupcake tins no more than 2/3 of the way full and bake at 350ºF for 15-17 minutes, until a toothpick inserted comes out clean. Yields about 35-40 cupcakes.
Did you make this recipe? I want to know what you think! Let me know in the comments below or tag me on Instagram. I love to see what you're caking!