Jump to Recipe
Every Thanksgiving, I look forward to a few things: 1) cooking all day with my mother in law with the music blasting our favorite dance-worthy hits, and 2) getting to make a delicious, eye-catching dessert that the whole family can enjoy. The Thanksgiving meal is my absolute favorite to eat too, especially when surrounded by my loved ones, so this holiday really checks all the boxes for me. And since I'm always on dessert duty (I take my role very seriously!) I'm always trying out new recipes to compliment the family favorites. This year, I thought I'd go a little above and beyond and translate the classic pumpkin pie into cake-form, which is how this Momofuku-inspired Pumpkin Pie Cake was born:
Whether I'm keeping it classic with a pie or creating something more ambitious, JOANN is always my go-to for baking supplies. They've got an unparalleled selection of bakeware, piping tips, sprinkles, and basically everything you could need to create the dessert you're imagining and then some. Just look at all of these pretty cake creations I've made with JOANN supplies in the past. You'll also find everything you need to make your Thanksgiving table beautiful – floral arrangements, place settings, dishes, home decor, and basically all the materials you could ever need for DIY projects.
In the case of this Pumpkin Pie Cake, I shopped my local JOANN store for acetate sheets, a springform cake pan, hefty piping bags, and the ideal piping tip to pipe that toasted meringue on top. If you don't live near a JOANN store, be sure to check out their online collection to get what you need.
This Pumpkin Pie Cake has layers of tasty elements going on: I used my Pumpkin Layer Cake recipe for the cake layers and filled them with Pumpkin Creme Filling, Brown Sugar Buttercream, and pie crust pieces.
Using the springform pan lined with acetate, I was to assemble this Pumpkin Pie Cake in such a way that you can see each and every layer. I love that this assembly technique is so easy to put together and you truly don't have to fuss about decorating perfectly. The layers are the showstopper. And an extra added bonus: it's quick. You can make all of the elements ahead and spend just a few minutes putting it all together, which we all know is a life saver when planning and cooking an elaborate Thanksgiving meal.
To top it all off, I piped my easy (only four ingredients!) Marshmallow Meringue recipe with Wilton tip 8B around the edges and toasted them with my kitchen torch. Busting out that kitchen torch might just be my favorite part of it all!
I'll be sharing the recipes for each layer of this Pumpkin Pie Cake and all the info you need to assemble it below. First, here's a video of the assembly process to inspire you:
If you're into cake tutorials like this one, head on over to my YouTube Channel. You'll find all sorts of cake decorating tutorials, recipes, and my entire Cake Basics series in video format. I'm always adding new videos there, so be sure to hit the subscribe button so you'll always be the first to know about a new one.
Materials You Will Need:
Small icing spatula
Three 6-inch pans for baking the cake layers
Wilton Tip 8B (or other decorative piping tip of your choice)
A kitchen torch (if planning on toasting the meringue)
The recipes below
Pumpkin Pie Layer Cake
Layers of perfectly spiced Pumpkin Cake, Pumpkin Creme Filling, Brown Sugar Buttercream, and crushed pie pieces. Assembled with exposed layers and topped with toasted Marshmallow Meringue for an easy, eye-catching dessert for Thanksgiving (or any special occasion!)
Ingredients
Pumpkin Cake
2 3/4

Cups

(290g) cake flour, sifted before measuring

2 1/2

tsp

baking powder

1

tsp

baking soda

1

tsp

salt

2

tsp

ground cinnamon

1

tsp

allspice

1

tsp

nutmeg

1/2

tsp

ground ginger

1

Cup

(226g) unsalted butter, room temperature

3/4

Cup

(140g) packed brown sugar

1

Cup

(205g) white granulated sugar

3

large eggs, room temperature

2

tsp

pure vanilla extract

1 1/2

Cups

(12oz) pumpkin purèe

1

Cup

(240ml) full fat buttermilk, room temperature

DIY recipe in notes section below
Brown Sugar Buttercream
1

Cup

(226g) unsalted butter, room temperature

1/2

Cup

(95g) packed brown sugar

3 1/2

Cups

(420g) powdered sugar

2

tsp

pure vanilla extract

3

Tbsp

whole milk, room temperature

1/4

tsp

salt, or to taste
Pumpkin Creme Filling
1

Cup

(240ml) heavy whipping cream

1

Cup

(120g) powdered sugar

1

Cup

(8oz) cream cheese, softened

1

tsp

ground cinnamon

1/4

tsp

nutmeg

1

Cup

(8oz) pumpkin purèe

1/2

tsp

pure vanilla extract
Vanilla Milk Soak
1/3

Cup

(80ml) whole milk

1

tsp

pure vanilla extract
Additional Elements
1 package of store bought pie crust or ½ batch of your preferred homemade pie crust recipe, baked and crushed into pieces

1/2

batch

Marshmallow Meringue Frosting (make as a last step)

Recipe linked in assembly instructions below
Instructions
Make the Pumpkin Cake
Preheat the oven to 350ºF and prepare three 6-inch cake pans by spraying the sides with cooking spray and placing a wax or parchment paper circle into the bottom of each one. Measure the cake flour by spooning into your measuring cup and leveling it. Place it into a medium sized bowl and add the baking powder, baking soda, salt, ground cinnamon, allspice, nutmeg, and ground ginger. Whisk together and set aside.

In the bowl of your stand mixer (a handheld mixer works fine too!), cream the butter on high for two minutes until it's light and fluffy. Add in white and brown sugars and continue to mix on high for another two minutes, scraping down the bowl and paddle as needed. Add the eggs one at a time, mixing thoroughly after each addition. Add pumpkin puree and vanilla and mix for one minute on medium-high, scraping down the bowl and paddle once more.

With the mixer on low speed, add in the dry ingredients and mix until just combined. Add the buttermilk in a steady stream and mix until just incorporated. Scrape down the sides and bottom of the bowl and give it a few stirs to make sure there are no lumps. Batter will be slightly thick, but pourable.

Pour batter evenly between the cake pans (fill them no more than ⅔ full) and bake for 35-40 minutes, until a toothpick inserted comes out clean. Cool the cakes in the pan for ten minutes before removing and continuing to cool on a wire rack or flat surface.
Make the Brown Sugar Buttercream
With a hand mixer or paddle attachment on your stand mixer, cream the butter and brown sugar on medium-high until it's creamy, light, and homogenous. About 4 minutes.

With the mixer on low, add the powdered sugar a few cups at a time, scraping down after each addition and making sure each cup is fully incorporated before adding the next one.

Add vanilla, milk, and salt and mix on low for another minute until fully incorporated.
Make the Pumpkin Creme Filling
Chill a metal mixing bowl or the bowl of your stand mixer in the freezer for 15 minutes. Once the bowl is chilled, add to it the heavy whipping cream and powdered sugar. Beat with a whisk attachment (a stand mixer or hand mixer will work for this) on high until peaks form and the mixture is thick and whipped, about 5 minutes. Remove the whipped cream mixture from the mixing bowl and set aside in a separate bowl.

Add the softened cream cheese, canned pumpkin, vanilla, cinnamon, and nutmeg into the mixing bowl and mix on medium speed until it's fully combined and there are no lumps, about 5 minutes.

Using a rubber spatula, fold the whipped cream mixture into the pumpkin mixture until combined. Store in the refrigerator in an airtight container if not using immediately.
Make the Vanilla Milk Soak
Combine the whole milk and vanilla. Set aside if using right away or refrigerate until ready to use.
Notes
Assembly + Make Ahead Tips are all below
Assembly
Once the Pumpkin Cake layers are cooled completely, torte each one with a cake leveler or serrated knife to make them all the same height.
Cut one of the 12 inch sheets of acetate into two 6 inch pieces by folding it in half and using an exacto knife (or scissors) to slice it in two.
Line the springform cake pan with both trimmed sheets of acetate. Tape the sides together using a couple pieces of Scotch Tape on the outside to keep the acetate level during the assembly process.
Place a cardboard cake board into the bottom of the acetate lined pan before placing the first layer of Pumpkin Cake on top. Then, brush a layer of Vanilla Milk Soak on top.
Pipe an even layer of Brown Sugar Buttercream over the top of the cake layer and smooth it down with an icing spatula. No need to get it completely smooth, but do make sure it's as level as possible and reaches the acetate edges.
Generously sprinkle pie crust pieces over the top of the Brown Sugar Buttercream and pat them down with the back of your hand.
Pipe an even layer of Pumpkin Creme Filling over the top of the pie crust pieces and smooth it down with an icing spatula. Again, no need to get it completely smooth, but do make sure it's as level as possible.
Repeat steps 3 through 6 until you're ready to add the final layer of cake.
For the final cake layer, turn it upside down (so that the bottom of the cake is the top) before placing it on top of the Pumpkin Creme Filling.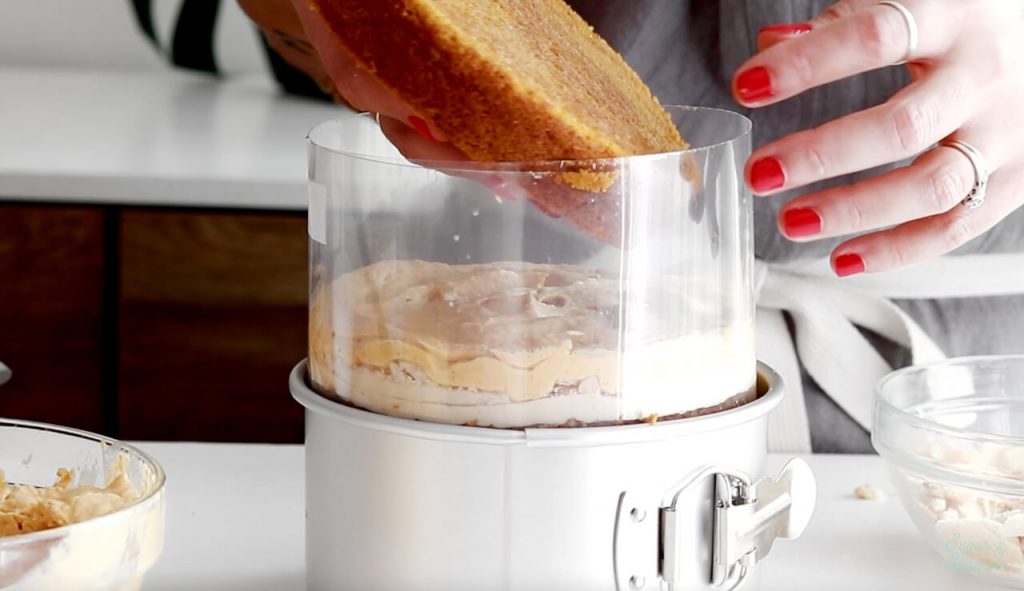 Pipe a final layer of Brown Sugar Buttercream on top of the final cake layer and smooth it down with your angled spatula, then pipe a layer of Pumpkin Creme filling on top. Use your spatula to create a decorative swirl on top of the Pumpkin Creme Filling.
Place the entire cake into the refrigerator for at least one hour, or overnight to allow everything to set firmly. The exposed cake layers will be protected from getting dry because of the acetate siding and the Pumpkin Creme Buttercream on top. Once it's set and ready, remove the cake from the springform pan and carefully peel away the acetate.
Make a half batch of my Marshmallow Meringue Frosting (note that since it's a half batch, the cooking/whipping times will be about 2 minutes each instead of 4).
Fit a piping bag with Wilton Tip 8B before filling it with the meringue, then pipe stars with the meringue around the top edge of the cake. Use a kitchen torch to toast the meringue stars.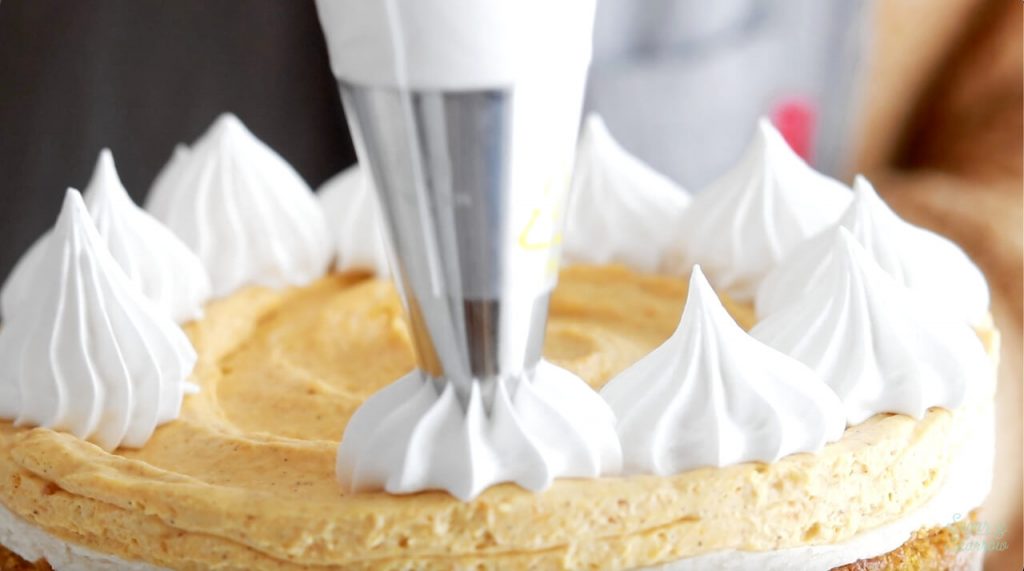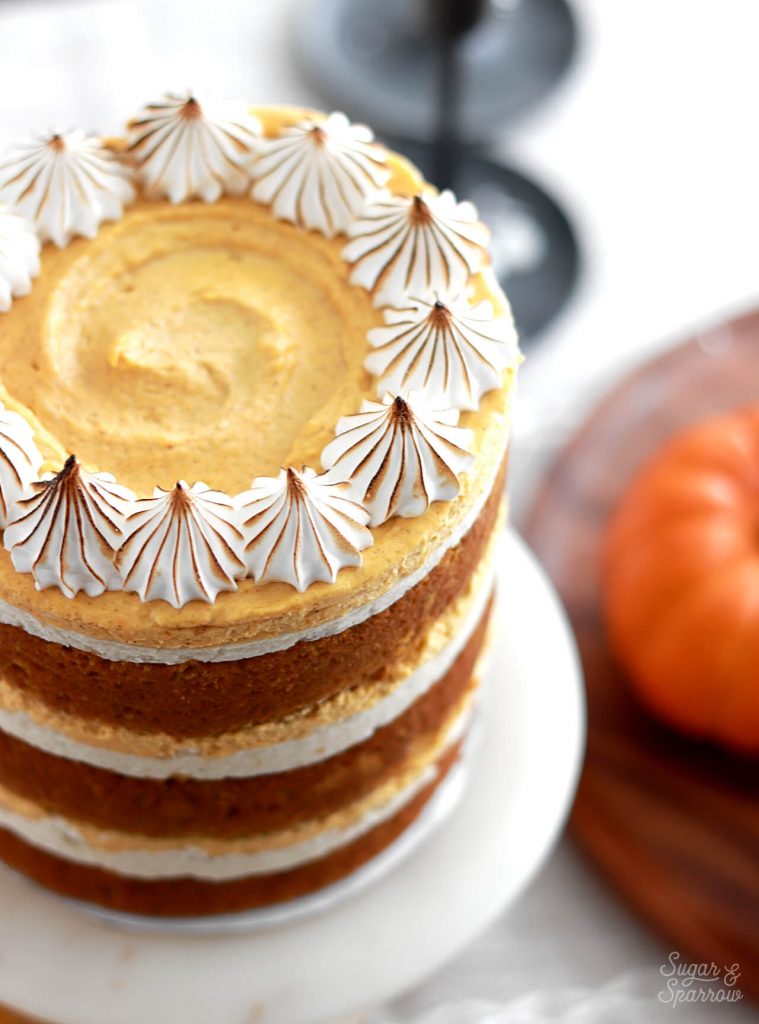 Make Ahead Tips & Notes
*DIY Cake Flour Recipe: To make your own cake flour, spoon and level one cup of all-purpose flour and remove 2 Tbsp. Add 2 Tbsp of cornstarch. Repeat per the amount of cake flour you need, then sift the flour and cornstarch mixture 4 times (don't skip that step!). After sifting, spoon and level to re-measure the amount of cake flour you need.
The Pumpkin Cake Layers can be made ahead and stored, wrapped in plastic wrap, at room temperature for up to two days. Alternatively, you can store the wrapped cake layers in the freezer for up to 2 months before thawing and frosting.
The Brown Sugar Buttercream can be made ahead and stored in an airtight container in the refrigerator for up to two weeks. When you're ready to use it, bring it back to room temperature and re-whip in your stand mixer to bring back to smooth buttercream consistency.
The Pumpkin Creme Filling can be made ahead and stored in an airtight container in the refrigerator for up to two weeks. Give it a few stirs right before you're ready to use it.
The Vanilla Milk Soak can be made ahead and stored in an airtight container in the refrigerator for one week (go by the expiration date on your milk though).
For the pie pieces, I used store bought pie crusts and baked them according to the box instructions, then crumbled them up into little pieces. You are more than welcome to use your favorite from-scratch recipe as an alternative.
The Marshmallow Meringue needs to be made as a final step in the assembly process to make sure it maintains perfect piping consistency.
The fully assembled cake can be stored in the refrigerator (toasted meringue piping and all!) for up to two days before serving. You'll want to wrap the sides of the cake in plastic wrap to keep them from drying out. Be sure to take the cake out of the refrigerator about an hour or two before serving, because cake always tastes better at room temperature.
If you're looking for an easy, creative alternative to the classic Thanksgiving desserts this year, this recipe is sure to be a hit. It's got all the Fall flavors you want in a Thanksgiving dessert, but it's much prettier to look at and can be made in advance so you don't have to stress about whipping it all up day-of. Regardless of what's on your dessert menu this year, JOANN has all the tools you need to create something stunning and delicious. And remember, with a huge assortment of floral arrangements, Thanksgiving decor, and supplies you need for any DIY projects, you'll find all of that there too (and so much more).
Happy Thanksgiving, y'all. I hope you all have endless lists of what you're thankful for this year and get to share it all with family and friends. And please let me know if you make this cake recipe! Leave a comment below to tell me about it or tag @sugarandsparrowco and @joann_stores on Instagram to show us – love to see what you create!
Disclaimer: I was compensated by JOANN for my work of creating this project, styling, filming, photographing, and writing about their products. As always, all opinions are honest and my own. Thank you for supporting brands that support Sugar & Sparrow.