Jump to Recipe
I've been dreaming about making a Rafaello cake for awhile now, and the holiday season seemed like the ideal time to give it a go. After all, they do look like cute little snowballs. If you've never tasted a Rafaello before, it's basically the best coconut-almond candy ever – a crispy coconut covered wafer shell, gooey milk cream center, and a white almond inside. They're delicious, and the perfect inspiration for a layer cake.
This Rafaello cake starts with delicious almond cake layers. It's basically my favorite vanilla cake recipe, but with almond extract being the dominant flavor component. The recipe uses cake flour and egg whites to create a light, fluffy crumb, but also uses sour cream to add lots of moisture. The result is packed with almond flavor and just divine.
For the filling, I decided to make a coconut pastry cream to mimic the experience of biting into the gooey center of a Rafaello. This involves cooking canned coconut milk, some thickening agents, and a little bit of sugar until it turns into a custard-like consistency. If you've never made pastry cream before, it's not nearly as hard as it sounds. Be sure to read through the recipe before you start cooking and you'll be just fine. I topped the coconut cream filling between each cake layer with toasted almonds to add a little more almond flavor and crunch – wholly inspired by the almond center of a Rafaello.
I decided to use my white chocolate buttercream recipe as a base for the frosting and added coconut extract to create a coconut-white chocolate flavor. While here technically isn't white chocolate in a Rafaello, somehow it tastes like there is, so I thought it would be the perfect way to tie things together. I do not regret my decision one bit. All together, this cake tastes just like a Rafaello and has all the textures you'd want in a Rafaello-inspired cake.
In true Rafaello fashion, I ended up rolling the cake in shredded coconut to give it amazing texture and extra coconut flavor. I topped the cake with white chocolate coconut buttercream swirls and placed a Rafaello truffle in between each one. Wilton Tip 4B was my go to for the swirls on this one, but any piping tip you love for swirls will do.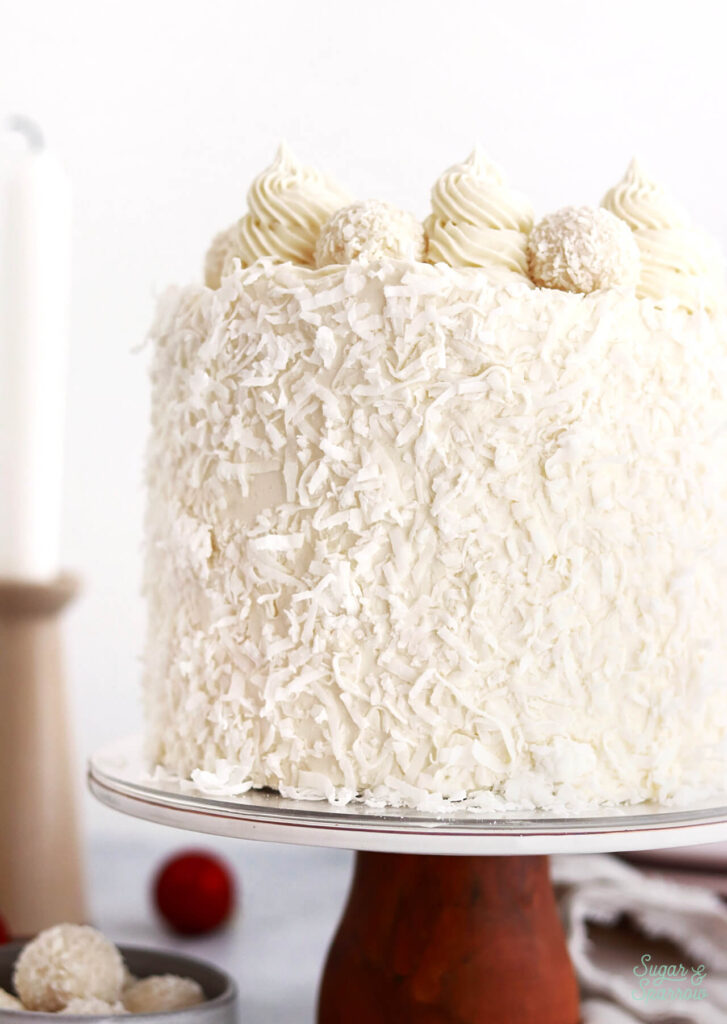 I ended up sending this Rafaello cake to work with my husband and it was a major hit! He kept texting me updates and comments he heard from his coworkers and it totally made my day. I love how this cake turned out and it's so amazing to hear when people love a recipe as much as I do. Whether you're already a fan of Rafaellos or you love coconut-almond flavored desserts, I hope this cake is a major hit with you too.
Rafaello Cake
Inspired by Ferrero Rafaello truffles, this cake is layers of delicious almond cake, coconut cream filling, toasted almonds, and white chocolate coconut buttercream. It's even rolled in shredded coconut like the real deal.
Ingredients
Coconut Cream Filling
1

Cup

(240ml) full-fat canned coconut milk, divided

1/4

tsp

pure vanilla extract

2

Tbsp

cornstarch

3

Tbsp

granulated sugar

1

large egg yolk
Almond Cake
2 3/4

Cups

(290g) sifted cake flour*

DIY recipe in notes

2

tsp

baking powder

1/2

tsp

baking soda

1

tsp

salt

3/4

Cup

(170g) unsalted butter, room temperature

1 1/2

Cups

(300g) granulated sugar

2

large eggs + 2 large egg whites

1/2

Cup

(120g) sour cream, room temperature

2

tsp

almond extract

1

tsp

pure vanilla extract

1

Cup

(240ml) whole milk, room temperature
White Chocolate Coconut Buttercream
12

Oz

(340g) white chocolate chips

2

Cups

(452g) unsalted butter, room temperature

3

Cups

(360g) powdered sugar

2

tsp

pure vanilla extract

2

tsp

coconut extract

1/4

tsp

salt
Additional Fillings & Toppings
4

Tbsp

slivered almonds, toasted**

see notes for toasting instructions

6

Rafaello truffles

1 1/2

Cups

shredded sweetened coconut
Instructions
Make the Coconut Cream Filling
Place 3/4 Cup (180ml) of the coconut milk and the vanilla into a medium saucepan. Stirring often, cook over high heat until it begins to simmer. Remove from heat.

In a medium metal or glass bowl, whisk together the remaining 1/4 Cup (60ml) of coconut milk, egg yolk, sugar, and cornstarch.

Whisking vigorously, slowly pour the simmered coconut milk mixture over the egg mixture. Whisk until fully combined, then pour the whole mixture back into the saucepan and cook over high heat (still whisking constantly) until it thickens and begins to boil.

Pass through a strainer and into an airtight container. Cool to room temperature, then place in the refrigerator a couple hours to set. It will become a custard-like consistency when set.
Make the Almond Cake
Preheat the oven to 350°F. Prepare three 6-inch or two 8-inch cake pans by spraying the sides with a cooking spray (Baker's Joy is my favorite) and fitting a parchment paper circle to the bottom of the pan.

Add the sifted cake flour, baking powder, baking soda, and salt into a bowl and whisk to combine. Set aside. 

In the bowl of your stand mixer (a handheld mixer works fine too!), beat the butter on high for two minutes until it's light and creamy. Add in the sugar and continue to mix on medium-high for another two minutes. Turn the mixer to low and add the eggs and egg whites, one at a time, mixing until just combined and scraping down the bowl and paddle as needed. Add the almond extract, vanilla extract and sour cream, turn the mixer to high, and beat for one full minute. It will look curdled at this point, but don't worry – it will become smooth cake batter at the end.

Add in the dry ingredients all at once and turn the mixer to low speed. Mix until just combined, then slowly pour in the milk. Continue to mix on low speed until just combined, about 30 seconds. Scrape down the sides and bottom of the bowl and give it a few stirs with a whisk to make sure there are no lumps. The batter will be slightly thick.

Pour the batter evenly into the prepared cake pans and bake for 30-35 minutes. They're done when they spring back to the touch and a toothpick inserted into the middle comes out clean. Let the cakes cool in the pan for five minutes before turning them out onto a wire rack for an additional few hours of cooling. Make sure they're entirely room temperature before applying any frosting. 
Make the White Chocolate Coconut Buttercream
Melt the white chocolate chips in the microwave in 30 second intervals, stirring after each one until there are no lumps. Set aside to cool slightly. Alternatively, you can use a double boiler to melt the white chocolate.

In the bowl of a stand mixer fitted with a paddle attachment, beat the butter on high until creamy and light in color, about 5 minutes. Turn the mixer to low, add the powdered sugar, and mix until well combined. Scrape down the bowl and paddle. Give the melted white chocolate a few stirs and test the temperature. It should be slightly warm, but not hot enough to melt the butter (if it is, wait a few more minutes). If it's any cooler, you'll end up white chocolate bits in the buttercream, so you may need to pop it back into the microwave for a few more seconds to warm it back up. When it seems just right, add it in.

Turn the mixer to medium speed and beat for 2 minutes, until the mixture is smooth. Add the vanilla extract, coconut extract, and salt and mix on low for another minute, until fully combined. 
Notes
*DIY Cake Flour Recipe: To make your own cake flour, spoon and level one cup of all-purpose flour and remove 2 Tbsp. Add 2 Tbsp of cornstarch. Repeat per the amount of cake flour you need, then sift the flour and cornstarch mixture 4 times (don't skip that step!). After sifting, spoon and level to re-measure the amount of cake flour you need. 
**How to Toast Almonds: Place the slivered almonds in a dry skillet over medium heat. Heat, stirring often with a wooden spoon, until the nuts are fragrant and golden brown, about 4 to 5 minutes.
Make Ahead Tips:
The coconut cream filling can be made ahead and stored in an airtight container in the refrigerator for up to 5 days. 
The almond cake layers can be baked, cooled, wrapped in plastic wrap, and left out at room temperature up to two days ahead of decorating. Unfrosted cake layers can be wrapped tightly in plastic wrap and stored in the freezer for up to two months before thawing and frosting.
The white chocolate coconut buttercream can be made ahead and stored in an airtight container at room temperature for one day. Alternatively, you can store it in an airtight container in the refrigerator for up to two weeks. When you're ready to use it, bring it back to room temperature and re-whip with your stand mixer to bring it back to piping/frosting consistency.
The almonds can be toasted ahead and stored in an airtight container at room temperature for up to two weeks. 
I hope this Rafaello cake is everything you wished it would be! Let me know what you think in the comments below and feel free to tag @sugarandsparrowco on Instagram if you post a pic! I love to see what you create.