Jump to Recipe
I've always been smitten with Red Velvet Cake. It's quite the looker with that deep red crumb, and the subtle chocolate cake and cream cheese frosting combination is absolutely divine. Red Velvet is versatile too – it can be a fancy cake or completely hilarious (remember the armadillo cake in Steel Magnolias?), a total party hit or a cozy weekend bake, delicious all year round. It's been on my list for awhile now, and with Valentine's Day right around the corner I thought now is the perfect time. Well, any time is really the perfect time. 
This Red Velvet Cake is wonderfully soft and moist, has the perfect touch of chocolate flavor, and is extremely addicting when paired with cream cheese buttercream. I always thought Red Velvet Cake was just a chocolate cake with red food coloring mixed in but I was wrong. There's actually only a few Tablespoons of cocoa powder added, but it tastes just perfect that way – just like a traditional Red Velvet Cake ought to taste. I was so thrilled when I cut into these beautiful layers!
What Gives Red Velvet Cake Its Color?
It may or may not come as a surprise to you that Red Velvet Cake is (gasp) dyed red with food coloring. I was actually shocked to see how much food coloring goes into a Red Velvet Cake recipe while I was researching recipes. I thought it would be something like one to two drops of red food coloring but nope. Some recipes call for 2 Tablespoons or an entire bottle. I wanted to see if I could get away with less food coloring and it turns out that 1 Tablespoon is just fine, especially if you're using a concentrated food color gel like AmeriColor Super Red (it's what I used). Since the food color gel doesn't add any flavor to the cake, you could add even less (or none at all) and still have a great tasting cake. But what's the fun in that? You know you're going to want to dye this cake batter deep red!
Cream Cheese Buttercream is the Perfect Pairing
Red Velvet Cake and Cream Cheese Buttercream are made for each other. It feels against the rules to top this cake with anything else (except probably the traditional Ermine frosting). I could sing the praises of this Cream Cheese Buttercream all day long because it's oh so tasty and just the right consistency for not only filling and frosting the cake, but piping the decorations on top as well. I love it so much that it should probably have it's own recipe post (next on my list!).
How to Decorate a Red Velvet Cake
If you Google Red Velvet Cakes, you'll see a lot of similar designs: plain white frosting and cake crumbs. It's classic that way. You can decorate a Red Velvet Cake any way you want, but I chose to play off of the traditional design by adding a textured finish with a cake comb, some simple piping on top, and of course, those pretty cake crumbs. I will confess that I tried to top this cake with some more elaborate white chocolate decorations speckled with cake crumbs but they ended up looking like blood splattered glass shards. Maybe a better idea to stick in my back pocket for Halloween.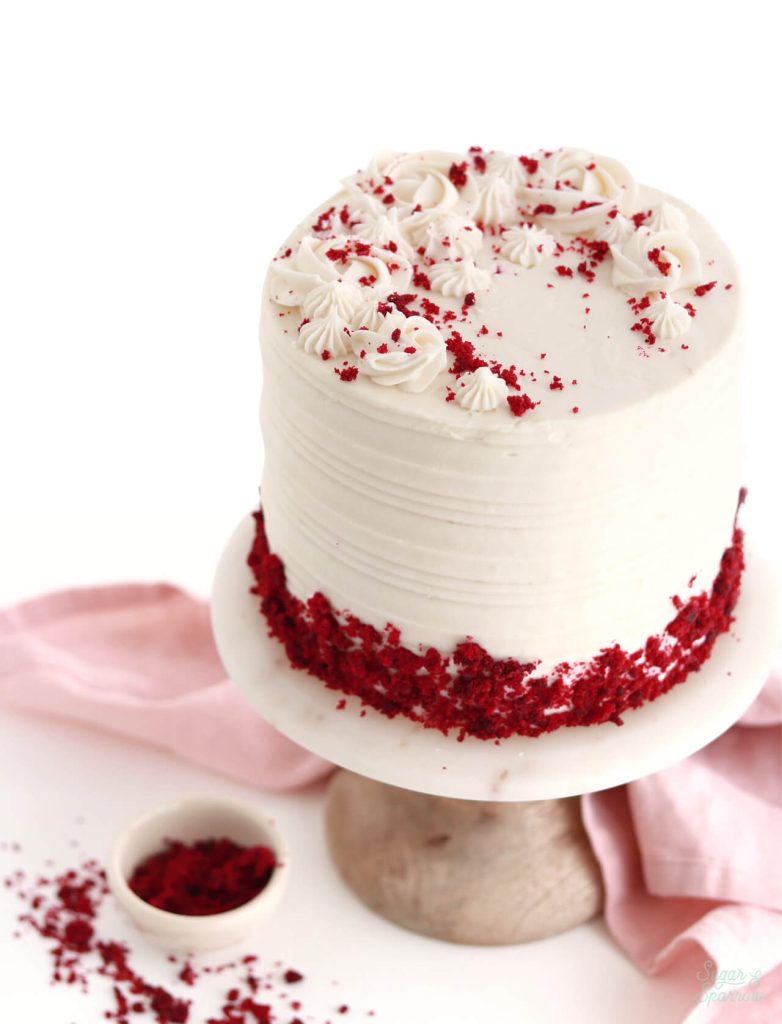 If you want to replicate this cake design though, here's how I did it: after filling and crumb coating the cake with Cream Cheese Buttercream, I placed it in the refrigerator for about 30 minutes to let the crumb coat firm up. This makes a stable foundation for the final layer (and pretty necessary since Cream Cheese Buttercream is always so much softer than other types of buttercream). Then, I frosted the cake with a final layer of Cream Cheese Buttercream and used a cake comb from this set to create the textured finish. I stuck cake crumbs to the side of the cake using this technique, piped a crescent of rosettes and stars on top with Wilton Tips 1M and 4B, and finished it all off by sprinkling cake crumbs over the top. Voila!
However you decorate, this classic cake is sure to be a hit wherever it goes. Enjoy!
Red Velvet Cake Recipe
The classic deep red layer cake that's perfectly moist, fluffy and beautifully paired with cream cheese buttercream. Traditional Red Velvet Cake at its finest!
Ingredients
Red Velvet Cake
2 1/2

Cups

(260g) sifted cake flour

2

Tbsp

natural unsweetened cocoa powder

1

tsp

baking soda

1/2

tsp

salt

1/2

Cup

(113g) unsalted butter, room temperature

1 1/2

Cups

(300g) white granulated sugar

1/2

Cup

(120ml) vegetable oil

2

whole eggs, room temperature

2

tsp

pure vanilla extract

1

tsp

distilled white vinegar

1

Tbsp

red food color gel*

1

Cup

(240ml) buttermilk, room temperature**

DIY recipe in notes
Cream Cheese Buttercream
1

Cup

(226g) unsalted butter, room temperature

16

Oz

cream cheese, room temperature

brick-style, not the spreadable kind

8

Cups

(960g) powdered sugar

1

Tbsp

pure vanilla extract

1/2

tsp

salt, or to taste
Instructions
Make the Red Velvet Cake
Preheat the oven to 350ºF and prepare three 6-inch or two 8-inch cake pans by spraying the sides with cooking spray and placing a wax or parchment paper circle into the bottom of each one. Measure the sifted cake flour by spooning into your measuring cup and leveling it, or simply sift the cake flour into a bowl on your kitchen scale to measure it. Place the cake flour into a medium sized bowl and add the cocoa powder, baking soda, and salt. Whisk together and set aside.

Cream the butter on high for two minutes, then add the vegetable oil and sugar. Cream together on medium-high until light and fluffy, about 2 minutes. Scrape down the bowl and paddle. Turn the mixer to low and add the eggs one at a time. Once the eggs are incorporated, add the vanilla and white vinegar and mix on low for another 30 seconds. Scrape down the bowl and paddle once more.

Mix the red food color gel into the buttermilk. With the mixer on low speed, alternate adding the flour mixture and buttermilk in three additions, beginning and ending with the flour mixture. Mix only until the ingredients start to come together, then whisk the batter by hand a few times to make sure there are no large lumps.

Pour the batter into prepared cake pans (no more than 2/3 full) and bake for 30-35 minutes, until a toothpick inserted comes out clean. Let the cakes cool in the pan for five minutes before carefully removing them and placing the cakes on a wire rack or cookie sheet. Allow the cakes to cool completely before assembling and frosting.
Make the Cream Cheese Buttercream
In the bowl of a stand mixer fitted with the paddle attachment, cream the butter and cream cheese on high until light, fluffy, and uniform (no lumps), about five minutes. Turn the mixer to low and add the powdered sugar a few cups at a time, mixing thoroughly after each addition. Add the vanilla and salt, mixing on low for another 30 seconds.
Assembly
Once the Red Velvet Cakes are cooled throughout, level and torte the layers to your desired height. Reserve the cake tops for crumbles. Fill and stack the cake with Cream Cheese Buttercream. Crumb coat the cake and place it into the refrigerator for at least 30 minutes to let the crumb coat firm up before frosting with a final layer of Cream Cheese Buttercream.

To create the look pictured, frost the cake with Cream Cheese Buttercream. Don't worry too much about getting perfectly smooth sides, but do run an icing smoother over them to get them level and straight. Then, use a cake comb to create texture. Crumble up the cake tops and add them to the bottom third of the cake using this technique. Pipe a crescent formation of rosettes and stars with Wilton Tips 1M and 4B on the top of the cake, then sprinkle more cake crumbs on top.
Notes
Make Ahead Tips: 
The cake layers can be made ahead and stored, wrapped in plastic wrap, at room temperature for up to two days. Alternatively, you can store the wrapped cake layers in the freezer for up to 2 months before thawing and frosting.
The Cream Cheese Buttercream can be made ahead and stored in an airtight container in the refrigerator for up to two weeks. When you're ready to use it, bring it back to room temperature and re-whip in your stand mixer to bring back to smooth buttercream consistency. 
*Red Food Color Gel: I recommend using any brand of red food color gel that is concentrated and flavorless. I used AmeriColor Super Red for this recipe. Feel free to use less food color gel if you don't care for the cake to be as red (or none at all, but what's the fun in that?)
**DIY Buttermilk Recipe: Add 1 Tbsp white vinegar into a mason jar or measuring cup. Add one cup (240ml) whole milk and let sit for at least 15 minutes before using in a recipe. 
To Make as Cupcakes: fill cupcake tins no more than 2/3 full and bake at 350ºF for 15-18 minutes, or until a toothpick inserted comes out clean. This recipe makes 24-30 cupcakes. 
Did you make this cake recipe? I want to know how it went! Leave me a comment below and feel free to tag @sugarandsparrowco on Instagram to show me. I love to see what you create!