Although I love a smooth buttercream cake, there's just something about rustic textured buttercream that makes a cake look downright delicious. It's such a classic way to decorate a cake that doesn't require a lot of time or expertise. That makes it the perfect decorating technique for those days you just want to whip up a quick cake and dig right in.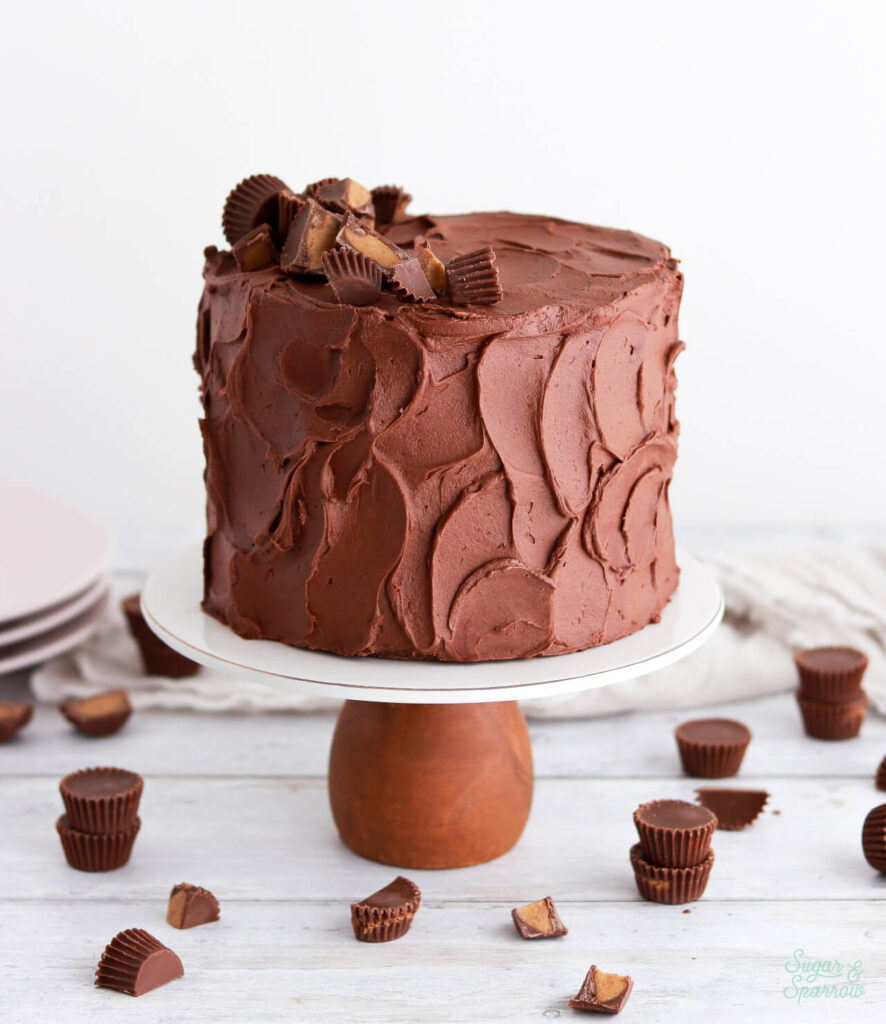 While rustic swirls are easy to create, they do require a little bit of strategy. The first time I tried this look, I found myself spending way too much time trying to perfect each and every swirl. Turns out that in order to get that carefree look, you have to let loose a little bit. Once you get to the point of wild abandon, your cake will look amazing!
This technique works with any kind of frosting and color scheme, but I really love it with chocolate buttercream. The texture of the swirls makes a chocolate cake just look extra delicious. Here's a quick video I whipped up of the technique so you can see it in action before you read the step-by-step below.
If you love cake decorating tutorial videos like this one, be sure to check out my YouTube channel! I've got a growing collection of recipes, decorating tutorials, and Cake Basics over there. Hit the subscribe button on my page so you never miss a new video.
You Will Need:
Step 1: Frost the Cake
Start with your chilled, crumb coated cake on the turntable. Add a few scoops of buttercream to the top of the cake and smooth it down with your angled icing spatula until it's nice and level.
Next, add buttercream to the sides of the cake and glide your icing smoother over them while turning the turntable to create level sides. Fill in any gaps in the finish with more buttercream and continue smoothing until the sides are level.
Don't worry about achieving a super smooth finish – the goal here is to make the sides look straight and even. 
Step 2: Create the Rustic Textures
Immediately after frosting the cake, swipe your angled icing spatula through the buttercream to create the rustic texture all over the sides. Remember, we're going for a perfectly imperfect look, so try not to overthink this part.
I like to use a combination of quick swipes, C-Shapes, and S-shapes for my rustic swirls. You can always re-texture some areas that you're not entirely satisfied with.
Step 3: Decorate the Top
When you're satisfied with the texture on the sides of the cake, continue those same techniques on top of the cake until it's all filled in with beautiful rustic swirls.
And that's it! You can keep the cake as-is or continue decorating by adding fun birthday candles, fresh (edible) flowers, sprinkles, or whatever you'd like! However you choose to decorate (or not), your cake is going to look downright delicious with all that texture.
I hope you have the best time with this classic cake decorating technique! If you found this tutorial helpful, be sure to tag @sugarandsparrowco on Instagram to show me. I love to see what you create!