Living in Portland has given me access to some incredible, unique eateries. Whenever I travel, I usually enjoy the food in other places, but I'm always a little more impressed (and blessed!) by the food of our hometown. I did not expect to be completely floored by all the food I got to eat in San Francisco, but I was. It made Portland seem like baby food! Well, really good gourmet baby food. Ok, that's still a total overstatement but you get what I mean.
Before arriving in San Francisco, my husband and I had a list of restaurants and bakeries we just had to try. There were only two bakeries on the list that we didn't get to enjoy because they closed earlier than I expected (poor planning on my part!), but we were both so delighted by everything we ate anyway. Since we walked miles and miles seeing all the sights, we got to eat a whole lot of food. That's the magical thing about San Francisco – the walking counteracts the eating so you don't feel bad about the calories for a second.
If you have yet to read about our epic road trip to San Fran and the things we did (besides eat!) while we were there, check out this post about the journey and this post on the fun San Francisco adventures we had. And just a forewarning on the current post you're reading: I am about to seriously nerd out. Ya with me? Here are all the amazing things we ate on our trip:
Favorite Bakeries
I asked around on Instagram for your suggestions about what bakeries to try (thank you all, by the way!) and after hearing your recommendations, I expected great things from the bakeries of San Francisco. The best thing was, my expectations were far exceeded! There were two on the list that we didn't get to try (B. Patisserie and Mr. Holmes Bakehouse), and I was a bit sad about missing those two, but these other ones made up for it in a big way:
Tartine
As soon as we got to Tartine, there was a line out the door. The sweet aroma of the bakery added to all the excitement and I found myself at the cases in no time, presented with so many pastries and breads that I was a little overwhelmed! Luckily, the lady next to me was a local who told me all about what to order. While I was tempted by the sweet pastries (as per usual), she nudged me toward the croissant and the morning bun, for which I was so grateful. I took one of each, plus two pastries: the chocolate hazelnut tart and the toasted lemon meringue cake. Josiah and I walked a block to picturescue Dolores Park to have our feast.
First we tried the croissant. It was flakey, buttery, and honestly the best I've ever had. Crunchy on the outside, and melt-in-your-mouth soft on the inside. Just look at the layers are in this thing!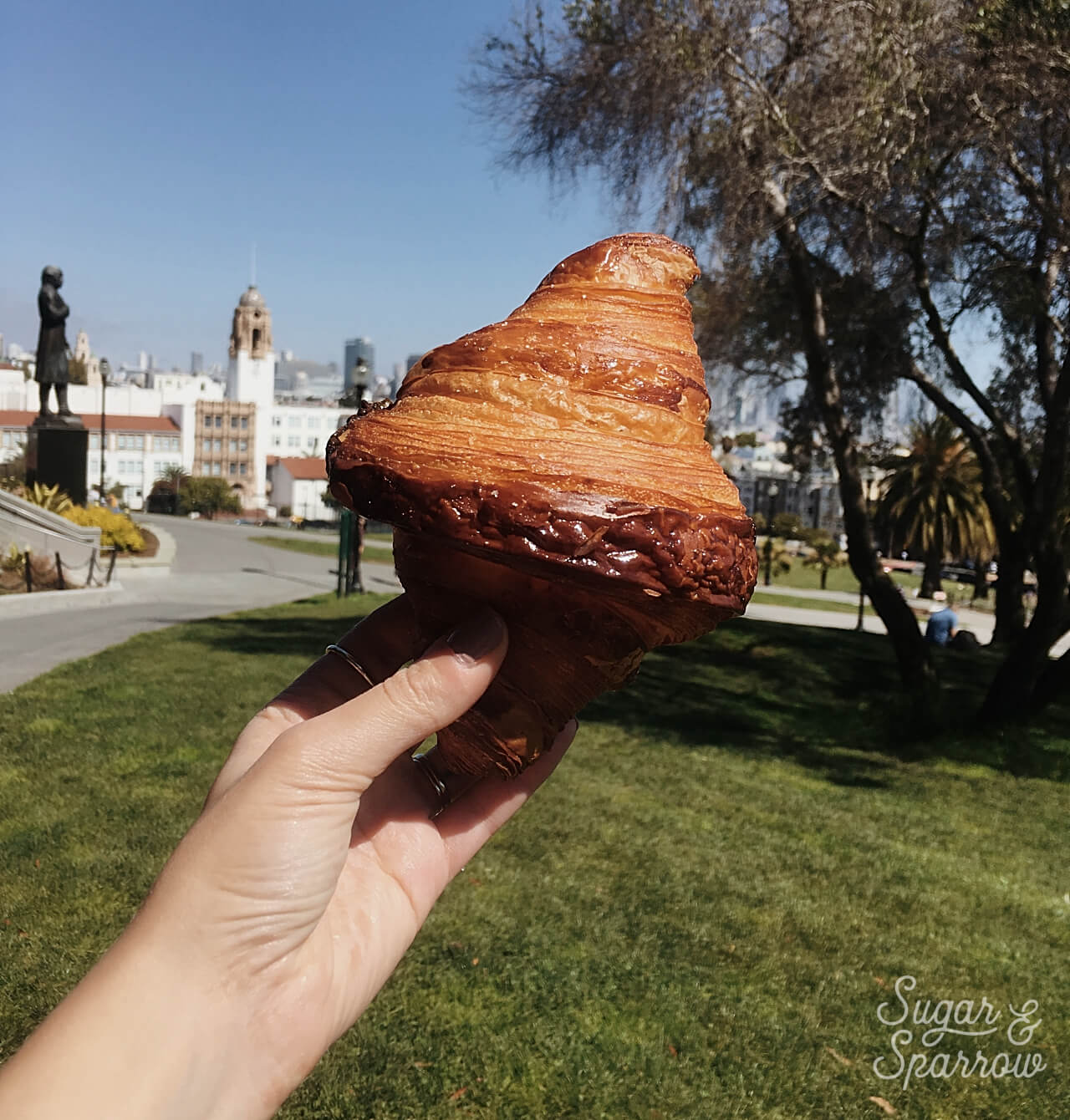 Then we tried the morning bun. This was the number one thing that the lady next to me in line told me I had to get. I wouldn't have chosen it without her recommendation, but I'm so glad we ended up with it! The morning bun is packed with amazing flavor – cinnamon, orange zest, and sugar – yet it wasn't overwhelmingly sweet. It reminded me of Christmas morning in the best way.
Now for the sweets. I was eager to try the chocolate hazelnut tart first, because of my giant sweet tooth and the fact that I love chocolate hazelnut anything. What I did not expect was the hint of orange! It really tied the flavors together in the most unique way, and I was in heaven. It was the perfect textural blend of soft chocolate tart and crunchy hazelnuts. And it was just really pretty!
And lastly, the toasted lemon meringue cake. This one was Josiah's pick, and I am really thankful he chose it. Underneath the toasted meringue topping were so many tiny layers of vanilla cake, caramel, and lemon curd.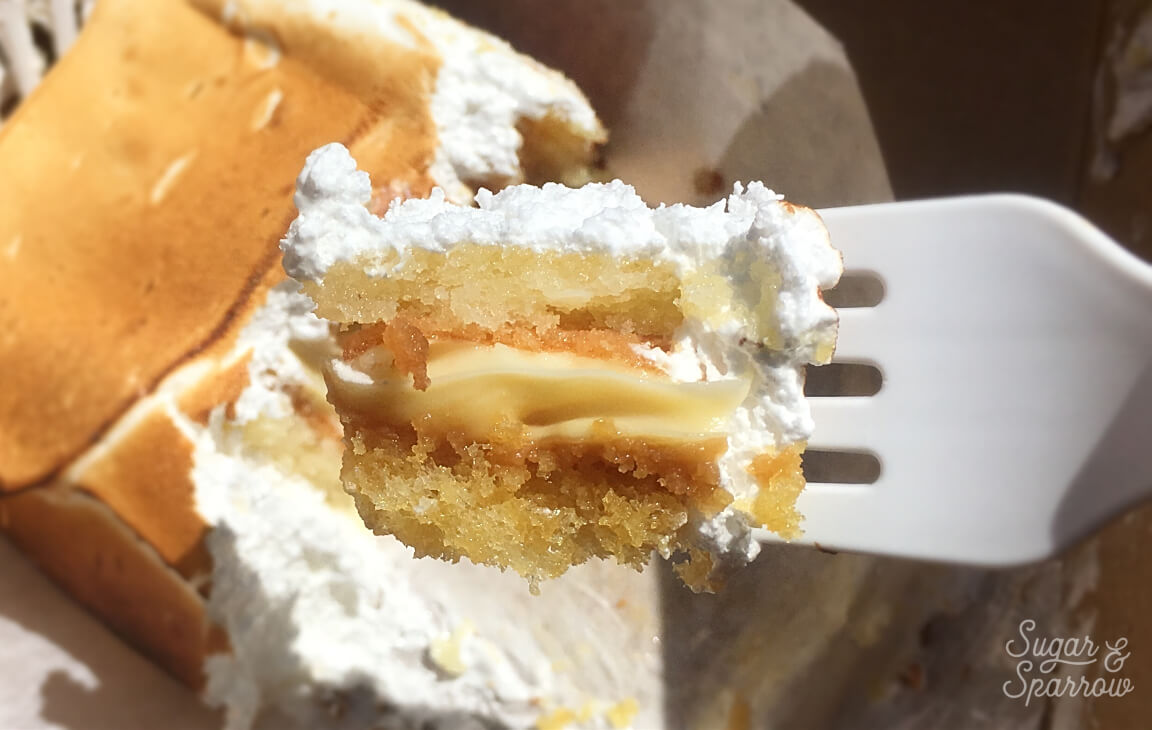 I would never think to put caramel and lemon together but holy smokes. It worked!
Miette
This one definitely wins the award for cutest storefront. The inside was equally charming, with colorful rows of candy and pastel tables full of housemade confections. The Parisian vibes were strong.
I ended up getting a chocolate cupcake with Italian meringue frosting and it was real tasty. In hindsight, I wish I would have tried the macarons as well, but my brain was swirling from all the choices yet again!
Dandelion Chocolate
This place was unexpectedly awesome. It's a small batch bean-to-bar chocolate factory in the Mission District, and as soon as you walk in, you're greeted with a whole wall of chocolate bars made from beans sourced all over the world and you can taste as many as you want! I was on nerd overload here.
When I got to the counter there were so many well-designed chocolate desserts to choose from. I was very pleased to see that they had an entire Chef's Tasting Menu of desserts – mini versions of the cacao spritzer, profiterole, s'more (hello!), passionfruit macaron, and husk panna cotta. I swear, everything I tried, I literally said "wow" out loud!
My favorites on the Chef's Tasting Menu were the s'more and the husk panna cotta. The s'more featured a spicy (maybe cardamom?) crust, well-toasted marshmallow, and chocolate from Ecuador. The panna cotta was creamy deliciousness infused with cacao husk from Costa Rica. There was also a cacao crumble on top.
Stonemill Matcha
This was another "line out the door" space that was worth the wait. The matcha served at Stonemill Matcha comes from the shade-grown farms of Kyoto, Japan, which is actually the birthplace of matcha, and just like the name suggests, it's stone ground (and hand whisked!) to perfection.
The case featured an all-matcha dessert menu, so I ordered a matcha latte and a matcha cream puff (mainly because it was so cute!). I know I've said this about all the things, but this was real tasty and also pretty to look at.
Favorite Restaurants
As far as savory things go, Josiah and I got to try a few different restaurants in San Francisco and while everything was amazingly good, these are the two standouts for both of us:
Brenda's French Soul Food
My oh my, this might be my favorite restaurant of all time. I love soul food and this place had some of the richest flavor I've ever tasted from a New Orlean's style restaurant. It was beyond. Josiah and I decided to split a few things because we just couldn't decide. We ended up with crawfish beignets, hushpuppies, and shrimp po'boys. It was another experience where everything I tasted I involuntarily said, "wow" out loud!
The hushpuppies were served with a chipotle rèmoulade, which was the perfect spicy compliment to the sweet corn goodness.
Gracias Madre
Gracias Madre is a plant-based Mexican food joint, and while I didn't really think that vegan Mexican food would be any good, I was proven very wrong. All of my experiences with vegan cheese before this were very negative (aka it tasted like glue to me every time). We weren't sure what to order so we asked our server, who was quick to point out the Quesadillas de Camote and the Coliflor Frito. I thought, "great, two vegan cheese things," but when I tried them I was shocked to find that they tasted so flavorful and complex (in the best way). No glue taste at all!
The Quesadillas de Comote tasted like Fall, packed with sweet potato and caramelized onion, wrapped in a warm corn tortilla, and topped with melted cashew cheese, mild green salsa, and pumpkin seeds. So good. While Josiah wasn't a huge fan of the Coliflor Frito (fried cauliflower with melted cashew cheese and lemon) I thought it was really tasty, but part of me wished the Quesadillas de Comote were twice the size and the serving of Coliflor Frito was half the size.
We can't wait to come back to San Francisco again to savor our favorites and try some new things! Have you ever been? Let me know your favorite SF restaurants in the comments. And PS if you want to read about our favorite things we did while we were in the city (besides eat!), check out this post.