Would you believe me if I told you that once upon a time it took me hours to frost a smooth buttercream cake? It was mainly due to my perfectionism, but also because I didn't know as much as I do now about frosting techniques. I remember agonizing over every flaw and just smoothing the cake over and over again until I reached a point where I was okay with the finish. These days, I've got the frosting process down to about 15 minutes and I can't wait to share my best tips with you so you can eliminate some of the anxiety that seems to come along with cake decorating.
I've got an older video on my YouTube channel that shows some of these smooth buttercream frosting techniques, but I've learned even more since then and wanted to shoot a new video with voiceover and more info. This way, you're more up to speed on my current processes and have something more detailed to reference as you frost your future cakes. Give it a watch before you read all about these frosting tips and techniques below!
Want to see more Cake Basics videos like this one? Head to my YouTube Channel to see the growing collection. You'll also find tons of cake recipes and decorating videos to inspire you and broaden your skill set – be sure to hit the subscribe button so you never miss a new one!
What Kind of Buttercream Works Best?
I use this American Buttercream recipe for everything I do – filling, crumb coating, frosting cakes, piping cupcakes, and beyond. I've purposefully tweaked it to be the best consistency for frosting cakes and to make it less sweet than your average American Buttercream. That said, there are a variety of other buttercreams out there and I know everyone has their preferences.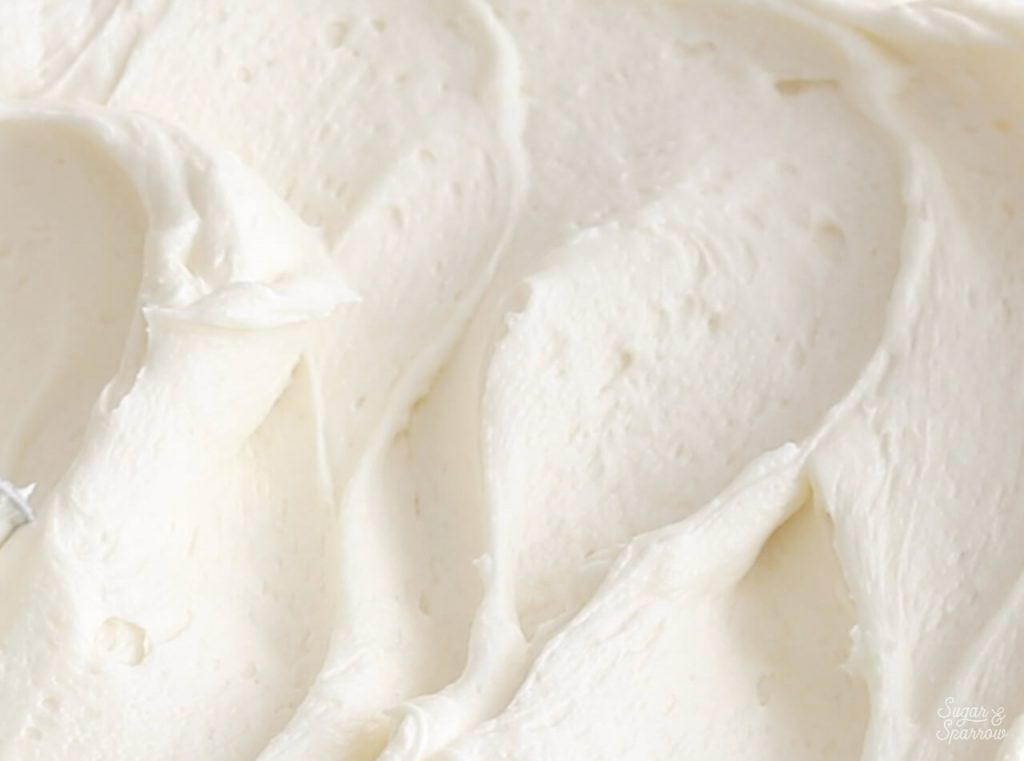 The good news is, no matter what kind of buttercream you're used to using, these techniques will work just fine for frosting a cake. So whether you prefer Swiss Meringue, Italian Meringue, German Buttercream, stabilized whipped cream, or anything else that's meant for frosting a cake, you can follow these tips and techniques for best results. They'll work with all of my frosting recipes (which are all American) but feel free to use your own personal fave and follow along with this post.
3 Tools You Need
The techniques I'm about to share work wonderfully as long as you have the right tools. Here are the ones I've come to swear by for every cake I make:
A Cake Turntable: I have an older model of this Wilton turntable that I've been using for over a decade. The one I use is currently unavailable on Amazon, but I've tried the newer version and I can attest it works just the same. Both have a non-slip center so your cake won't budge as you're smoothing buttercream, and both have the smooth rotation you need for achieving a smooth finish.
An Angled Spatula: This 9" Wilton spatula is ideal for applying frosting to the cake and also achieving a smooth, level finish on top. The angle in it gives you more grace as you smooth than a straight spatula would – aka it's just easier to create those sharp edges around the top (in my opinion).
An Icing Smoother: I don't know if this Norpro Bench Scraper that I use is technically an icing smoother, but it's the best I've found for the task. It's easy to hold at a 90-degree angle for getting super straight edges, plus it's made of stainless steel so it's easy to clean and apply a small amount of heat if necessary. I've tried a lot of icing smoothers in my day, but I always go back to this one.
Start With a Chilled, Crumb Coated Cake
Having a solid foundation for your final layer of frosting is essential, and there's nothing more solid than a crumb coated cake that's been chilled for at least 30 minutes.
Crumb coating helps shape the cake's foundation and reduces the chances that crumbs will end up in your final layer of buttercream. Chilling the crumb coated cake makes all that buttercream firm up so that the layers and fillings don't shift while you're frosting on top of them.
Step 1: Frost the Top of the Cake
With your chilled, crumb coated cake on the turntable, use your angled spatula to add a few scoops of buttercream to the top of the cake. Rotate the turntable as you smooth the buttercream down flat.
Holding the angled spatula as parallel to the cake as you can while you rotate the turntable will help you achieve a level finish. Keep smoothing and rotating until your buttercream reaches over the cake's edge slightly.
If you need to add more buttercream to the top as you go, feel free! But don't worry too much about getting the top perfect at this point. We'll be revisiting the top of the cake during Step 3, so the most important goal in this current step is to make sure the frosting is level and reaches over the edge.
Step 2: Frost the Sides of the Cake
Next, use your angled spatula to apply about ¼ inch layer of buttercream all around the sides of the cake. I like to start at the bottom of the cake and work my way to the top.
When the sides are covered, hold your icing smoother at a 90-degree angle parallel with the cake as you rotate the turntable. The tighter you can angle the icing smoother with the sides of the cake, the easier it will be to smooth the cake.
You may find that you need to fill in some gaps in the buttercream after smoothing a few times. If so, just apply more buttercream in those areas and continue smoothing with your icing smoother.
At this point, it's super helpful to hold your hand directly in front of the cake on the turntable and smooth as you rotate a full 360 degrees. This ensures that you begin and end your smoothing in the same place, reducing the changes of multiple "seams" around the sides of the cake.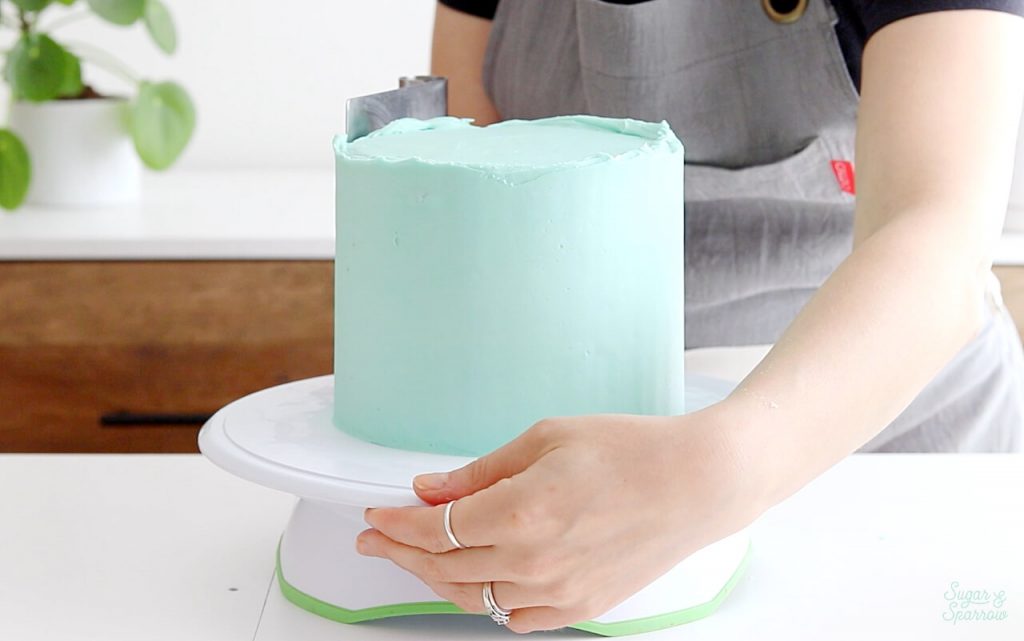 Another helpful tip with this step is to gently heat your icing smoother (if it's made of stainless steel) by running it under hot water, drying completely, and letting it cool slightly before smoothing the cake. This works like an iron running over any wrinkles in your cake finish, but you have to be careful not to get the icing smoother hot enough to melt your buttercream.
Keep going until you're happy with the finish. If you just can't seem to get to a place where you're happy with the sides though, feel free to give this step a rest and move onto Steps 3 and 4. Trust me, moving through to Step 4 will help you get smooth sides quicker than spending too much time agonizing over Step 2!
Step 3: Create Sharp Edges
You'll notice that Step 2 left you with a buttercream crown around the top edge of the cake. This is what you want, as it's essential for creating sharp edges.
Using your angled spatula, swipe the outer edges of the buttercream crown toward the center of the cake. You'll want to make sure you keep your angled spatula as level as possible as you go around the entire top.
Once you've got all the edges looking nice and sharp, you're ready to move on in your decorating process unless you've decided that you want the sides of the cake to be smoother. In that case, move on to Step 4.
Step 4 (Optional): Chill and Repeat
If you went through all the previous steps and still feel like your cake could be smoother, the best thing you can do is pop the cake in the refrigerator for at least 20 minutes. This is much better than agonizing over your cake finish and over-smoothing it. By placing the cake in the refrigerator, you're allowing the finish to firm up and provide a really sturdy foundation for a final (super thin, super smooth) coat of buttercream.
After refrigerating your cake, repeat Steps 1 through 3, but this time apply a very thin coat of buttercream all over the cake. This coat will fill in any wrinkles and gaps, and since the buttercream layer beneath is so solid, you're able to apply more pressure and get a smooth finish in a more failproof way.
Once you're happy with the smooth cake finish, you can move on to the next steps in your decorating process. I'll be applying sprinkles to the sides of this cake in an upcoming Cake Basics post, so stay tuned for my methods on that! And if you have any questions, don't hesitate to post them below.

Want more Cake Basics? Head here to see all of the posts and learn the methods of caking I've come to love over the years. I'm cheering you on every step of the way!