Knowing how to make number cake toppers is a skill that has come in handy over and over again. They're so essential for birthday cakes and important anniversaries, and I even recently whipped them up to ring in 2020 (Happy New Year, by the way)! They only take about 20 minutes from start to finish, which is totally ideal for those times you need a last minute cake topper that looks super professional and fun. They're pretty much guaranteed to add a little more joy to your cakes!
I used Wilton Candy Melts as the foundation for these colorful number cake toppers, but you could also use any tempered chocolate as a base and the process would be the same. The best part is that you can use this tutorial to create numbers (or letters) in any font you want! Just print out your favorite numerical look onto printer paper, lay a piece of wax paper over the top, and pipe the Candy Melts or chocolate on top. Cover with your favorite sprinkles and you're good to go!
Here's a quick video I whipped up to show you how to make these sprinkled-covered numbers in just a few easy steps. Give it a watch before you read all about how to make them below:
If you have yet to check out my YouTube Channel, go give it a look! There are tons of video tutorials to help you learn, and I'm working on adding more recipes to the mix. Be sure to subscribe so you don't miss a thing!
You Will Need:
Step 1: Pipe the Number with Candy Melts
Melt the Wilton Candy Melts according to the package instructions, then place them into a piping bag and snip off a small (about ⅛ inch) opening.
Place your printed number template (face up) onto a flat surface and cover it with a sheet of wax paper. Then, pipe the outline of your number with the melted Candy Melts and fill in the center.
Step 2: Cover with Your Favorite Sprinkles
While the Candy Melts are still wet, generously add the sprinkles to cover the entire surface, gently pressing them into the number without spreading the Candy Melts outside of the lines.
When the surface is perfectly sprinkled, place the number into the refrigerator and let it set up for about 10 minutes.
Step 3: Turn it Into a Cake Topper
After the sprinkled number is set, remove it from the wax paper backing and place it face down. Place a bamboo skewer onto the back and cover it with more melted Candy Melts.
Return the sprinkle number (with the bamboo skewer attached) to the refrigerator and allow it to set up for 10 more minutes.
And there you have it, a fun and festive sprinkled number topper:
These sprinkled number cake toppers are so perfect for topping cakes and totally edible (minus the skewer, of course). And you can even use these same steps to create letter cake toppers in any font you want! Definitely a skill you're gonna want to have in your back pocket for any cake that needs a custom cake topper like these. Happy cake topper making, people!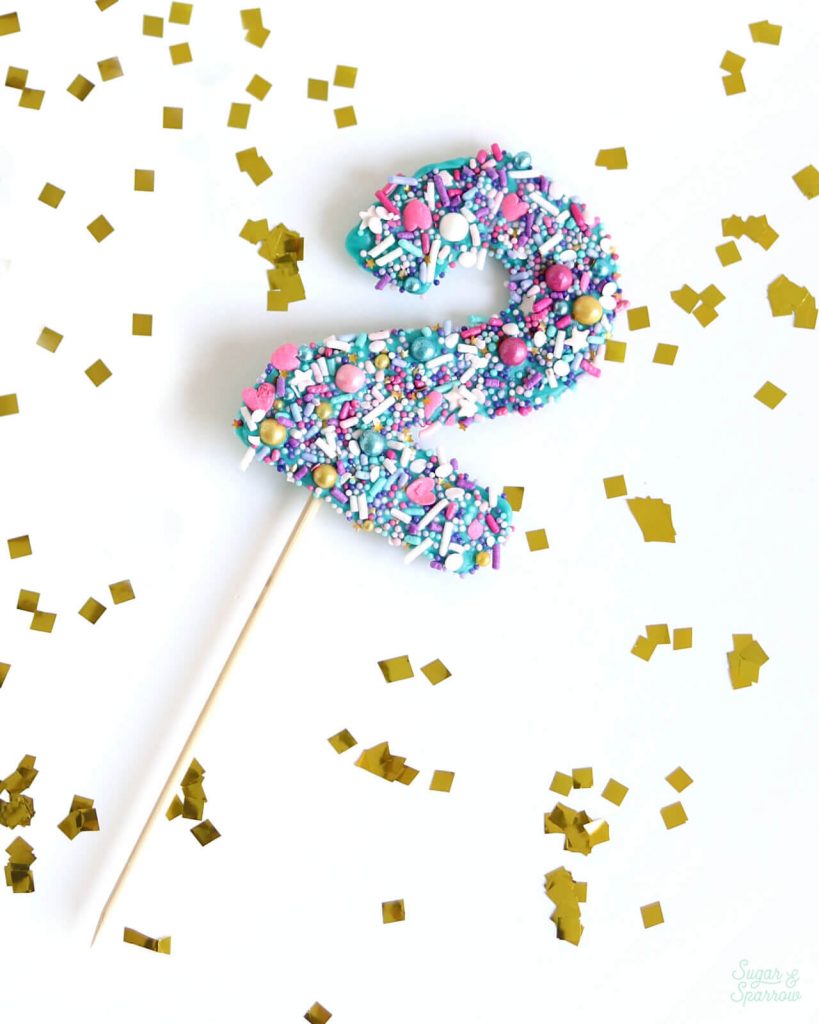 Did you make these number cake toppers? I want to know how it went! Let me know in the comments below or feel free to tag @sugarandsparrowco on Instagram to show me. I love to see what you're up to in the kitchen!