Jump to Recipe
A few years ago, I created this Strawberry Lemonade cake that became an instant hit: cake flavored with fresh strawberries (pureed and reduced), filled with strawberry buttercream, topped with lemon buttercream – basically Summer in cake form! It's been on my list to write an all-strawberry cake recipe ever since, and after getting a request for one via Instagram DM, I knew it was time. I took to the store for a pound of fresh strawberries and a package of freeze dried strawberries to give you the ultimate flavor profile. I promise, it's as delicious as it is pretty to look at!
I know what you might be thinking: why fresh strawberries and freeze dried strawberries? After tons of testing, fresh strawberries are hands-down the best way to flavor a cake, while freeze-dried strawberries are hands-down the best way to flavor buttercream. Trust me, there is no way around it. The good news is that most groceries stores carry both, but if you have a hard time finding freeze-dried strawberries, you can always order them on Amazon (these are the ones I use, but I get them from my local Trader Joe's).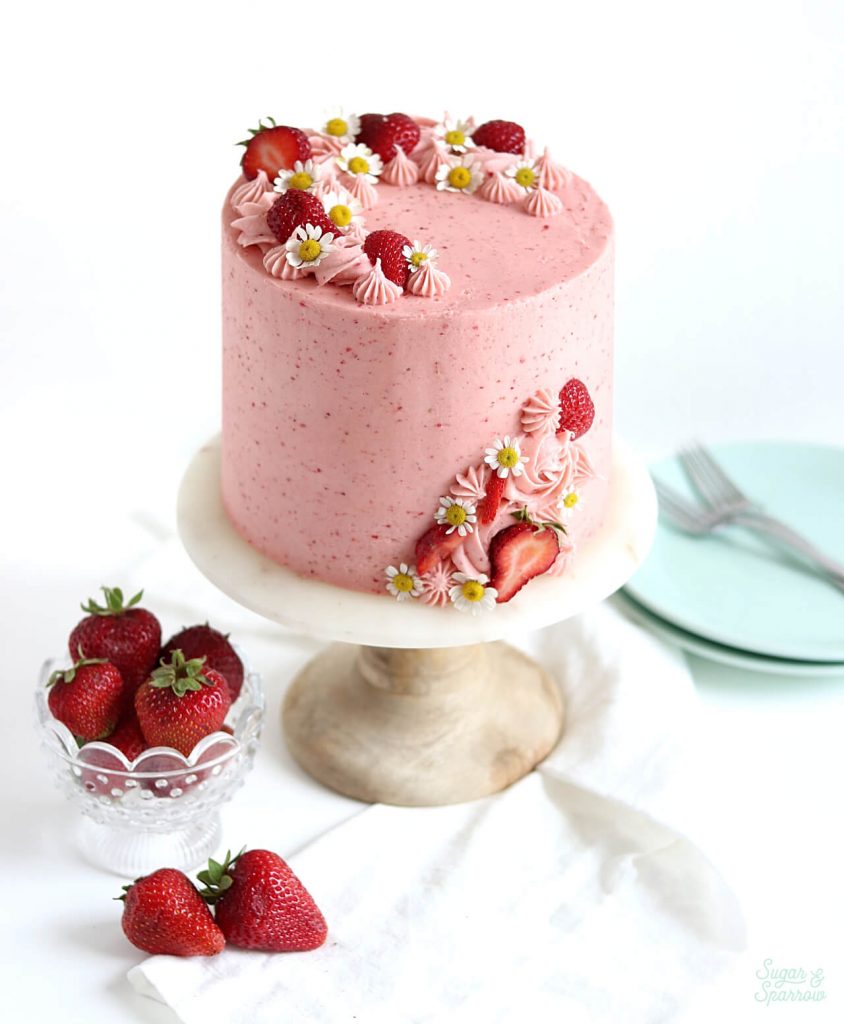 When it comes to flavoring a cake with fresh strawberries, it's not enough to just chop them up and add them to your batter (you'll just have a vanilla cake with weird strawberry chunks). It's also not enough to simply puree them, since the excess liquid tends to water down the flavor. Instead, you must puree and reduce the strawberries to intensify the strawberry flavor while evaporating most of the liquid.
For this fluffy and flavorful strawberry cake, I started with my favorite Vanilla Cake recipe as a base and adjusted the leavening agents to accommodate the acidity in the strawberries (aka I reduced the baking soda slightly). After the reduced strawberry puree hits room temperature, I whisked it together with the whole milk in the recipe and added it in at the end. Reducing the strawberries does make this recipe a little bit more involved, but it's so worth it for the incredible flavor!
Remember how I said freeze-dried strawberries are best for flavoring the buttercream? This is because adding fresh (or even frozen) strawberries to buttercream will add way too much liquid and not enough flavor. As opposed to simply freezing strawberries, the process of freeze-drying eliminates all of the liquid from the berry, leaving only the intense flavor. After grinding those freeze-dried berries into a fine powder, adding them to buttercream is the only way (in my humble opinion) to get that refreshing, pure flavor you imagine when you think of strawberry buttercream.
After filling and frosting these beautiful cake layers with tasty strawberry buttercream, I decorated with pretty piping (using Wilton Tips 1M for the rosettes and 4B for the stars), fresh strawberries, and chamomile flowers. The flowers were an impulse on the way out of the store – I couldn't stop imagining them on my final cake design and felt safe to use them because they're 100% edible (although I would not recommend eating them because they don't taste the best). They did make this cake look extra cute though!
However you decorate, one thing is for sure – this cake is a strawberry lover's dream! And bonus if that strawberry lover also is a big fan of the color pink.
Homemade Strawberry Layer Cake
Layers of fluffy, flavorful strawberry cake and strawberry buttercream. Flavored with the perfect combination of fresh and freeze-dried strawberries.
Ingredients
Strawberry Layer Cake
3/4

lb

(12oz) fresh strawberries, pureed and reduced to 1/2 cup

3/4

Cup

(180ml) whole milk, room temperature

2 1/2

Cups

(255g) cake flour, sifted before measuring

2

tsp

baking powder

1/4

tsp

baking soda

1

tsp

kosher salt

3/4

Cup

(170g) unsalted butter, room temperature

1 2/3

Cups

(350g) granulated white sugar

3

large eggs, room temperature

1/3

Cup

(75g) sour cream, room temperature

2

tsp

vanilla extract

1-2

drops

pink food coloring, optional
Strawberry Buttercream
2

Cups

unsalted butter, room temperature

1 1/2

Cups

(34g) freeze dried strawberries

6

Tbsp

(90ml) whole milk, room temperature

2

tsp

vanilla extract

7

Cups

(840g) powdered sugar

1/4

tsp

kosher salt
Instructions
Make the Strawberry Layer Cake
Start by pureeing 3/4 lbs of fresh strawberries with a food processor. Afterwards, you should be left with about 1 cup of puree. Place the strawberry puree into a saucepan over medium-low heat and simmer for 30-35 minutes, stirring occasionally. When you're done with the reduction, you should have about 1/2 cup (if you have more, keep cooking!). Place the reduced puree into an airtight container and refrigerate it for at least 30 minutes, or until it reaches room temperature. Then, whisk it together with the whole milk and set aside.

Preheat the oven to 350ºF and prepare three 6-inch or two 9-inch cake pans by spraying the sides with cooking spray and fitting the bottoms with wax or parchment paper circles. In a medium sized bowl, place the sifted cake flour, baking powder, baking soda, and salt and whisk to combine. 

In the bowl of your stand mixer with the paddle attachment, whip the butter on high for one minute. Add the granulated sugar and beat on medium for another 2 minutes, until light and fluffy. Turn the mixer to low and add the eggs one at a time, making sure each one is incorporated before adding the next, then turn the mixer to high and beat for 1 minute.

Turn the mixer to low and add the vanilla and sour cream until incorporated. Keeping the mixer on low, add all of the dry ingredients at once until just combined, then add the strawberry milk mixture and pink food coloring (if using) until just combined, about 30 seconds. Give the batter a few stirs by hand to make sure everything is incorporated without over-mixing. Pour the batter into the prepared cake pans, no more than 2/3 full.

Bake the cakes for 30-35 minutes, until a toothpick inserted comes out clean. Cool the cakes in the pan for five minutes, after which you can turn them out and continue to cool them on a wire rack or sheet pan for several hours.
Make the Strawberry Buttercream
With a food processor, grind the freeze-dried strawberries into a fine powder and set aside. Whip the butter using a stand mixer with a paddle attachment on medium speed until it's creamy and light in color (5-10 minutes). Add vanilla, milk, and strawberry powder and continue to mix on medium for 1 minute.

Add the powdered sugar a few cups at a time, scraping down the bowl and paddle after each addition. Add the salt and mix on low for another 30 seconds.
Assembly
After cooling and leveling the strawberry cake layers, fill and frost with strawberry buttercream. To create the look pictured, create a smooth buttercream finish with the strawberry buttercream. Then, divide the remaining buttercream amongst two piping bags – one fitted with Wilton Tip 1M and one fitted with Wilton Tip 4B. Pipe rosettes and stars in a crescent moon shape on top of the cake and as accents on the side of the cake. Finish the look by garnishing with fresh sliced strawberries and chamomile flowers.
Notes
Make Ahead Tips: 
You can make the reduced strawberry puree up to one week before using in the cake recipe and store in an airtight container in the refrigerator until you're ready to make the cake. Just bring it back to room temperature by letting it sit on the counter for at least an hour. 

The cake layers can be made ahead and stored at room temperature, wrapped in plastic wrap, for up to two days. Alternatively, you can wrap them and store in the freezer for up to two months before thawing and decorating. 

The buttercream can be made ahead and stored in an airtight container in the refrigerator for up to two weeks. When you're ready to use it, bring it back to room temperature and re-whip with your stand mixer on low for one minute to bring it back to frosting consistency.
To make this recipe as cupcakes: fill tins no more than 2/3 full and bake at 350ºF for 15-17 minutes. 
Did you make this cake recipe? I want to know how it went! Leave me a comment below and feel free to tag @sugarandsparrowco on Instagram to show me. I love to see what you create!