The traditional Thanksgiving meal is probably my favorite of all time. It's basically all of my favorite foods spread out on one big table and absolutely no judgement on how high my plate gets. I love it so much that I eat the leftovers for breakfast. And lunch. And so on.
While I really enjoy making pies for the dessert table, I'm also over the moon for cake and do my best to represent. I've been really inspired by traditional Thanksgiving and holiday flavors over the years, and have been able to translate some of those flavor combinations into cake form. Whether you're looking to add some variety to your dessert spread or you want to venture from the tradition of serving pie, here are my absolute favorite cakes for Thanksgiving:
Chocolate Caramel Pecan Pie Cake
Inspired by my all-time favorite pie to make for Thanksgiving, this Chocolate Caramel Pecan Pie Cake is next level delicious. It features layers of decadent chocolate cake, pecan pie filling, and homemade salted caramel, all wrapped up in brown sugar buttercream frosting. If you're looking for a decadent cake with traditional Thanksgiving flavors, this one is it.
Pumpkin Pie Layer Cake
This one is inspired by the most iconic Thanksgiving dessert there is: pumpkin pie. And even if you are already planning a pumpkin pie for your dessert table, this Pumpkin Pie Layer Cake still makes a beautiful addition. It's got amazing textures and flavors going on between the spiced pumpkin cake, pumpkin creme filling, pie crust pieces, and brown sugar buttercream. And the best part is, this one is way easy to throw together – just layer the components, refrigerate, and top with toasted marshmallow meringue if you're feeling extra festive.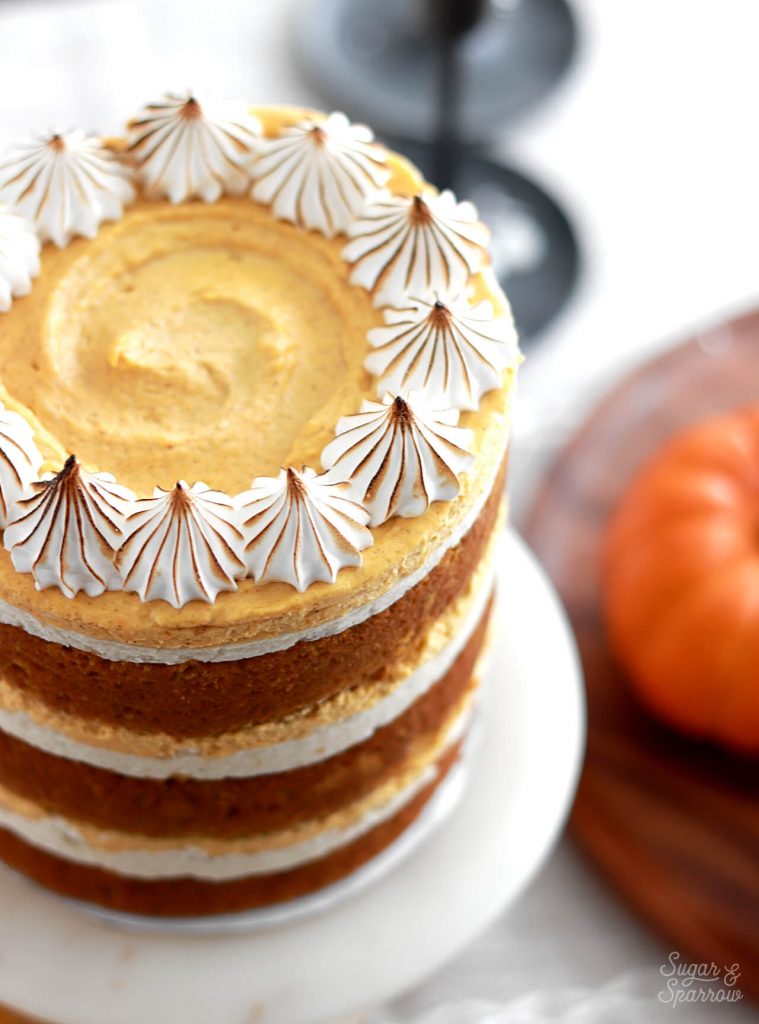 Spiced Pumpkin Biscoff Cake
I paired my favorite pumpkin cake recipe with Biscoff frosting and it did not disappoint! This Pumpkin Biscoff Cake is perfectly spiced throughout – layers of deliciously moist spiced pumpkin cake, Biscoff cookie crumbles, and a beautiful Biscoff frosting that adds notes of cinnamon and caramel. It's everything a Fall cake should be!
Apple Crisp Cake
If you love apple crisp, you're going to be obsessed with this Apple Crisp Cake! It tastes just like the real deal in cake form: layers of apple spice cake, apple pie filling, baked crumble topping, and cinnamon-vanilla buttercream. This will make a beautiful addition to your Thanksgiving spread.
Cranberry Orange Cake
This holiday flavor pairing is perfect for Thanksgiving, Christmas, and every celebration in between. My Cranberry Orange Cake recipe is a lovely orange-infused cake with fresh cranberries folded right into the batter, topped with a zesty orange buttercream to tie it all together. I love decorating this one with sugared cranberries and candied orange slices to make it look as festive as it tastes.
Pumpkin Chocolate Marble Cake with Brown Butter Frosting
Did you know that chocolate and pumpkin are a match made in flavor heaven? I know that for sure now. This gorgeous marble cake is so much simpler to whip up than you might think. You'll make an easy pumpkin cake batter, add melted chocolate to part of it to make a spiced chocolate cake batter, then swirl the two batters together in each cake pan. The delicious brown butter frosting ties everything together beautifully and your guests will be so impressed with this cake inside and out.
Salted Caramel Apple Cake
One of my favorite Fall-inspired flavor combos of all, this Salted Caramel Apple Cake pulls out all the stops. It's layers of apple spice cake and salted caramel buttercream made with homemade salted caramel, topped with vanilla buttercream and a dripping salted caramel apple for that extra wow factor. There are a lot of components going on in this one (all easy ones!), but it is one hundred percent worth it for these amazing flavors!
Pumpkin Layer Cake with Cream Cheese Buttercream
A Fall classic – layers of spiced pumpkin cake and tangy cream cheese buttercream. This Pumpkin Layer Cake is a true crowd pleaser and really easy to whip up. Decorate it with simple swirls or take advantage of how pipeable this cream cheese buttercream recipe is. No matter how you decorate, it's sure to be a hit!
Spiced Vanilla Chai Cake
If you're looking for a truly unique dessert for your Thanksgiving spread, look no further than this Spiced Vanilla Chai Cake. It's cozy Autumn in cake form with layers of chai tea infused cake and chai spiced vanilla buttercream. The perfect cake to contrast your traditional Thanksgiving desserts!
I hope you have the best Thanksgiving and are able to spend it safely with the ones you love. It's such a special time of year, and being with the people we love makes it all the more magical. If you make any of these delicious cake recipes for your Thanksgiving meal I would love to know! Leave a comment below and feel free to tag @sugarandsparrowco on Instagram to show me. I love to see what you create!