Jump to Recipe
I never got the chance to be a Girl Scout, but I have been loving their cookies for a lifetime and don't plan on stopping any time soon. They've got an array of amazing flavors, but my favorite are Samoas and Thin Mints. Hands down. So when I was working on a peppermint hot chocolate cake this past Christmas and it came out of the oven tasting just like a Thin Mint, I knew just what I had to do with it. I never made that peppermint hot chocolate cake (maybe this year!), but I am oh so happy with this Thin Mint inspired cake in the meantime! 
It all starts with a moist, decadent Mint Chocolate cake. This is essentially my favorite chocolate cake recipe, but with mint extract (I used McCormick Pure Peppermint Extract for this) added to give it the perfect flavor. It's really easy to go overboard with mint extract, which is why there isn't a whole lot of it in this cake recipe, but the little bit that's in there gives such a precise balance of mint and chocolate flavors – the same you'd find in a Thin Mint cookie. It's a one-bowl cake recipe (yay!), which means you can whip it up in about five minutes and it's easy for cakers of all skill levels. You really can't go wrong with this one!
To take this cake recipe beyond, I paired the Mint Chocolate Cake with Mint Chocolate Chip Buttercream and layers of crumbled Thin Mints in between. Holy yum. I originally planned on crushing the Thin Mints and adding them straight to the buttercream, but I found that they muddled the color into a weird brownish green hue. So instead, I flavored the buttercream with a touch of mint, added a few drops of Americolor Mint Green, and added chopped semi-sweet chocolate chips. The added crunch of the crushed Thin Mints along with this Mint Chocolate Chip Buttercream is to die for.
To get your hands on a box of Thin Mints, you've got a few different options. You can use the Girl Scout website to find a booth near you, order directly from a Girl Scout if you know one, or get them on Amazon. I do recommend buying them in person, because you can guarantee you are giving to a great cause (funding the Girl Scout program, which empowers young women and teaches them leadership skills) and they're a little bit cheaper that way too.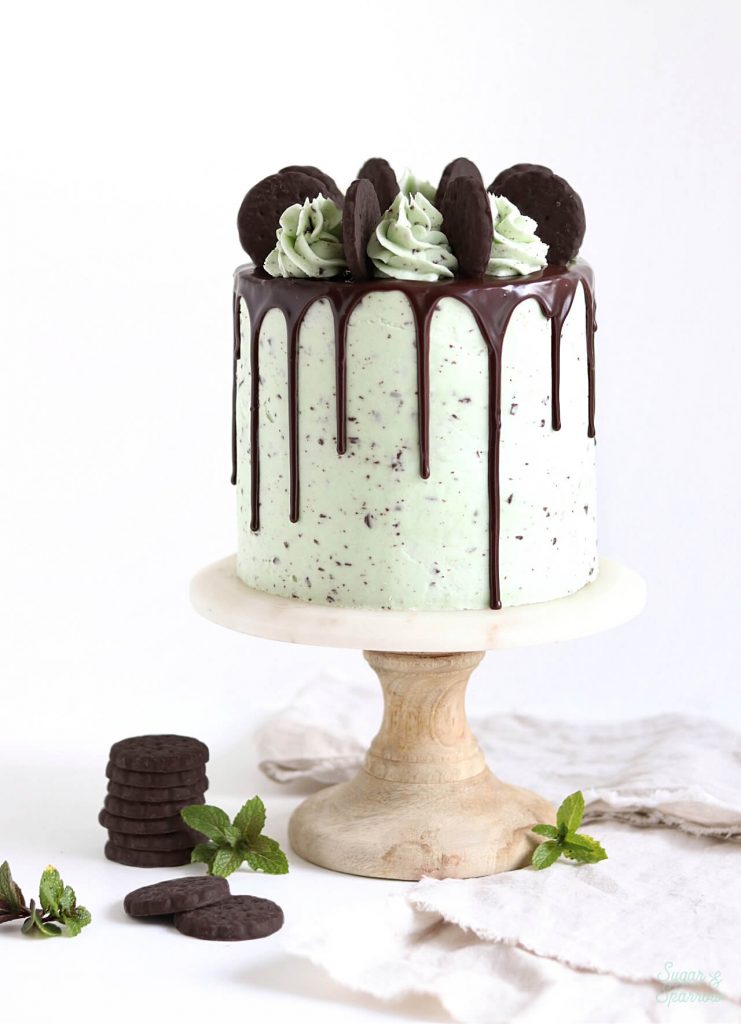 If you don't have access to Thin Mints at all, you can feel free to try this recipe with a different mint chocolate cookie of your preference, or omit the cookies altogether. The cake and buttercream on their own taste like mint chocolate cake heaven, and it's guaranteed to satisfy any lover of this flavor combo. Enjoy!
Thin Mint Chocolate Cake
Layers of moist, decadent Mint Chocolate Cake with layers of crumbled Thin Mint cookies and Mint Chocolate Chip buttercream. A mint chocolate lover's dream!
Ingredients
Mint Chocolate Cake
2

Cups

(265g) all purpose flour

1 2/3

Cups

(340g) white granulated sugar

2/3

Cup

(60g) unsweetened natural cocoa powder (not Dutch Process)

2

tsp

baking soda

1

tsp

baking powder

1/2

tsp

kosher salt

1/2

Cup

(120ml) vegetable oil

2

eggs, room temperature

1

tsp

pure vanilla extract

1/2

tsp

pure peppermint extract

1

Cup

(240ml) full-fat buttermilk, room temperature

DIY recipe in notes below

1

Cup

(240ml) hot water
Mint Chocolate Chip Buttercream
2

Cups

(452g) unsalted butter, room temperature

7

Cups

(840g) powdered sugar

6

Tbsp

(89ml) heavy whipping cream

1

tsp

pure peppermint extract

2

tsp

pure vanilla extract

1/4

tsp

salt

A few drops of green food color gel

1/2

Cup

(92g) semi-sweet chocolate chips, finely chopped
Chocolate Ganache Drip
1/2

Cup

(92g) semi-sweet chocolate chips

1/2

Cup

(120ml) heavy whipping cream
Additional Fillings and Garnishes
8

Thin Mint cookies, crushed into crumbs

8

Thin Mint Cookies, whole (for garnish)
Instructions
Make the Mint Chocolate Cake
Preheat the oven to 350ºF and prepare three 6-inch cake pans or two 8-inch cake pans by spraying the sides with cooking spray and fitting the bottoms with a wax paper or parchment cake circle. 

Place all of the dry ingredients into the bowl of a stand mixer and stir on low for 30 seconds to fully combine them. Add the vegetable oil, eggs, vanilla extract, peppermint extract, and buttermilk and mix on low until just combined. With the mixer still on low, add the hot water in a slow stream, then turn the mixer to medium and beat until smooth, about 2 minutes. The batter will be very thin. 

Pour into prepared cake pans no more than 2/3 full and bake for 40-45 minutes, until a wooden toothpick inserted comes out clean. Cool completely.
Make the Mint Chocolate Chip Buttercream
With a hand mixer or paddle attachment on your stand mixer, cream the butter on medium-high until it's creamy and light (almost white) in color. About 7 minutes. 

Add the powdered sugar a few cups at a time, mixing on low and scraping down after each addition to make sure each is fully incorporated before adding the next one. Add the heavy whipping cream, vanilla extract, peppermint extract, and salt and mix on medium-low for another two minutes until fully incorporated.

Add a few drops of green food color gel until the desired shade of mint green is reached. Then, gently fold in the chopped chocolate.
Make the Chocolate Ganache
Place chocolate chips into a heat resistant bowl (glass or metal).

In a saucepan over medium-high heat, warm heavy whipping cream until it just starts to boil. I always look for small bubbles forming around the edge and a soft boil starting in the middle. When you see that it's just starting to boil, pour it into your bowl of chocolate and let sit for one minute. 

Whisk it together until it's uniform in consistency and there are no bits of chocolate left on your whisk. Cool ganache at room temperature for about 30 minutes, or until the ganache itself is room temperature. 
Assembly
Torte the cooled Mint Chocolate Cake layers and place the first one on top of a cardboard cake circle, ensuring it stays put with a swipe of buttercream between the cake and cardboard. Add a layer of Mint Chocolate Chip Buttercream as filling, followed by a layer of crushed Thin Mint cookies. Place the next cake layer on top and repeat the fillings before placing the final cake layer, upside down, on top.

To create the design pictured, frost the cake with Mint Chocolate Chip buttercream and place it into the refrigerator for at least 20 minutes to firm up before adding the chocolate ganache. Once the chocolate ganache has reached room temperature and the cake finish is chilled, drip the cake with it (here is a great tutorial on how to drip cakes). Place back into the refrigerator for at least five minutes before finishing the cake with buttercream piping and more Thin Mint cookies.
Notes
DIY Buttermilk recipe: For this recipe, add 1 Tbsp of white vinegar to a jar and top it with 1 Cup of whole milk. Stir and let sit for 15 minutes before using in the recipe. 
Make ahead tips: the Mint Chocolate Cake can be made ahead and stored at room temperature, covered tightly in plastic wrap, for up to two days. Alternatively, you can cover with plastic wrap and store in the freezer for up to two months before thawing to room temperature. 
The Mint Chocolate Chip Buttercream can be made ahead and stored in an airtight container at room temperature for up to one day. Alternatively, you can store it in an airtight container in the refrigerator for up to two weeks. When you're ready to use it, bring it back to room temperature and re-whip with your stand mixer on medium for one minute to bring it back to frosting consistency. 
I'm so thrilled with how this Thin Mint Chocolate Cake recipe turned out and hope you love it as much as I do! Let me know what you think in the comments and feel free to tag @sugarandsparrowco to show me your take on this cake. I love to see what you create with my recipes!