Ever since I was a kid I've been fascinated with the ocean. I think this is solely because The Little Mermaid was my favorite movie growing up, and I'm still so smitten with colorful coral reefs and the sea life that surrounds them. So when I stumbled upon this Sea Life Gumpaste & Fondant Mold at my local JOANN store, I was so inspired to turn my love for ocean life into an under the sea themed cake! Just look at how magical:
This Sea Life mold made it so easy to turn gumpaste into brilliant sea shells, coral, and starfish. It will work with fondant too, but I chose gumpaste just because I wanted the sea life pieces to dry more quickly. If you make them a week ahead, fondant is a great option. But if you're like me and wait until the last minute, gumpaste will dry much quicker (in about 24 hours!) and is still as easy to color and work with as fondant.
To supplement my pretty gumpaste sea life accents, I used some of my favorite Wilton piping tips and pearl sprinkles (also available at JOANN) to create some additional under the sea textures. And to make things even more sea-themed, I crushed up some graham crackers to create edible sand for decorating.
Before I detail exactly how to get this under the sea look, here's a quick video to show you the techniques in action:
Gumpaste Sea Life Materials:
Under The Sea Cake Materials:
A 6-inch cake that's been crumb coated and chilled
2 batches of vanilla buttercream
Icing smoother
Angled Icing Spatula
Crushed graham crackers
Sea Life Pieces
Piping bags
Step 1: Make The Gumpaste Sea Life
Separate the Ready-To-Use Gumpaste (or fondant!) into 1 inch pieces and knead each one with a little shortening until it feels uniform in consistency, like play-doh. Use the Wilton Color Right System or food color gels of your choice to color each piece. Here's how I colored my gumpaste:
Color by color, press the gumpaste into portions of the Sea Life Mold and use a small rolling pin to flatten it out. This mold is pretty flexible, so it should be easy to release each piece by gently pulling it away from the mold.
Cut away the excess gumpaste with an exacto knife and place each sea life piece onto a sheet of wax or parchment paper to begin the drying process.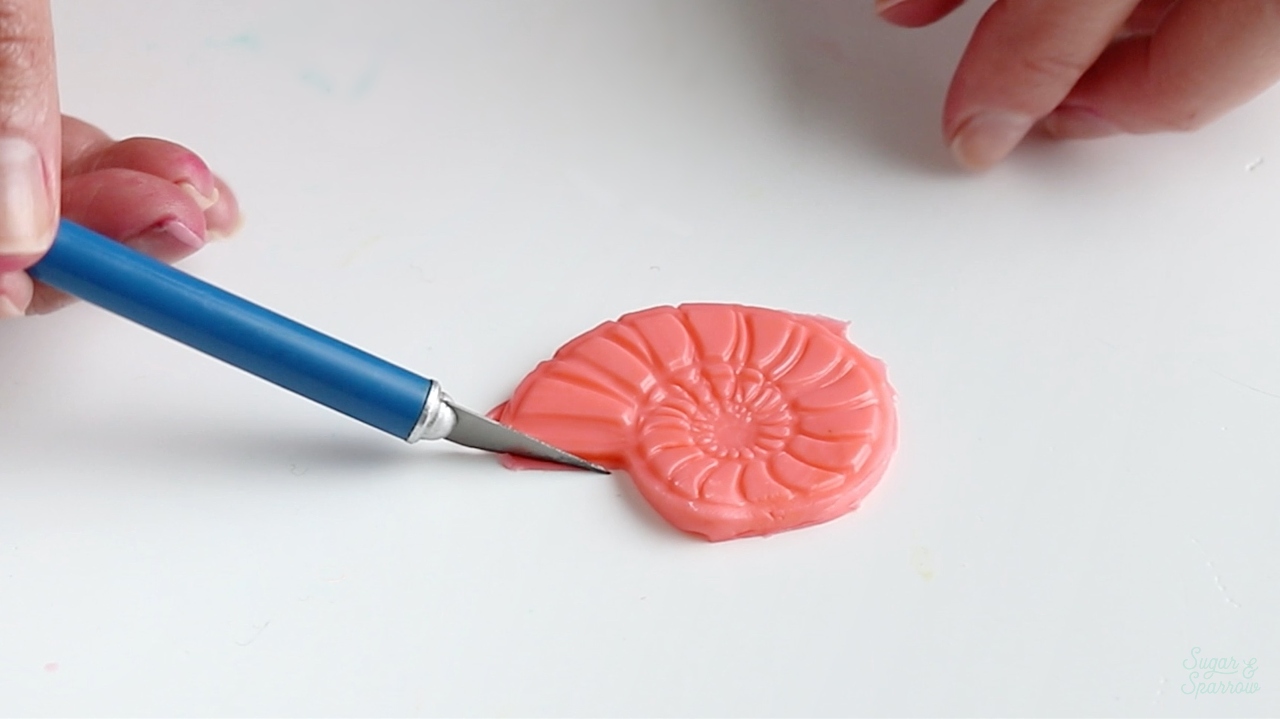 Allow the gumpaste to dry for at least 24 hours, flipping it over once in between to let both sides dry evenly. If you're using fondant, allow it to dry for at least 72 hours, flipping the pieces over once in between.
Once all of your sea life pieces are dry and firm, you can move on to decorating the cake.
Step 2: Color The Buttercream
Divide the buttercream into separate bowls: divide 4.5 cups between three separate bowls for the base frosting. Since I went for a blue ombre effect on my buttercream finish, I colored one bowl a dark blue, one bowl a medium blue, and one bowl a light blue.
Divide the remaining buttercream into a four or five separate bowls for the colors you'll be piping. These colors will end up being your additional buttercream textures like coral and sea grass, so feel free to copy the above color palette or follow your heart on these colors.
Step 3: Frost The Cake
With your crumb coated cake on a turntable, frost and smooth the top of the cake with the lightest blue buttercream. Then, working from the bottom of the cake up, frost the bottom third of the cake with the deepest blue buttercream, the middle third with medium blue, and the top third with the lightest blue.
Use your icing scraper to smooth the sides of the cake, keeping the top edge uneven. I think leaving the top edge like this gives the illusion of tiny waves around the top of the cake.
At this point in the decorating process I like to chill the cake for at least 30 minutes to let the buttercream firm up.
Step 4: Add the Crushed Graham Cracker Sand
Transfer the chilled cake to an 8 inch cake circle and place the whole thing back on your clean turntable. Fill in the top of the cake with crushed graham cracker sand, then add some more sand to the bottom edges.
Step 5: Add The Gumpaste Sea Life
Press your gumpaste sea life pieces into the sides of the cake wherever you feel like. For the smaller pieces (like shells) you can reserve them until you pipe the additional textures in the next step. You do you!
Step 6: Pipe Additional Textures
Prepare separate piping bags by fitting them with piping tips and filling them with the additional buttercream colors you mixed up in step 2. I used Wilton Tip 104 for the green sea grass, Wilton Tip 4B for the open stars, Tip 2A for the coral textures, and Tip 225 for some small drop flowers.
You can pipe these textures in any order, but here's what I did: first, I piped some coral dots with Wilton Tip 2A, then piped squiggles with the green buttercream using Wilton Tip 104:
Next, I added vibrant purple and yellow open stars using Wilton Tip 4B:
Finally, I added some little pink drop flowers with Wilton Tip 225:
You'll find that it's super easy to pipe these under the sea textures, and the buttercream really makes everything come together. Once your piping is finished, you can add in some of the smaller gumpaste pieces like seashells, and press some sprinkle pearls into the sides of the cake to create the illusion of bubbles. So fun!
Step 7: Decorate The Top Of The Cake
You can choose to leave the top of the cake sand-only, but I used some of the gumpaste coral as a cake topper, piped some open stars, and added some gumpaste shells to make an ocean floor scene.
So pretty, right? This Under The Sea Cake is so much more detailed with the gumpaste sea life pieces, and I am so happy that JOANN had the perfect mold to make my oceanic cake dreams come true! Whether you live near a JOANN store or shop their website, you'll find all the materials to get the perfect Under The Sea look with your cake decorating. Best of all, if you download the JOANN app, you'll always have a coupon to get these cake decorating supplies at a discount. It's just one more reason I love this store.
Disclaimer: I was compensated by JOANN for my work of creating this project, styling, filming, photographing, and writing about their products. As always, all opinions are honest and my own. Thank you for supporting brands that support Sugar & Sparrow.