This tutorial is originally a guest post I created for SprinklePop's blog. It's too good not to re-share over here, because this Unicorn sprinkle blend is downright magical and plays such a big role in making this party cake a showstopper.
Unicorns are arguably the best mythical creatures of all. It's no wonder that they became a major trend in the cake and party planning world! You've probably seen plenty of unicorn cakes in your social media feeds, the most popular look being the ones where the entire cake looks like a unicorn head. I thought I'd switch it up a little bit with this one, especially because I got my hands on a bottle of this Unicorn sprinkle mix by SprinklePop! They'd look amazing on any cake design, but I really love how they enhance the magical colors and textures going on in this unicorn cake:

The Unicorn sprinkle mix is made up of the most beautiful textures and colors. It's a blend of pastel pinks, purples, and blues, mixed with gold metallic accents and tiny wafer paper unicorns. In other words, pure magic in a bottle! I was so obsessed with the color palette of the sprinkles that I decided to theme the entire cake around it. Just look at those pretty colors and the cute wafer paper unicorns!

This cake is perfect for any unicorn lover and is actually quite simple to create. It all starts with a smooth frosted buttercream cake and some easy piping. I used three of my favorite piping tips to get the look (listed below) and then pressed the Unicorn sprinkles onto the smooth part of the cake in a floating sprinkle design. And finally, I topped it with a sprinkle-covered white chocolate unicorn that I created using a unicorn shaped cookie cutter and a few wisps of pink and blue cotton candy for good measure. I'm pretty over the moon with how it turned out!

Every detailed instruction for how to make this unicorn-inspired cake is in the tutorial below, but I also made a video to show you the process! Take a look:

You Will Need:
Step 1: Make The Unicorn Cake Topper

To make the unicorn cake topper, spread out a small sheet of wax paper onto a moveable flat surface (like a cookie sheet). Add the white chocolate chips to a microwave-safe bowl, then reserve about ⅛ cup of them and set aside. These reserved chips will act as a "seed" to help temper the melted chocolate. Microwave the white chocolate chips sans "seed" in 30 second increments until melted, stirring after each interval, then toss in the reserved chips and stir until everything is fully melted.

Spread the melted white chocolate onto the wax paper about ¼ inch thick. Smooth the coconut oil onto the edges and crevices of the unicorn-shaped cookie cutter (helps with easy release once the white chocolate is set), then press the cookie cutter into the melted white chocolate.
While the chocolate is still wet, add Unicorn sprinkles to cover the entire area within the unicorn cookie cutter and gently press them in. Refrigerate the sprinkle-covered white chocolate unicorn for 10 minutes, or until firm to the touch.
Carefully remove the excess white chocolate from the edges of the cookie cutter, then release the center from the mold.

Step 2: Mix Up a Buttercream Color Palette

Divide the buttercream into a few separate bowls for color mixing. I ended up making five different colors for my palette. First, I used a mix of Americolor Electric Pink and Electric Purple to create a dark pink, then created a light pink by mixing that with white buttercream. Next, I used Americolor Sky Blue to create the light and darker blue shades. And finally, I used Americolor Regal Purple to create the purple tone.

Feel free to use whatever colors you'd like for your color palette! I'm sure the Unicorn sprinkle mix would look gorgeous with any pastel tones.

Step 3: Pipe the Bottom of the Cake

Prepare a few piping bags by fitting them with Wilton tip 1M, 4B, and 104, then filling them with your colored buttercream. Any of your favorite piping tips will do for this part, but here's how to recreate the look. First, pipe rosettes with Wilton tip 1M:

Next, pipe ruffles to accent the edges of the rosettes using Wilton tip 104:

And finally, fill in the empty spaces with open stars in a few different colors using Wilton tip 4B:

Step 4: Add the Floating Sprinkles

One by one, add sprinkles to the smooth part of the buttercream cake in a floating pattern. You can either use tweezers for this part, or press a sprinkle onto the tip of your finger and gently press it into the buttercream.

Repeat until you've covered the top half of the cake with floating Unicorn sprinkles.

Step 5: Top the Cake

To complete the cake design, stick the legs of your sprinkle-covered unicorn into the top of the cake, then add some cotton candy as a backdrop. Just remember to add the cotton candy within an hour or two of serving the cake, because it'll start to melt if you put it in the fridge.

As a final finishing touch, I also used Wilton tip 4B to pipe some open stars around the unicorn in a random pattern, then sprinkled some more Unicorn sprinkles (because more is more, people!).
And there you have it! A unicorn-inspired cake perfect for any magical occasion.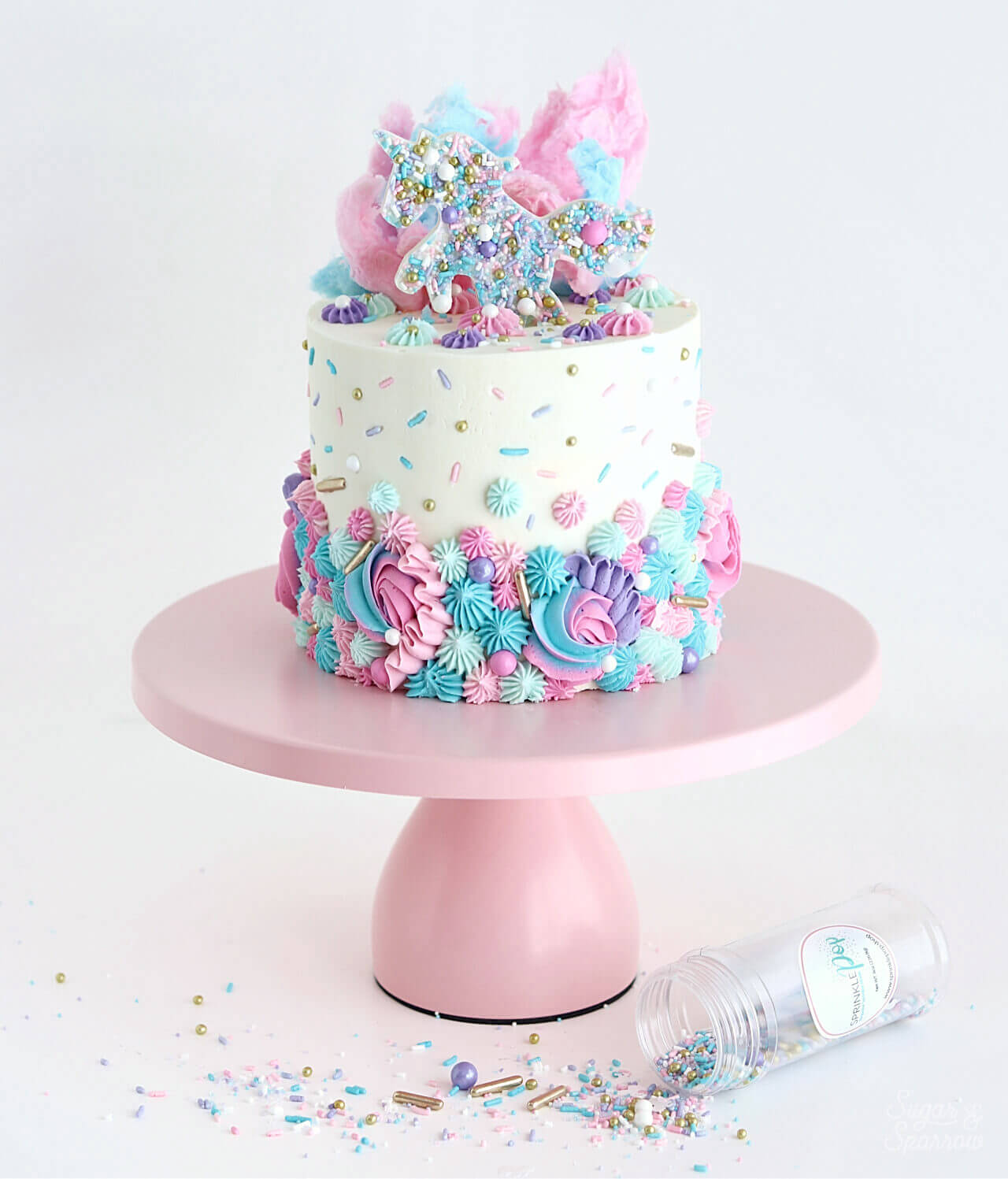 Is there a unicorn party in your future? Let me know if you end up making this cake by leaving a comment below! You can also tag me on Instagram so I can see what you're caking. It gives me all the feels!