Valentine's Day, Galentine's Day, Singles Awareness Day – no matter what you're celebrating this month, I've got the perfect thing to make it all the more special: cake. I've gathered all of my favorite love-themed designs and sensual cake recipes just in case you want to impress a special someone, need a fun cake project, or just want to eat some delicious cake. If you want to take things to the next level, you can even combine these decorating tutorials with any of the tasty recipes below. So many possibilities here!
Valentine's Day Cake Recipes
Raspberry Chocolate Cake Recipe
I love everything about this Raspberry Chocolate Cake. The raspberry buttercream is ultra flavorful, not too sweet, and has the most gorgeous natural color ever. The chocolate cake layers beneath are decadent, fudgy, and so easy to whip up (it's my one-bowl chocolate cake!). Tie it all together with a chocolate ganache drip and some fresh raspberries and you have a beautiful, dare I say sensual cake (cue the sax solo)!
Red Velvet Cake Recipe
This Red Velvet Cake is my latest recipe and I am so proud of it! I've already received such rave reviews and it couldn't make me happier. This classic cake has the perfect subtle chocolate flavor, is fluffy and moist, and is just so striking. I paired it with my favorite (pipeable!) cream cheese buttercream to make it extra addicting.
Ruby Chocolate Cake Recipe
If you've never tried ruby chocolate before, I highly recommend it. Not only does it have the most beautiful natural color of all the chocolates, it tastes so unique – almost like a mix of white chocolate and raspberry. I fell so in love with ruby chocolate that I made some pretty buttercream and ganache with it, then turned it into this gorgeous Ruby Chocolate Cake recipe.
Strawberry Cake Recipe
This Strawberry Cake Recipe is one of my all-time favorites. It features the prettiest pink buttercream and cake layers, making it perfect for the day of love (or whatever). The cake is made with strawberry purèe, giving it a bold and refreshing flavor. And to intensify that fresh strawberry taste, the buttercream features freeze dried strawberries for amplified flavor and beautiful natural color. It is out of this world delicious!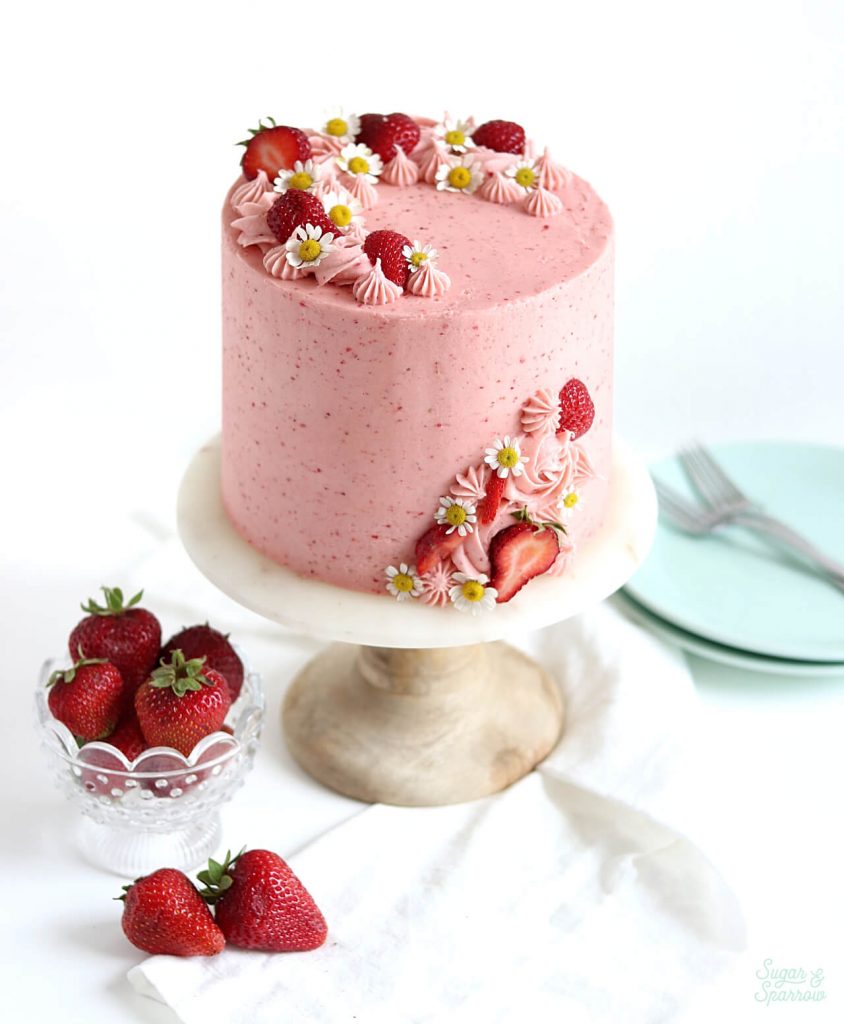 Valentine's Day Cake Decorating Ideas
Cascading Heart Cake Tutorial
This Cascading Heart Cake is a real looker. It's got a classic Valentine's Day color palette and so many amazing textures going on between the handmade fondant hearts, pretty piping, sprinkles, and icing hearts. It's just as fun to make as it is to look at!
Floral Wreath Cake Tutorial
This Floral Wreath Cake is much tastier than a bouquet of flowers (although both kinds of flowers would be nice)! Even if you've never made buttercream flowers before, this tutorial will show you everything – from making the flowers to assembling them on your cake. It may look intricate, but with the right piping tips you'll surprise yourself!
Heart Covered Cake Tutorial
This gorgeous Heart Covered Cake design starts with a cookie cutter. Add a couple piping tips, sprinkles, and a pink buttercream color palette, and you've got yourself a recipe for an eye-catching Valentine's Day cake. It'll look great in an array of colors, so feel free to use your imagination!
Sprinkled Ombrè Valentine's Day Cupcakes
For those of you who want to stick to cupcakes, these ones are perfect! All you need is an ombrè buttercream color palette, a rosette piping tip, and some pretty Valentine's Day sprinkles to add intrigue.
Painted Cake Tutorial
I originally made this Painted Cake in a Valentine's Day color palette without even realizing it. Now whenever I see it, I think of Valentine's Day! If you're looking for a low key design that's impressive yet simple to create, this one is it.
I hope you find the perfect cake ideas in this list for your Valentine's Day (etc) bakes! Let me know if you make any of these recipes or tutorials by leaving a comment below or tagging @sugarandsparrowco on Instagram. I love to see what you're caking!