Jump to Recipe
I've tested a ton of buttercream recipes in my day, but my go-to is a super simple American buttercream recipe that I've tweaked to my liking. I've used this recipe for frosting countless cakes and cupcakes and I'm a big believer that a good vanilla buttercream is something every baker should have in their recipe box. There's nothing fancy about the way this recipe is made, but it will certainly taste like you whipped up something special!
Making sure you use a good quality vanilla extract or paste is one of the secrets to success. You can use any kind of vanilla extract or paste, but I always use bourbon vanilla (I get mine from Trader Joe's!) to give it a rich vanilla flavor. The other secret to success? Room temperature everything. That means taking the milk and butter out and letting them come to room temperature for about a half hour to an hour before you start any mixing.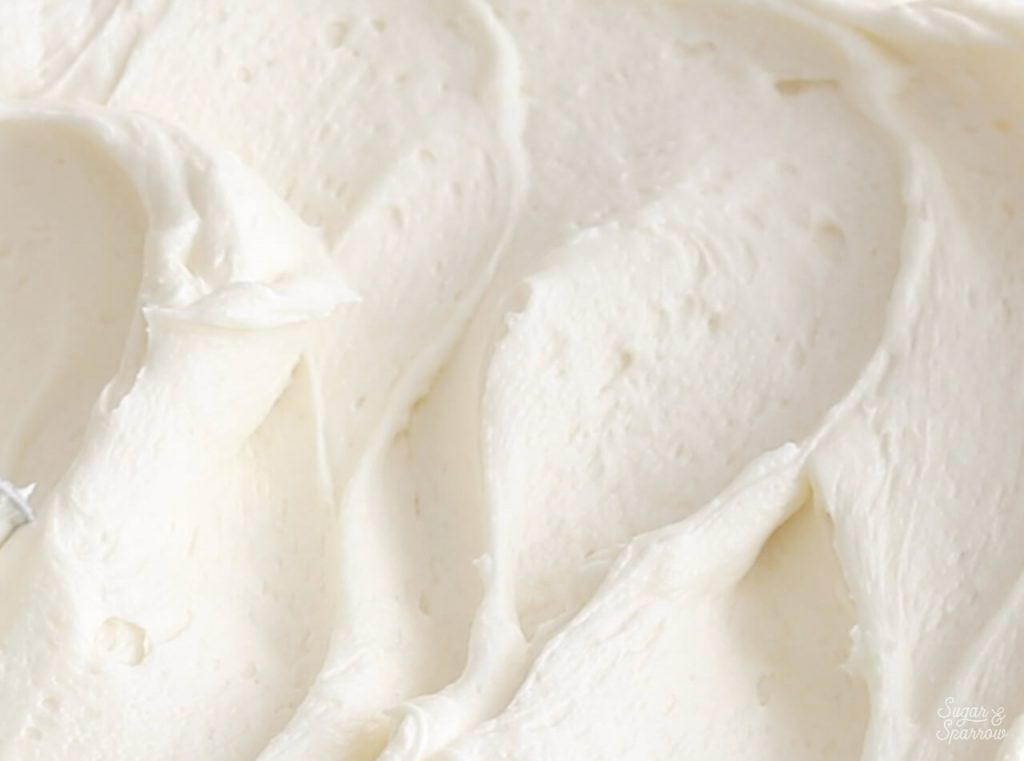 Here's a quick video I whipped up to show you my method for making this buttercream recipe and all my tips for success:
I've got more recipe videos like this one + some fun cake decorating tutorials on my YouTube channel if you want to see some more! I'm always rolling out new videos, so click the subscribe button while you're there to ensure you never miss a new one.
Vanilla Buttercream
A rich, flavorful vanilla buttercream that is so easy to whip up, but tastes like you made something special. 
Ingredients
1

cup

(226g) unsalted butter, room temperature

3 1/2

cups

(420g) powdered sugar, sifted

2

tsp

vanilla extract

2

Tbsp

whole milk or heavy whipping cream, room temperature

1/4

tsp

salt, or to taste
Instructions
With a hand mixer or paddle attachment on your stand mixer, cream the butter on medium-high until it's creamy and light (almost white) in color. About 7 minutes.

With the mixer on low, add the sifted powdered sugar one cup at a time, scraping down after each addition and making sure each cup is fully incorporated before adding the next one. 

Add vanilla, milk, and salt and mix on low for another minute until fully incorporated. 
Notes
Make Ahead Tips: This buttercream can be made ahead and stored in an airtight container in the refrigerator for up to two weeks. When you're ready to use it, bring it back to room temperature and re-whip in your stand mixer to bring back to smooth buttercream consistency. 
To Make It Vegan: substitute an equal amount of vegan butter (I love Earth Balance Sticks) for the unsalted butter, use 1 Tbsp dairy-free milk instead of 2 Tbsp whole milk (my favorite is unsweetened coconut milk), and omit the salt. 
To Make It Extra White: After all ingredients have been incorporated, add 1-2 tsp of Americolor Bright White or icing whitener of your choice.  
Yield: This buttercream makes enough to:
Frost 12-15 cupcakes with a piping bag
Fill and crumb coat a three-layer 6-inch cake or two-layer 8-inch cake. To have enough for frosting and decorating as well, double the recipe. 
---
Tips for the best buttercream consistency
There are three types of consistency for buttercream that you need to know, and each one plays a different role in cake decorating.
Medium Consistency
This is the most versatile of all consistencies. It works perfectly as a filling between layers, crumb coating, frosting a cake (especially if you want a smooth buttercream finish), and even decorating cupcakes with simple piping tips. This buttercream recipe is medium consistency as-is, so it's super easy to spread smoothly onto cakes. To test and make sure you've got a medium consistency going, you should be able to dip your rubber spatula into the buttercream and it will come out with soft peaks and spread easily when you move your finger over it.
Thin Consistency
This is the perfect consistency for painting with buttercream or writing a message on your cake. To achieve it, just add 1-2 additional teaspoons of room temperature milk to thin out the buttercream.
Stiff Consistency
If you're piping buttercream flowers, especially ones with petals that need to stand upright, you'll need a stiff consistency. Add an extra 1/2 cup of powdered sugar per batch of the above recipe to achieve this. When you dip your rubber spatula into the frosting, it should come out with stiff peaks, but when you pipe with it, make sure it's not so thick that you have to put a ton of extra pressure on the bag or clog the piping tip. If you're running into these problems, fear not! You can tone it down by adding room temperature whole milk, 1 tsp at a time, until it's just right.