Jump to Recipe
I have a little confession to make: when I first started making cakes, my secret go-to for far too long was the box vanilla cake mix by Betty Crocker.
Phew. Now you know.
Since I became accustomed to the light and fluffy texture of said box mix, every time I tried to make a vanilla cake from scratch, the result seemed off. Blame it on the lack of Propylene Glycol Mono (or the handful of other ingredients in box mixes that you've never heard of), but my from-scratch vanilla cakes always ended up too dense, tasted a little cornbread-ish, and just didn't have that fluffy appeal. Finding a go-to vanilla cake recipe from scratch felt like a mountain I had to climb, but after (what felt like) five hundred tries and a whole lot of not giving up, I've found a recipe that is beyond my wildest cake dreams.
This vanilla cake is soft and moist, so easy to whip up, and tastes like a dream. The secret to it's perfect texture is the cake flour, which produces a much softer, fluffier cake than all-purpose because of its lower protein content (the more protein in your flour the stiffer the dough and less ability to maintain moisture). You can find cake flour at most grocery stores, but if all you've got is all-purpose flour in your pantry, here are instructions for how to make your own cake flour in a pinch.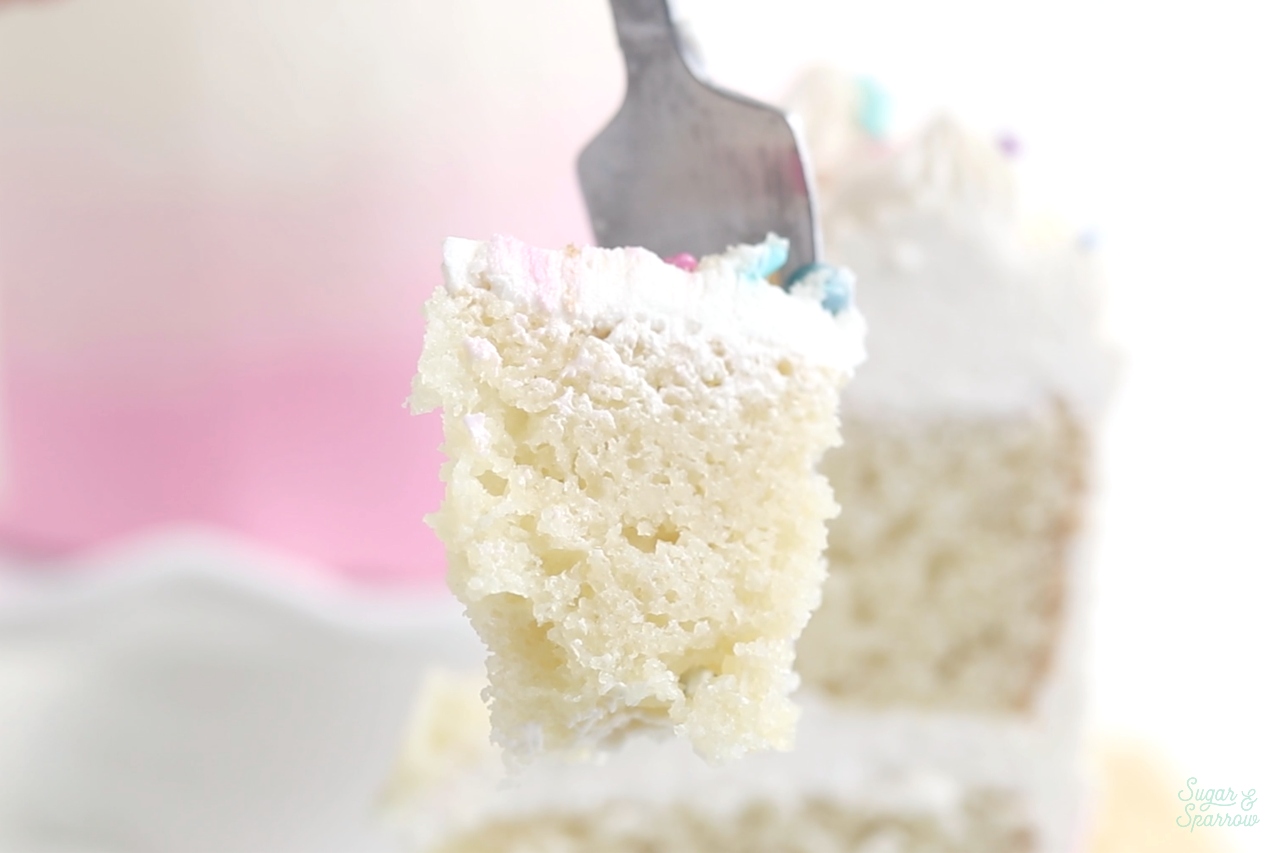 To make this cake even more moist I've added a little sour cream for good measure. Trust me on this – sour cream is essential! There's also an entire tablespoon of vanilla extract in there to really up the flavor, because yum. It pairs well with so many buttercream flavors, but if you want to keep things on the vanilla spectrum, try pairing it with this Vanilla Buttercream Recipe. It does not disappoint!
I whipped up a video to show you the process of making this vanilla cake recipe and share my favorite baking tips for success. Take a look before you dive in:
Update 2022: I slightly changed the measurements of these same ingredients to make this cake even more soft and light! The original recipe is in the video above just in case you are too in love with it to let it go. The main differences:
Instead of 3 large eggs, I now use 2 large eggs + 2 egg whites

to make this cake lighter
I reduced the sugar slightly to prevent over-browning (but don't worry, it still tastes perfectly sweet)
I reduced the butter and whole milk slightly to lighten the cake while keeping it extra moist with the sour cream
I reduced the leavening slightly because it doesn't need the additional baking powder
Whew. That seems like a lot to change but trust me! The original was one of my very first blog recipes almost a handful of years ago. I've learned so much since then (always learning!) and after baking this revised recipe side-by-side with the original, I know you're going to love these changes!
Perfect Vanilla Cake Recipe
An easy vanilla cake recipe that's light, fluffy, and flavorful. It's got the perfect texture you'll find from box cake mixes, without all the ingredients you can't pronounce.
Ingredients
2 3/4

Cups

(290g) sifted cake flour

2

tsp

baking powder

1/2

tsp

baking soda

1

tsp

salt

3/4

Cup

(170g) unsalted butter, room temperature

1 1/2

Cups

(300g) granulated white sugar

2

large eggs + 2 egg whites, room temperature

1/2

cup

(120g) sour cream, room temperature

1

Tbsp

pure vanilla extract

1

Cup

(240ml) whole milk, room temperature
Instructions
Preheat the oven to 350°F. Prepare three 6-inch or two 9-inch cake pans by spraying the sides with a cooking spray (Baker's Joy is my favorite) and fitting a parchment paper circle to the bottom of the pan.

Sift the cake flour and then measure by spooning and leveling it in your measuring cup. Add the cake flour, baking powder, baking soda, and salt into a bowl and whisk to combine. Set aside.

In the bowl of your stand mixer (a handheld mixer works fine too!), beat the butter on high for two minutes until it's light and creamy. Add in the sugar and continue to mix on medium-high for another two minutes. Turn the mixer to low and add the eggs and egg whites, one at a time, mixing until just combined and scraping down the bowl and paddle as needed. Add the vanilla and sour cream, turn the mixer to high, and beat for one full minute. It will look curdled at this point, but don't worry – it will become smooth cake batter at the end.

Add in the dry ingredients all at once and turn the mixer to low speed. Mix until just combined, then slowly pour in the milk. Continue to mix on low speed until just combined, about 30 seconds. Scrape down the sides and bottom of the bowl and give it a few stirs with a whisk to make sure there are no lumps. The batter will be slightly thick.

Pour the batter evenly into the prepared cake pans and bake for 30-35 minutes. They're done when they spring back to the touch and a toothpick inserted into the middle comes out clean. Let the cakes cool in the pan for five minutes before turning them out onto a wire rack for an additional few hours of cooling. Make sure they're entirely room temperature before applying any frosting. 
Notes
*DIY Cake Flour Recipe: To make your own cake flour, spoon and level one cup of all-purpose flour and remove 2 Tbsp. Add 2 Tbsp of cornstarch. Repeat per the amount of cake flour you need, then sift the flour and cornstarch mixture 4 times (don't skip that step!). After sifting, spoon and level to re-measure the amount of cake flour you need. 
Make ahead tip: These cakes can be baked, cooled, wrapped in plastic wrap, and left out at room temperature up to two days ahead of decorating. Unfrosted cake layers can be wrapped tightly in plastic wrap and stored in the freezer for up to two months before thawing and frosting. 
To make as cupcakes: use this very similar Vanilla Cupcake recipe instead
---