Jump to Recipe
I know I'm not alone when I say my love for chocolate cake runs DEEP. I've just always had a soft spot in my heart for a good chocolate cake with chocolate frosting (bonus if it has sprinkles!). So when I went about making this Vegan Chocolate Cake recipe, I made sure it had all the essentials: extra moist, rich chocolate flavor, just the right balance of sweet and decadent, and has that melt-in-your-mouth crumb we all want in a chocolate cake. It's a true rival to my (full-dairy) One-Bowl Chocolate Cake recipe and I could not be more satisfied with how the vegan version turned out!
My ultimate goal with this recipe was to make it so tasty that you couldn't tell it's vegan. I'm so happy to say that this cake definitely knocks it out of the park on taste, texture, and all the things! After topping it with Vegan Chocolate Buttercream, even my (non-vegan) husband agreed that you truly can't tell a difference between this recipe and the full-dairy version. Maybe we need to do a blind taste test to compare, but I feel like this Vegan Chocolate Cake is everything I was hoping for.
This cake recipe actually dates back to the depression era (it's sometimes called Wacky Cake or Crazy Cake), when ingredients like eggs and butter were too expensive to have on hand. Even though it's super simple and basically the kind of cake you can throw together with ingredients you probably already have in your pantry, it makes the perfect vegan cake because it doesn't need dairy to be amazing. It gets its moist crumb from a vegetable oil base, and while you can use any kind of oil you want, be sure that you like the taste of whatever you're using, as it will end up flavoring the cake. I always opt for canola oil or generic vegetable oil, because they have the least amount of flavor and I want chocolate to be the star of the show in this recipe.
Why NON Dutch Process Cocoa?
Speaking of chocolate, it's really important that you use non Dutch Process cocoa powder in this recipe. This is because there's an amazing chemical reaction that happens between the cocoa powder, baking soda, and vinegar that's responsible for giving this cake its rise. The chemical reaction doesn't work properly with Dutch Process cocoa powder because of how it's made – Dutch Process involves washing the cocoa beans in an alkaline solution called potassium carbonate, which neutralizes the acidity. In other words, it prevents that cool little science experiment from happening when you bake it, resulting in a deflated cake. Just be sure to use a natural, unsweetened cocoa powder for this recipe. Any brand will work, but Hershey's is what I use.
This Vegan Chocolate Cake pairs well with pretty much any frosting flavor, but it's pictured here with my Vegan Chocolate Buttercream, which is lick-the-spoon amazing. I ate an embarrassing amount of it (zero regrets though!). This cake also pairs super well with the Vegan Oreo Buttercream from this recipe as well if you're more of a cookies and cream kind of person.
To decorate, I frosted the cake smooth, added some Fancy Sprinkles in the "Hey Jude" mix (also vegan!), and used Wilton tip 4B to pipe swirls around the top before adding even more sprinkles. If you want to grow in your cake decorating skills, be sure to check out my Cake Basics series – it's a collection of videos and blog posts that will show you how to build and decorate a cake just like this one from start to finish. However you decide to decorate, this Vegan Chocolate Cake recipe is sure to impress both vegans and non-vegans alike. Enjoy!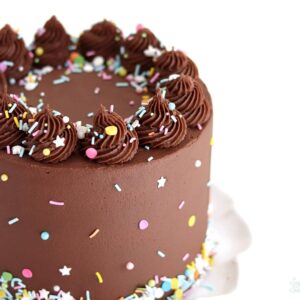 Vegan Chocolate Cake
A simple yet decadent vegan chocolate cake that's moist, ultra-chocolatey, and basically everything you could want in a chocolate cake (but completely dairy-free!)
Ingredients
3

Cups

(400g) all-purpose flour

2

Cups

(410g) granulated white sugar

1/2

Cup

(45g) natural, unsweetened cocoa powder

NOT Dutch Process

2

tsp

baking soda

1

tsp

salt

3/4

Cup

(180ml) vegetable oil

2

tsp

white vinegar

2

tsp

pure vanilla extract

2

Cups

(480ml) water, room temperature
Instructions
Preheat the oven to 350ºF and prepare three 6-inch or two 9-inch cake pans by spraying the sides with cooking spray and fitting the bottoms with a wax paper or parchment cake circle. 

Place all of the dry ingredients into the bowl of a stand mixer and stir on low for 30 seconds to fully combine them. Add the vegetable oil, vinegar, vanilla, and water and mix on low until combined.

Pour into prepared cake pans no more than 2/3 full and bake for 35-40 minutes, until a wooden toothpick inserted comes out clean. Cool completely before filling and frosting with a double batch of Vegan Chocolate Buttercream (or frosting of your choice).
Notes
Make ahead tips: This Vegan Chocolate Cake can be made ahead and stored at room temperature, covered tightly in plastic wrap, for up to two days. Alternatively, you can cover with plastic wrap and store in the freezer for up to two months before thawing to room temperature. 
Make it extra chocolatey by filling and frosting with a double batch of Vegan Chocolate Buttercream. 
Did you make this Vegan Chocolate Cake? I want to know what you think! Let me know in the comments below and feel free to tag @sugarandsparrowco in your Instagram photos to show me. I love to see what you create!