Jump to Recipe
I've been wanting to create vegan versions of my cake recipes for awhile now, but vegan baking is one of those fascinating things that takes a ton of research. It felt a bit intimidating to scour the internet for the dairy-free substitutes, so I just kept putting it off. But with ingredients like eggs, milk, and butter in short supply due to the pandemic, I think now is the perfect time to offer you a cake recipe that uses ingredients you can (hopefully) find! Whether you're vegan, dairy-free, or you simply need a cake recipe with limited ingredients, this Vegan Chocolate Oreo Cake is so easy to whip up and tastes amazing! Perfect for celebrating a #QuarantineBirthday or just making a cake for the fun of it. 
First, let's talk about this ultra-moist vegan chocolate cake. It turned out so decadent and chocolatey with that melt-in-your-mouth crumb you need in a chocolate cake. I was so surprised at how much of it I ate during my testing sessions (could be pregnancy, but also, it's just a great chocolate cake)! It's truly the perfect rival to my favorite one-bowl chocolate cake recipe, only you don't need eggs or buttermilk for this one. Instead of adding moisture with buttermilk, vegetable oil takes care of all that. And instead of creating structure with eggs, structure and rise are created by the chemical reaction that happens when the vinegar, baking soda, and cocoa powder in this recipe react (science, y'all).
Because of this amazing chemical reaction, it's super important that you don't use Dutch Process cocoa powder because the process for making it involves washing cocoa beans in an alkaline solution of potassium carbonate. All of that neutralizes the acidity and cancels out the reaction between the cocoa powder and the baking soda, which in this case can result in a deflated cake. To prevent this, be sure to use a natural, unsweetened cocoa powder for this recipe. I use Hershey's, but any brand will do.
*UPDATE* When I set out to create the perfect vegan buttercream to compliment this cake, I thought Oreos would be perfect! I have tons of vegan friends who enjoy Oreos because they do not contain animal-derived ingredients. However, according to Oreo's website, they cannot call these cookies truly vegan because the equipment they come in contact with may have cross-contact with milk. If that is concerning to you, you can sub any of your favorite vegan cookie crumbs into this buttercream recipe.
To pair with this cake, I altered my Oreo Buttercream recipe to work with vegan ingredients like Earth Balance butter and coconut milk and it worked like a charm. I have yet to try other butter alternatives, but I love that Earth Balance comes in sticks and behaves a lot like real butter. I'm pretty convinced you could substitute it into any of my buttercream recipes and create a vegan version. So if you'd rather have a straight up (dairy-free) chocolate buttercream for this cake, you can totally use my favorite chocolate buttercream recipe, sub in an equal amount of Earth Balance and dairy-free milk, and you'd be good to go.
To decorate, I added some crushed Oreos to the sides of the cake, then topped it with some swirls using Wilton Tip 4B. I thought it would be fun to add a little pop of color to the swirls, so I sprinkled them with the Fancy Sprinkles Birthday Balloons mix before placing whole Oreos in between. Side note: this sprinkle mix is not 100% vegan, but Fancy Sprinkles has an entire collection of vegan sprinkles you can shop here. I love how it all turned out, especially the little flecks of cookies throughout the buttercream!
I'm so fascinated by the science of vegan baking that I'll be venturing on a quest for the perfect vegan vanilla cake next, so stay tuned! In the meantime, I cannot wait for you to try this Vegan Chocolate Oreo Cake and hope you love it as much as I do.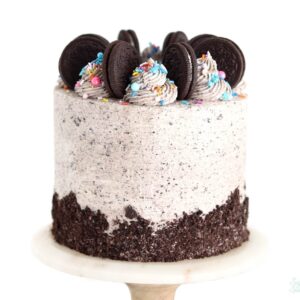 Vegan Chocolate Cake with Oreo Buttercream
Layers of moist, decadent vegan chocolate cake filled and frosted with Oreo buttercream. The ultimate dairy-free cake for Oreo lovers!
Ingredients
Vegan Chocolate Cake
3

Cups

(400g) all-purpose flour

2

Cups

(410g) granulated white sugar

1/2

Cup

(45g) natural, unsweetened cocoa powder

(not Dutch Process)

2

tsp

baking soda

1

tsp

salt

3/4

Cup

(180ml) vegetable oil

2

tsp

white vinegar

2

tsp

pure vanilla extract

2

Cups

(480ml) water, room temperature
Oreo Buttercream
2

Cups

(452g) Earth Balance vegan butter, room temperature

(4 sticks)

6

Cups

(720g) powdered sugar

4

tsp

pure vanilla extract

2

Tbsp

coconut milk, room temperature

or any non-dairy milk

18

Oreo cookies, filling removed
Instructions
Make the Vegan Chocolate Cake
Preheat the oven to 350ºF and prepare three 6-inch or two 9-inch cake pans by spraying the sides with cooking spray and fitting the bottoms with a wax paper or parchment cake circle. 

Place all of the dry ingredients into the bowl of a stand mixer and stir on low for 30 seconds to fully combine them. Add the vegetable oil, vinegar, vanilla, and water and mix on low until combined.

Pour into prepared cake pans no more than 2/3 full and bake for 35-40 minutes, until a wooden toothpick inserted comes out clean. Cool completely.
Make the Oreo Buttercream
After removing the filling from the Oreo cookies, use a food processor to blend them into a fine crumb. Set aside.

In the bowl of a stand mixer, cream the vegan butter on med-high until light and fluffy (about 4 minutes), scraping down bowl and paddle a few times in between. Add powdered sugar a few cups at a time, scraping down bowl and paddle between intervals.

Add the vanilla and coconut milk, then mix on medium for one minute. Scrape down bowl and paddle and add the Oreo cookie crumbs. Mix until incorporated.
Assembly
Once the cakes are Vegan Chocolate Cakes are cooled and leveled, fill and frost with Oreo Buttercream. To create the same look as pictured, press some Oreo cookie crumbs to the bottom third of the cake after frosting. Pipe swirls of buttercream around the top edge of the cake using Wilton Tip 4B, then sprinkle the swirls with colorful sprinkles. Finish by garnishing with whole Oreos.
Notes
Make ahead tips:
The Vegan Chocolate Cake can be made ahead and stored at room temperature, covered tightly in plastic wrap, for up to two days. Alternatively, you can cover with plastic wrap and store in the freezer for up to two months before thawing to room temperature. 
The Oreo Buttercream can be made ahead and stored in an airtight container in the refrigerator for up to two weeks. When you're ready to use it, bring it back to room temperature and re-whip with your stand mixer to bring it back to frosting consistency. 
Did you make this recipe? I want to know how it went! Let me know in the comments below and feel free to tag @sugarandsparrowco on Instagram to show me. I love to see what you're caking!