Ever since I shared this recipe and tutorial for semi-sweet chocolate ganache drip cakes, I've gotten so many questions about making white chocolate ganache drip cakes. I'm so excited to share these tips with you because I know how finicky white chocolate ganache can be if you don't get the ratio and timing just right. In fact, the first time I made it (using a super popular recipe that won't be named) the ganache was so thin and runny that the drips just ran down the side of the cake and pooled at the bottom, even after cooling it to below room temperature! I have since experimented with white chocolate ganache to find the perfect ratio of chocolate to heavy whipping cream, and have found some handy tips for making it extra white and beautiful.

The first thing you need to know about white chocolate is that it's not a true chocolate, meaning there's a lack of chocolate solids and therefore doesn't behave the same as semi-sweet, milk, or dark chocolate. Instead, it's made from a mixture of sugar, cocoa butter, milk products, vanilla, and some sort of fatty substance called lecithin. Although I've never tried making white chocolate ganache with anything fancier than Hershey's white chocolate chips, you can feel free to go as branded or non-branded as you want. Generic white chocolate chips or a white chocolate bar chopped into small pieces will work just fine.

With the absence of chocolate solids, the ratio of heavy whipping cream to white chocolate chips is going to be different than other ganache recipes. I've found a 3:1 ratio to be absolutely perfect (exact recipe below), meaning three parts chocolate to one part heavy whipping cream. Just bring the cream to an almost-boil, pour it over the white chocolate chips, whisk it together until it's uniform, and you're good.
Here's a detailed video of the recipe, and you can continue reading below for all of my tips on working with white chocolate ganache:
If you have yet to check out my YouTube channel, head there to see more cake recipe videos, decorating tutorials, and my entire Cake Basics series in video format. Hit the subscribe button while you're there so you never miss a new video!

White Chocolate Ganache For Drip Cakes
The perfect white chocolate ganache ratio for creating drip cakes.
Ingredients
1

Cup

(190g) white chocolate chips or bar, chopped into bits

1/3

Cup

(80ml) heavy whipping cream

1/2

tsp

food color gel or whitening gel (optional)
Instructions
Chop the white chocolate chips or bar as finely as you can and place it into a heat resistant bowl (glass or metal).

In a saucepan over medium-high heat, warm heavy whipping cream until it just starts to simmer, whisking constantly. I always look for small bubbles forming around the edge and a soft boil starting in the middle. When it reaches this stage, pour the cream over the white chocolate. 

Whisk together until the ganache is uniform in consistency and there are no bits of chocolate left on your whisk. It can help to hold the bowl over the residual heat from the burner (once it's turned off) if you're having a hard time whisking everything together.

Whiten or color the ganache (optional), then cool ganache at room temperature for anywhere from 5-20 minutes (depending on your kitchen environment), or until the ganache itself is slightly above room temperature. See the instructions for dripping a cake with white chocolate ganache + troubleshooting tips in the rest of this blog post below.
Notes
Make Ahead Tips: this ganache can be made ahead and stored in an airtight container in the refrigerator for up to two weeks. When you're ready to use it, microwave it in 10 second increments, stirring after every interval until your ganache is room temperature and uniform in consistency.
Tip 1: Whiten Your Ganache If It's Too Yellow

The thing about white chocolate chips is that they aren't exactly as white in color as they seem to be. To whiten the ganache, I swear by Americolor Bright White food color gel. It works like a dream every time, and you only need about half a teaspoon per batch of white chocolate ganache to get a perfectly bright white.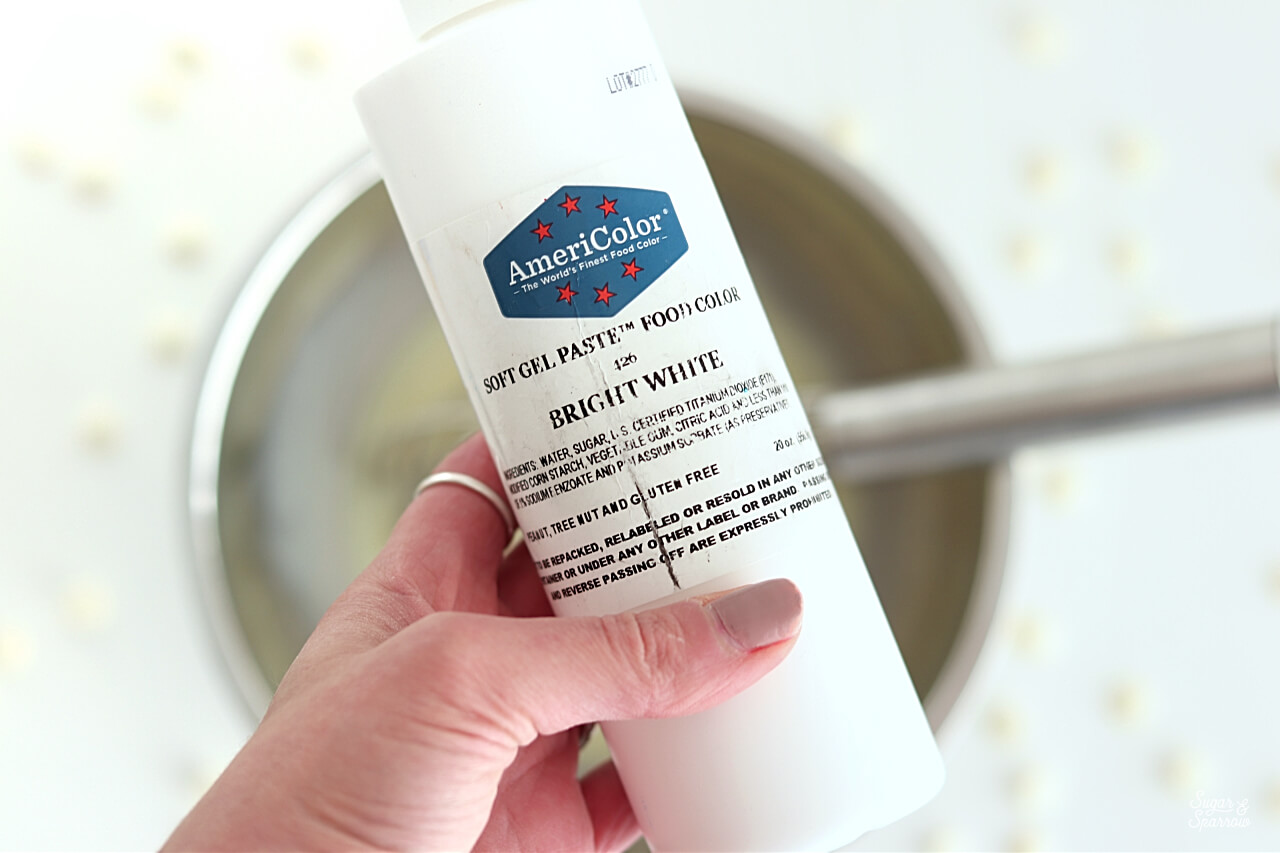 Some bakers like to use white candy melts in place of white chocolate chips to make white ganache, but I don't like the taste of candy melts. So the whitening method is my favorite option.

Tip 2: Be Patient With The Cooling Process

Once you've whisked the ganache together, it's crucial to let it cool on your countertop until it's room temperature, about 20-30 minutes depending on how cold your environment is. Trying to speed up this process by placing ganache in the refrigerator doesn't usually end well – I've found that it cools unevenly, leading to thick, globby drips.

Cooling in the fridge also leads to the urge to stir it too often. Ganache (especially white chocolate!) does not like to be stirred too often, and the end result can mean that your whipping cream starts to separate from the chocolate. You'll know that this has happened because the ganache will look grainy and dull, or even separated like oil and water. To fix situations like these, you'll need to reheat the ganache to 92ºF to melt the fat crystals and re-whisk to bring it back together.

Tip 3: Chill Your Buttercream

There's a science to this tip. Since molecules move more slowly at cooler temperatures (and warp speed at higher temperatures), it makes a lot of sense that you can better control how far the white chocolate ganache drips when the buttercream is chilled. Make sure that after you do your final coat of buttercream, you chill the cake in the refrigerator for at least 30 minutes.

Tip 4: Start With A Test Drip

When your buttercream is nice and chilled, do a test drip by letting the ganache run down the side of your cake. If it travels rapidly and pools at the bottom, your ganache is too warm. Continue to cool the ganache for another 5-10 minutes and try your test drip again. If it's globby or doesn't travel very far down the side of the cake, it's too cold. Reheat the ganache in the microwave for about 10 seconds, stir, and try again. Repeat the reheating process as needed until you get the perfect consistency.

The good thing about a test drip is you're able to see how the ganache will behave. That way you don't have to commit until you like what you're seeing.

Tip 5: Drip The Sides Before Filling In The Top

Whether you're using a spoon to create drips (like I am!) or you're into the squeeze bottle method, it's best to drip the sides of the cake before filling in the top. Although it might be tempting to just dump all of the ganache on the top of the cake and let the drips fall where they may, you'll have more control over the length of each drip by starting with the sides (after a successful test drip of course).

Try not to add too much ganache to the top when filling it in, because if you add any more to the drips you've created, it will make them travel farther than you'd like. Instead, try to use just a little ganache and spread it so that it just touches where your drips begin. The ganache on the top should self-level a bit, so don't worry too much about getting it super smooth.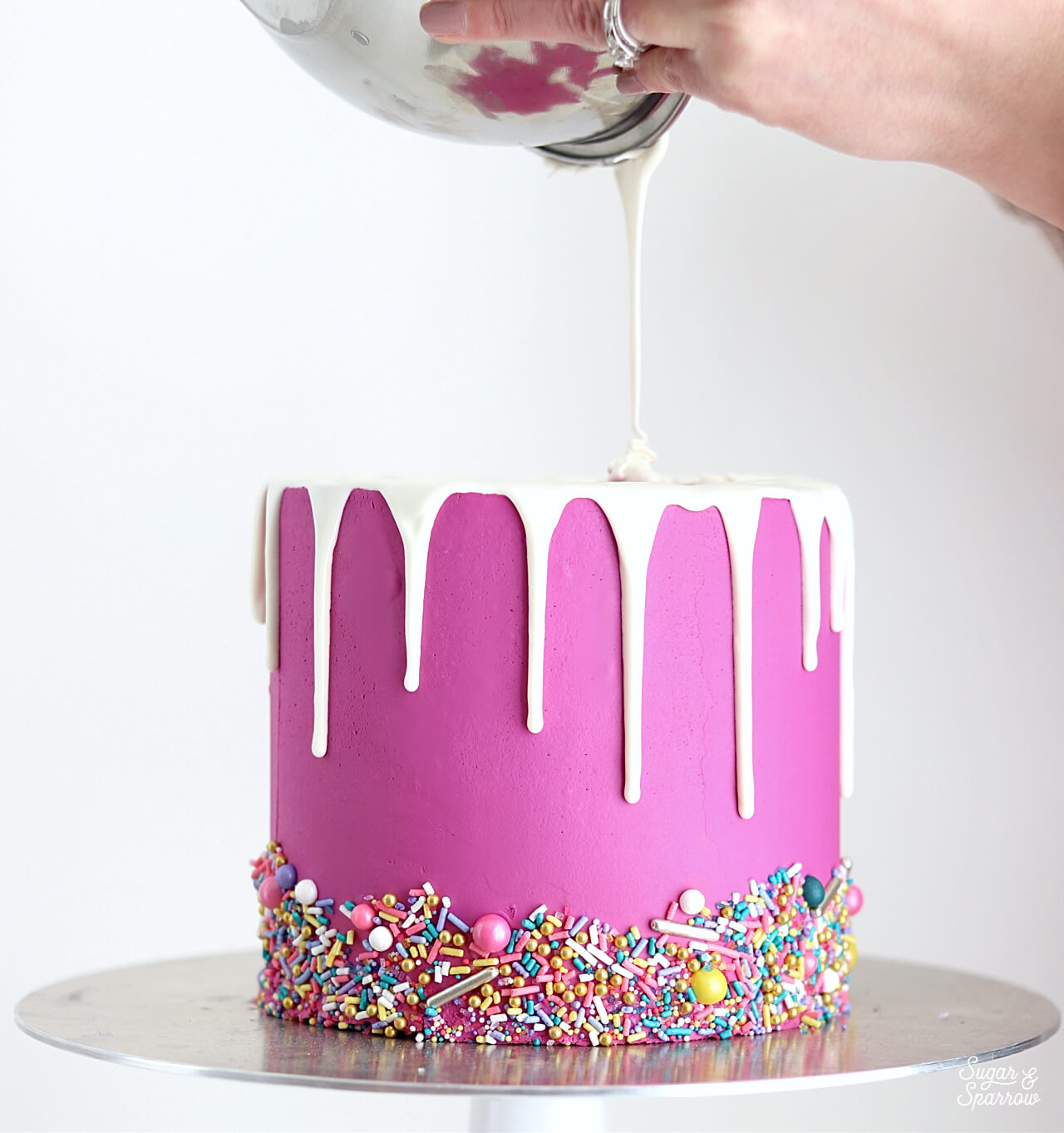 And there you have it – everything I know about dripping cakes with white chocolate ganache. It's a really good skill to have in your cake decorating repertoire, especially with how versatile white chocolate ganache can be color-wise. Adding a little food color gel can turn it any vibrant color of the rainbow! And whether you keep it white or color it up, I promise it'll taste a million times better than candy melts.

Is there anything else you'd like to know about drip cakes? I'm certainly not an expert per se, but if you have more questions, let me know in the comments below and I'll do my best to answer!