There are times when a store bought cake topper gets the job done, but for all the times you want something super custom, it's so helpful to know how to make your own. These sprinkle letter toppers are my go-to for creating celebratory cake toppers that spell out anything. Not only are they extra cute, they are so quick to whip up with a handful of things you probably already have on-hand (especially if you're a sprinkle hoarder like me).
This technique you'll be using for these sprinkle letters also works for shapes and number cake toppers, so feel free to let your imagination run wild! The main things you'll need are Candy Melts (tempered chocolate works just as well), some pretty sprinkles, and toothpicks to turn the letters into cake toppers. I used a template that I printed out to make sure each letter was the same size and font. You could print out a template with any font you want or wing it when you pipe out your letters – the sprinkles tend to cover up any imperfections, making this technique pretty fail proof regardless.
Here's a quick video to show you how to make these sprinkle letters before I walk you through the steps below.
If you love creative cake tutorials like this one, be sure to check out my YouTube channel! I've got a growing collection of recipes, decorating tutorials, and Cake Basics over there. Hit the subscribe button on my page so you never miss a new video.
You Will Need:
Step 1: Print the Letter Template
To create my template, I simply typed out the word "YAY" in a word document and experimented with fonts until I found one I loved (it's called Bebas Neue). It took a few prints to figure out what size I wanted the letters to be, and that will vary depending on how long your word is or how tall you want the letters to end up. Once you get them the size and font you want, print the template and cut out the individual.
If you want to replicate these exact YAY sprinkle letter toppers, here's the template I created.
Step 2: Pipe the Letters
Melt the Candy Melts according to the package instructions. Alternatively, you can use tempered white chocolate or Ghirardelli Melting Wafers that don't require tempering (but taste amazing!).
Once melted, place the Candy Melts into a piping bag fitted with Wilton Tip 3. Cut out some pieces of wax paper and place them over each individual letter, then pipe each letter onto the wax paper pieces using the template beneath as your guide.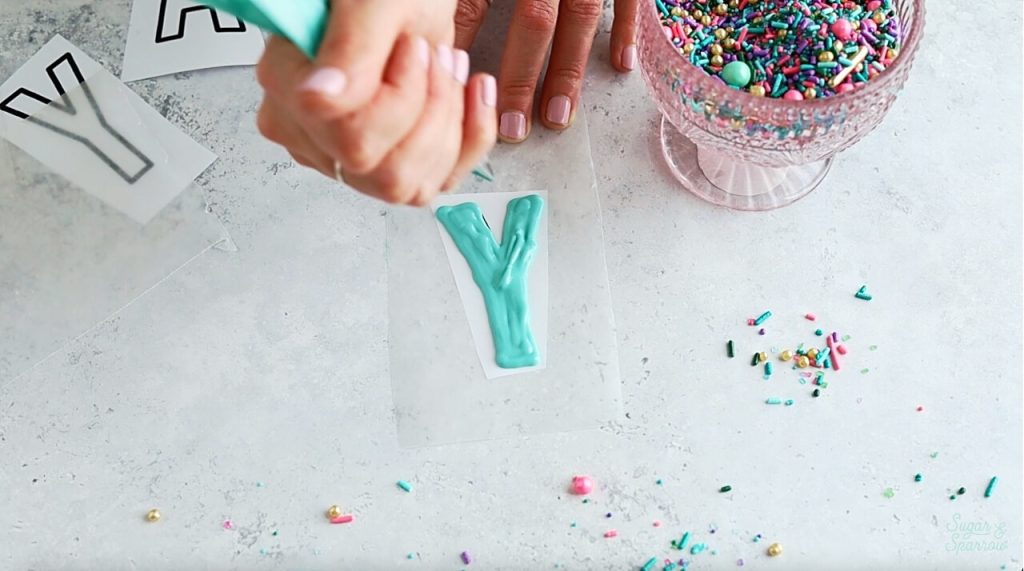 Step 3: Sprinkle the Letters
Working quickly so that the Candy Melts don't set before this step, drop pinches of sprinkles onto the letters, then press them in gently so that the entire surface of each letter is covered with sprinkles. It's important to use a light touch with this part because you don't want the Candy Melts to spread and warp your letters.
Let the sprinkled letters set up for about 20 minutes at room temperature or 10 minutes in the refrigerator. Afterwards, shake the excess sprinkles off of the letters to reveal the pretty toppers beneath.
Step 4: Add the Toothpicks
Place the remaining Candy Melts (you may need to re-melt them by now) into a piping bag and snip off about ⅛ to ¼ inch opening on the end. Turn the sprinkle letters face down so that the backs are facing upward, then pipe a line of Candy Melts onto the back of each one. Add a toothpick onto the line and cover it with more melted Candy Melts.
Let the toothpicks set firm for another 20 minutes at room temperature or 10 minutes in the refrigerator. Once your sprinkle letters are beautifully set and functional, you can place them on top of the cake.
Just imagine what you can create now that you know this quick and easy cake topper technique! I'd love to know if you give it a go. Be sure to comment below to tell me about your sprinkle letter toppers or tag @sugarandsparrowco on Instagram to show me. I love to see what you make with my tutorials!