Jump to Recipe
These past few months have been crazy. Between the demands of the holiday season coming up and working on a never-ending list of house projects, I am feeling perpetually frazzled these days. Despite the chaos, I thought a little recipe creating sesh would be perfect for me because baking does something good to my soul. I was right. I put on some Springsteen and decided to try my hand at creating the perfect pumpkin layer cake. Five rounds of bakes and a handful of albums later, I am so thrilled with how this Pumpkin Layer Cake turned out.
I tried baking this recipe with all purpose flour vs. cake flour, with buttermilk vs. whole milk, with just white sugar vs. a combination of white and brown sugars. In the end, the winners were cake flour, buttermilk, and the white and brown sugar combo. It's deliciously moist because of the buttermilk, totally fluffy from the cake flour, and the combination of sweetness and spice is divine. Just look at this crumb: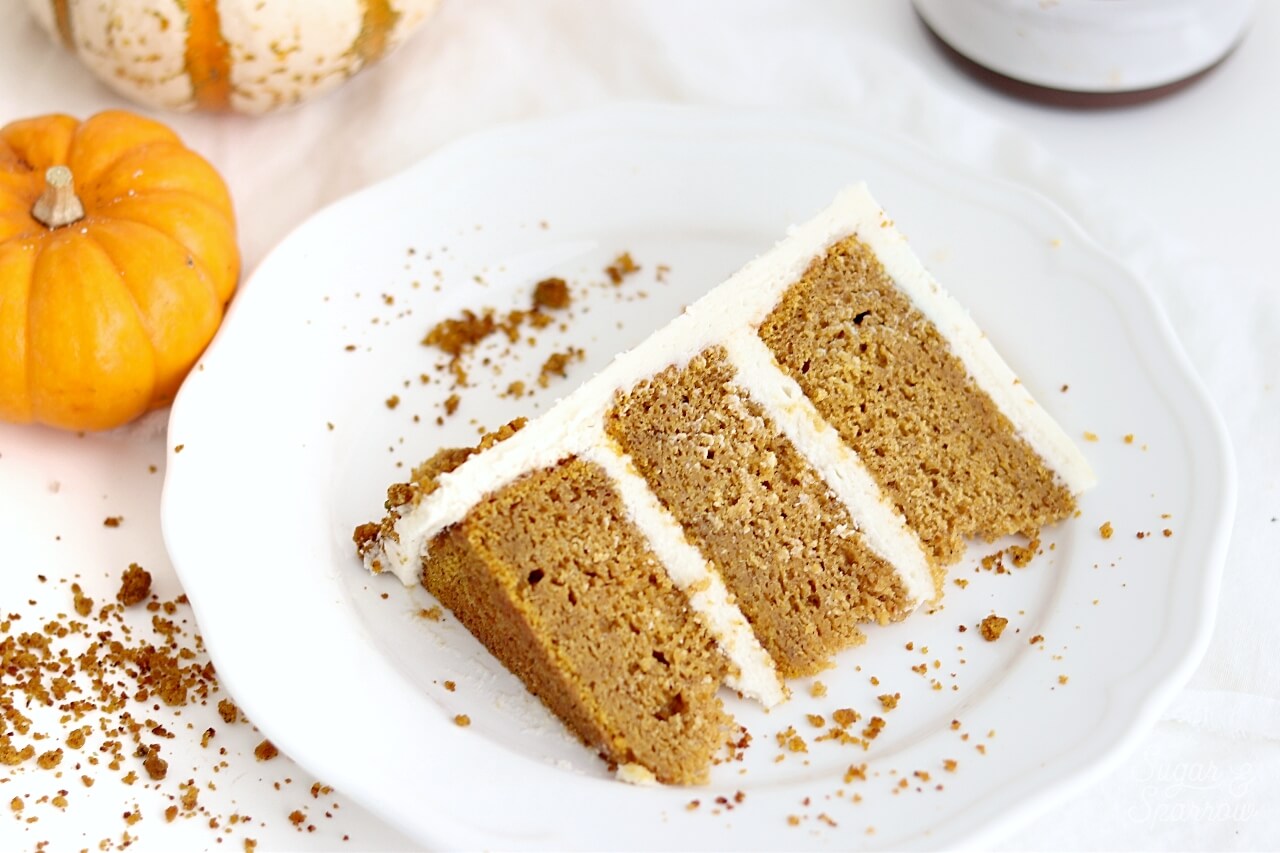 The pumpkin flavor of this cake comes from canned, pureed pumpkin and a medley of beautiful spices: cinnamon, allspice, nutmeg, and ground ginger. It's so classic to pair this pumpkin layer cake with cream cheese buttercream, and in my opinion the flavor combo never gets old. I bet it would taste amazing with my spiced chai vanilla buttercream too if you want to get really autumnal (imagine a pumpkin spiced chai latte but in cake form!).
The cream cheese buttercream recipe you'll find below is sturdy and pipe-able without being overly sweet, which is why it's my forever go-to. I colored some of it with Americolor Orange and Wedgewood and used Wilton Tips 8B and 4B to pipe those cute little pumpkins on top. Probably the easiest way to create buttercream pumpkins, ever. I piped them into a crescent moon shape because it gives me all the feels, but you do you.
I decided to repurpose some of the pumpkin cake scraps into toasted cake crumbs that I pressed onto the sides of the cake and sprinkled around the piped pumpkins on top. It adds a great texture and I always feel good about finding a way to use leftover cake! I just crumbled the cake scraps into a pan and toasted them on the stovetop for about 10 minutes, stirring them frequently until they began to crisp. You can toast cake crumbs in the oven as well, but it takes almost an hour at a low temp, and I was impatient (hence the stovetop). Just be sure to let them cool completely before you use them on your cake and you're good to go!
Perfect Pumpkin Layer Cake
A Fall classic. Layers of moist, fluffy Pumpkin cake with just the right amount of spice, filled and frosted with tasty cream cheese buttercream.
Ingredients
Pumpkin Layer Cake
2 3/4

Cups

(290g) cake flour, sifted before measuring

2 1/2

tsp

baking powder

1

tsp

baking soda

1

tsp

salt

2

tsp

ground cinnamon

1

tsp

allspice

1

tsp

nutmeg

1/2

tsp

ground ginger

1

Cup

(226g) unsalted butter, room temperature

3/4

Cup

(140g) packed brown sugar

1

Cup

(205g) white granulated sugar

3

eggs, room temperature

2

tsp

pure vanilla extract

1 1/2

Cups

(12 oz) canned pumpkin puree

1

Cup

(240ml) full fat buttermilk

DIY recipe in notes below
Cream Cheese Buttercream
1

Cup

(226g) unsalted butter, room temperature

16

Oz

cream cheese, room temperature

brick-style, not the spreadable kind

8

Cup

(960g) powdered sugar

1

Tbsp

pure vanilla extract

1/2

tsp

salt
Instructions
Make The Pumpkin Layer Cake
Preheat the oven to 350ºF and prepare three 6-inch or two 9-inch cake pans by spraying the sides with cooking spray and placing a wax or parchment paper circle into the bottom of each one. Measure the cake flour by spooning into your measuring cup and leveling it. Place it into a medium sized bowl and add the baking powder, baking soda, salt, ground cinnamon, allspice, nutmeg, and ground ginger. Whisk together and set aside.

In the bowl of your stand mixer (a handheld mixer works fine too!), cream the butter on high for two minutes until it's light and fluffy. Add in white and brown sugars and continue to mix on high for another two minutes, scraping down the bowl and paddle as needed. Add the eggs one at a time, mixing thoroughly after each addition. Add pumpkin puree and vanilla and mix for one minute on medium-high, scraping down the bowl and paddle once more. 

With the mixer on low speed, add in the dry ingredients and mix until just combined. Add the buttermilk in a steady stream and mix until just incorporated. Scrape down the sides and bottom of the bowl and give it a few stirs to make sure there are no lumps. Batter will be slightly thick, but pourable.

Pour batter evenly between the cake pans (fill them no more than ⅔ full) and bake for 35-40 minutes, until a toothpick inserted comes out clean. Cool the cakes in the pan for ten minutes before removing and continuing to cool on a wire rack or flat surface.
Make The Cream Cheese Buttercream
In the bowl of a stand mixer fitted with the paddle attachment, cream the butter and cream cheese on high until light, fluffy, and uniform (no lumps), about five minutes. Turn the mixer to low and add the powdered sugar a few cups at a time, mixing thoroughly after each addition. Add the vanilla and salt, mixing on low for another 30 seconds.
Assembly
Once the Pumpkin Cake layers have cooled completely, fill and frost the layers with Cream Cheese Buttercream. To create the design pictured, divide the leftover buttercream into four separate bowls. Use food color gel of your choice to create orange buttercream in the first bowl, light blue buttercream in the second, and brown buttercream in the third, keeping the last bowl uncolored. Fit three piping bags with Wilton Tips 8B (for the larger pumpkins) and 4B (for the smaller ones), then fill them with the orange, blue, and white buttercreams. Pipe pumpkins in a crescent moon design on top of the cake, then pipe a dot of brown buttercream on top of each one to look like stems. Finish the cake by pressing toasted cake crumbs** onto the sides and sprinkling them over the top (recipe in the notes below).
Notes
Make Ahead Tips: 
The cake layers can be made ahead and stored, wrapped in plastic wrap, at room temperature for up to two days. Alternatively, you can store the wrapped cake layers in the freezer for up to 2 months before thawing and frosting.
The Cream Cheese Buttercream can be made ahead and stored in an airtight container in the refrigerator for up to two weeks. When you're ready to use it, bring it back to room temperature and re-whip in your stand mixer to bring back to smooth buttercream consistency. 
*DIY Buttermilk Recipe: Add 1 Tbsp white vinegar into a mason jar or measuring cup. Add one cup (240ml) whole milk and let sit for at least 15 minutes before using in a recipe. 
**Toasted Cake Crumbs Recipe:
 crumble cake scraps into a frying pan and toast on the stovetop on medium for about 10 minutes, until the cake crumbs begin to crisp. Let them cool completely before using them in your cake decorating.
This pumpkin layer cake recipe is a true crowd pleaser, perfect for any Fall gathering! I hope you love it as much as I do. Let me know what you think in the comments below and feel free to tag @sugarandsparrowco on Instagram if you post a pic! I love to see what you create.