Whether you've got a wedding, birthday, anniversary, or anything to celebrate with cake, one thing is for sure: a custom cake topper will make it extra special, effortlessly! My favorite place to find cake and cupcake toppers for special occasions is a sweet online shop called Thistle & Lace. From ready-to-order cake toppers to completely custom toppers like monograms, names, and sayings, Thistle & Lace has the perfect cake topper for any event, all designed and handcrafted with love. And great new: you can use my code SUGAR15 to get 15% off your order, valid until June 30th!
Julie (the owner) of Thistle & Lace graciously sent me some of her favorite cake toppers, and I wanted to create a cake for each and every one of them! These beauties are made of ⅛ inch Baltic Birch Plywood which is super strong, stable, and has a gorgeous finish. They're cut with a powerful laser cutter in such a precise way that the edges are miraculously un-burnt and flawless, no matter how intricate the design. Each cake topper comes in a variety of colors (shown below), and the painted options are created with FDA-approved paints, aka they're perfectly safe to top your cake with! Just look at these amazing color options:
I love all of the cake toppers that Julie sent over and will definitely be using them on my upcoming cakes and bakes! I was so enthralled with the "Happy Bee Day" topper that I considered it the perfect opportunity to whip up a bee-themed birthday cake. Here's a quick video to show you some behind the scenes of this bee birthday cake and cake topper action:
Isn't the Happy Bee Day cake topper the cutest ever? It's perfect for this bee-inspired cake and I love how intricate the honeycomb details are.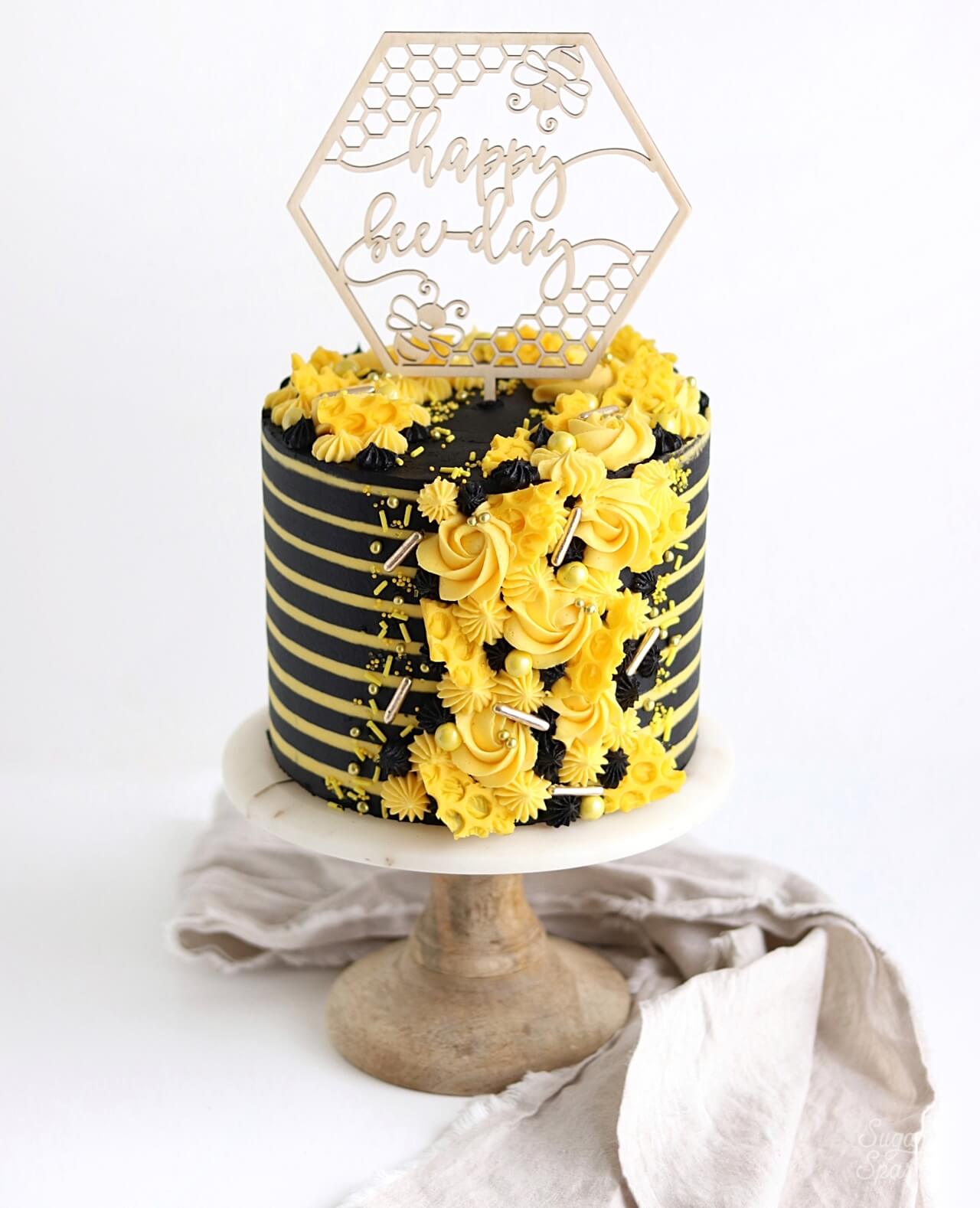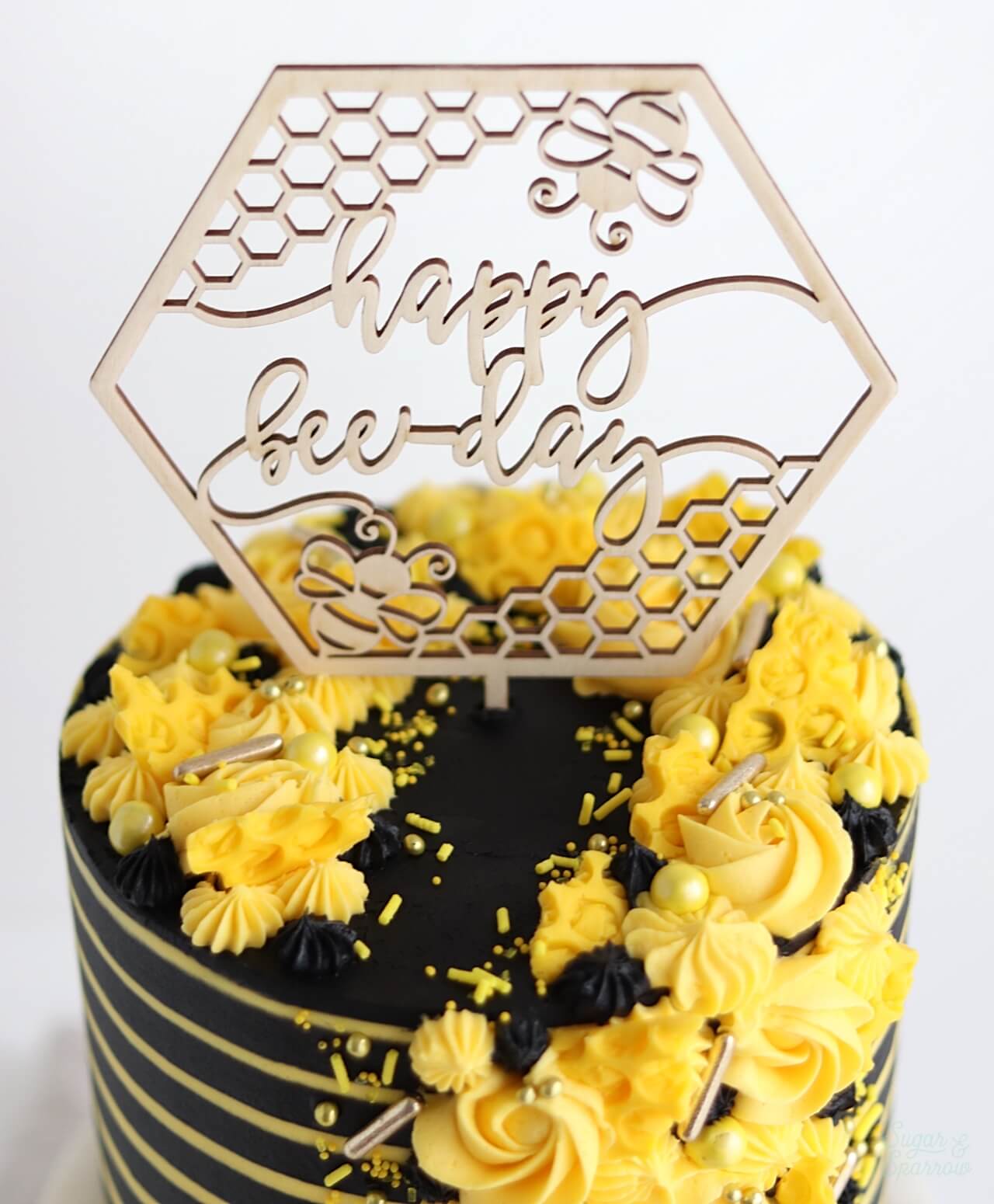 In addition to creating high-quality cake toppers in so many pretty colors and styles, the thing I love most about Thistle & Lace is that you can easily customize what your cake topper looks like and says. These toppers are not mass-produced, so you can really get the look you want, whatever it might be. They're the perfect option for adding names or special sayings to cake and cupcake toppers for any occasion. These are just a tiny fraction of the made-to-order options, and just think of the possibilities when it comes to custom designs!
I highly recommend Thistle & Lace for all of your cake topper needs, and they have even more customizable products to help with wedding and party decor. Be sure to check out their other products like wedding table numbers, fun guestbook options, custom wall signs, and so much more. Don't forget to enter my code SUGAR 15 at checkout to get your 15% off until June 30th! And let us know if you end up topping your pretty cakes with Thistle & Lace toppers by tagging @sugarandsparrowco and @thistleandlaceshop on Instagram. We'd love to see what you create!
Disclaimer: I was compensated by Thistle & Lace for my work of creating this project, styling, filming, photographing, and writing about their products. As always, all opinions are honest and my own. Thank you for supporting brands that support Sugar & Sparrow.