I tend to use color ombrès a lot in my buttercream cakes. There's something about the gradient color change that is so eye-catching and works a little better than a solid finish in some cases (like my Cactus Cake, Under the Sea Cake, and Strawberry Lemonade Cake Recipe to name just a few). Today though, instead of creating a subtle gradient with my buttercream colors, I decided to make them a bit more edgy with this Layered Ombrè Cake. The design allows each color to really stand out and I just love the beautiful texture you can create with the layers!
The best part about this Layered Ombrè Cake is that the design is super forgiving. You start with a smooth buttercream cake, but you don't need to be meticulous about the finish since half of the cake will be covered up with layers of color. No need to stress about this one!
Before we get to the written tutorial, be sure to check out this video I whipped up of the process:
Are you into cake decorating videos like this one? If so, head to my YouTube page to see even more! From decorating tutorials to recipe videos and Cake Basics, you'll find everything you need there to grow in your cake skills. Be sure to hit the Subscribe button so you never miss a new video.
You Will Need:
Step 1: Frost a Smooth Buttercream Finish
With your chilled, crumb coated cake on the turntable, add buttercream to the top of the cake and smooth it down with your angled spatula until it's level and reaches over the edges.
Add a layer of buttercream all around the sides of the cake, then use your icing smoother to smooth the sides. If you need tips on how to get a nice smooth finish, be sure to check out this Cake Basics post on how to frost a smooth buttercream cake.
You'll notice that a little crown of buttercream has formed around the top edge of the cake (a great sign!). Use your angled spatula to swipe the edges inward (toward the top center of the cake) so you create nice sharp edges.
When you're happy with your buttercream finish, pop it into the refrigerator for about 30 minutes while you move on to the next step.
Step 2: Mix Your Buttercream Colors
Divide the remaining buttercream equally amongst four different bowls (or however many colors you want for the layers). Add your food color gel to each one and mix until you like what you see.
For my color palette, I used AmeriColor Fuchsia in different increments for the light and dark pinks and AmeriColor Teal for the light and dark teal colors (also in different increments). If you want to learn more about color mixing, I created a Cake Basics guide here.
Step 3: Add the First Layer
Starting at the middle of the cake, add your first color. It should have highs and lows and look perfectly imperfect. No need to add it all the way down the cake, just stick to the middle area.
Once your color is on, use your icing smoother to gently (and slowly!) smooth it down.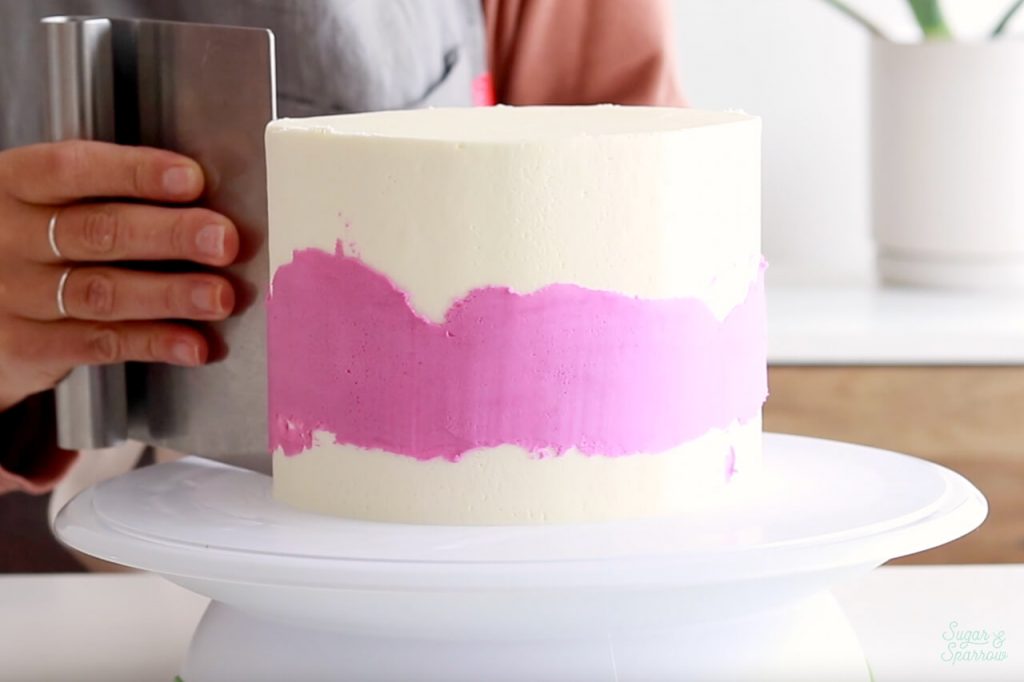 Don't worry about stopping and starting again in the smoothing process – it's essential that you go slow for this part to maintain those highs and lows.
Step 4: Add the Additional Layers
When the first color is smoothed down, add the next color slightly below it so that the color above is still very visible. Repeat the process of smoothing it down.
Continue to add and smooth your colors until you reach the bottom of the cake.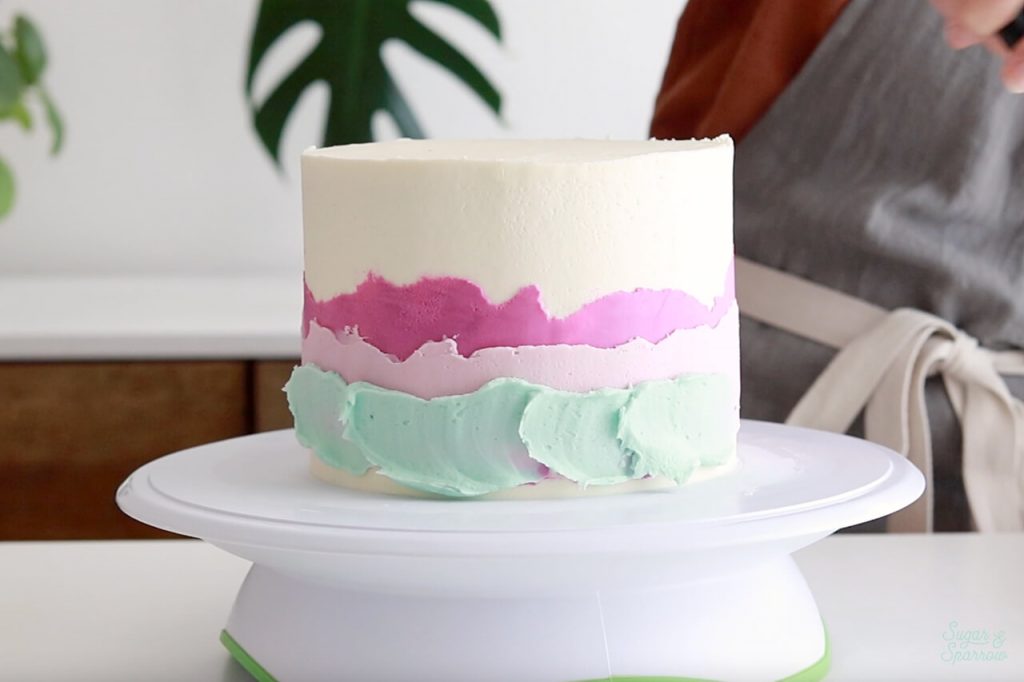 Look at that pretty texture you can create with buttercream layers!
Step 5: Finish with Some Piping (Optional)
You can feel free to stop the design process with the previous step, but I thought this cake needed a little something extra on the top. I prepared four piping bags with Wilton Tip 4B and filled each one with a different color. Then, I added buttercream stars along the top in a crescent shape.
And there you have it – a totally eye-catching alternative to the gradient ombrè! This Layered Ombrè look is so much fun to create and an easy look for anyone to achieve.

If you found this tutorial helpful for your Layered Ombrè Cake, I want to see the results! Be sure to leave a comment below and tag @sugarandsparrowco in any Instagram photos of your cake. I love to see what you create!