I am a big fan of baking and cake decorating tools that are pretty and functional, so when I saw the new line of Stir products at JOANN I just about squealed. They are honestly the most beautiful tools I've seen in my baking career thus far – gold stainless steel with elegant marble accents. They're pretty enough to keep on display in your kitchen or use as food photography props, and they'll get you extra excited to bake all the things! Plus, they're dishwasher safe which is a huge win in my book. Pretty, functional, and practical.
I'm so excited to have these tools in my collection:
JOANN asked me to create a cake project with these baking and decorating tools and I was immediately inspired to make a marble buttercream cake with gold accents. I wanted to make a cake that captured the beauty of these tools in cake form, plus show you how fun and simple it is to make marble buttercream! These Stir products are top-notch when it comes to functionality, which made them a true joy to decorate this marble cake with.
I whipped up a quick video for this marble buttercream tutorial so you can visualize it before you read all about it below.
If you're into cake decorating videos like this one, be sure to check out my YouTube Channel! You'll find tons of videos to inspire you there, and make sure you never miss a new one by clicking the Subscribe button.
You Will Need
A 6-inch cake that's been crumb coated and chilled
1.5 batches of vanilla buttercream
Bowls and spoons for color mixing
Baker's twine
Parchment paper
Scissors
Scotch tape
Icing smoother
Clear extract (lemon or vanilla) or vodka
Step 1: Frost the Cake
With your chilled and crumb coated cake on a turntable, use the largest bowl of buttercream to frost a smooth finish onto the cake. Start by frosting a smooth layer on the very top of the cake with your angled icing spatula.
Next, add buttercream to the sides of the cake and glide your icing smoother over them while turning the turntable to create smooth sides.
You'll notice a crown of buttercream forming on the top edges of the cake, which is essential to getting sharp edges on the top. Use your angled icing spatula to swipe the crown inwards (toward the top center of the cake). Repeat until you've got nice sharp edges.
When your cake is looking ultra smooth, pop it into the refrigerator to firm up for at least 30 minutes. If you want more tips on creating a perfectly smooth cake finish, I've got a great tutorial for you here. 
Step 2: Mix the Marble Buttercream
Divide the remaining buttercream into three small bowls. Add 2 drops of black food color gel into the first bowl and gently mix it with your spatula until it's about half mixed. You'll want a dark grey color with some streaks of white/lighter grey in there.
Scoop out about 1 teaspoon of this dark grey marble color and mix it into the second bowl. Repeat the process of mixing until you have a light grey color with streaks of white mixed in. Keep the last bowl uncolored.
Step 3: Make the Marble Buttercream Wrap
Once your frosted cake is nice and chilled, wrap a piece of baker's twine around it to measure the circumference. Cut the baker's twine to mark the circumference and lay it out on your work surface. Spread a piece of parchment paper out as long as the baker's twine and mark about one inch past the twine, then cut the parchment paper.
After trimming the parchment paper lengthwise, I marked the height at 4 ½ inches tall (almost the height of the frosted cake) and trimmed the excess. When you're finished trimming the parchment, tape it down onto your work surface.
Using the small angled spatula, scoop the dark grey and light grey marbled buttercream and gently apply it to the parchment paper. You'll want to be sure not to spread or mix it up too much as you place it onto the parchment. Next, scoop the uncolored buttercream either with the same spatula (for an even more marbley look) or a clean spatula (for a cleaner look) and apply it to the parchment next to the marbled grey buttercreams.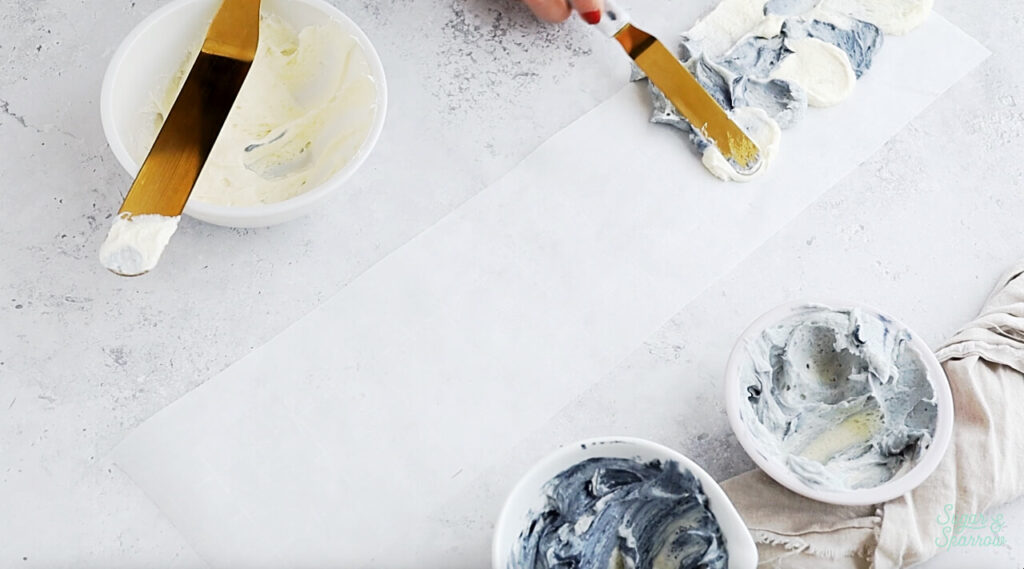 Repeat the process of scooping and applying the buttercream until you've covered the length of the parchment, creating varying heights along the way. Make sure to place the highest buttercream splotches at least ½ inch down from the top of the parchment.
When you've finished applying the buttercream to the parchment paper, use an angled spatula to gently smooth the buttercream down until it's about ¼ inch thick. Using gentle pressure here will prevent the marble from mixing too much underneath.
Step 4: Apply the Marble Buttercream Wrap
Place your chilled, frosted cake on the turntable. Un-tape the marble buttercream wrap from your work surface and wrap it around the cake as tightly as possible. It should stick to the cake really easily since the frosting is still very wet at this point. 
Use your fondant smoother to smooth the buttercream wrap down and adhere it to the cake, then place the wrapped cake back into the refrigerator for at least 30 minutes to let the marble buttercream firm up.
Step 5: Reveal the Marble
Once the buttercream beneath the parchment paper is firm to the touch, gently peel the parchment away to reveal the stunning marble buttercream beneath.
I chose to keep the texture that the parchment paper created instead of smoothing it down because a) it looks amazing and b) last time I smoothed out the marble it all blended together and didn't look as cool.
Step 6: Paint the Gold Accents
Mix a few drops of clear extract or vodka into about 1 teaspoon of gold luster dust. Add more liquid if necessary to thin it into a paint-able consistency. When the gold paint is just right, use a small food-grade paintbrush to paint the top edge of the marble buttercream wrap.
Isn't this marble buttercream cake so elegant? It ended up matching the gold marble Stir tools so perfectly!
This marble buttercream cake is so perfect for a wedding, fancy birthday party, anniversary, or any event that could use a little elegance. Let me know what you think in the comments below and feel free to tag @sugarandsparrowco and @joann_stores on Instagram if you post a pic!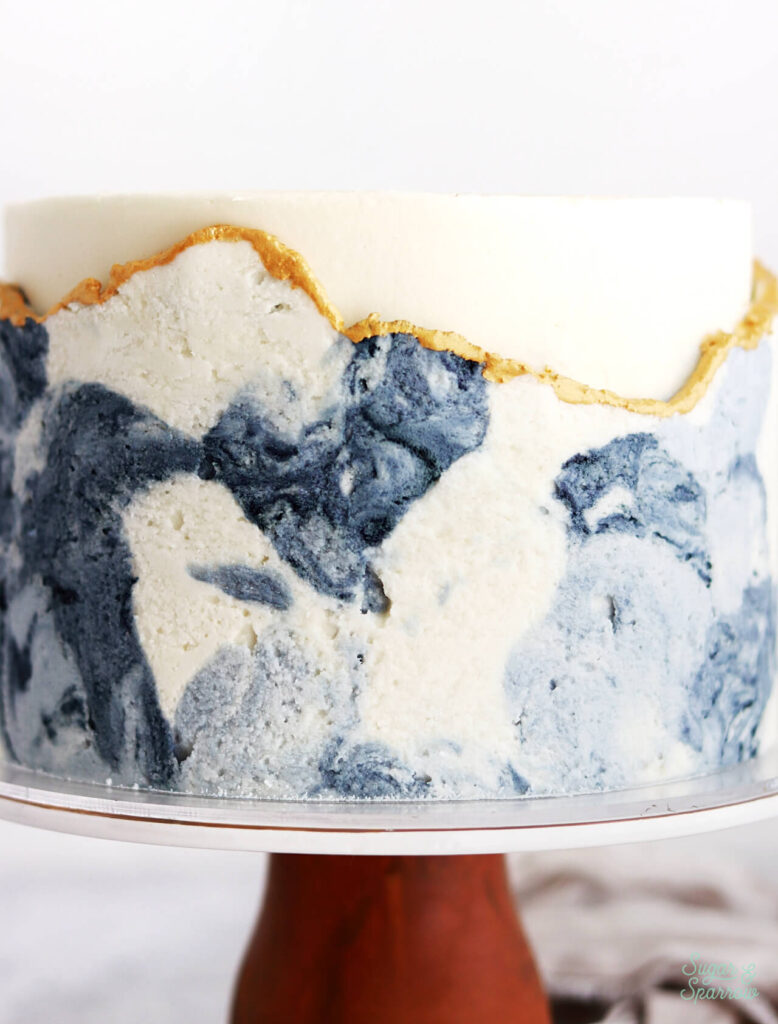 And if you're looking for beautiful baking or cake decorating tools, you must check out the Stir products exclusively at JOANN. If you've got a local JOANN store, you should be able to find them all in the baking section. You can also find all of these tools at JOANN.com. I was super excited to see that the Stir line also has molds, cake mixes, sprinkles, and basically everything you could need to make a creative cake (or any bake, really). 
Disclaimer: I was compensated by JOANN for my work of creating this project, styling, filming, photographing, and writing about their products. As always, all opinions are honest and my own. Thank you for supporting brands that support Sugar & Sparrow.